At a Glance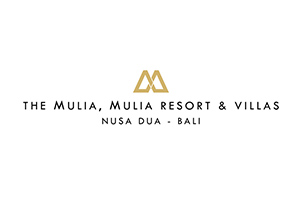 ---
Style
Beautifully located along the dramatically stunning coastline of Nusa Dua in Bali, The Mulia Resort honeymoon destination provides three distinct luxury experiences within one spectacular beach resort.

Round table.
Capacity
The Mulia Resort & Villas Nusa Dua, Bali Honeymoon Destination
For those seeking pure honeymoon elegance and luxury, The Mulia Resort & Villas, Nusa - Dua, Bali lends itself to the perfect setting of glamour and romance. A myriad of spectacular views await to be the idyllic backdrop for your dream honeymoon destination – from three stunning and elegant ballrooms, to the eight luxurious dining venues.


The Mulia Spa
Our state of the art modern facilities include twenty well appointed treatment rooms with a wellness area comprising of Finnish saunas, Meditative Steam Rooms, Ice Rooms, Hot and Cold Hydrotherapy Pools and Asian Hammam tables. A full Chromotherapy and Aromatherapy system to further enhance your existing stellar therapeutic properties.
The Mulia Fitness Centre
Channel your fitness enthusiasm at our luxurious Fitness Centre that offers a range of fun activities that would motivate anyone to get fit and active on their honeymoon. Choose your preferred complimentary fitness course or arrange a personalised and tailored course based on your personal needs with our professionally trained staff.
Give us a call now and let's discuss your wedding plans or get your obligation free quote today and we'll get in touch with you within 24 hrs!
Request Wedding Pack & Pricing
Jl. Raya Nusa Dua Selatan Nusa Dua, Badung