At a Glance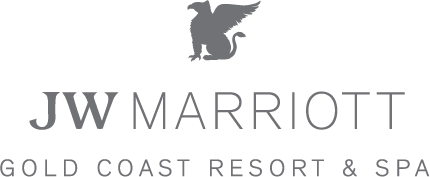 ---
Wedding Style
Make your escape to one of the Gold Coast's premier luxury hotels, JW Marriott Gold Coast Resort & Spa. Our 5-star resort welcomes guests with upscale accommodations, award-winning service, and comprehensive amenities.
Venue Capacity
JW Grand Ballroom - 400 seated guests, 800 cocktail

Tamborine Gallery - 150 seated guests, 300 cocktail

Binna Burra Room - 60 seated guests, 100 cocktail
Price
All-inclusive Wedding Packages available from $205.00 per person - minimum of 80 guests

Cultural Wedding Packages available from $250.00 per person - minimum of 100 guests
Weddings by JW Marriott Gold Coast
Memorable weddings are unique and personal, expressing your individual style and taste. Whether you dream of hosting a grand formal evening or a small intimate gathering, choosing the JW Marriott Gold Coast Resort & Spa gives you the opportunity to indulge in luxury hospitality in a warm and relaxed atmosphere creating the perfect backdrop to an elegant day surrounded by family and friends.  
Our beautifully appointed wedding venues offer a unique ambiance and the perfect location for your wedding celebrations. Poolside wedding ceremonies offer a unique waterfall backdrop with natural light and tropical surrounds, while the resort grand staircase offers the perfect location for photography opportunities.    
Everything we do we relish in delivering unexpected moments of discovery. We believe in being intuitive every day in every way. We do this by understanding, nurturing, and knowing what our customers want, need, and desire before they start their journey. JW Marriott Gold Coast Resort & Spa is a paradise within a paradise featuring sparkling lagoons, white sandy beaches, cascading waterfalls, quiet pool zones, and unique aquatic experiences. Indoors there are quiet spaces to hideaway, unique and individual restaurants to suit every taste, and spaces to work and play. Enjoy lush amenities in elegantly appointed guest rooms and then head out for an indulgent bite of the freshest cuisine at Misono, Citrique, or Chapter & Verse lounge and bar.  
Find yourself a million miles from anywhere. Escape to your special place at JW Marriott Gold Coast Resort & Spa. 
Give us a call today and let's discuss your wedding plans or request for your obligation free quote now and we'll get in touch with you within 24 hrs!
Request Wedding Package & Pricing
158 Ferny Avenue, Surfers Paradise, QLD