We lived in the same area growing up and went to the same Primary School (Brad was 2 years above). We knew of each others families as both our Mums were part of the School Parent and Community. We went to different High Schools but hung out with mutual friends from our area so we were always aware of each other and would often see each other at clubs. One night clubbing we got talking and the rest is history!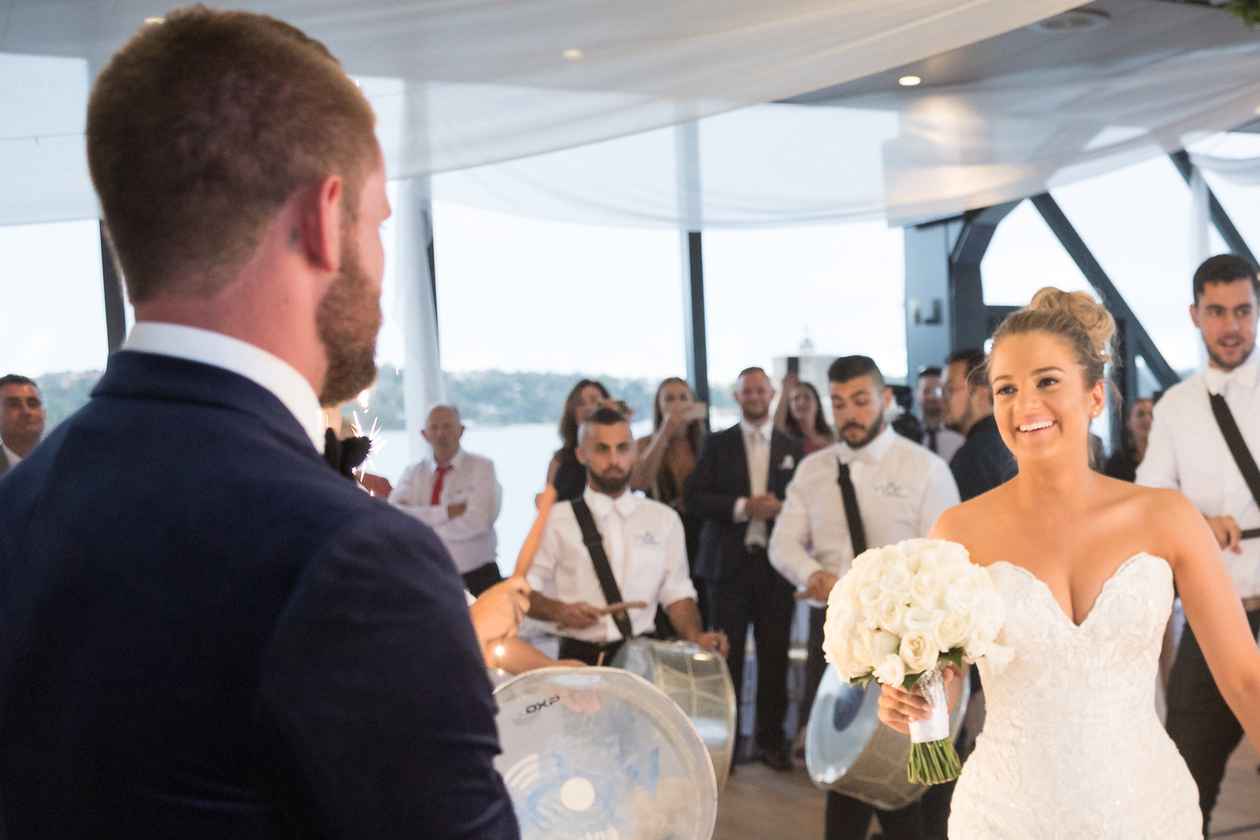 Tell us about the proposal.
Brad bought me a horse riding experience for Valentine's Day 2016 and went ahead booking it in with a grand plan of proposing once we stopped for break on the beach. However, mother nature had different plans and the weather was horrible so it was cancelled. So  the morning of, he quickly and stressfully organised a day out at Milsons Point where he got down on one knee at proposed one the Sydney Bridge Sunset Lookout - was a total shock but one of the best moments of my life!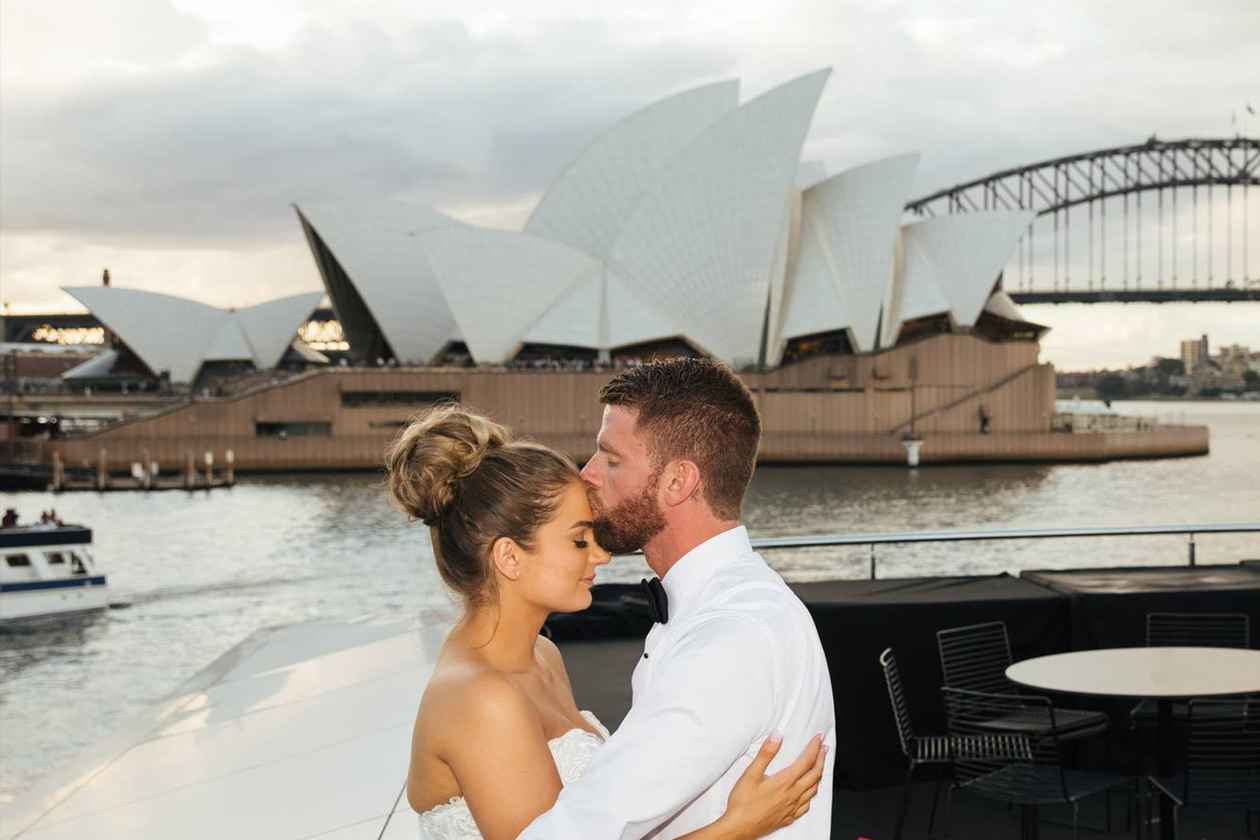 How did you choose your Venue and location? Why?
We have attended so many weddings ourselves and wanted to do something different from the norm. We wanted a mixture of garden, buildings and harbour. So we both agreed a Garden Ceremony was perfect and we fell in love with The Eternal Garden at Curzon Hall. For our reception, that's where we wanted something our guests would remember - we came across The Starship Sydney and knew straight away it was for us! What an incredible venue!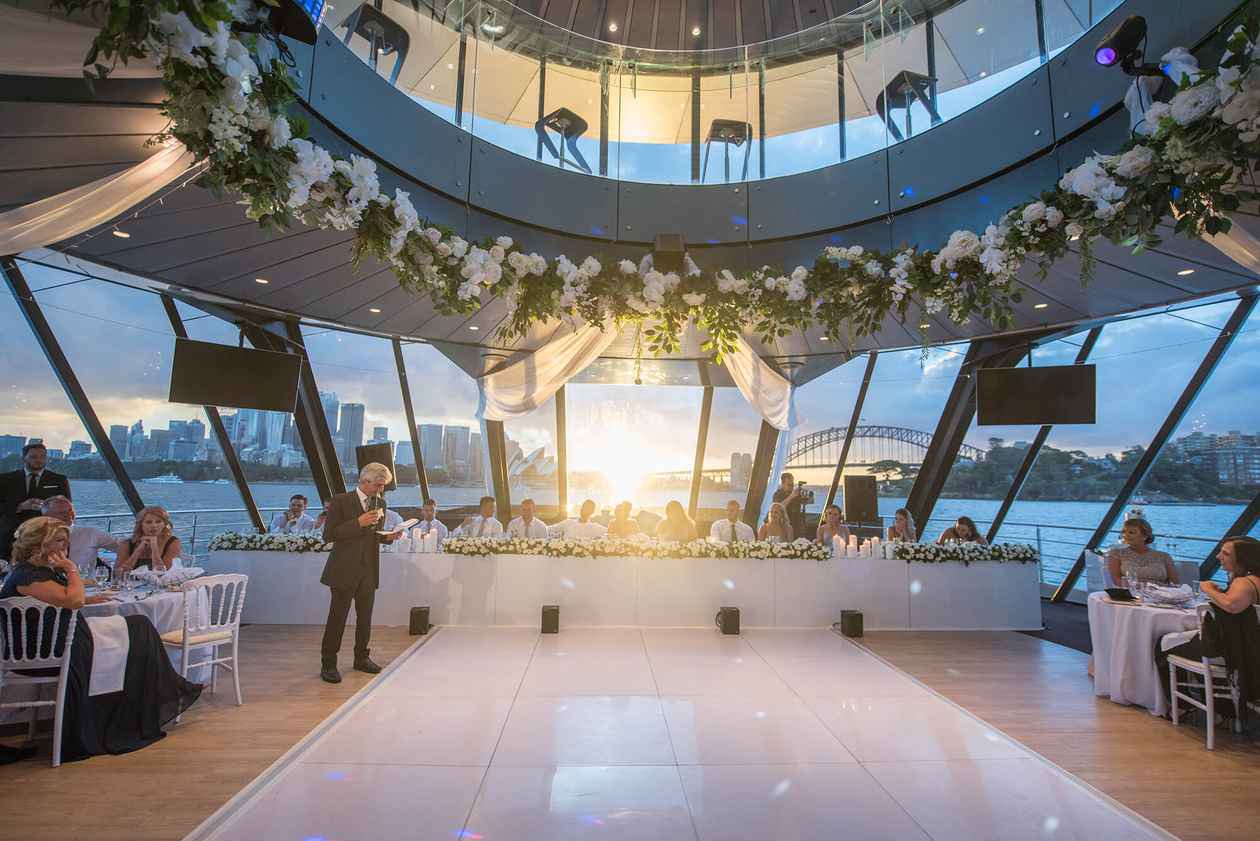 Tell us about your Gown. What about the groom and the bridal party fashion choices?
My gown was strapless, sweetheart cut with a sheer tulle bottom which had a split up the middle of the skirt. Complete with lace over the bodice and detachable arm bands. Finished off with a tulle veil covered in pearls.  I tried on a few different styles to see what suited my body but knew what style I was after. I fell inlove with the fit of a dress (which became my dress) from De Lanquez Bridal and changed the design to suit my taste. Jojo and Marion from De Lanquez are absolutely amazing in making my dream dress!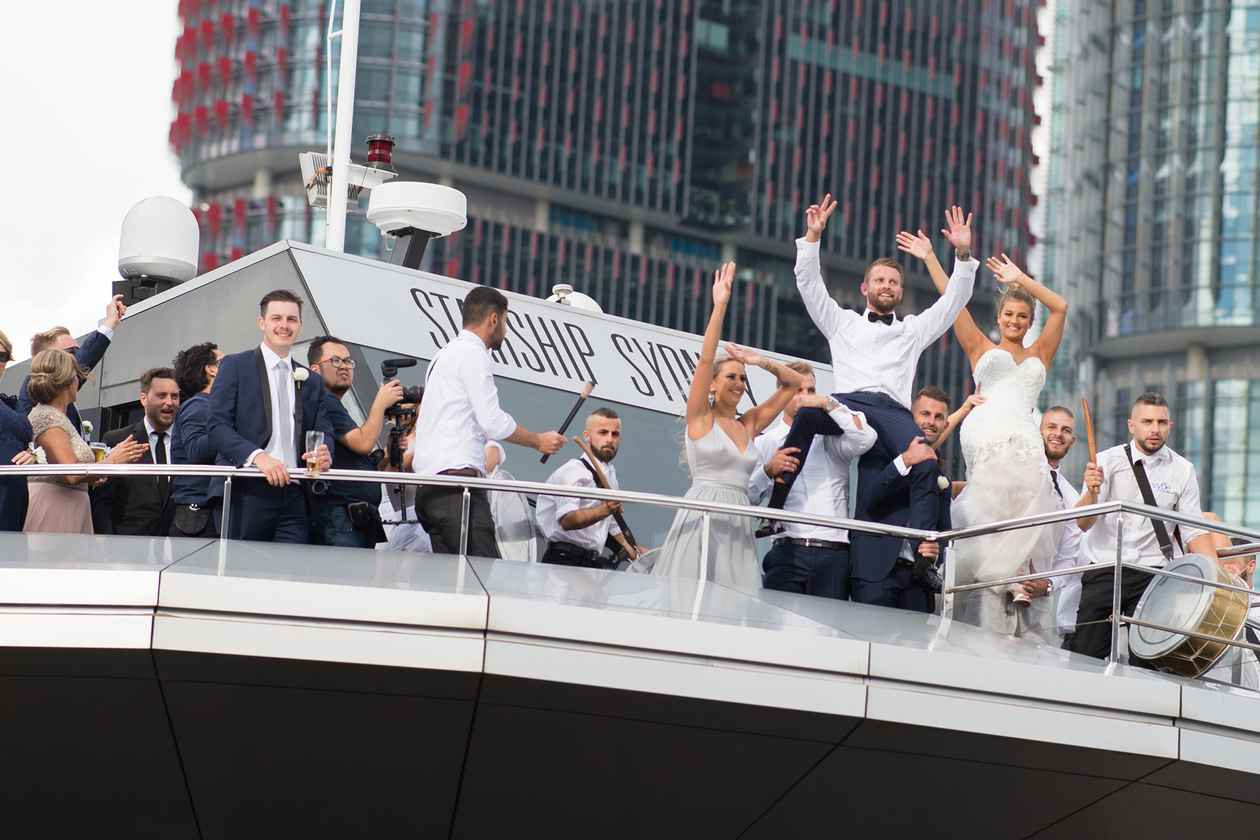 What Style / Styling did you choose for your wedding?
We wanted a simple and classic look. Our colour scheme was white, silver (mirror), greenery and acrylic. We had white/green florals at our Ceremony with a large foam "you + me" sign as well as a 2m LOVE Sign for our guests to take some snaps in front. Our reception was styled with a white gloss dance floor, large artificial floral piece overlooking the dance floor, white gloss with mirrored top bridal and cake table, white napoleon chairs, acrylic table numbers, green/white florals across the bridal table with white pillar candles as well as a mirrored seating chart. Our cake was 3 tier white with silver foil and a 'Mr & Mrs King' silver cake topper finished with white roses.
What were the the highlights of your day?
Our highlight was coming in on The Starship to pick our guests up, our Bridal party and parents plus 6 Lebanese drummers on the top deck dancing as we came into the harbour.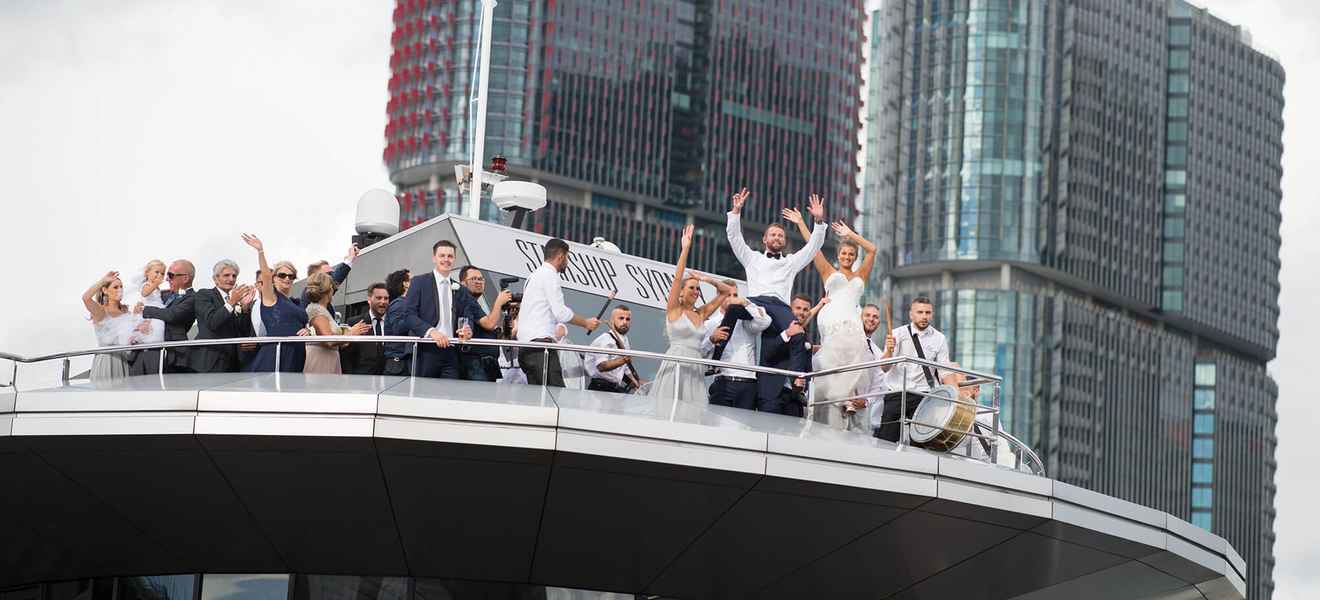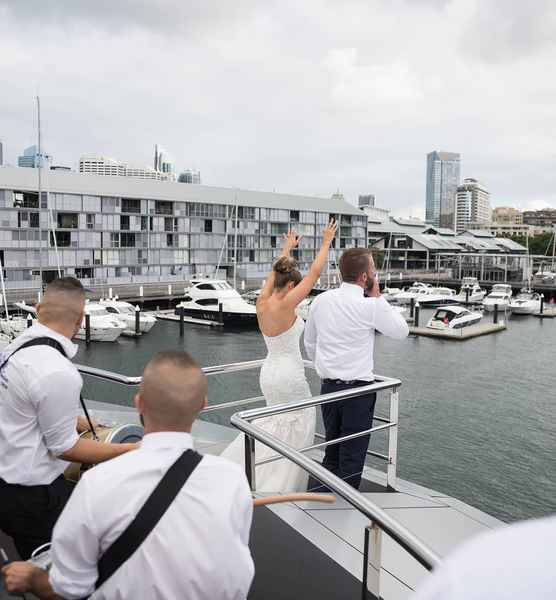 Tell us about any funny, poignant, challenging or emotional moments?
For me it was when my father first saw me in my wedding dress, the photos and video make me teary every time I see them. Such a special moment. Funny - one of our groomsman was getting into the spirit of the Lebanese drums on the top deck of the boat as we were arriving to pick our guests up and was swinging his suit jacket around over his head, watching his cards fling out over the boat haha!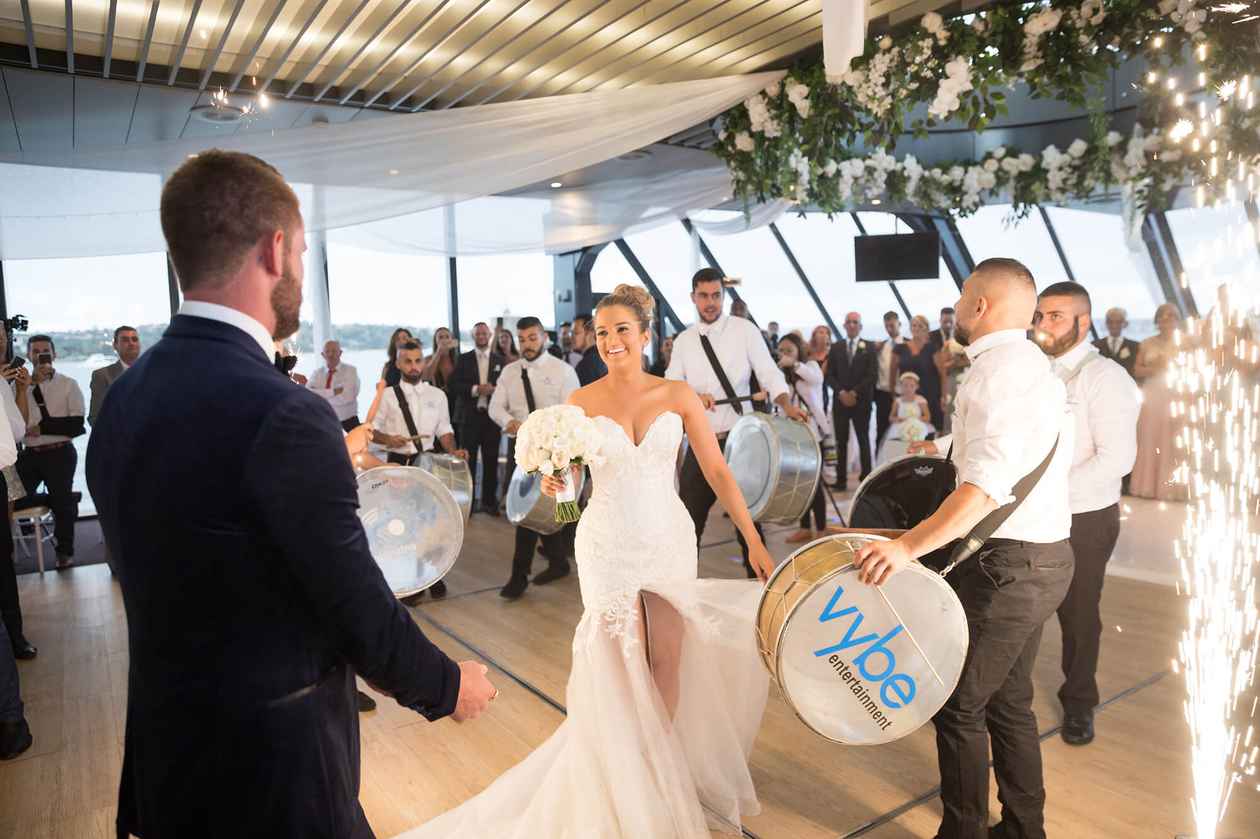 Where did you go for your Honeymoon? Why?
We went to Fiji and stayed at the Marriott in Momi Bay - WOW! We were only travelling for a week and wanted somewhere you can relax and not do anything. The Marriott is incredible. There is so much to do within the resort, you literally don't need to leave.
Do you have any advice for other brides?
Do research and get quotes from other businesses to compare. You don't know if you have a great price until you shop around. As for your wedding day, I would take a moment to sit back at enjoy all your hard work - it  pays off!
Looking for more inspirational wedding stories? Visit Real Weddings to find your perfect wedding venues in New South Wales!