How did you meet?

We are both Physiotherapists, and we first met when Patrick was a physiotherapy student at the hospital I was working at in Sydney. We had a patient with a broken arm and I was teaching him and some other students how to put a plaster cast on. Following that we didn't see each other again for a year and a half or so until Patrick got a job working in our department. We worked together for a short time in intensive care, and following this, when we moved into separate clinical areas, he asked me out. After a first date to the aquarium, we were virtually inseparable.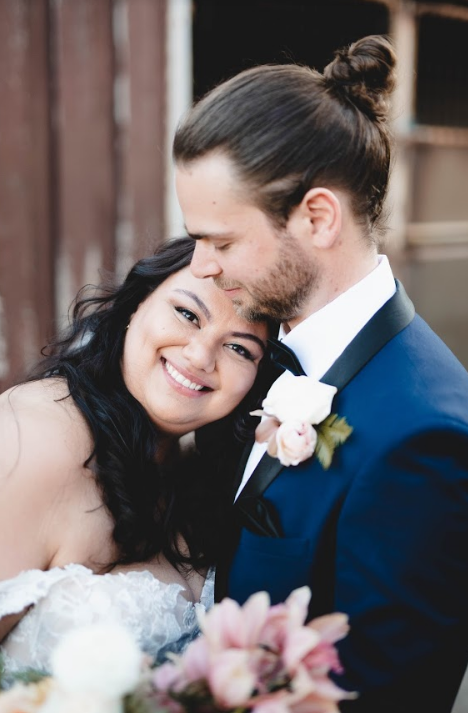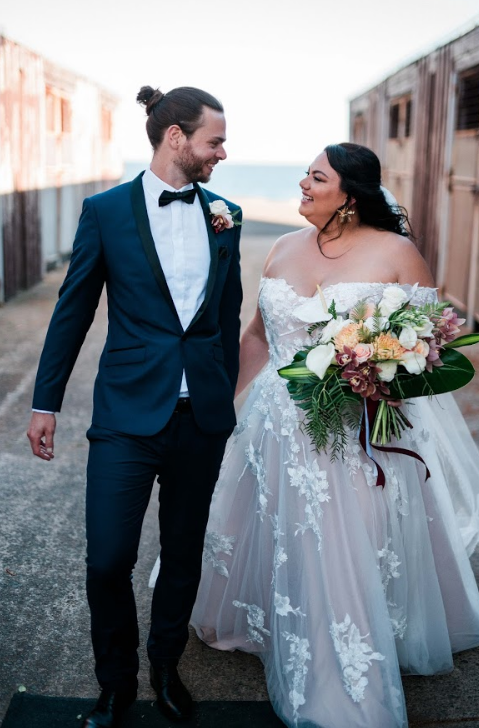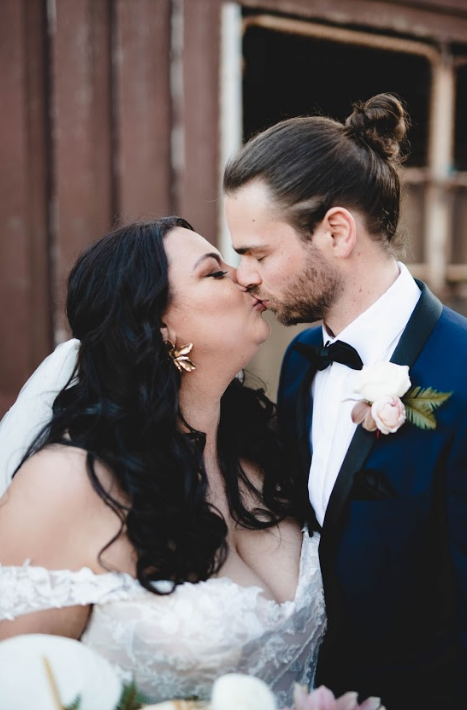 Tell us about the proposal.

One day Patrick told me about a beautiful new bushwalk he had discovered, just down behind the house we had purchased together, on the edge of the National Park. I agreed to let him show me, and after a steep descent, we arrived at a pristine lake, hidden in the valley. I thought this is what he wanted to show me, but instead, he pointed to an old gumtree by the side of the path, with a rose tied around its trunk. He led me deeper into the bush, with flowers guiding their way. We arrived at a small clearing that looked down over the lake. Patrick had tied a large banner between two bottlebrush trees, with photos of us from the past four years and "Will you marry me?" in the middle. Patrick pulled out a guitar from behind one of the trees and played a song he had written for me. It was perfect.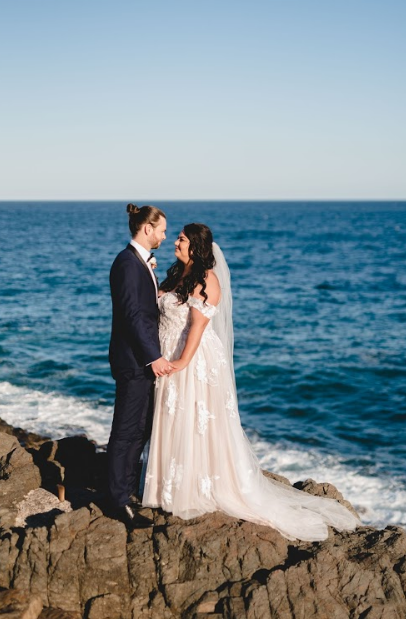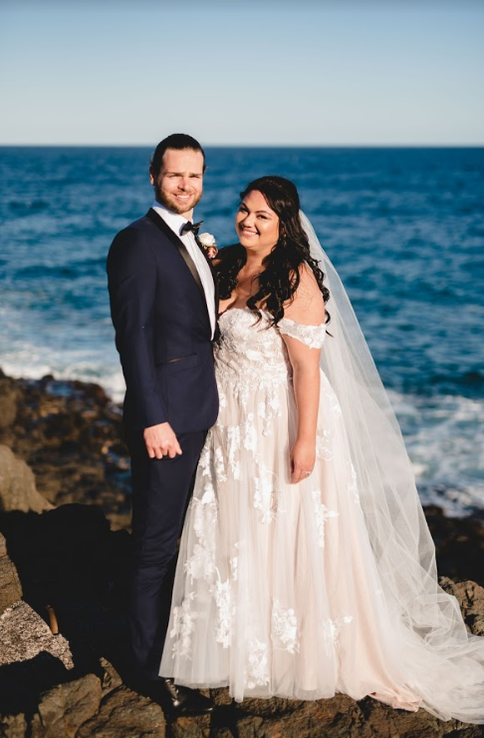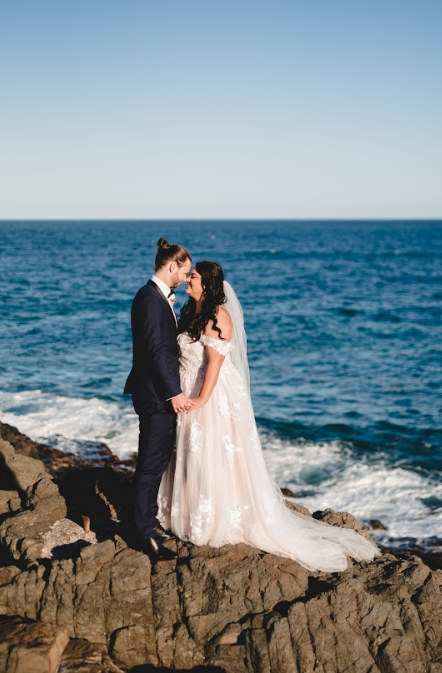 How did you choose your Venue and location? Why?

Patrick and I have always had a love of the ocean. I grew up by the beach, and Patrick's appreciation deepened later in his life, after discovering Stand Up Paddleboarding while we were on holiday in Fiji.
We knew we wanted to feature the ocean on their special day, but we also wanted a location that was relaxed and low key. One of the first trips we took together as a couple was to Kiama during whale watching season, and we couldn't think of a more romantic location to get married.
The Pavilion at Kiama was the first venue we enquired at, and straight away we knew this was the place. The staff were so friendly, helpful and supportive, and made planning the day a lot less stressful than it could have been. Having the ceremony location on-site, at the beautiful horse stables looking out onto the Pacific Ocean, made things a lot easier logistically too.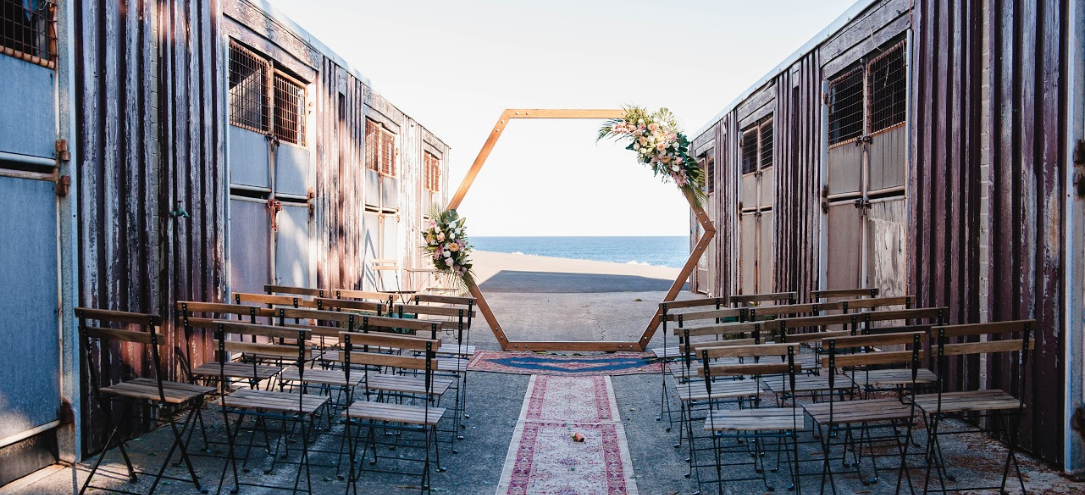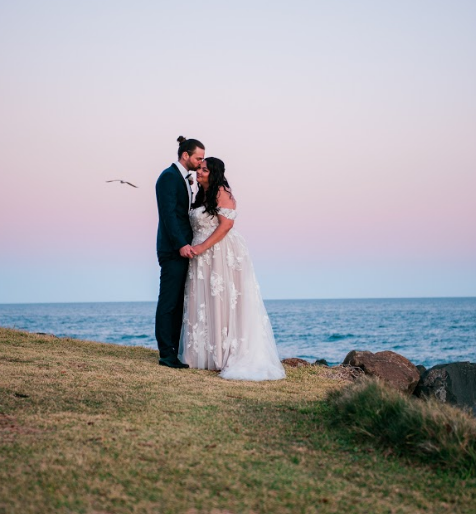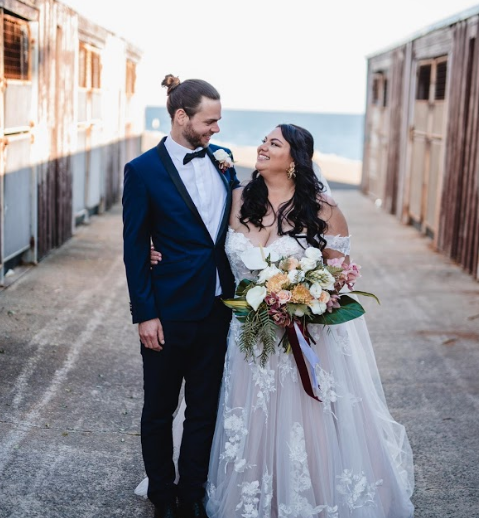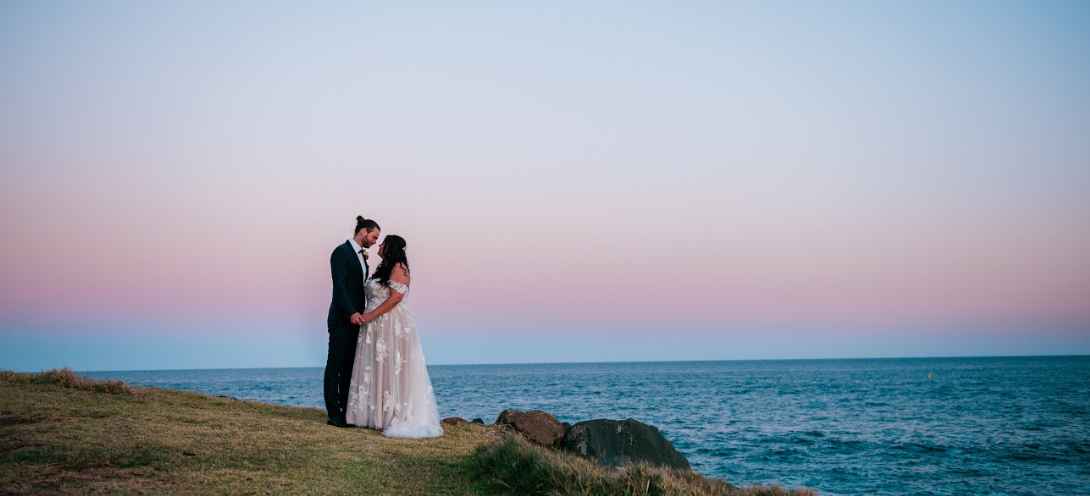 Tell us about your Gown (style, how you found it, what you loved about it). What about the groom and the bridal party fashion choices?

I wore a Madi Lane Bridal gown, with floral lace and multiple layers of tulle. The soft off the shoulder straps won me over. I loved the sense of romance. The bridesmaids looked stunning in a deep burgundy dress, with a deep v cut neckline, trimmed at the waistline and softly flowing to match the bridal gown.
Patrick donned a sharp navy suit with black lapel and black bow tie, with the groomsmen also in navy, but with burgundy ties and pocket squares. The color themes matched nicely with the rich wood and metals of ceremony setting in the horse stables.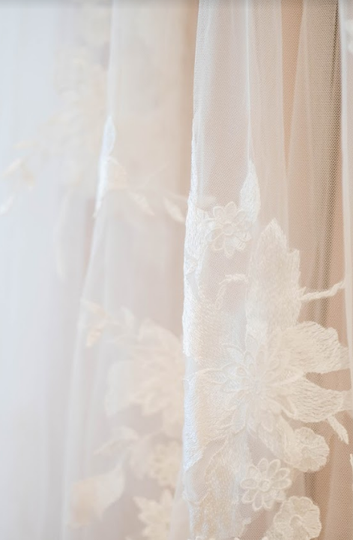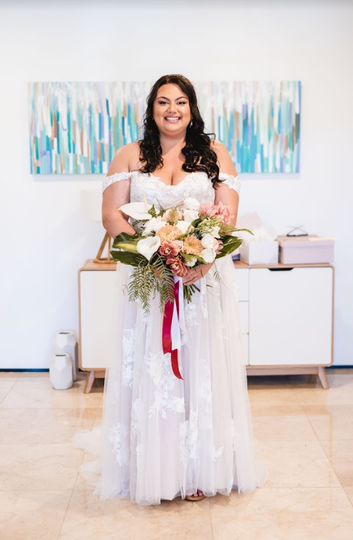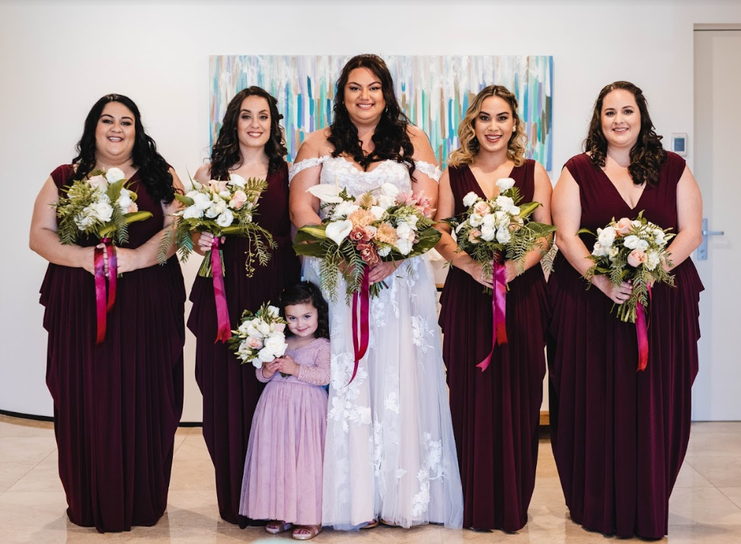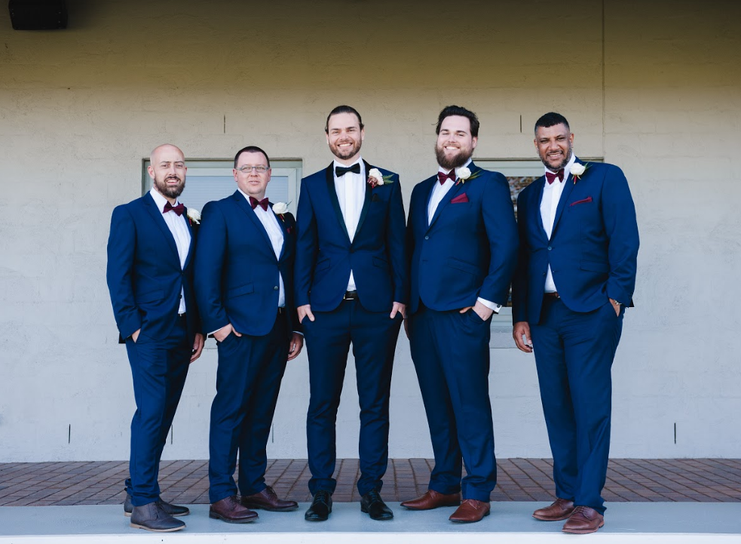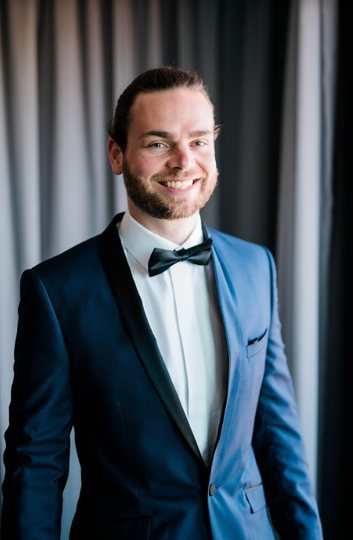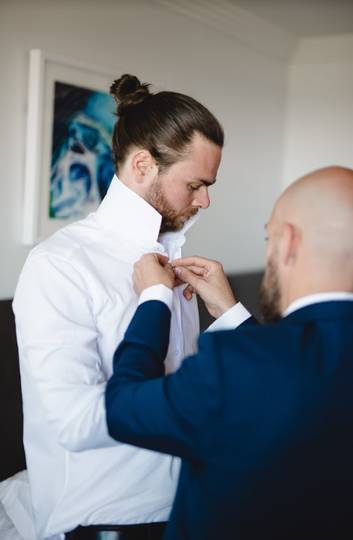 What Style / Styling did you choose for your wedding? (eg: colour scheme, flowers, stationery, cake, transport, details, themes, inspiration, the overall "look and feel")

We really wanted to tie together Patricks love of the Australian coastline and the natural world with my Polynesian heritage.  We also wanted to keep a relaxed coastal vibe.
The Tapa was the centrepiece of our wedding styling. The Tapa is a traditional Tongan ceremony bark cloth, painted with cultural designs. In Tongan culture, a tapa is one of the most important possessions one can have, often passed on through generations.
This Tapa was handmade by my grandmother from coconut tree bark and would have taken 6 months to create, with each design and element representing our cultural heritage. The Tongan seal can be seen, as can the dove representing peace. The lines and markings are our unique family design, which has been passed down through generations, for hundreds of years.  
The traditional Tongan necklaces we wore on entry to the reception are worn in important life milestones. Intricate and colourful, one necklace takes roughly a month to create.
We had rich green tropical foliage incorporated into the florals with pops of colour. Emerald green with strong golds to compliment the earthy tones as represented in the tapa. We had pops of colour through Cymbidium orchids, which my mother has grown since I was a little girl. It meant so much to me to have my mother's orchids feature in the floral arrangements.  Keeping with the natural theme, we used magnolia leaves as guest place cards.
Our cake was a beautiful two-tiered semi naked cake, adorned with cymbidium orchids. The top layer was a banana cake with a pistachio and fig buttercream, and the bottom layer was a chocolate cake with a Nutella buttercream.
We kept a laid-back approach, walking to the ceremony. We both also enjoyed a beautiful walk home via the Kiama coastline, at the end of the reception.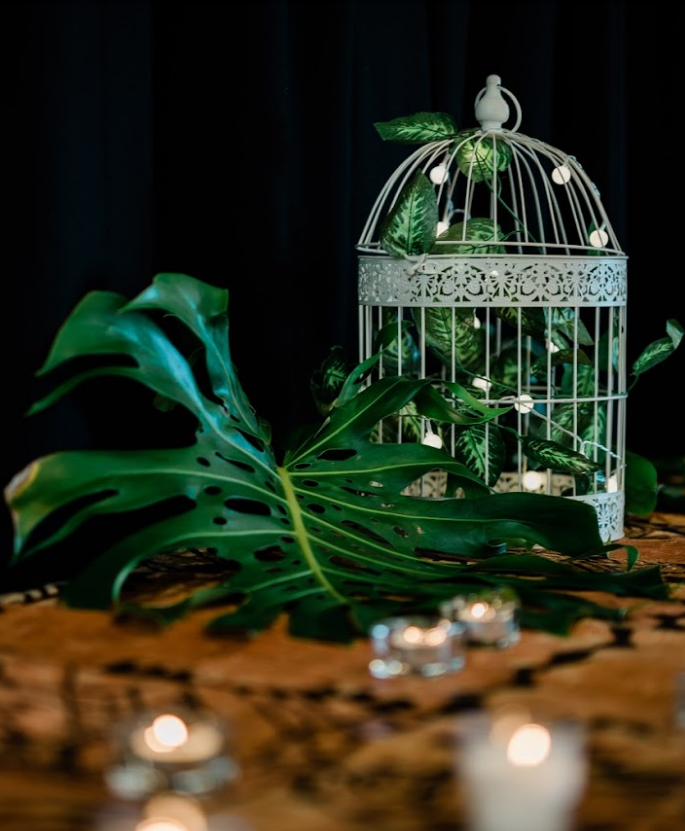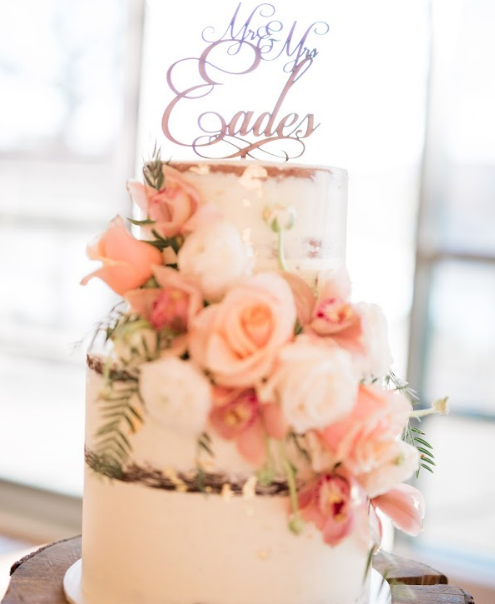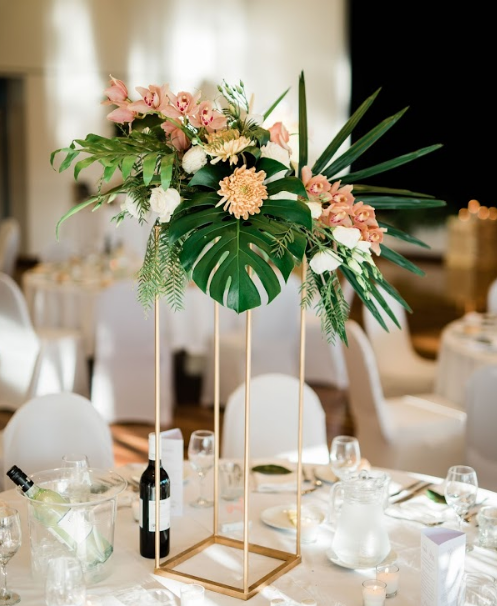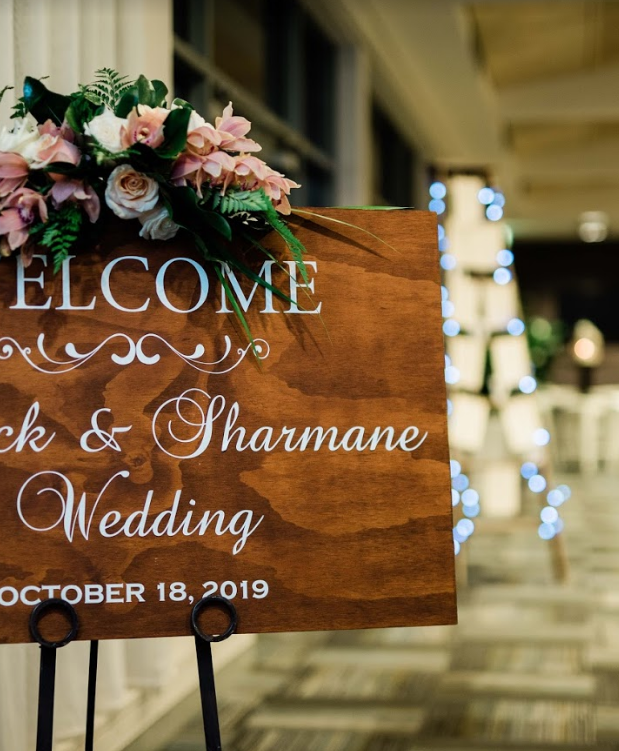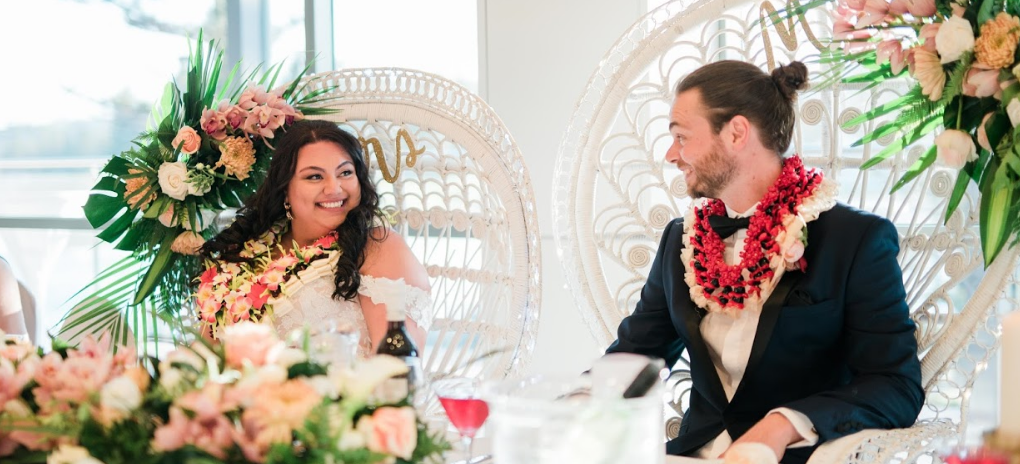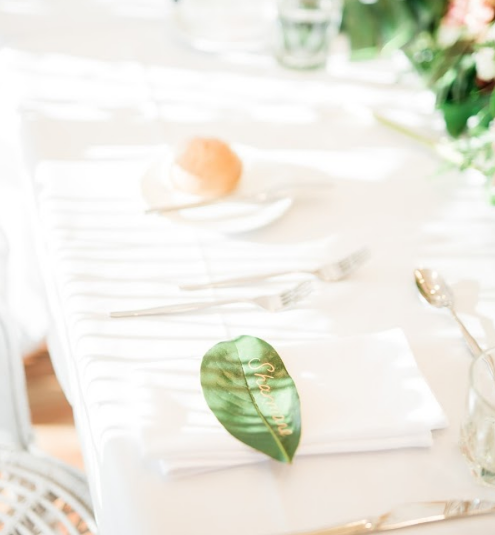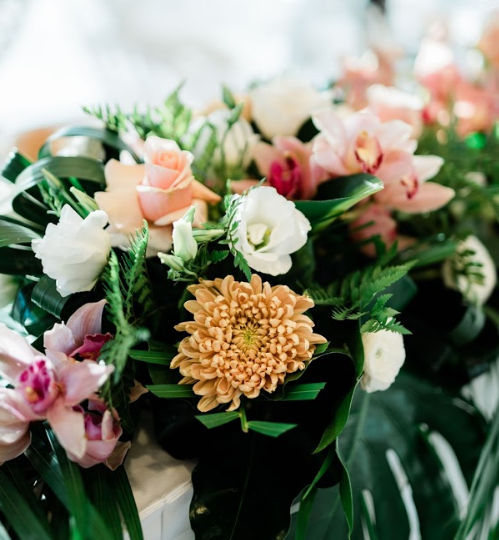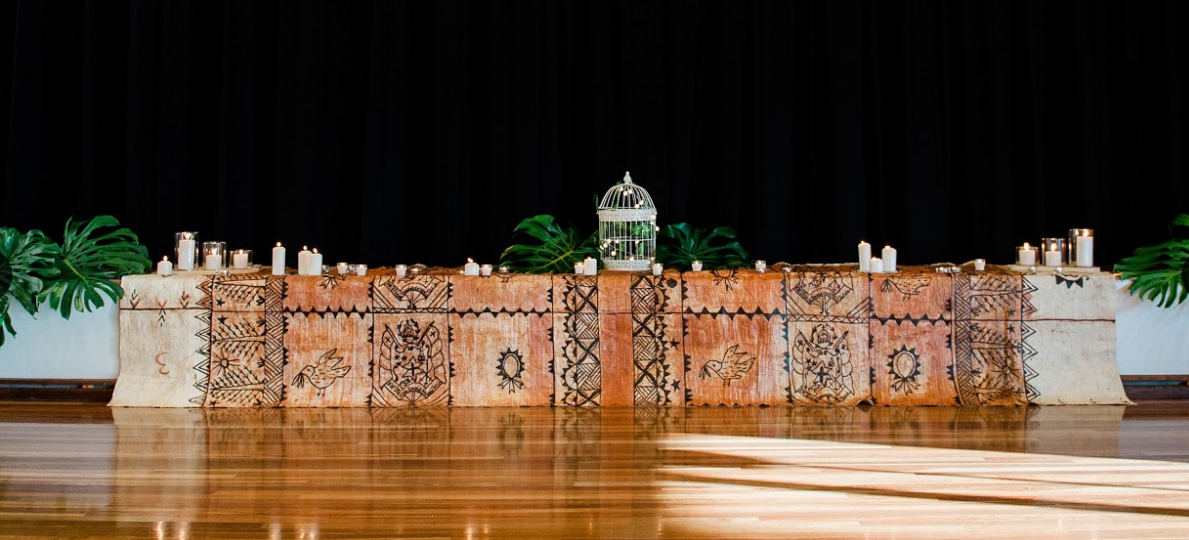 What were the highlights of your day?

The whole day was perfect from start to finish, and looking back I wouldn't change anything. We couldn't have asked for a better day, with clear blue skies. Seeing everything come together on the day was really special. But most of all, the highlight was being able to spend a day together with the people we love, in a place that was special to us.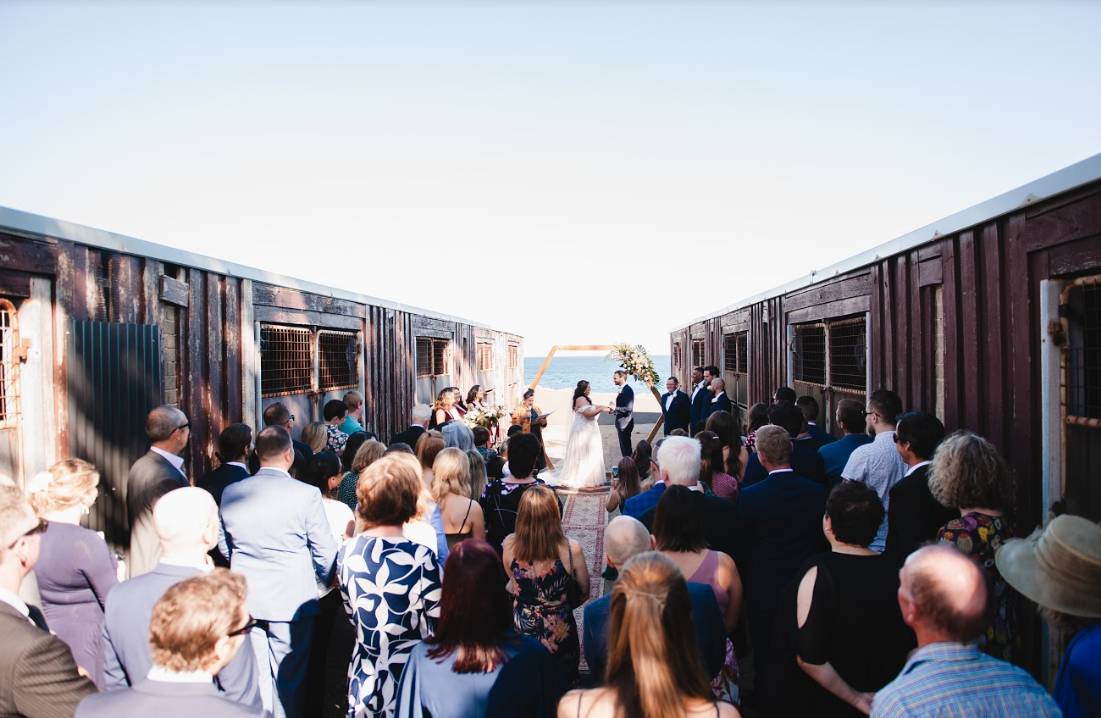 Tell us about any funny, poignant, challenging or emotional moments?

In the hours leading up to the wedding, our beautiful five-year-old page boy Harris had been hanging out and getting ready with the rest of the boys. He wasn't allowed to partake in a pre-ceremony whiskey to settle the nerves, so he had to make do with soft drink and lollies.
As Harris arrived at the venue and was getting prepared to lead the procession down the aisle, he projectile vomited, luckily just out of view of all the waiting guests. The bridal party gave him a quick clean-up, and he pulled himself together, striding down the aisle, rings in hand as nothing had ever happened.
One of the most special moments of the day came during the reading of the vows. We had no idea at the time, but later guests told us that as we were reading their vows several whales were seen breaching in the background.
One of the more challenging and emotional parts of the day was proceeding without my grandmother being present. My grandmother spent months and months preparing the tapa and the necklaces for the event we're unable to fly over for the event due to health reasons. My father gave a beautiful tribute to her in his speech and had the whole room in tears. We plan to visit her in the New year to show her photos and tell her stories about our special day.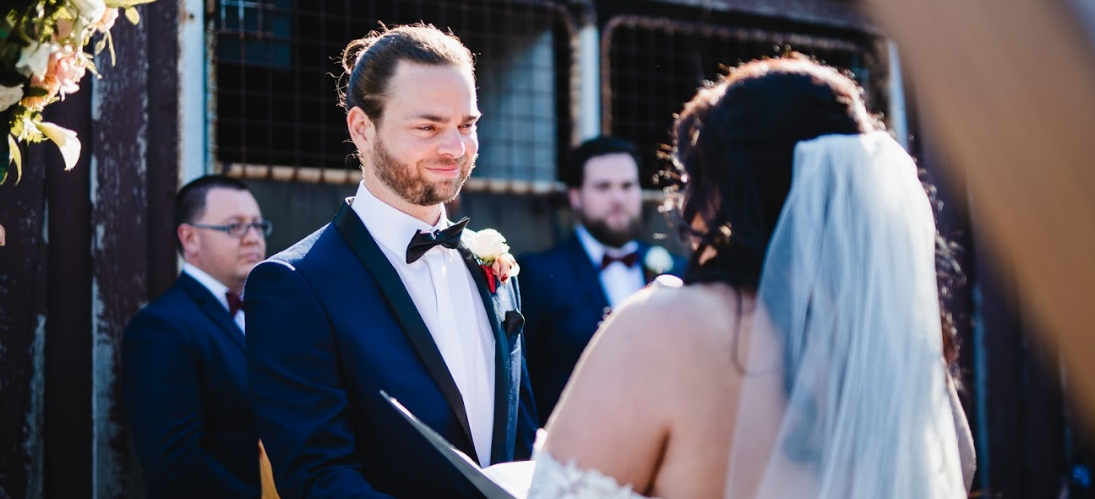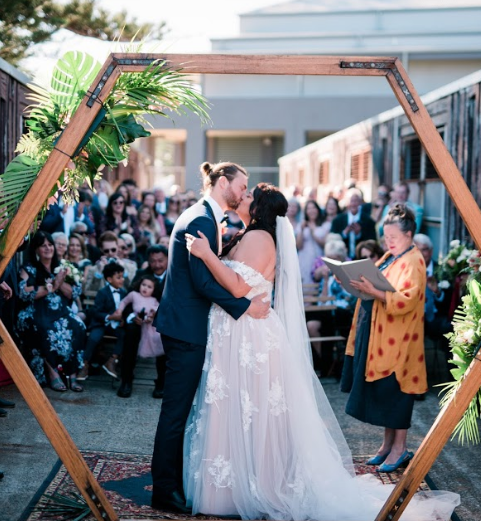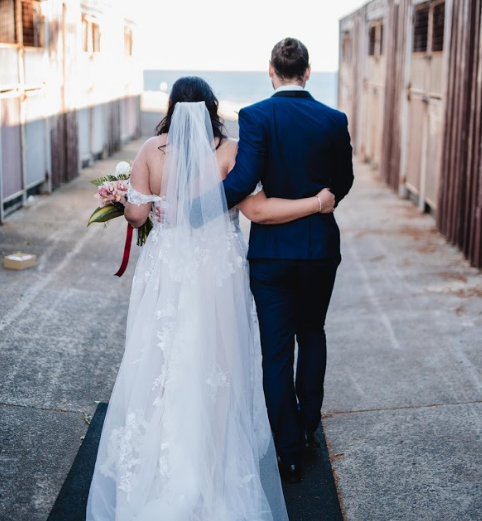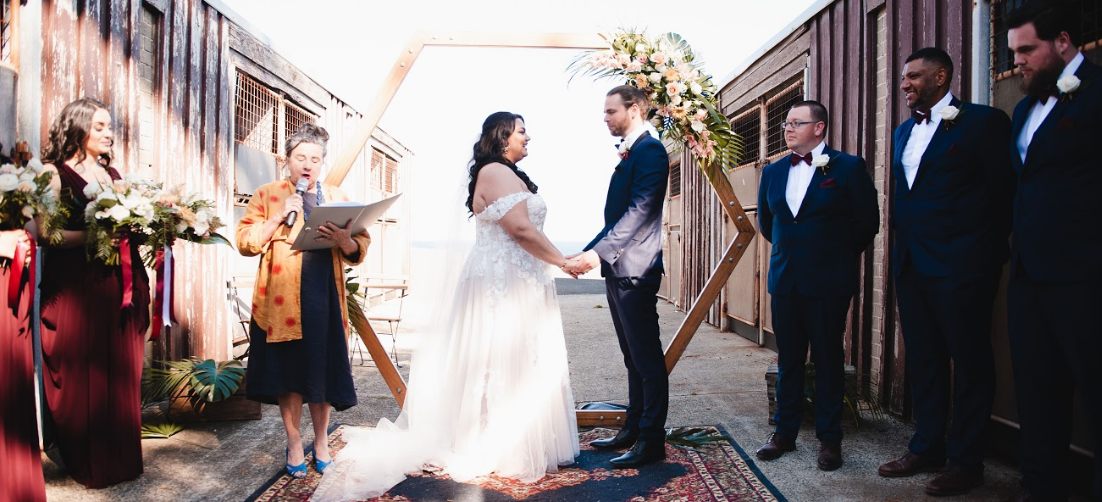 Where did you go for your Honeymoon? Why?

We flew to New Zealand and drove a campervan around the South Island for the first part of our honeymoon. We both love being in nature, and New Zealand has some of the prettiest areas in the world. Swimming with dolphins in Akaroa and cruising Milford Sound were highlights.
We then flew to the Cook Islands to enjoy the beautiful beaches and snorkeling. We are both have a strong tie to the ocean, and exploring more of what Polynesia has to offer was on our list.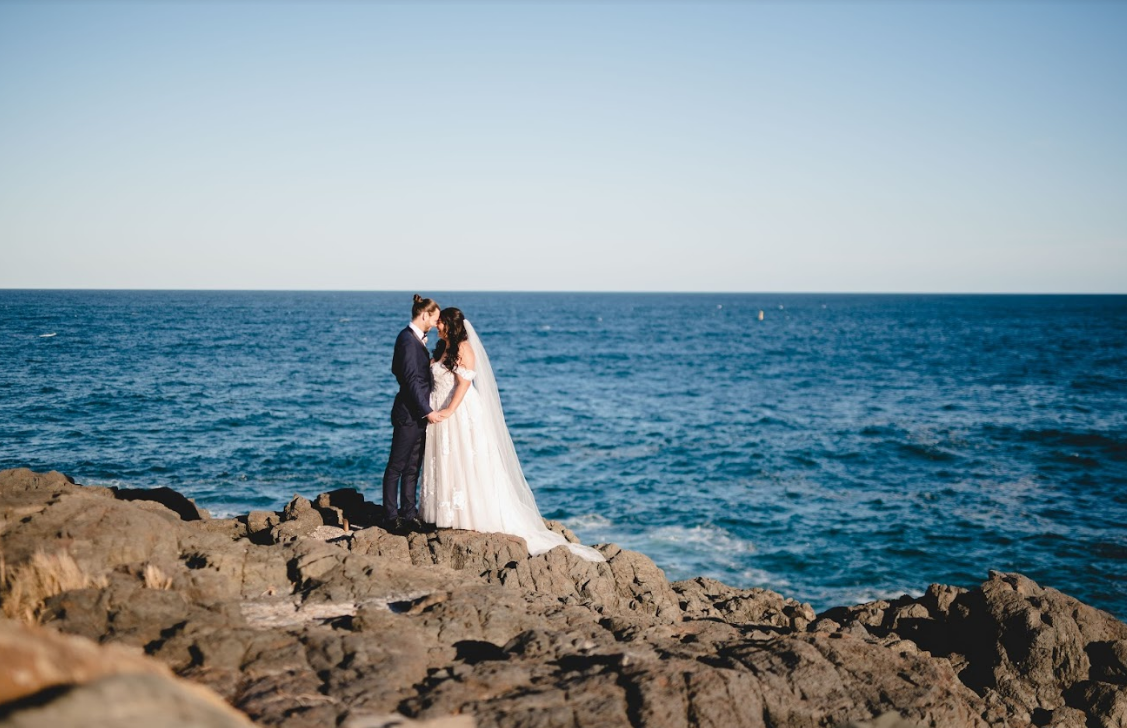 Do you have any advice for other brides?

Try not to get caught up in the small stuff, it is having the people who you love all in one room that makes it so truly special.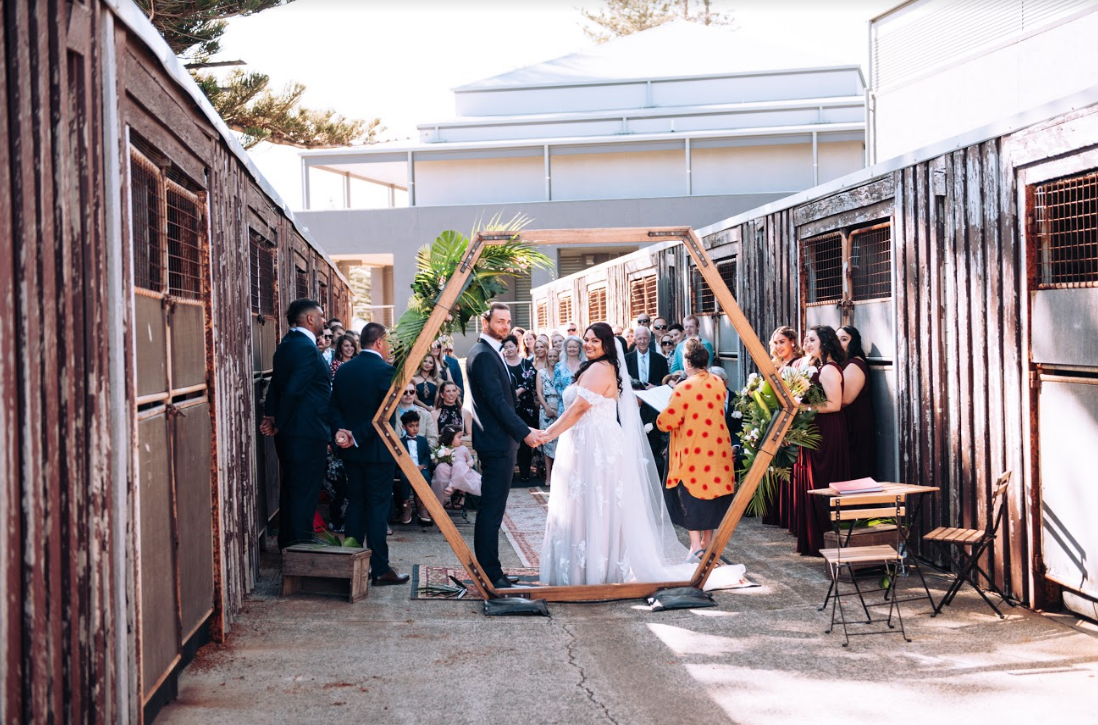 Would you share your favorite parts of your vows and readings?

Patrick wrote the ceremony as a story of how we met, and how our relationship developed. I loved that it made the ceremony so personal to us.
Our favourite parts of the vows:
"I promise to give you the respect, trust and devotion that you deserve, and to make a life together with you that is everything we want it to be.'
"I will always be with you and love you in good times and bad. I promise to take care of your heart, and love you with all of mine, for the rest of my life."
Favourite parts of the ceremony:
"Patrick loves Sharmanes passion, courage and energy. He admires her work ethic and organisational skills, even if this means receiving a handwritten list of chores every Saturday morning similar in length to this speech. He loves her smile, and the way she can light up a room, or turn a bad day into a good one. And he loves that she is a caring person, who will put family, friends or even strangers needs above her own. He believes he is the luckiest man on Earth, and that everyone here today who know Sharmane are lucky to have her as part of their lives too."
"Sharmane loves Patricks caring nature. She thinks he is intelligent, loyal and dependable. Sharmane knows Patrick is always there for people who need him, and feels his patients are truly lucky to have him caring for them. Sharmane admires Patricks strength, compassion and kindness. She also loves that their strength lies in their differences.
Sharmane believes that everyone here today can agree that anyone who meets Patrick can attest to his truly beautiful soul."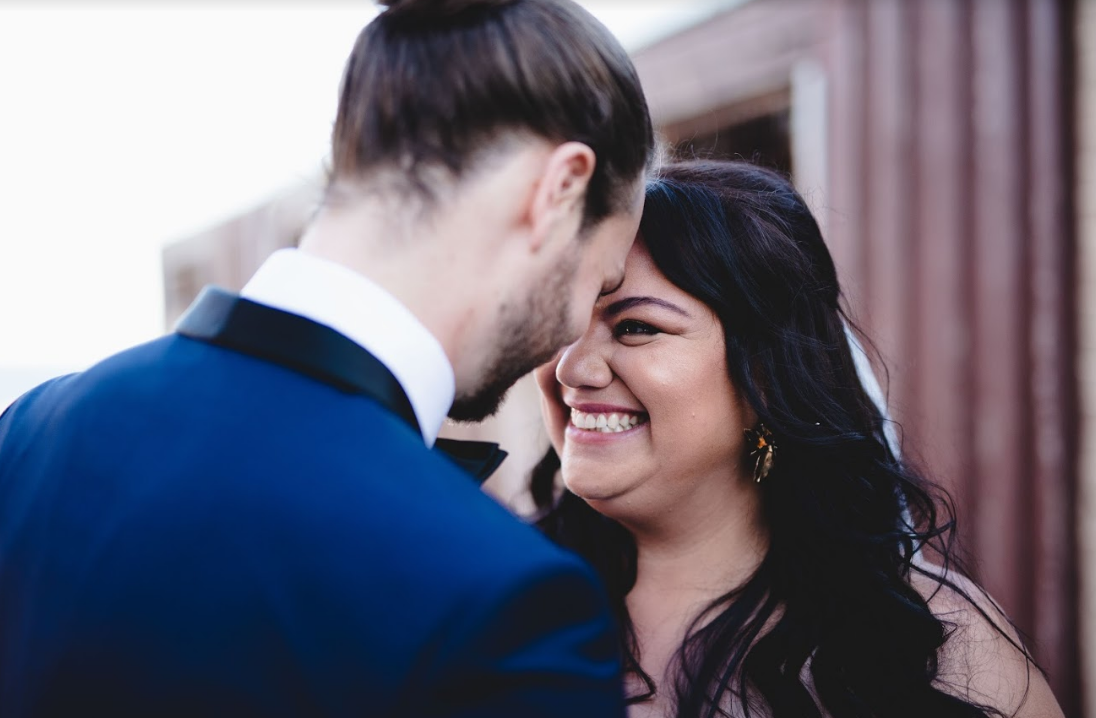 What music did you have? (walking down the aisle? / entrance into the reception? / First Dance? Etc

 I walked down the aisle to an acoustic version of Everlong by the Foo Fighters. Patrick suggested this. One of his favourite lyrics from the song is "breathe out, so I can breathe you in".
We entered the reception to "Come together" by Gary Clarke Junior.
Our first dance was to an acoustic version of "Lets stay together" by Al Green, my mothers favourite song.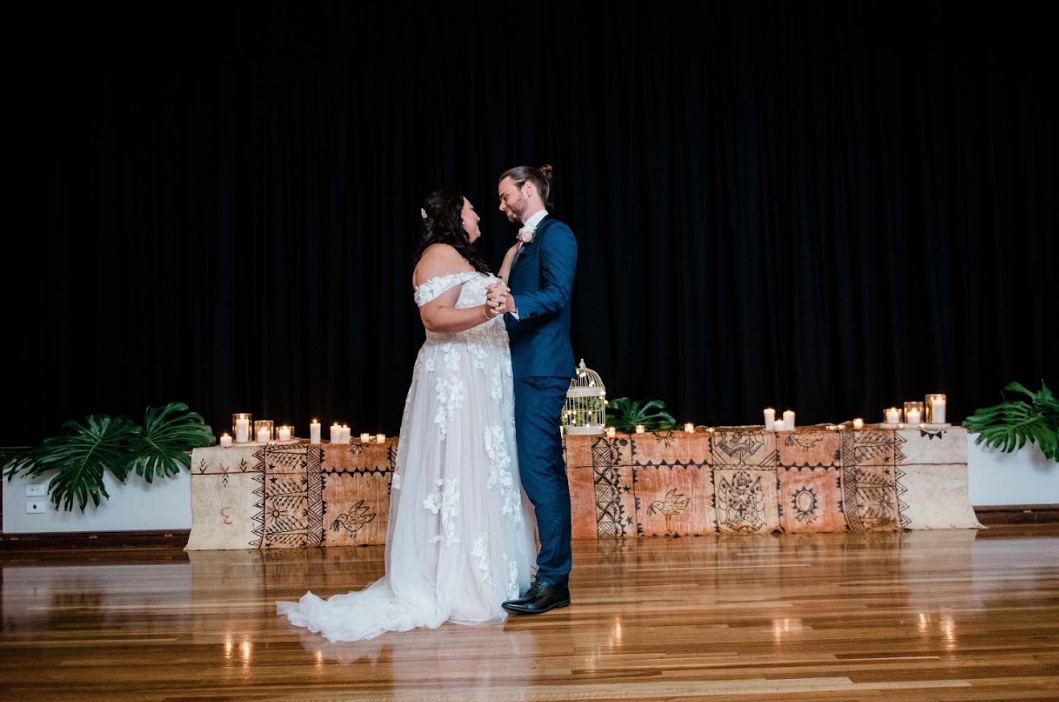 Is there anything else you'd like to add?

In lieu of wedding favors, we opted to donate to give directly on behalf of our guests. It is an evidence-based charity that gives directly to people living in extreme poverty. Give directly is conducting research to evaluate the effectiveness of a universal basic income to eradicate poverty.
 My grandma is our last surviving grandparent and unfortunately was not able to fly to the wedding due to medical issues. It was so important for us to have her represented through the tapa and necklaces she handmade and made the wedding so much more special for us.
Possibly one of my favorite parts of the night was in the speech Patrick's mother Rowena gave. It was from the musical Oliver. "Consider yourself at home. Consider yourself one of the family. We've taken to you so strong. It's clear we're going to get along."
For more inspirational wedding stories, Visit Real Weddings to find your perfect Sydney wedding venue or get your obligation free quote today at The Pavilion Kiama!