How did you meet?

Andrew and I are high school sweethearts. We first met in Year Seven at Saturday Greek School. From the moment I saw him, I instantly had a crush but Andrew didn't notice me until Year Nine where it took him two attempts over a period of six months to ask me out… we have been together ever since.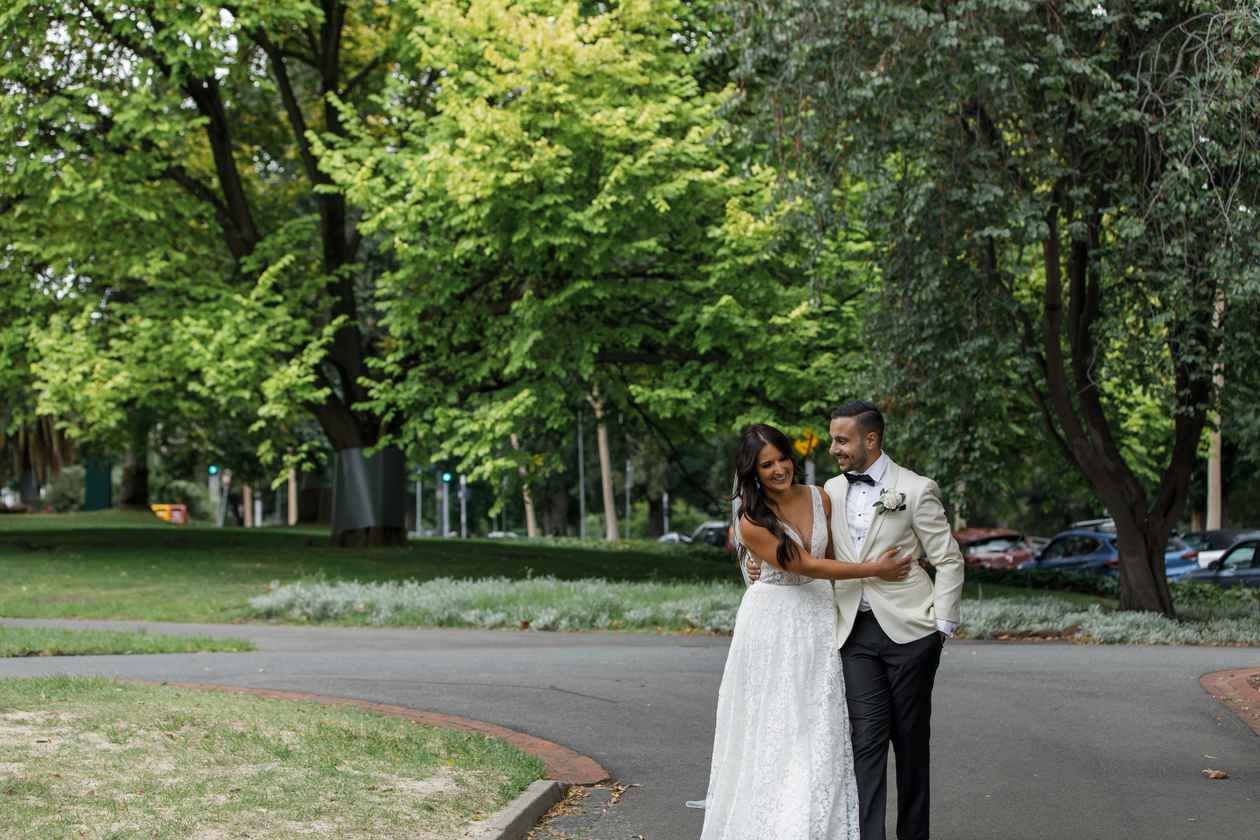 Tell us about the proposal.

Andrew planned a romantic weekend away to celebrate me graduating from law school and securing a full-time graduate position. Lo and behold he had another big surprise for me. Once we arrived at the quaintest cottage, I walked into a beautifully decorated living room (rose petals and flowers everywhere), where he got down on one knee! I still remember initially being so utterly shocked I didn't believe him and begged him to get up and stop "being silly".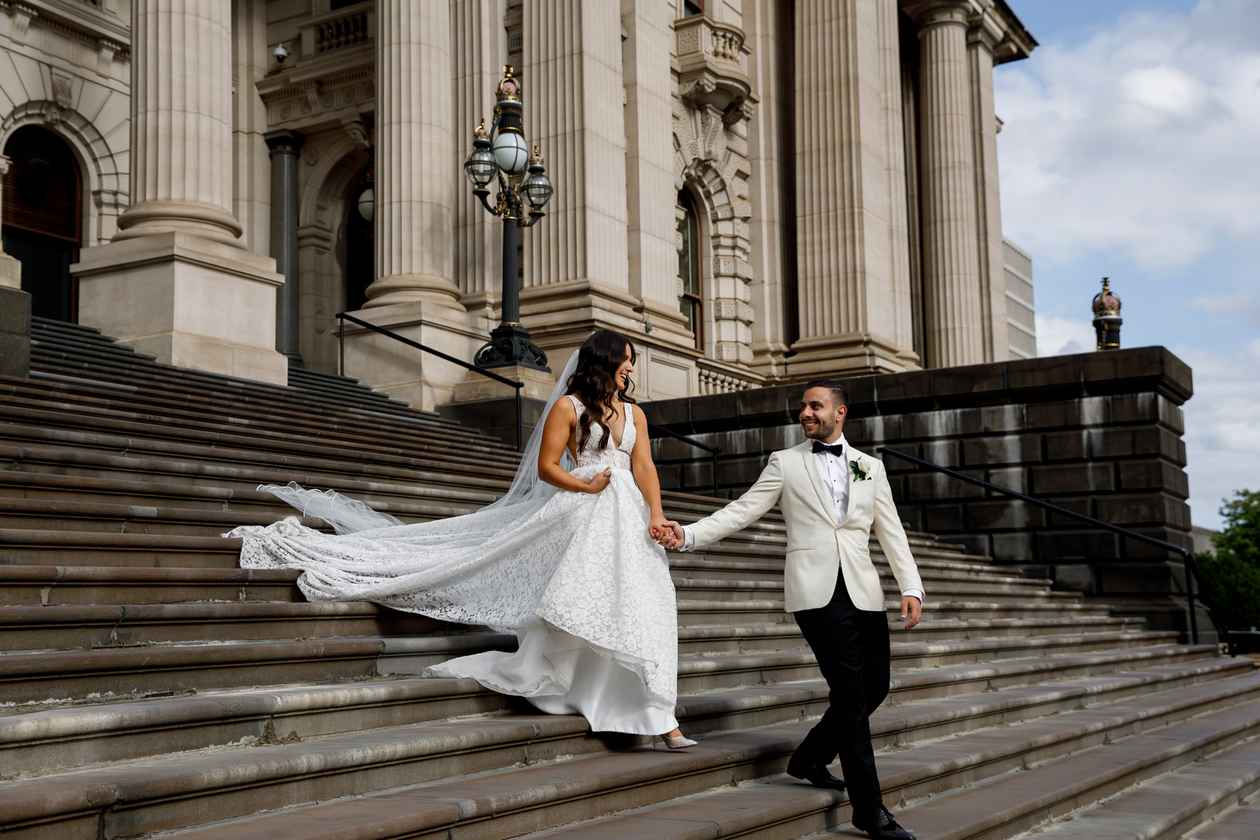 How did you choose your Venue and location? Why?

Andrew and I have been to a lot of weddings over the years so from the outset we already had an idea of the type of venue we wanted, however, our two non-negotiables were amazing food and a city view.
We had already been to RACV for a wedding a few years prior to ours and we remembered loving the venue.
After visiting a few other reception venues and arranging food tastings at each place, RACV won by a long shot.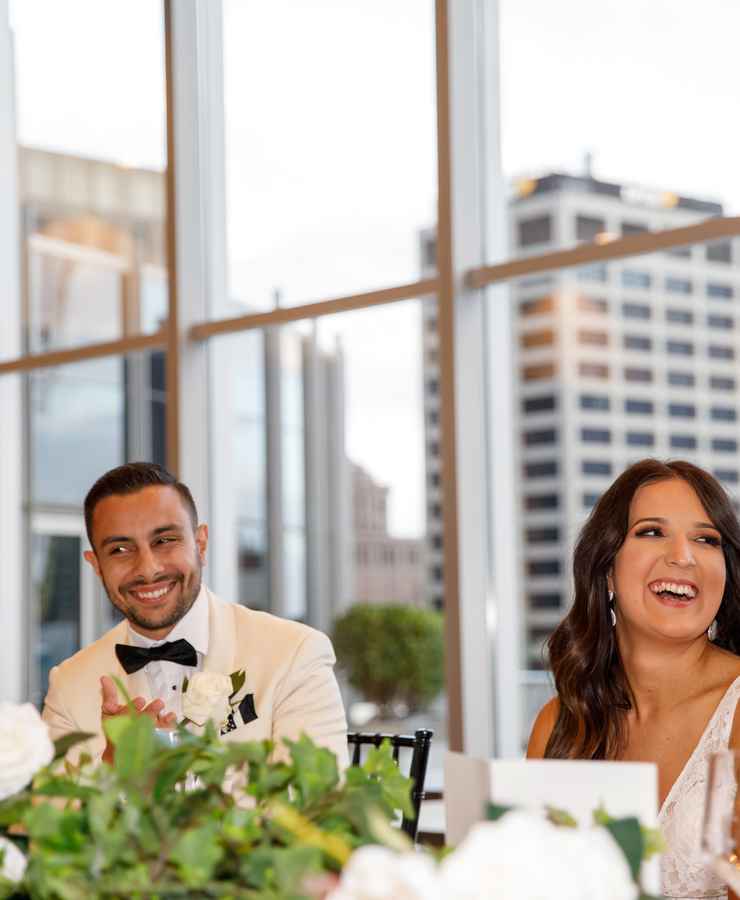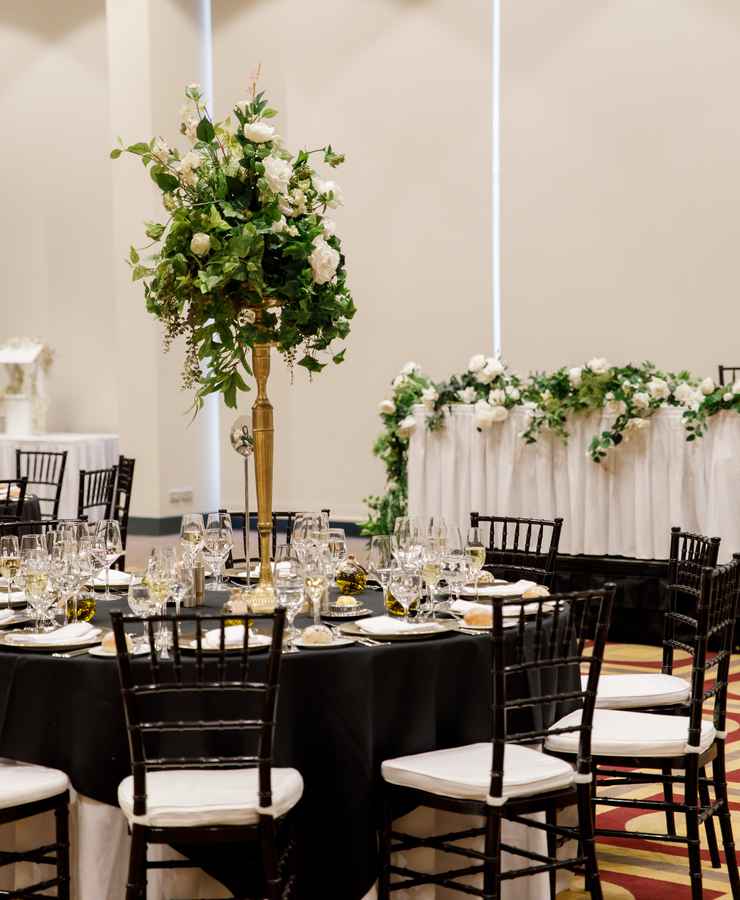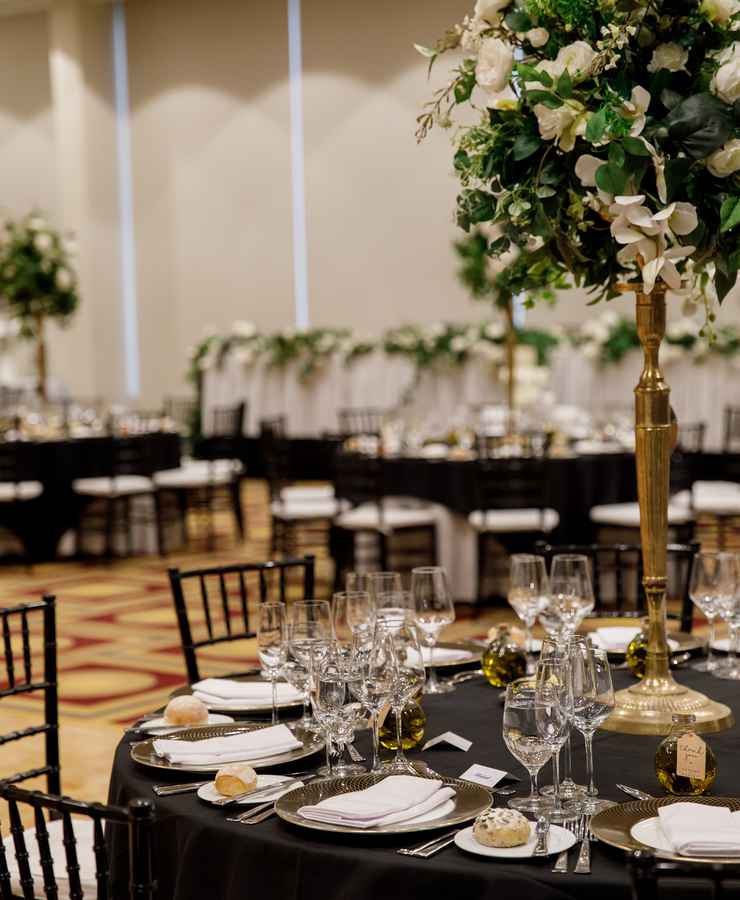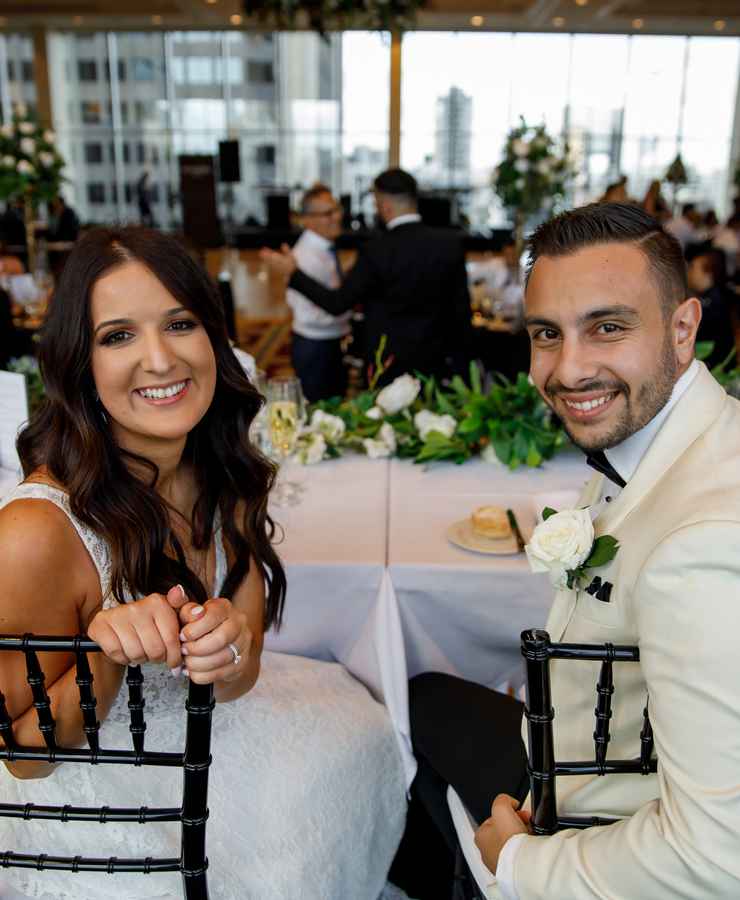 Tell us about your Gown (style, how you found it, what you loved about it). What about the groom and the bridal party fashion choices?

I spent a few weeks "dress hunting" and trying on different styles but from the outset, I ultimately knew what I wanted and what style would suit me. It was important to me that I would be comfortable on the day and I would be able to eat, drink and dance without feeling self-conscious. I found my dream dress at Mariana Hardwick. The dress was a full lace gown with a full circular skirt, including a custom extended train, dramatic v neck and backline with sheer side panels on the bodice. The outfit was finished off with two tulle veils (one short and one long), both with white piping around the edge.
Andrew can be such a "fashionista" so from the outset he knew exactly what he wanted to wear. For our engagement party, he wore a three-piece suit therefore for the wedding he wanted to do something completely different. He opted for a custom made cream jacket with black pants and suede and leather 1960's-style black brogue shoes. He finished off the outfit with a black subtle paisley detailed bow tie. Andrew has a fascination and love for watches so for the groomsman he purchased watch movement operating cufflinks.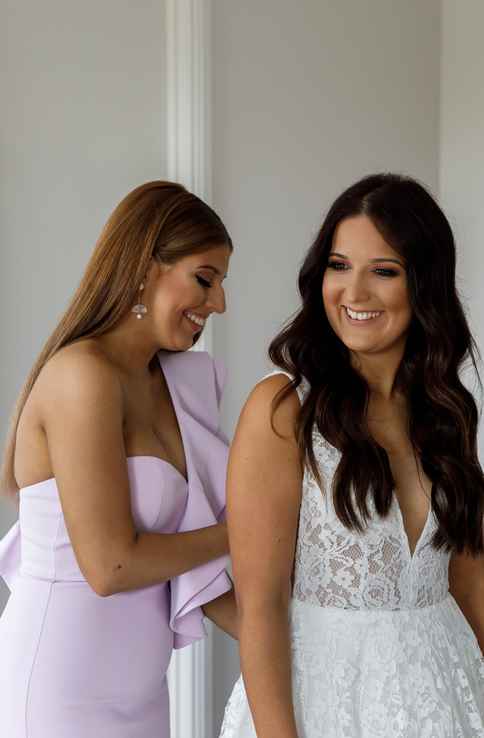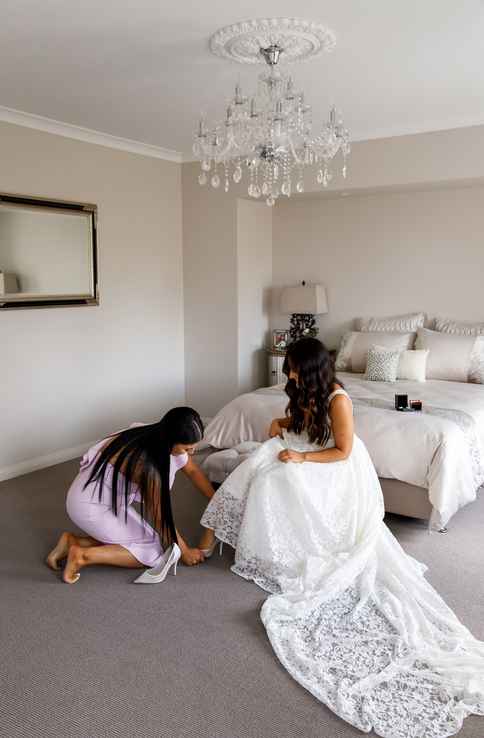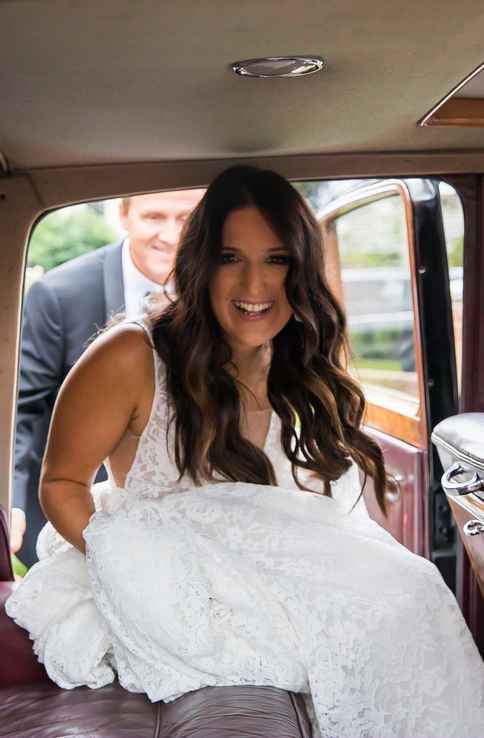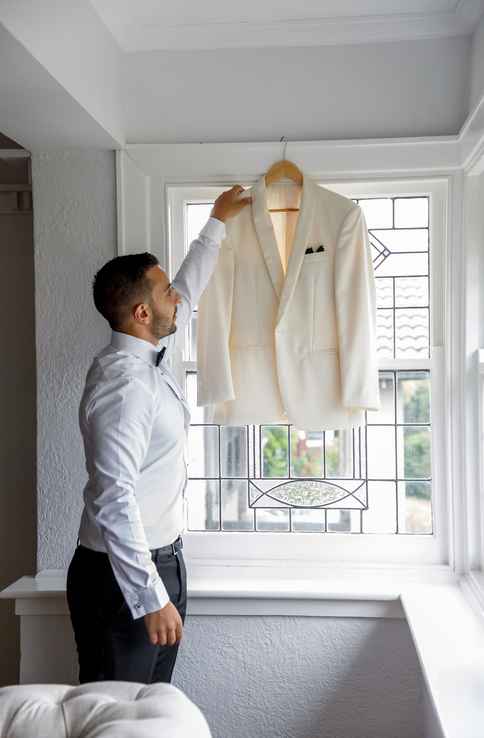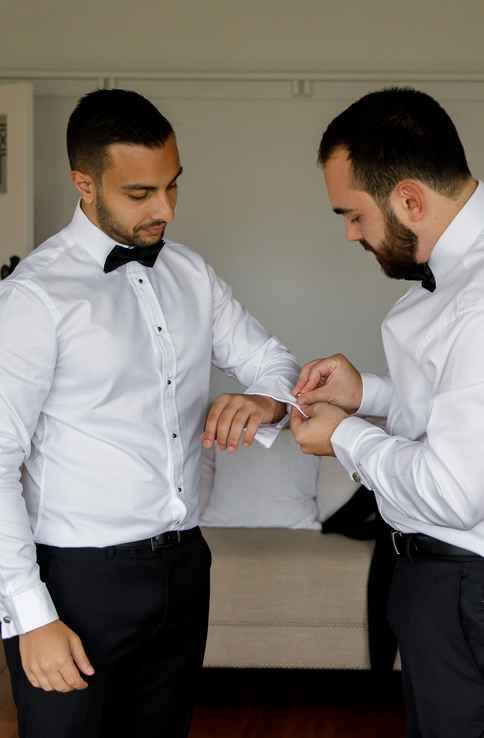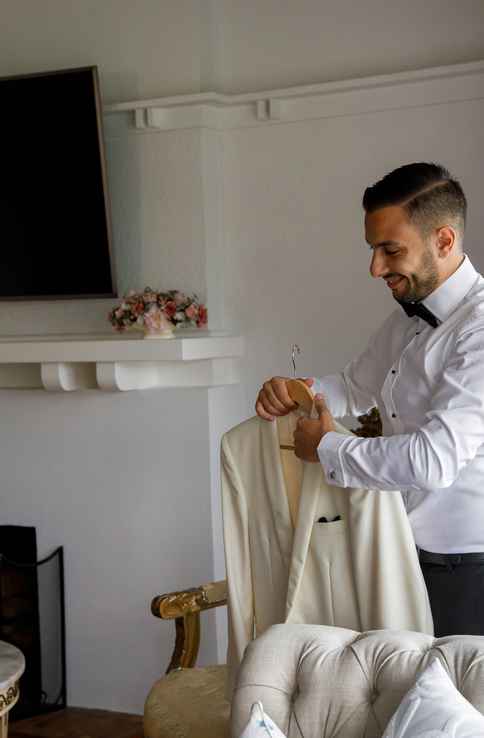 What Style / Styling did you choose for your wedding? (eg: color scheme, flowers, stationery, cake, transport, details, themes, inspiration, the overall "look and feel")

We wanted to follow a theme of understated elegance. Our color scheme was white, black, gold and greenery. We introduced this color scheme from the outset with our wedding invites and everything else leading up to the big day.
We kept the all-natural beauty of St Catherine's Greek Orthodox Church. We opted for a church that was architecturally beautiful and meant something to both Andrew and me.
Our reception venue was styled with a large floral chandelier overlooking the dancefloor. The floral chandelier included colors of green, white and light pink. The tables were decorated in black linen and included black Tiffany chairs with a white cushion. We opted for gold and black charger plates and a gold ornate floral stand holding a large arrangement of white and green flowers. To finish off the table setting we included little handmade rosemary oil bonbonniere. We also kept the floral color scheme consistent on the bridal table. We had a lush green and white table runner that spanned the bridal table, with matching flowers on our 2 tier semi-naked cake.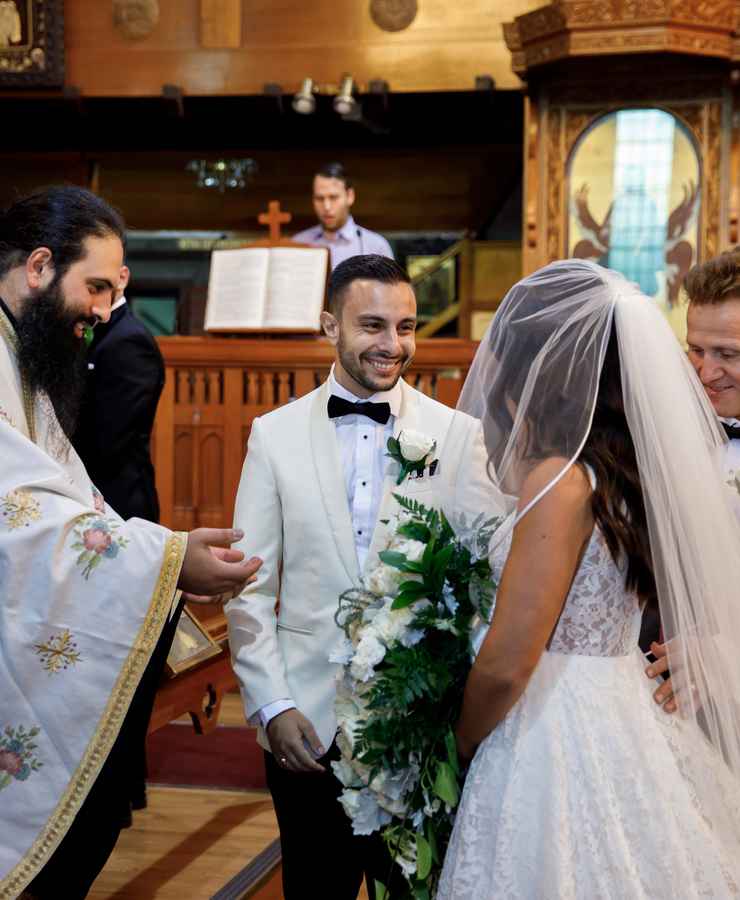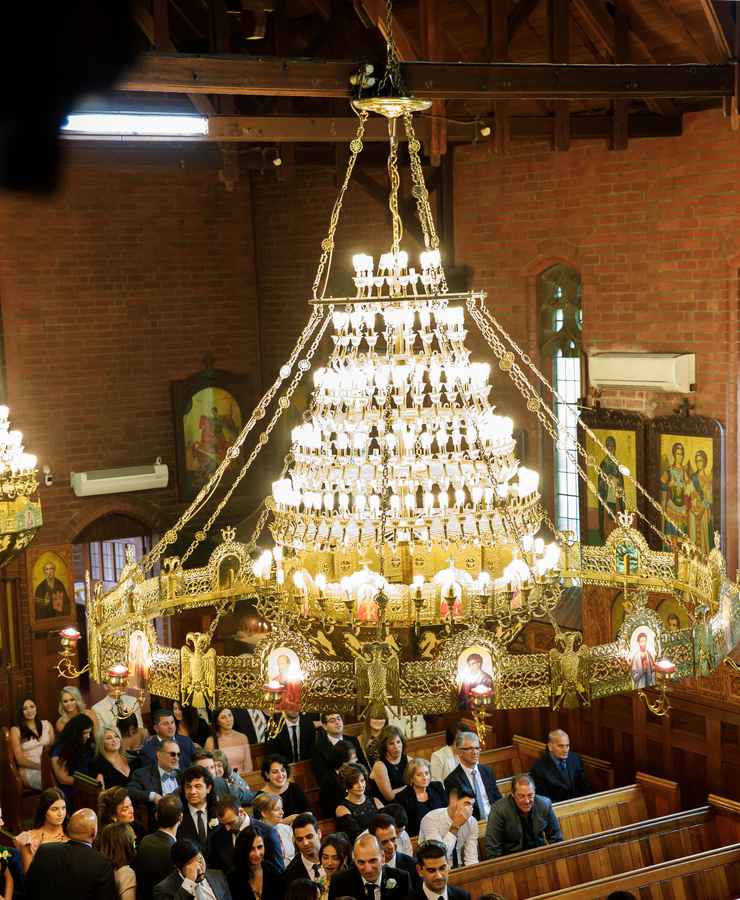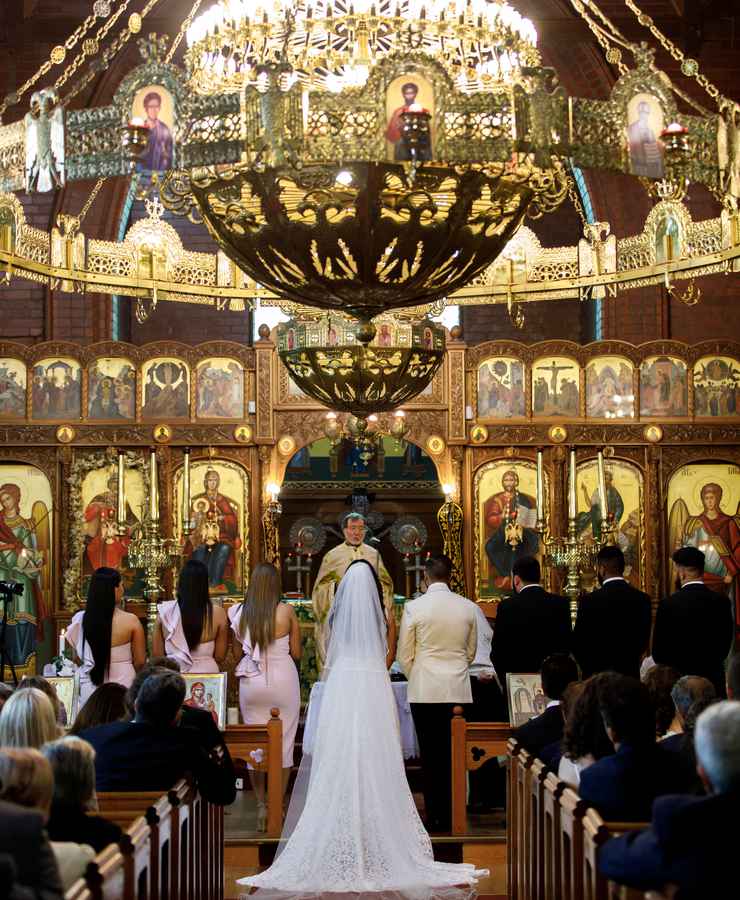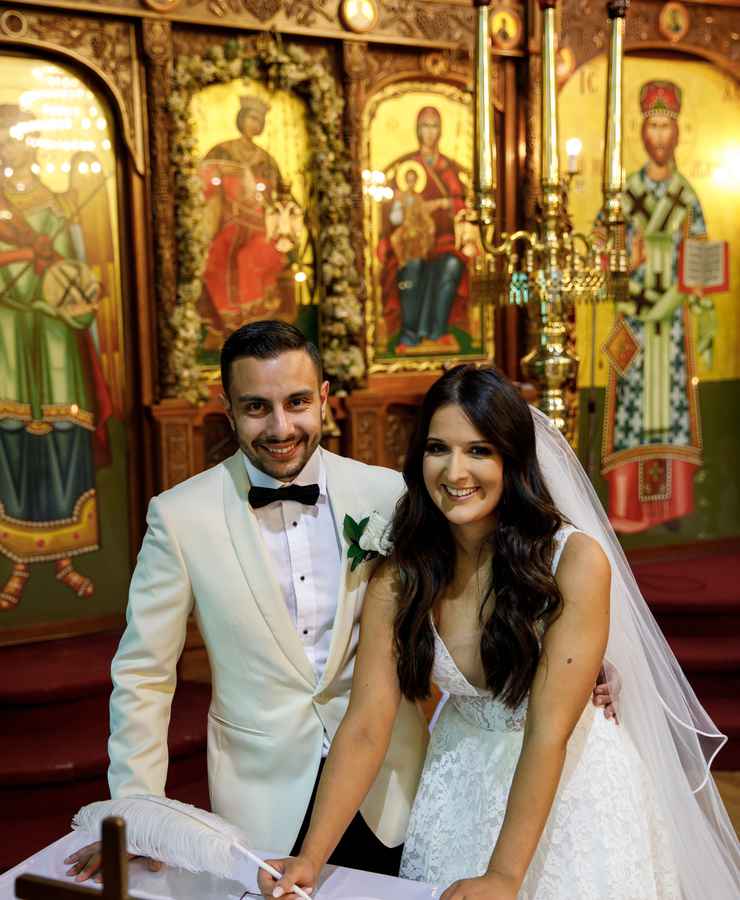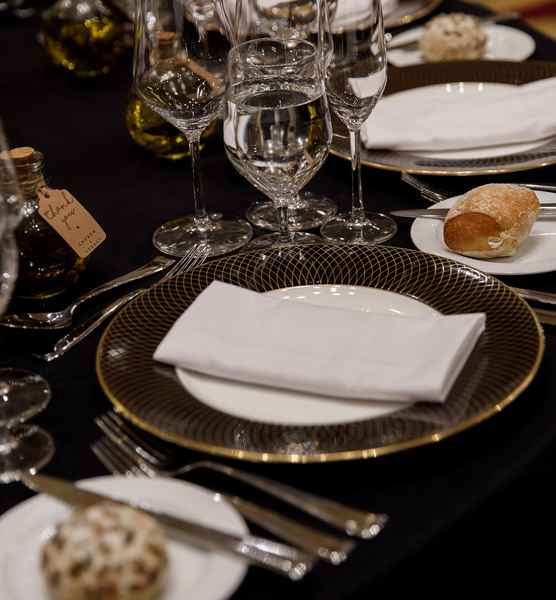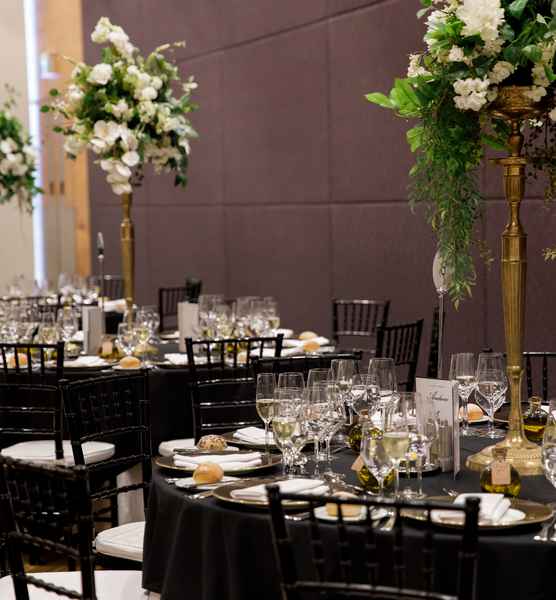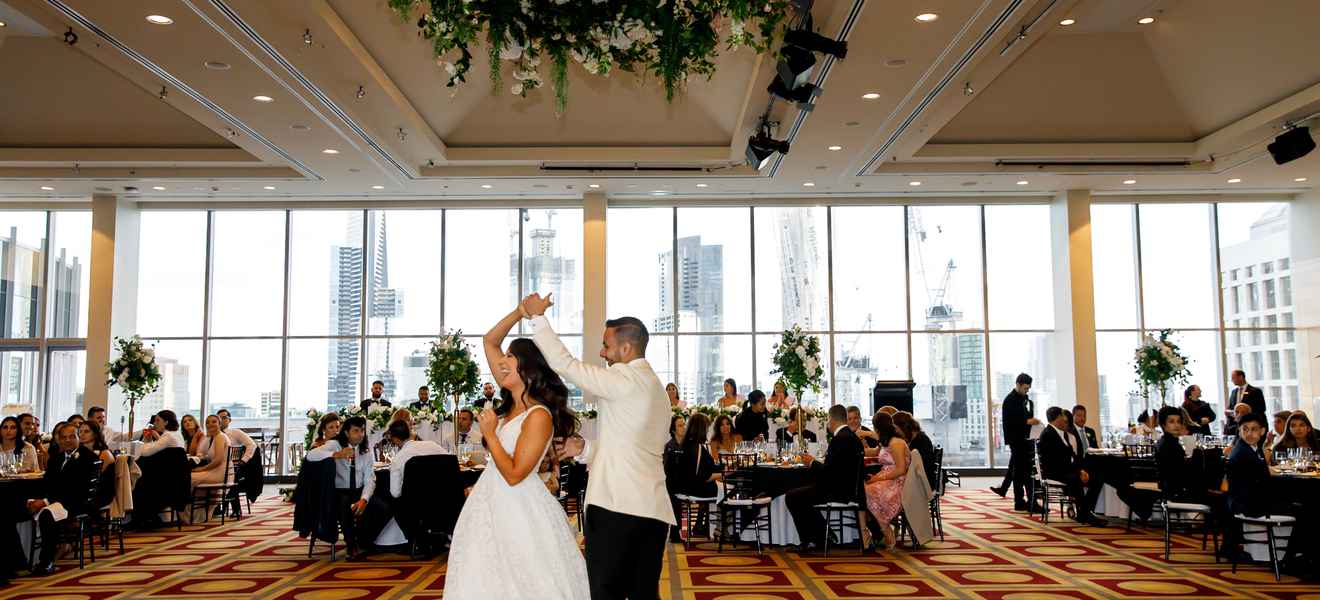 What were the highlights of your day?

It might sound clichéd but the whole day was a highlight! We both have Greek heritage so maintaining our customs and traditions were really important to us. It was a truly memorable day spending it with our closest family and friends, dancing the night away and shotting whiskey on the dancefloor (it's a Greek thing…!)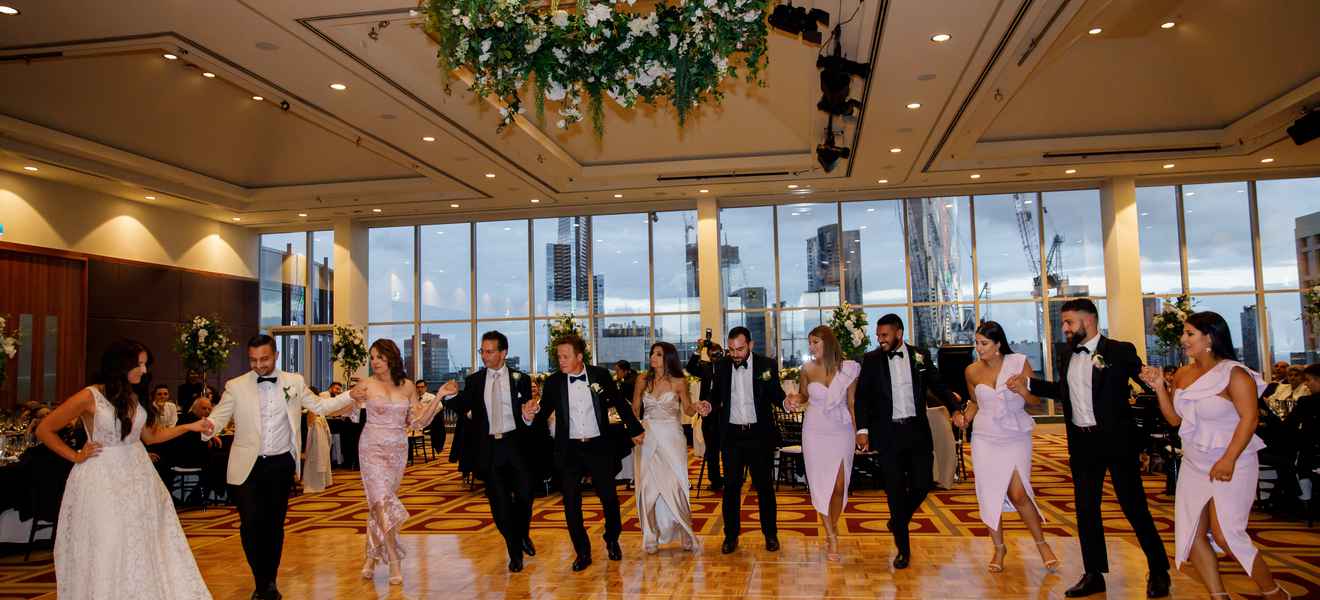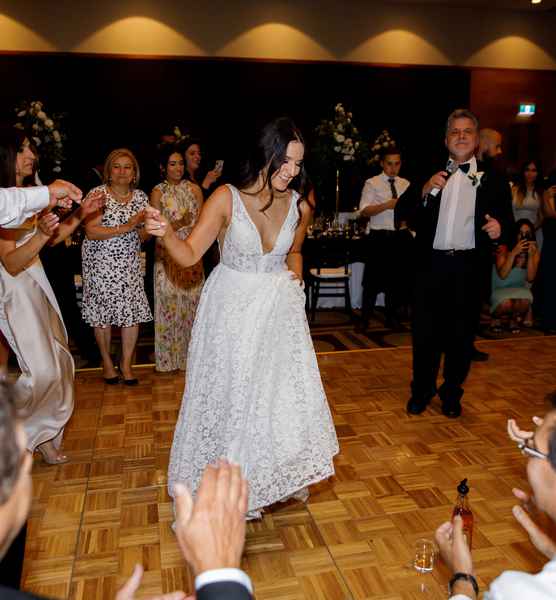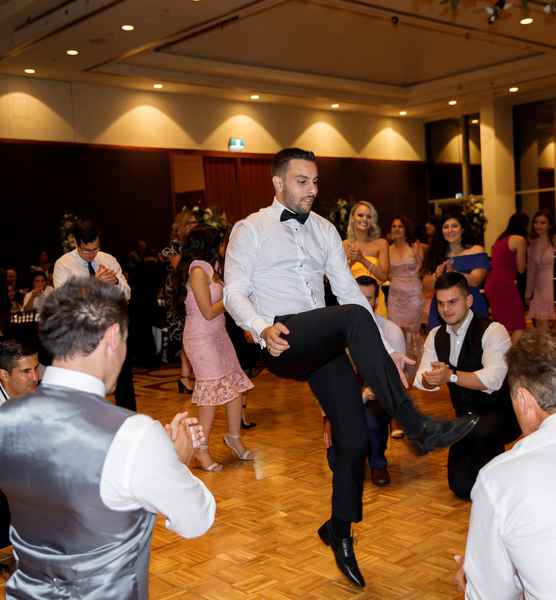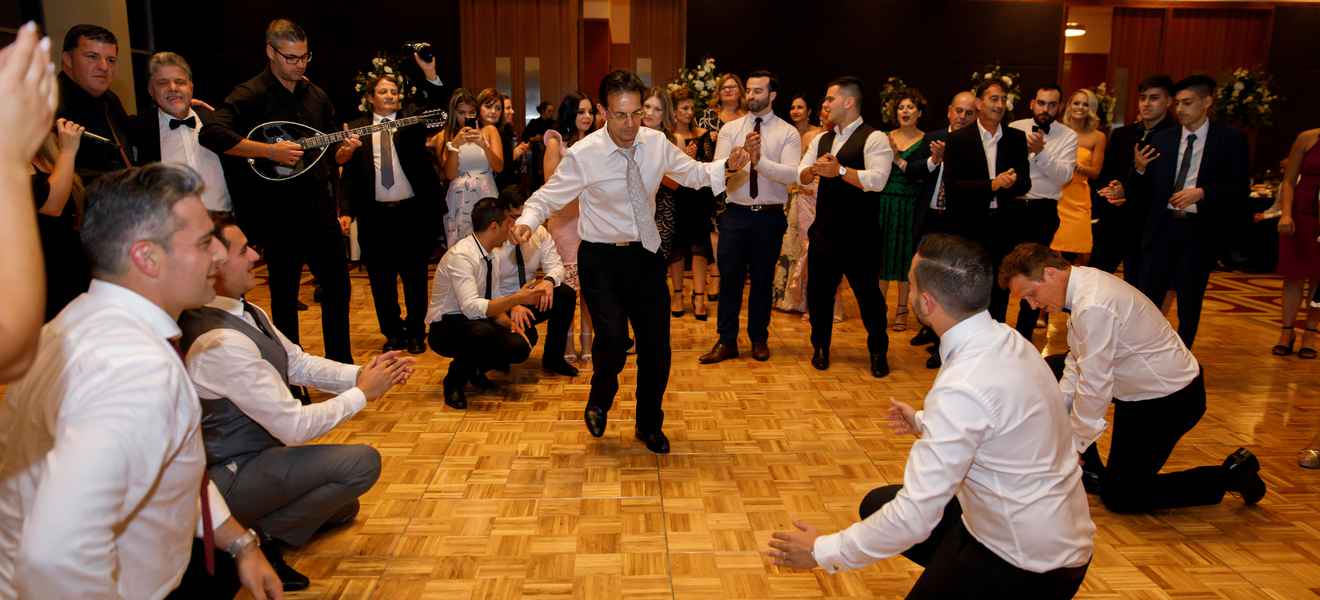 Tell us about any funny, poignant, challenging or emotional moments?

A funny moment was when our charismatic niece (who was also our flower girl) walked right between Andrew and I while we were standing on the altar. At the time the priest was blessing our wedding rings.
The emotional moment took me by surprise. I didn't cry when Andrew proposed so I didn't think I would cry when I walked down the aisle… how wrong I was! As I started walking down the aisle I was so excited and overwhelming happy I started uncontrollably giggling. As I approached the altar the giggles stopped and I suddenly burst into happy tears. At that moment the Greek priest urged Andrew to kiss me not only once but twice to stop me from crying (this is strictly not supposed to occur in a Greek Orthodox wedding). Because it is not common practice to kiss the bride at the beginning of the ceremony. All our guests erupted in laughter when Andrew hesitated to kiss me as he was unsure if he heard the priest correctly.
Finally, the most challenging moment was surprisingly for my husband! We wanted to make the bonbonniere ourselves, therefore on a 35-degree summer's day my husband was outside hand-filling 150+ oil bottles. Meanwhile, I was enjoying our cool air-conditioned apartment while I was stamping the labels for the bonbonniere… hehehe!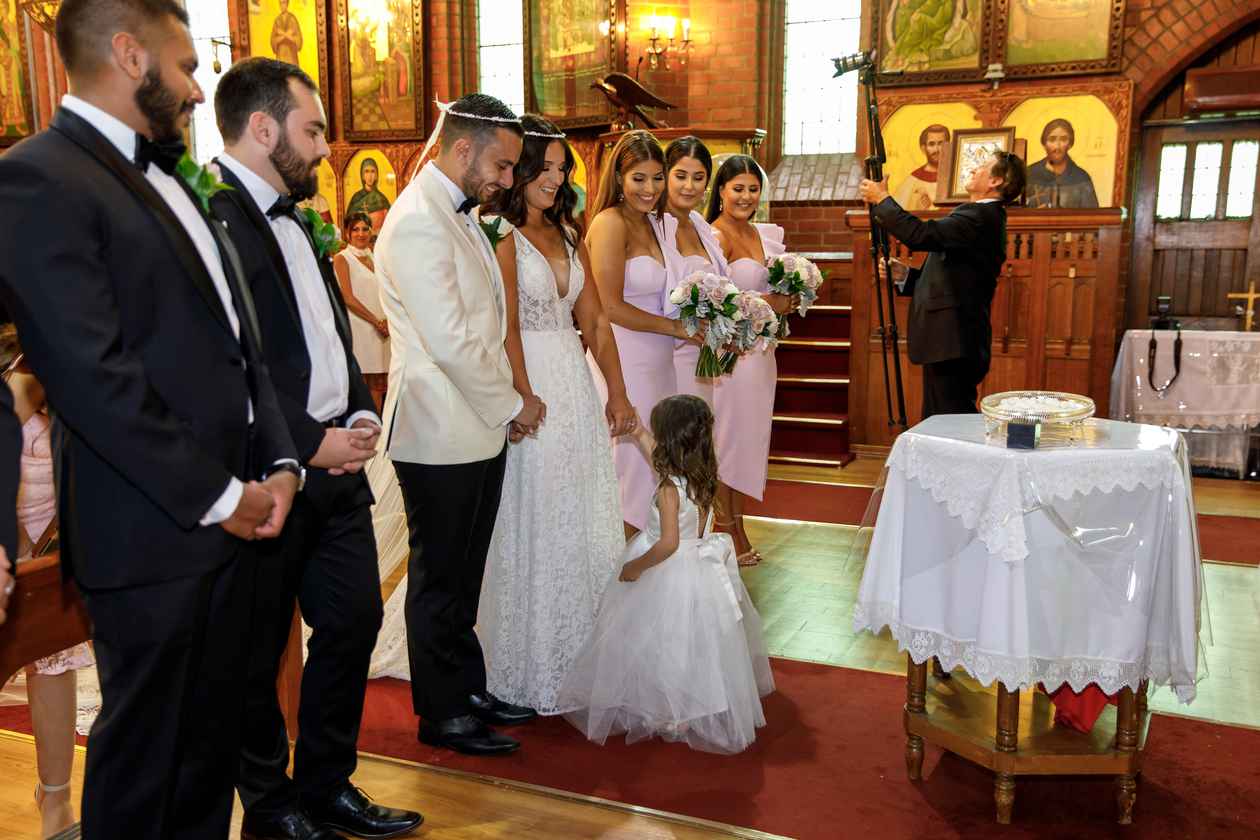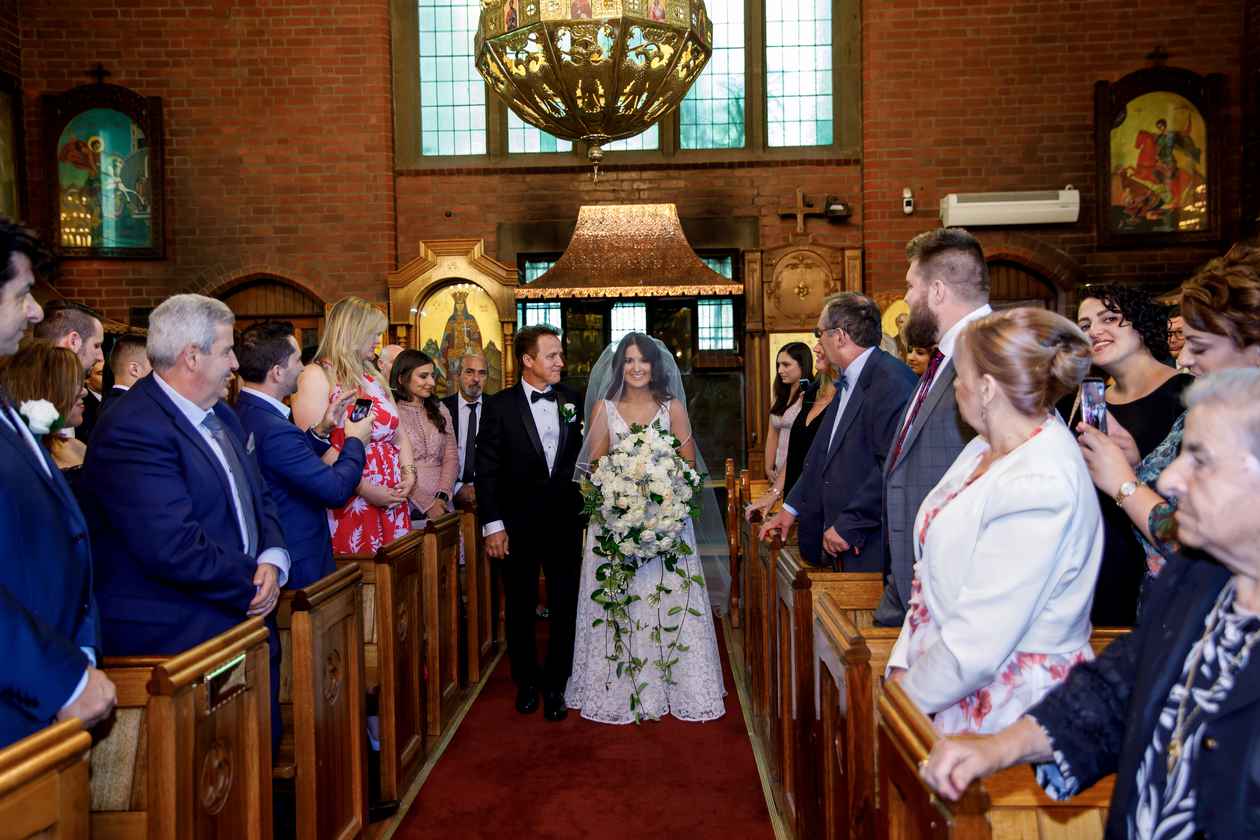 Where did you go for your Honeymoon? Why?

We wanted a European summer honeymoon but our wedding was in February. We decided to book a minimoon in Terengganu (an island in Malaysia) which was straight after the wedding for a week, followed by a five-week honeymoon around Europe in July.
We knew the honeymoon in Europe would be a fast-paced holiday, therefore, we decided the minimoon should be off the beaten track. We did nothing but relaxed by the beach and sipped on cocktails.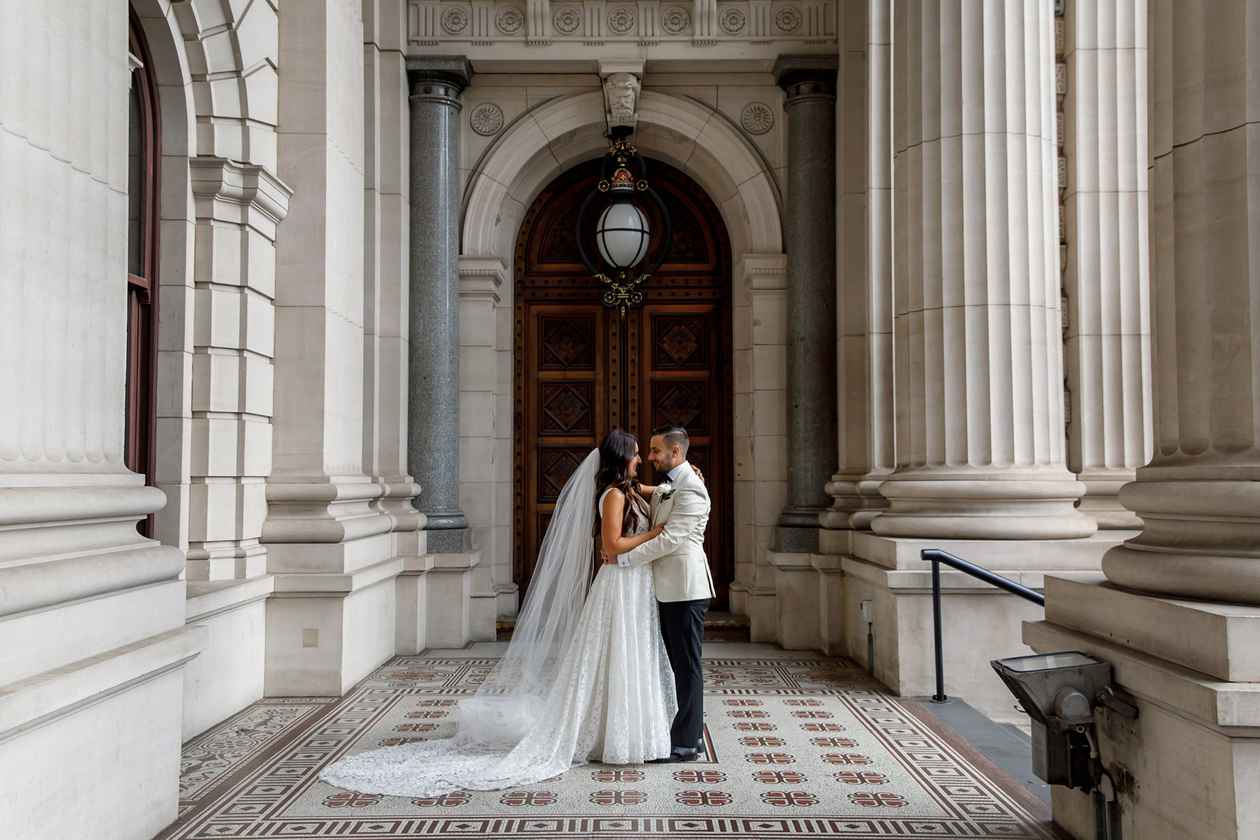 Do you have any advice for other brides?

Try to avoid getting overwhelmed and stressed during the lead up to the wedding. As someone who works in an extremely fast-paced and highly stressful industry, it is important to keep calm and level headed. It doesn't matter if a supplier gets the color scheme slightly wrong or if you cannot afford the most "Instagramable wedding". The most important thing is that you are marrying the love of your life and celebrating with your closest family and friends. No matter what, the wedding will be perfect in its own way.
For more inspirational wedding stories, Visit Real Weddings to find your perfect Melbourne wedding venue or get your obligation free quote today at RACV City Club!