Push open this home's solid timber wooden door, slip on a kaftan and revel in uninterrupted views over the sublime turquoise waters of the Whitsunday Islands.
Originally built as the private beach house for a Melbourne property developer, Ala Moana, which is Hawaiian for 'ocean pathways' can now be yours too - for your honeymoon that is.
This incredible home built has been built as a private holiday house, but is also leased to lucky honeymooners. Ala Moana easily eclipses its neighbor, the Glass House, in the 'fairest of all' the island's private residences. In fact, it could quite simply be the grandest of all accommodation on Hamilton Island, which in recent times has seen the introduction of a new level of ultra-sophisticated accommodation, previously unavailable on the island. Ideal for a very special honeymoon, or even a destination wedding, Ala Moana is the ultimate beach pad.
As we stand in the entry, Ala Moana's discreet host whisks our bags upstairs and we take a good look around. From where we're standing a staircase leads down to the centre of the house, which features two huge pavilions on either side. A flowing water feature runs down the spine into a bubbling and inviting spa and infinity pool. Pietra Grigio marble is used throughout the house, creating a seamless look between indoor and outdoor spaces. And beyond is nothing but the azure blue of the Whitsunday Islands, like a surreal abstract painting, stretching all the way to the horizon.
All conceptual space was planned by the owner who worked closely with Omiros Emmanouilides from O1A Architects and Melbourne interior designer Christopher Elliott to create a contemporary design, using natural materials that are relaxing to live in, while also taking full advantage of the house's knockout location.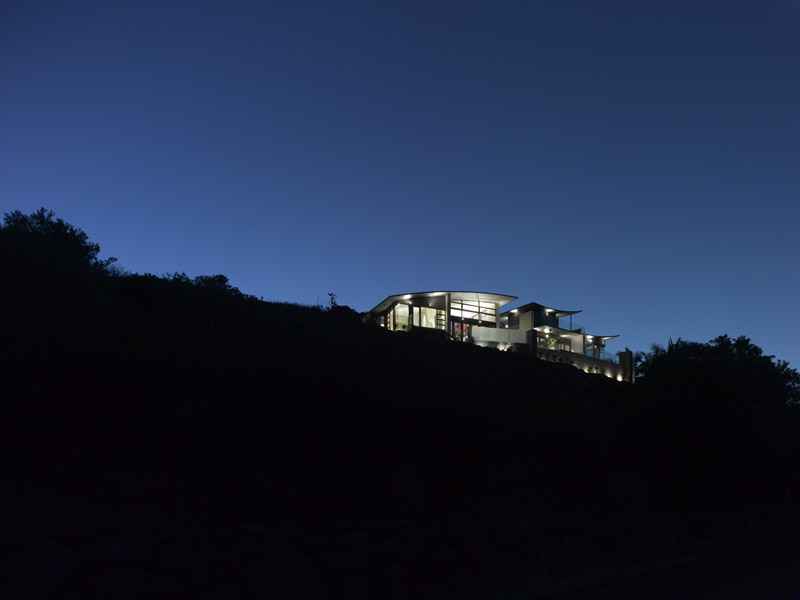 The project was several years in the making. Understandably, the local council is strict about the type of development they allow on the island (given the controversial high rise buildings that feature on the island's main beach) and Ala Moana's distinct curved roofline is far removed from the normal straight lines seen on other buildings. "In actual fact, the organic roofline is probably more sympathetic to the landscape than many of the island's other buildings," Chris Elliott explains, adding; "Ala Moana was designed to have a sophisticated elegance without feeling precious, and without detracting from the incredible setting".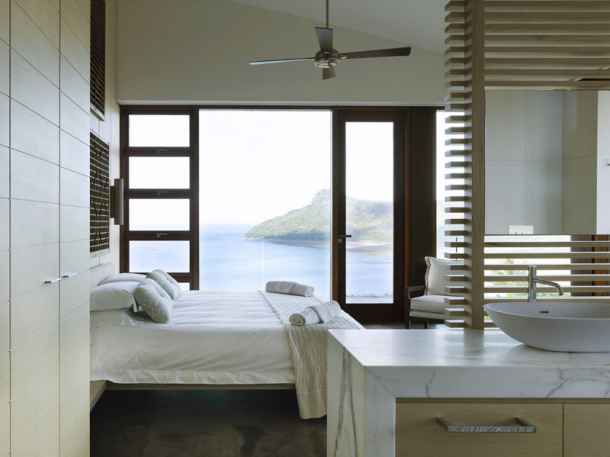 There's an open plan kitchen and adjoining dining area which seats 12, a separate living area with stunning Aboriginal artwork, custom made oversized lounge and groovy armchairs from Space Furniture. Upstairs there's a TV room with huge plasma screen for kicking back with a magazine, DVD or the soothing sounds of Dave Gray on the iPod, custom made rugs from Afghanistan, chic Dedon outdoor furniture and much more.
There are also five luxurious guest rooms. It doesn't matter which you get - they're all lovely and generous in size - but honeymooners will revel in the vast master bedroom, which sits on its own level with king size bed, huge bathroom with classic egg bath, private bar, lounge area and a wrap around deck to kick back and take in the expansive views. At a flick of a remote, electronic blinds expose 360-degree water views.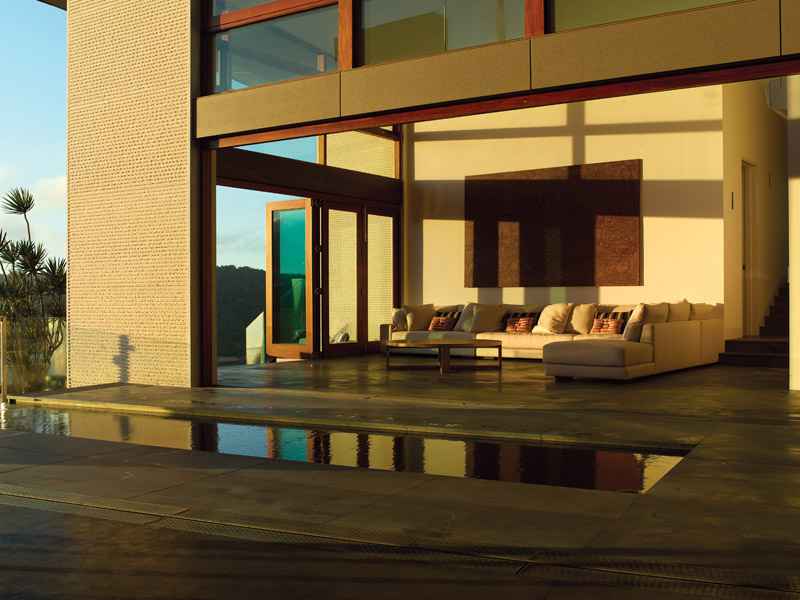 Probably the best thing about Ala Moana is it's all yours, making it ideal for the bridal party or family of the bride and groom. You can wander down for breakfast in your slinky negligee, have breakfast at midday or host a dinner party with your own private chef (at an additional cost). Plus, and this is a seriously enticing proposition, you also get the use of Ala Moana's own private 42ft cruiser and skipper for a day of exploring the islands, strolling hand in hand along Whitehaven Beach, having an alfresco picnic in a secluded inlet, snorkeling or all of the above.
But I must admit my favorite moment is sitting together on our private balcony, glass of Moet in hand, watching a lone catamaran head for home across the sparkling turquoise sea. It's an enormous leap from the fibro beach shacks of my childhood but nonetheless I surprise myself at just how easy it is to become accustomed to the life of the rich and famous.
Read Ala Moana, Hamilton Island reviews, you can also check our most complete list of top honeymoon destinations.