How did you meet?

We first met on 25th January then met again (Hayley forgot the first time, and doesn't remember being quite sassy): 15th February. Both at the Bridge Hotel in Richmond, Frank-Daniel was watching the footy and Hayley finally managed to dance her way over and start up a conversation.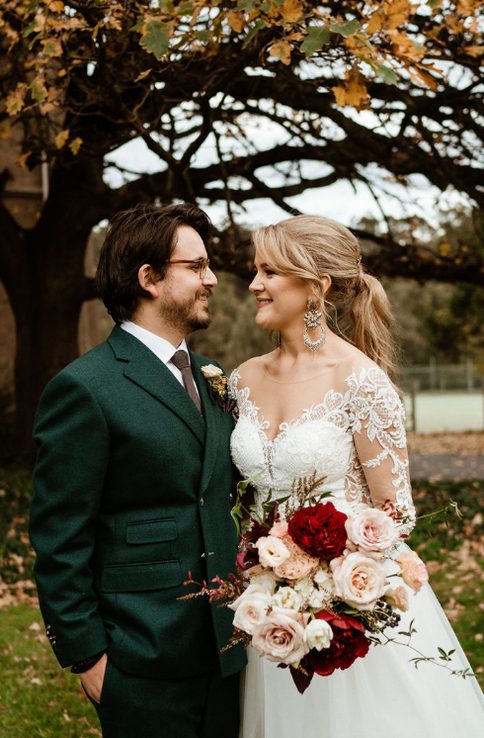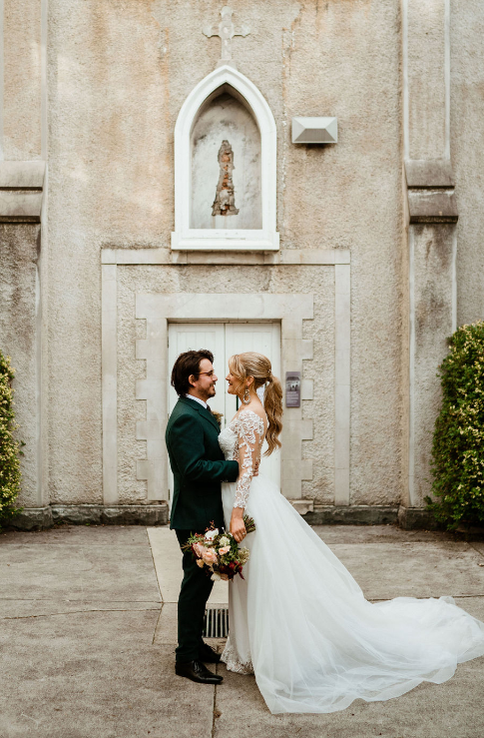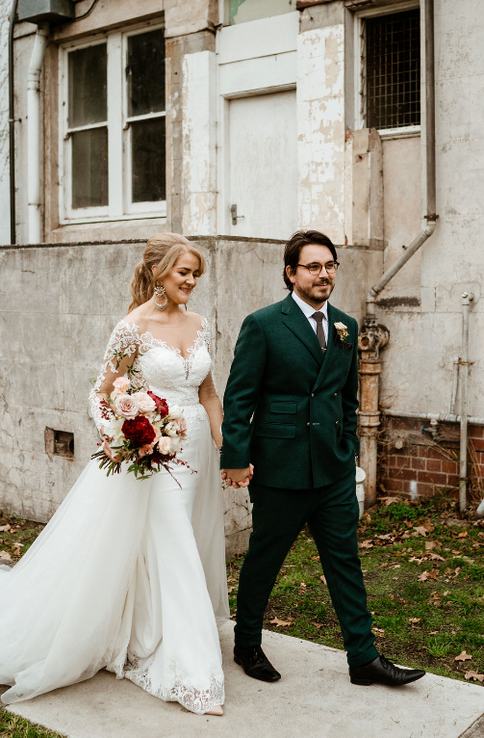 Tell us about the proposal.

It was New Year's Eve in 2017 and we decided to stay home and eat a nice dinner and watch movies. By 9.30, Hayley was ready for bed, little did she know I was planning to propose at midnight. I ended up having to go into the bedroom and read out my very sweet prepared speech. It was perfect, and we got up early on New Year's Day to go shopping for a ring.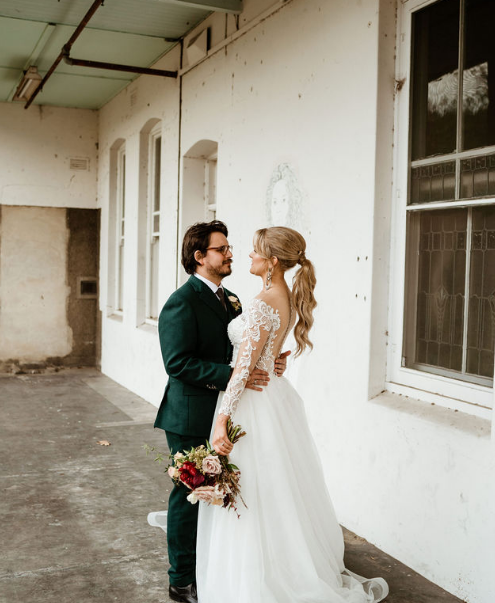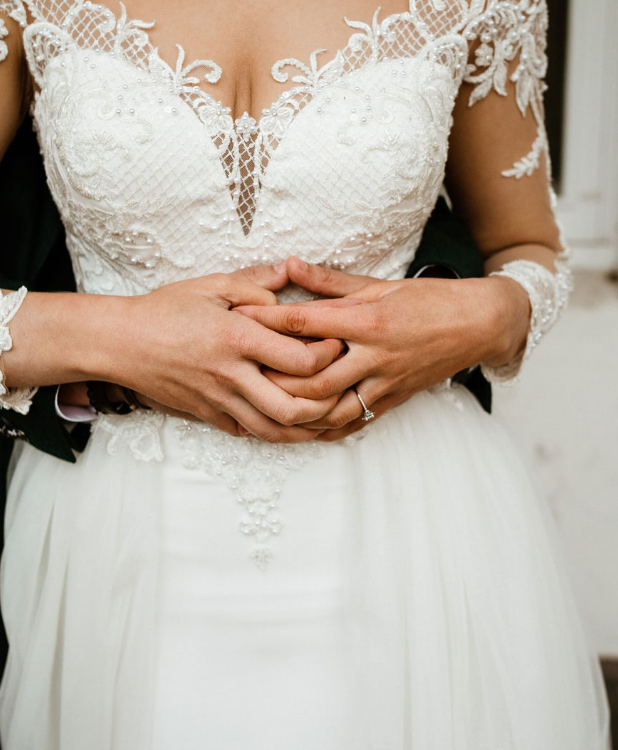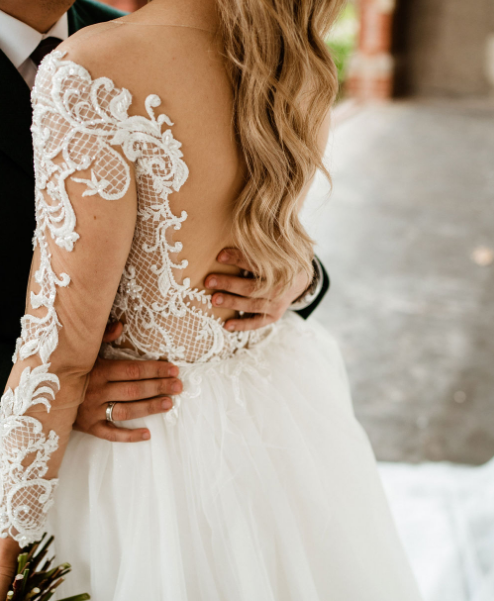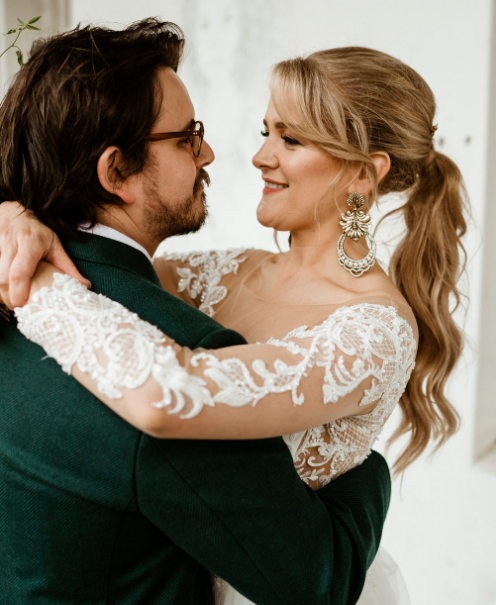 How did you choose your Venue and location? Why?

We met in Richmond, live there, and got engaged there too, so a nearby wedding felt just right for us. The Convent is such a beautiful location we can now visit on weekends for walks with our Westie Hugo, or breakfast. We loved the idea of a fairy-lit outdoor ceremony, Harry Potter style long tables, and a venue with character and history for our winter wedding. We also fell in love with the food, especially the mushroom ravioli and warm mulled cider.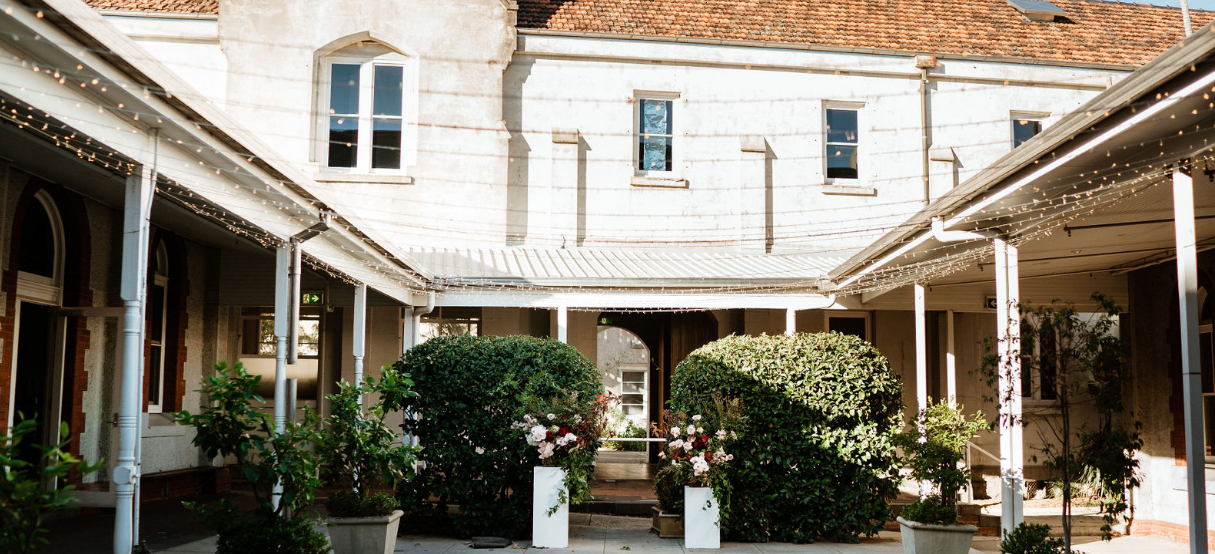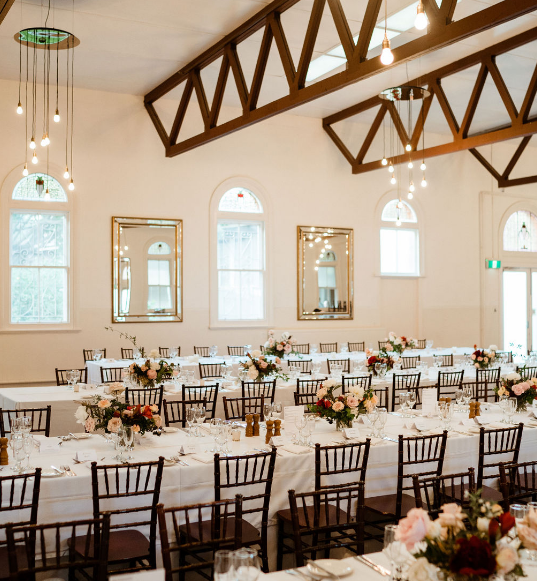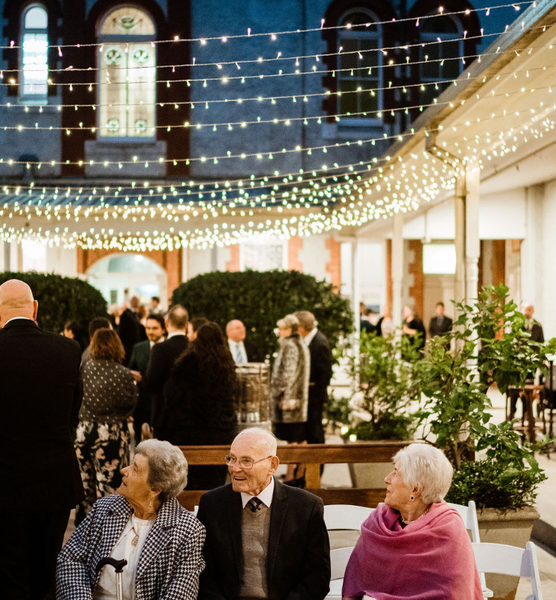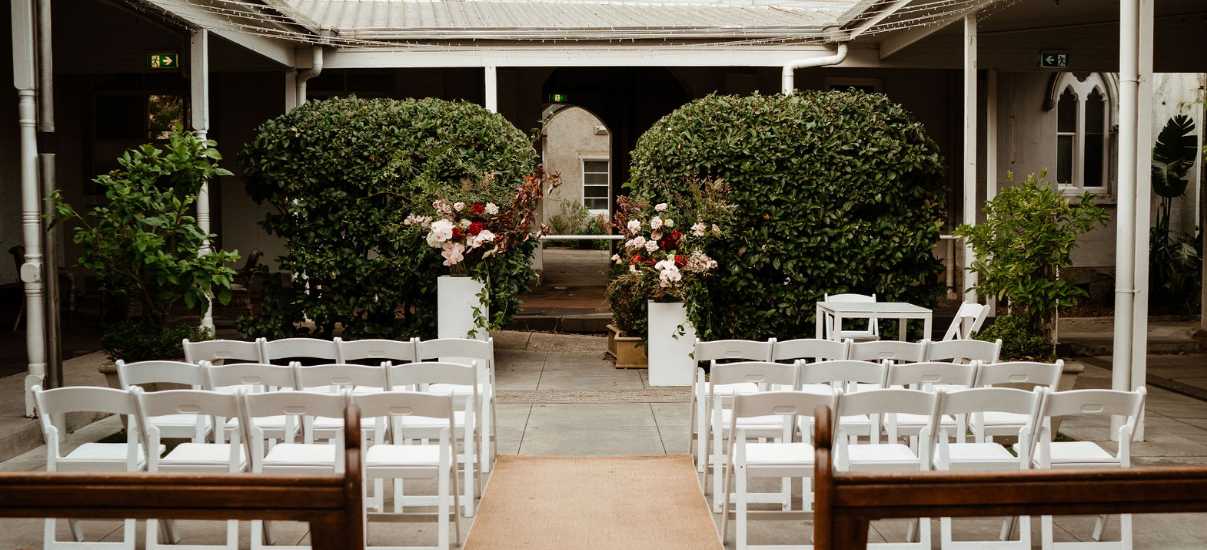 Tell us about your Gown(s) / Suit(s) (style, how you found it, what you loved about it). What about the bridal party fashion choices?

Bride's dress: Boutique: Raffaelle Cuica. Dress & Overskirt by Nicole Spose.
I initially purchased the fitted low back dress, and then later bought the bigger overskirt, which had glitter throughout it, for the photos and ceremony. I was so comfortable all night and loved the balance of long sleeves with a low back for winter.
Bridesmaids: Asos. I loved the bling factor and colors of the Maya dress, and they suited each of the girls, even my beautiful flower girl Elena who flew over from NZ and surprised the wider family.
Groom & groomsmen suits: A local tailor custom made them in Richmond. Frank-Daniel wanted to do something different and went for the green. Each of the guys had some little personalizations, including their names embroidered inside their jackets, their chosen lining, and a different colored buttonhole. They chose a thicker herringbone fabric for our winter affair, Frank-Daniel has already worn both several times!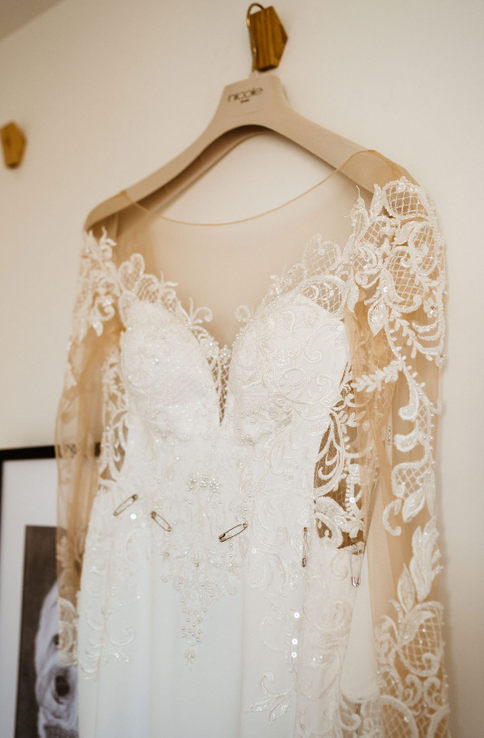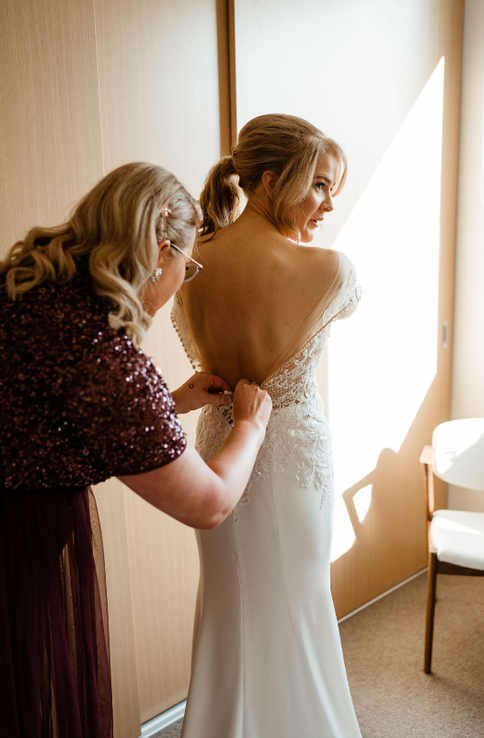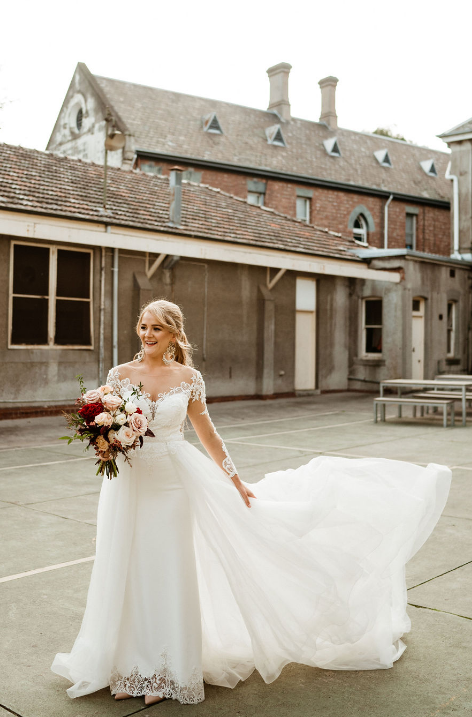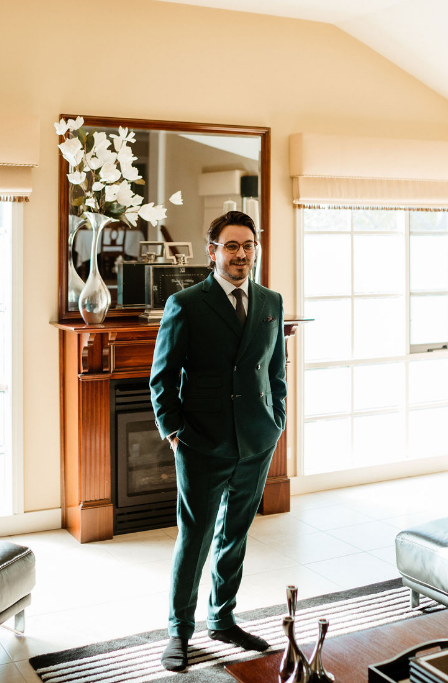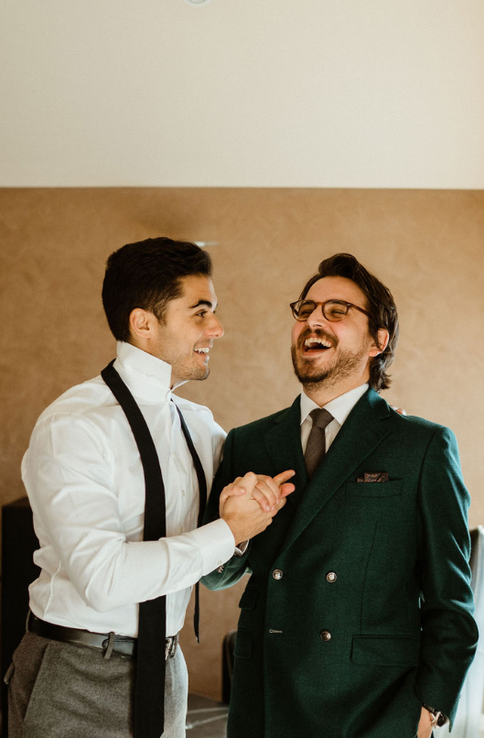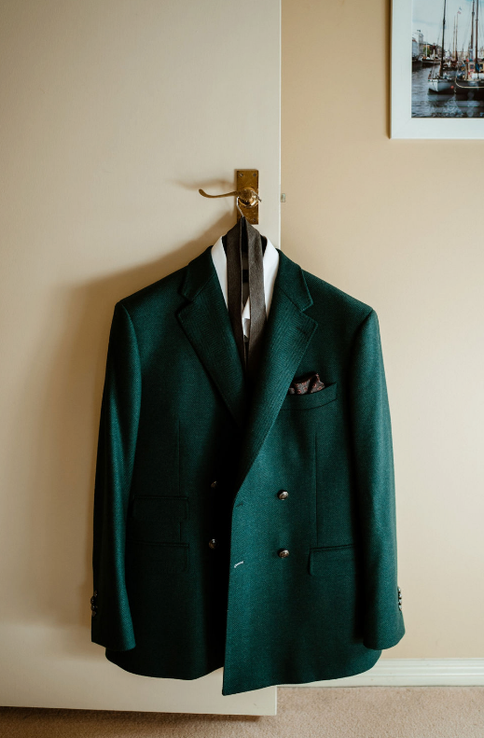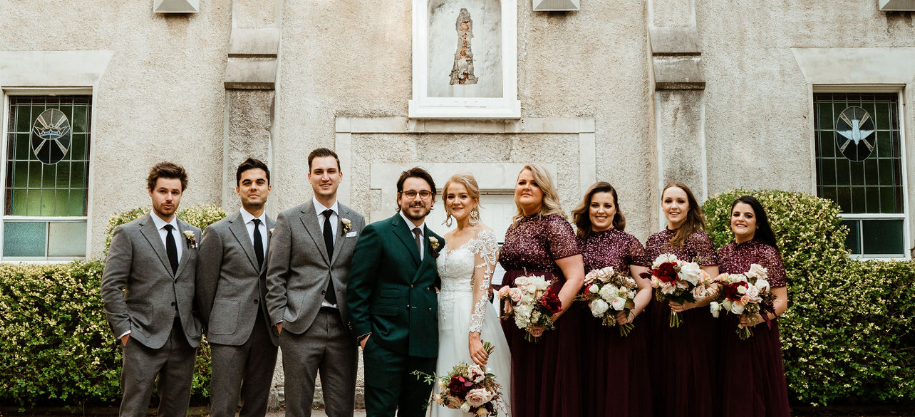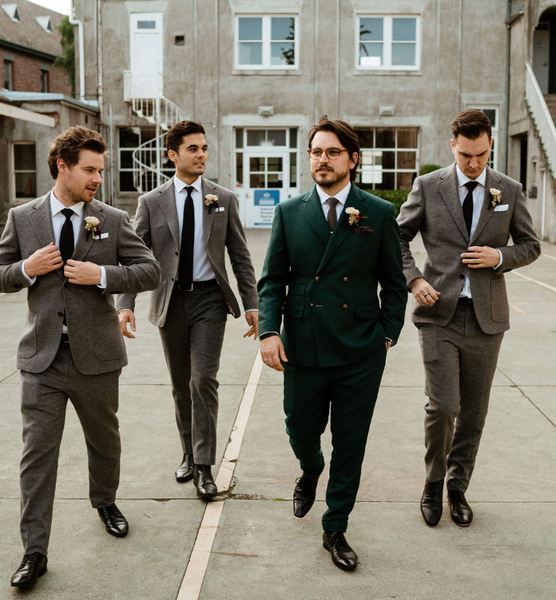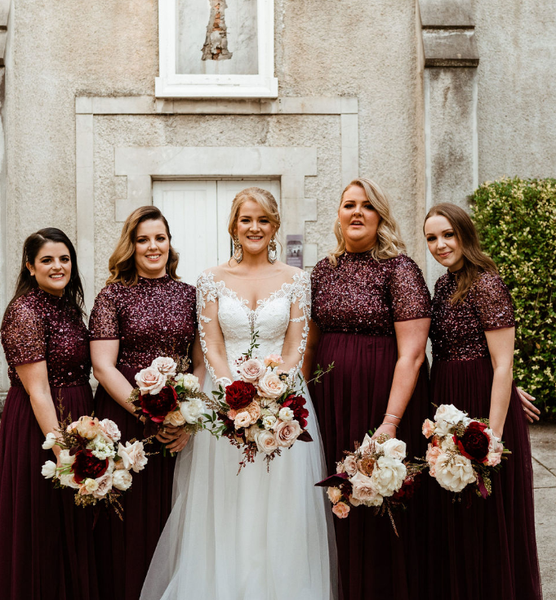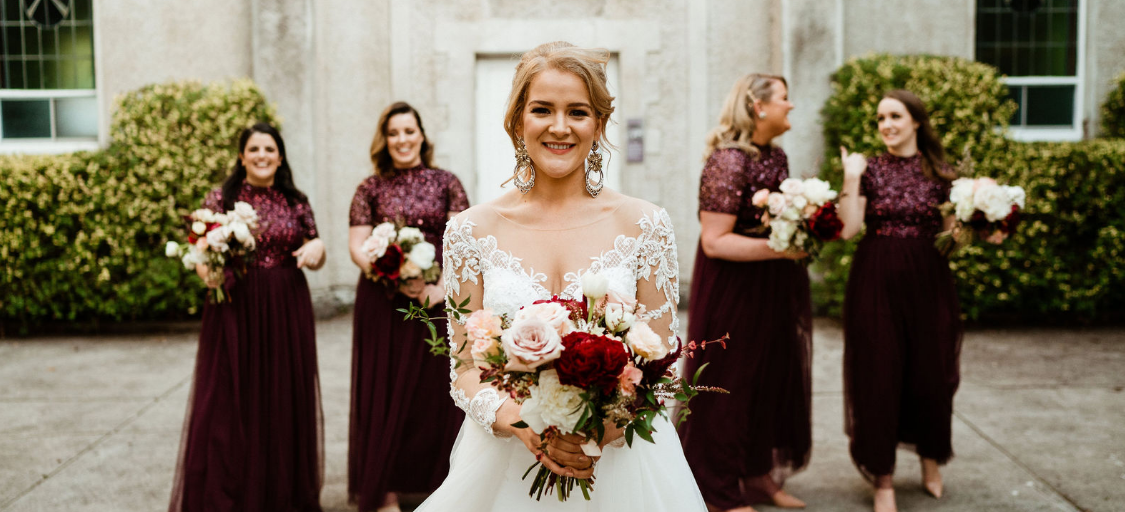 What Style / Styling did you choose for your wedding? (eg: colour scheme, flowers, stationery, cake, transport, details, themes, inspiration, the overall "look and feel")

Colors: As we did our photos first, then went straight from our night ceremony to our reception, we wanted a laid back, boho but also luxurious party vibe. We went with dark purples, FD's green suit, and hints of gold throughout.
 
Flowers: Gina from Georgie Boy did a beautiful blend of orchids, hydrangeas, Dahlia's roses, and more for our florals, and a large greenery installation over our dancefloor. We wanted our florals to flow intuitively in the space rather than feel too perfect or structured.
 
Stationary: Brooke Grant Design designed our stationery with a simple, classic black and white style, we loved the map she drew of the venue on our invites.
Cake: Miss Ladybird added some touches of gold and a cute hand-drawn heart with our initials inside our lemon elderflower cake with full buttercream. Gina added large orchids to finish it off.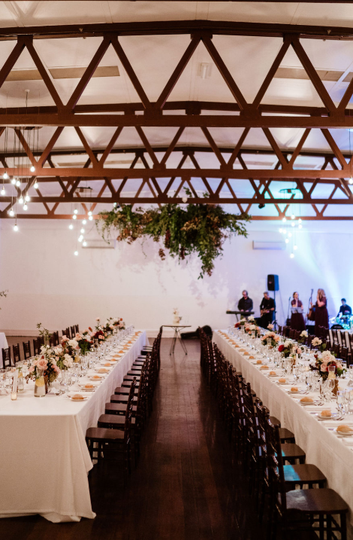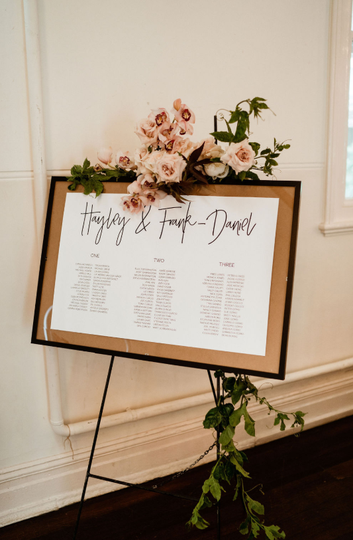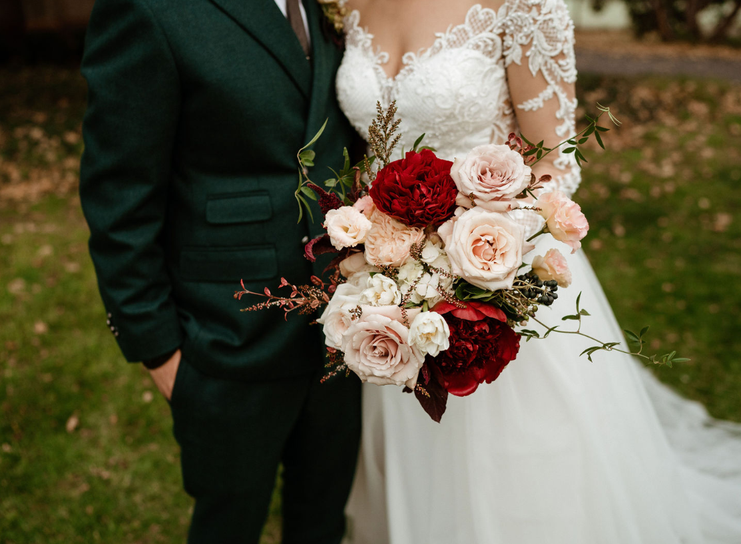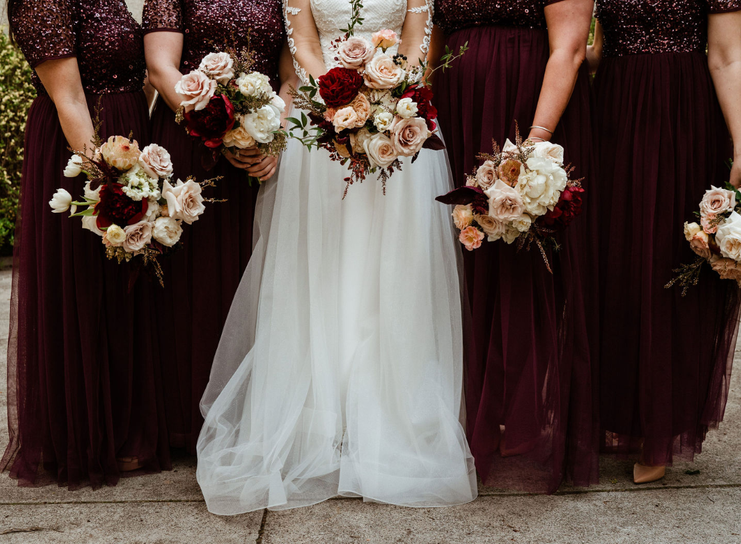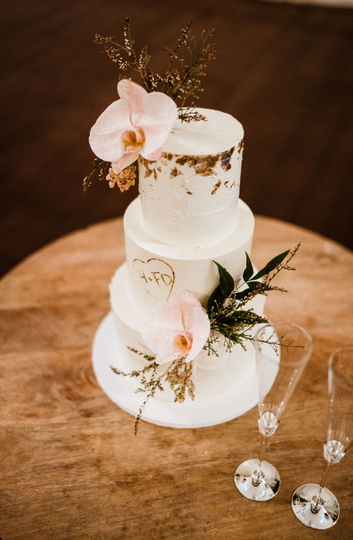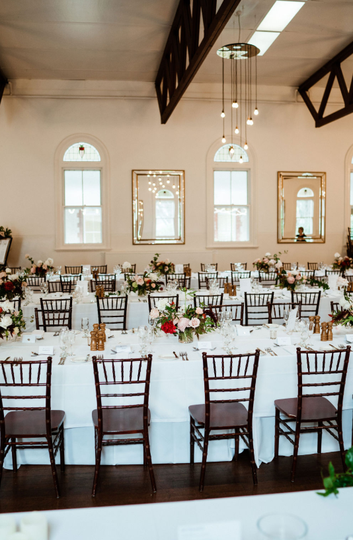 What were the highlights of your day?

We told our bridal parties that we'd get Uber's to the wedding but had secretly arranged for Snow White and Batman-style Hummers to get us there. It was such a fun little phrase of the day, lots of giggles and bubbles!
Two of my bridesmaids - my sister Amanda and friend Brooke - sung an acoustic version of Adele's 'Make you feel my love'. There wasn't a dry eye in the house.
I was most looking forward to the reception but ended up loving the ceremony, our celebrant Julia coupled with such a beautiful atmosphere and all of our favorite people made it such a surreal and fun moment!
Our 7 piece 70's disco band created such a fun party vibe and played songs everyone wanted to boogie to.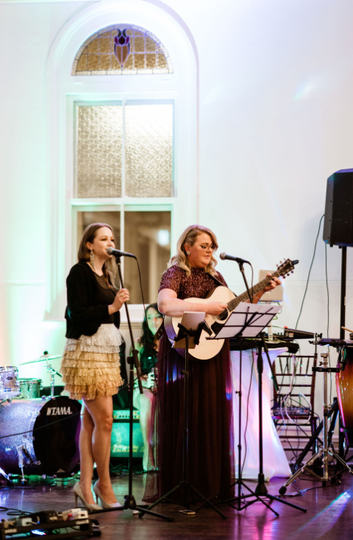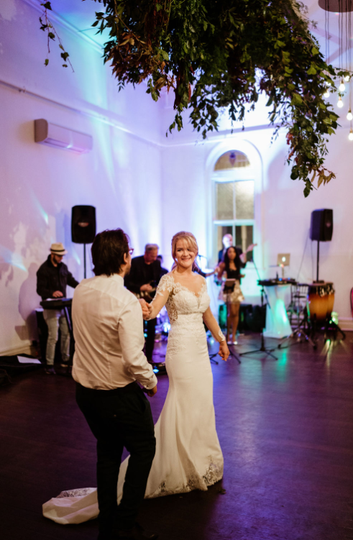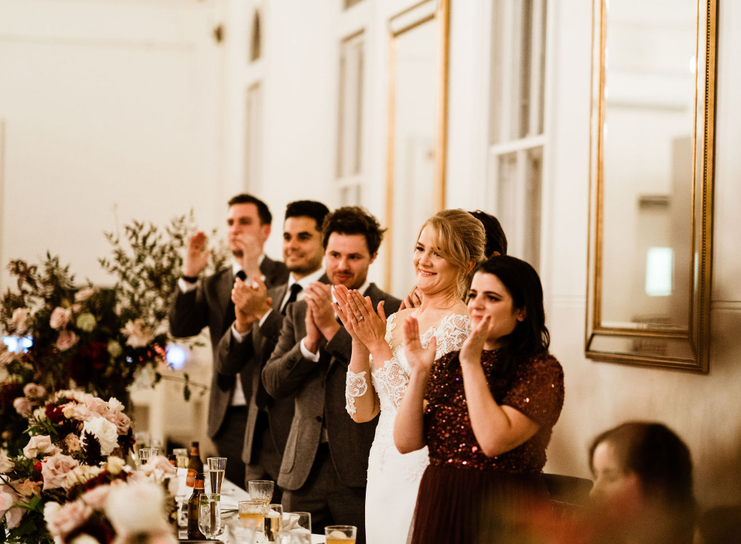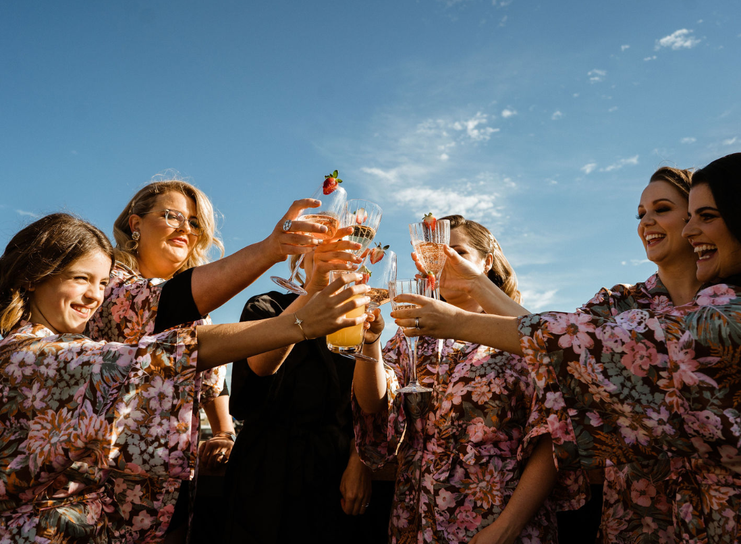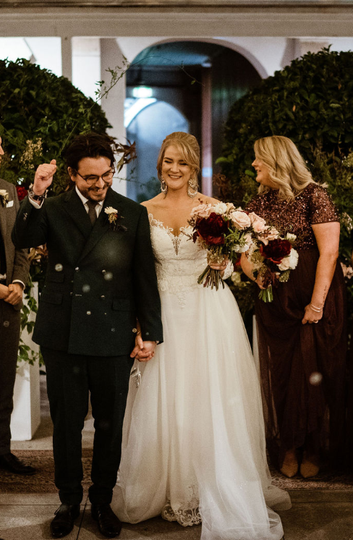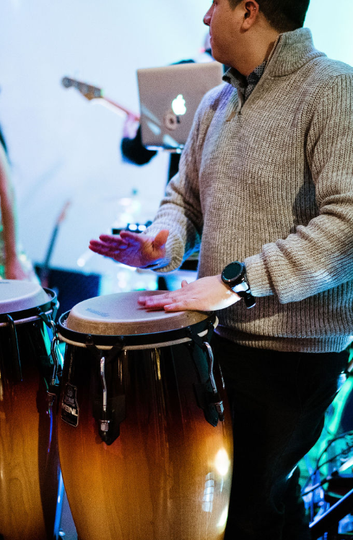 Tell us about any funny, poignant, challenging or emotional moments?

My sister is battling cancer, so when she sang so amazingly it was extremely emotional for everyone.
The boys got photos in their jocks in the backyard with the figidindi plant and cigars, lol
Our groomsmen entered our reception to 'Don't stop me now' by Queen and truly owned the dancefloor, it set the scene for a great night ahead.
Having our Westie Hugo come for the photos was a few logistics but worth it for the shots!
My nephew Edison, who is 3, was a paige boy, and as I started my speech he walked straight into the middle of the dancefloor shouting 'mum' at the top of his lungs, he wasn't too fussed about the crowd of 120 people watching.
Our MC Danny Ginsberg tied in great stories and jokes throughout the night - such a pro, we'd had so many people comment on how great he was.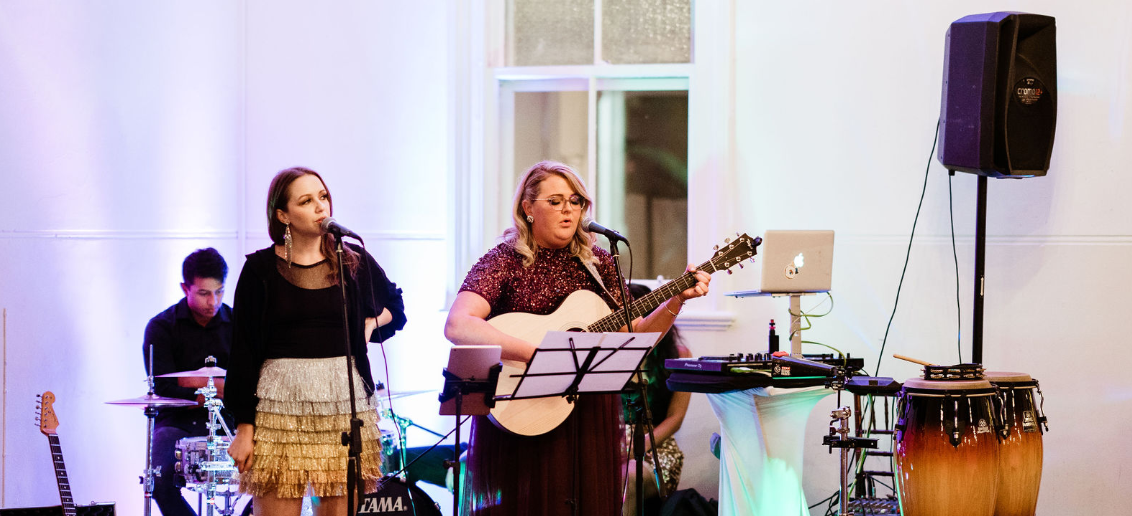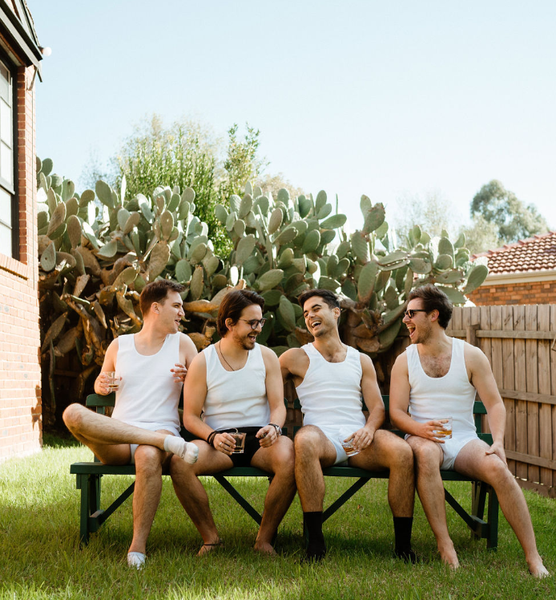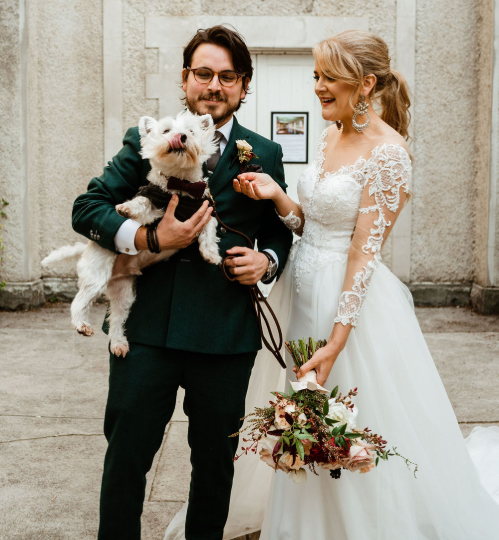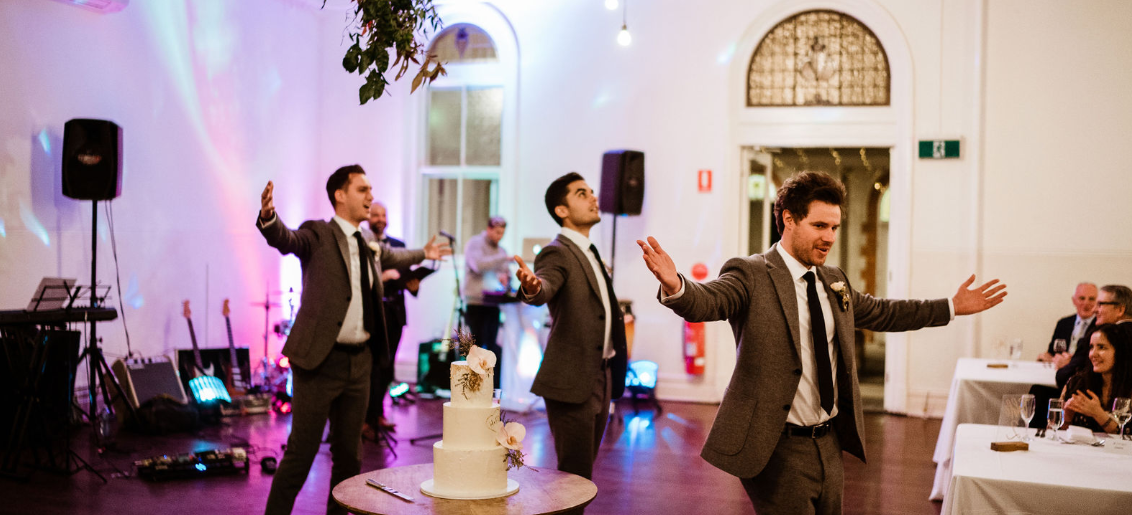 Where did you go for your Honeymoon? Why?

Japan - we wanted to go somewhere neither of us had been and experience it for the first time together. Staying in hot springs in a mountain near Mt Fuji in Hakone was incredible.
Bali - We added on 5 days in Bali afterward to unwind, as we knew we'd want to see everything in Japan, it worked a treat.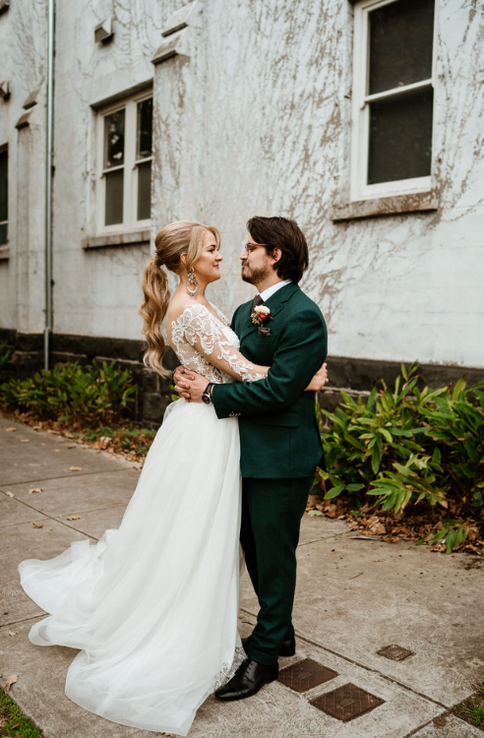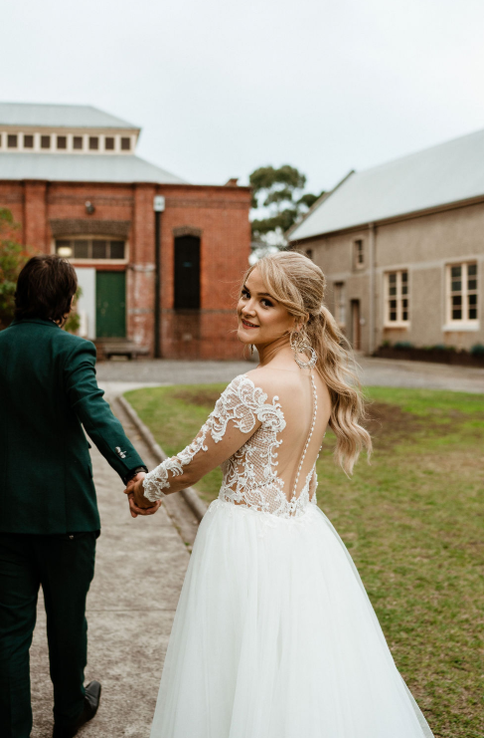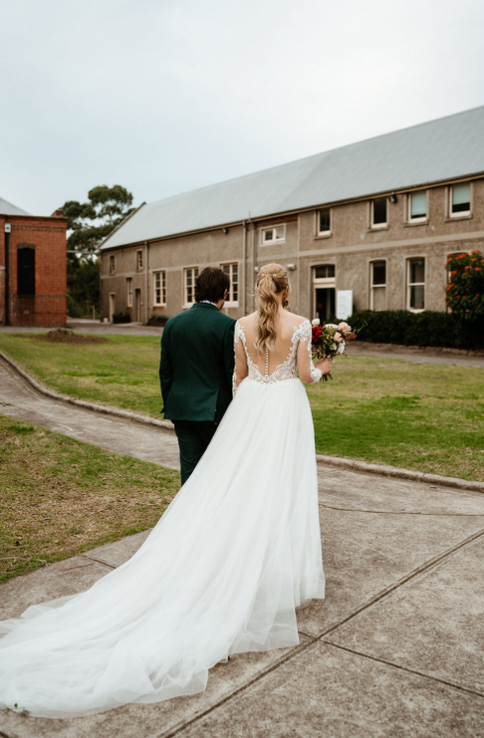 Do you have any advice for other couples?

No one at the event would know it, but the biggest star on the day was our 'Day of Coordinator' Gemma Robertson, who made all of the things that I otherwise would have been distracted by run seamlessly without batting an eyelid. She arranged our decorations and name cards, coordinated suppliers, transited our dog for the photos, pressed play and stop for our ceremony music, managed timings, and helped pack down at the end of the night, just to name a few. Not sure how we would have done it without her, as the bridesmaids were with me for any photos, getting ready, etc.
The vibe is more important than any other detail on the day, so choose suppliers who click with the vibe you're going for (ours was relaxed and fun) and don't sweat the small stuff (nobody notices even when it might feel like the end of the world at the time!)
For more inspirational wedding stories, Visit Real Weddings to find your perfect Melbourne wedding venue or get your obligation free quote today at Abbotsford Convent!