Fiji's islands are a dream escape for honeymooners, where you can laze under a palm tree or snorkel to your heart's delight.
"This is my island," Jope said with a grin as he pushed our wooden runabout through the dreamy, aquamarine colored water. Standing upright, he threw his arms wide and welcomed us to Naviavia, the island owned by his late grandmother and now in the hands of the family's eldest son. "But today," he added proudly, "It is your island". Naviavia in English translates to 'Want to be', and it's appropriately named.  This is exactly where you 'want to be' on your honeymoon.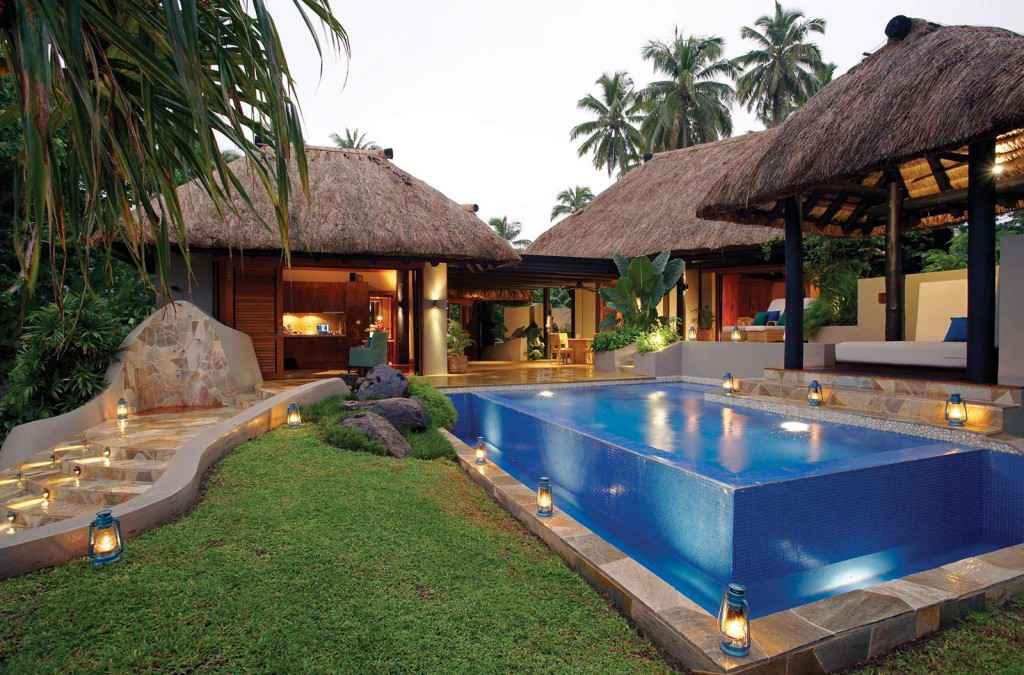 As Jope and Toni unpacked our supplies - towels, snorkeling gear and a generous gourmet picnic - I explored the tiny island which houses little more than a hammock, picnic table and a couple of sun lounges - giving the feeling of being stranded on our own deserted, piece of paradise.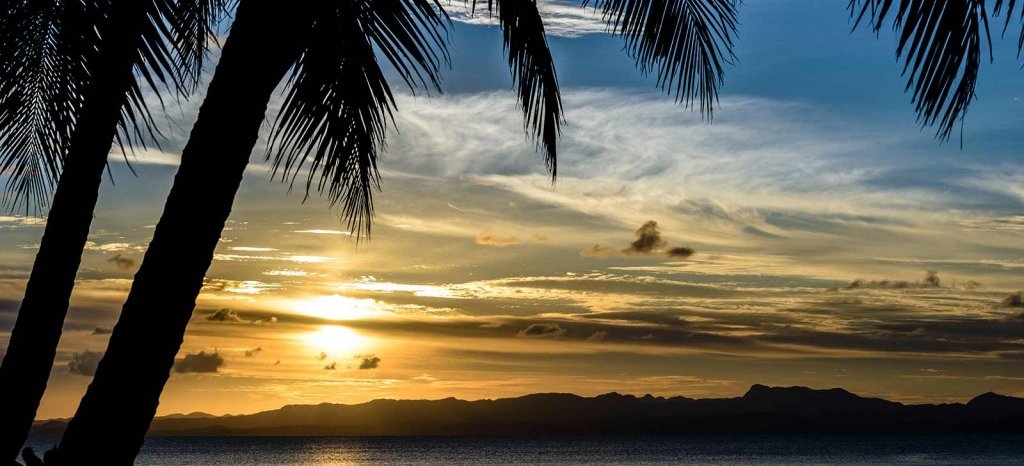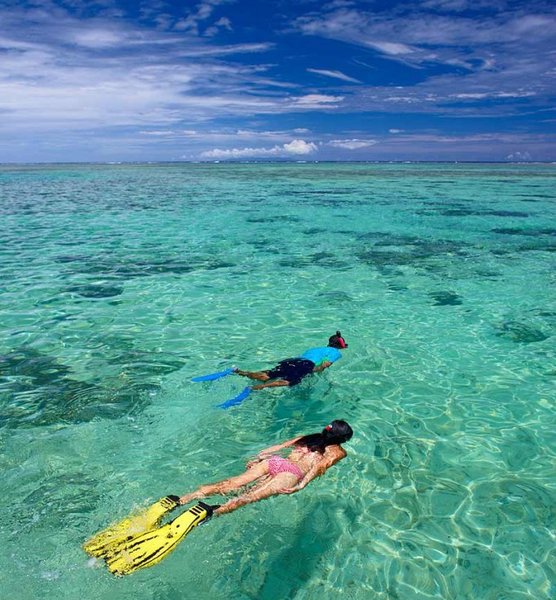 Naviavia lies just off the secluded shores of Savusavu Bay, on Fiji's second largest island, Vanua Levu (Big Land). Across the channel we could make out the thatched roof of our bure at the Jean-Michel Cousteau Fiji Islands Resort, peeping through the coconut trees. The intimate, eco friendly resort overlooks the Koro Sea and is reminiscent of a traditional Fijian village, offering 25 thatch roof bures with contemporary interiors just steps from the iridescent blue water. Our bure, the Villa, won Fiji's Leading Suite in the World Travel Awards and the resort just recently picked up the World Travel Award for Fiji's leading resort.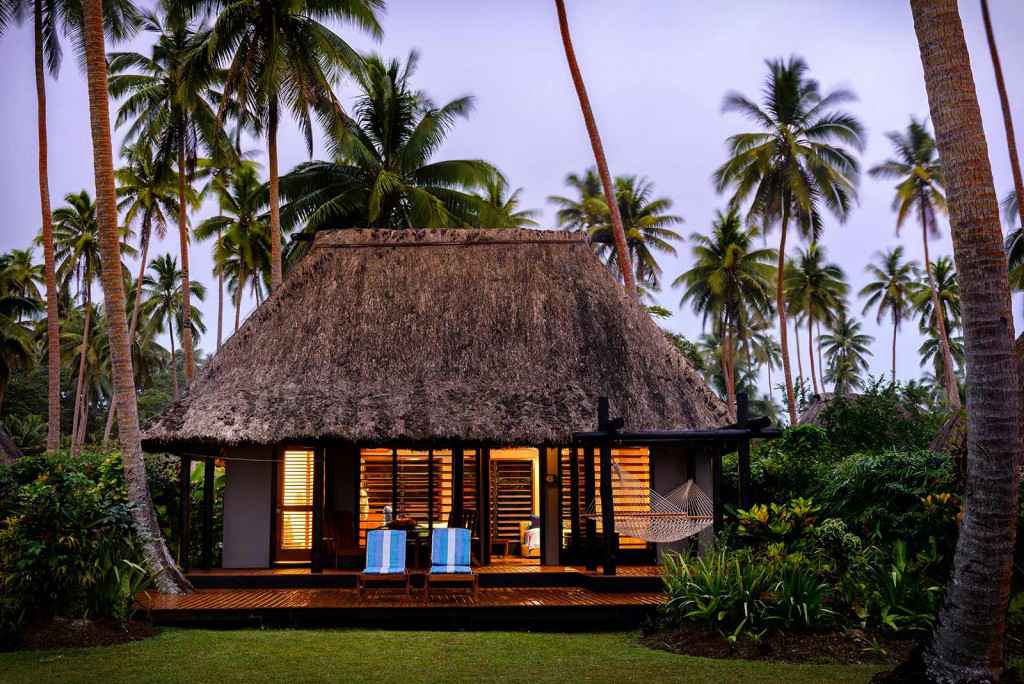 At 20 weeks pregnant with our now infant daughter, I wanted a wedding devoid of stress - given I was feeling unwell around the clock and in no frame of mind to organise a wedding with all the bells and whistles. Here we enjoyed breakfast together, went snorkeling before lunch and then married as the sun set to the heavenly voices of a local village choir. It was about as laid back as weddings come with a gorgeous simplicity which you seem to only get in the tropics.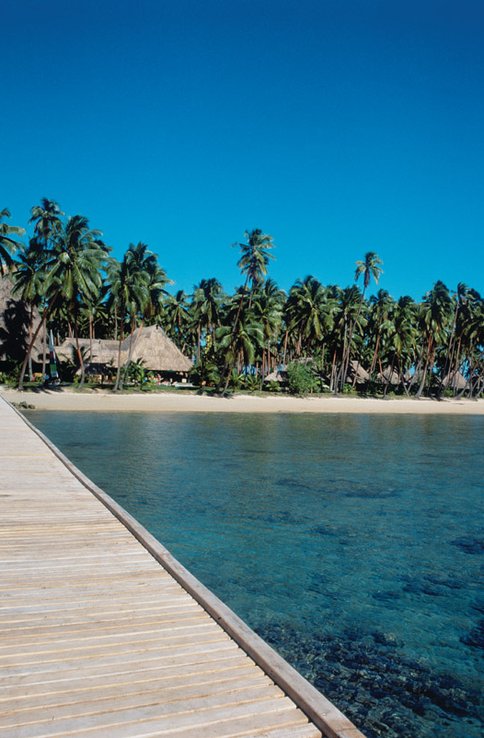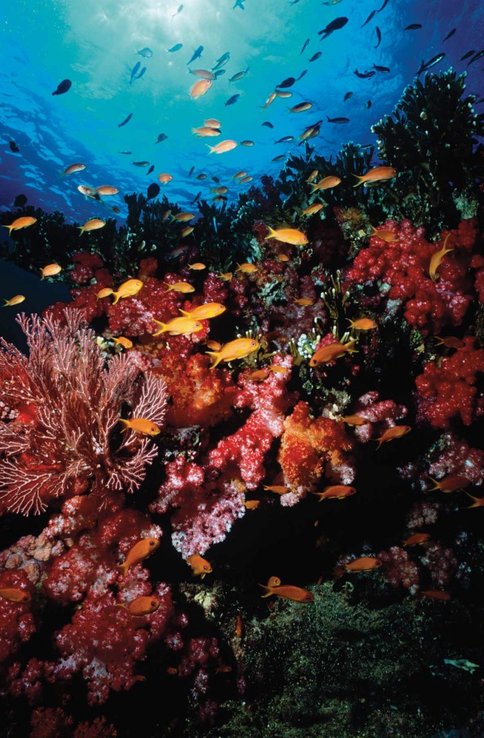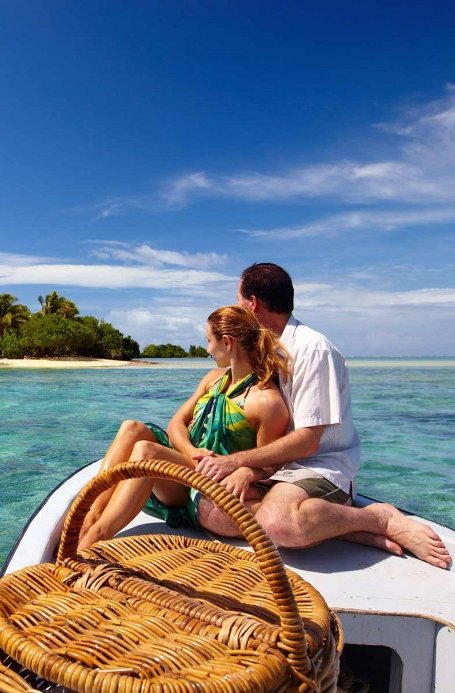 The resort leases the idyllic private island, Naviavia, from Jope's family for the exclusive use of hotel guests, enabling you to escape to your own secluded nirvana. After lunch of chicken, salad, home made bread and tropical fruit, we held hands as we snorkeled through the rocky stone arch just off shore, a rock formation that Jope called "wild dog".  We spotted wedge tail trigger fish, clown fish, and speckled butterfly fish among other brightly colored sea life as we weaved among the coral.
Afterwards, we fell into a deep, peaceful sleep in the gently swaying hammock strung between a couple of coconut trees until the outboard motor on Jope's runabout signaled it was time to head back. Somehow, during our brief stay on this tiny atoll on our first day as a married couple, alone and out of contact from the rest of the world, we had lost all track of time. Fiji has a wonderful habit of doing that to you.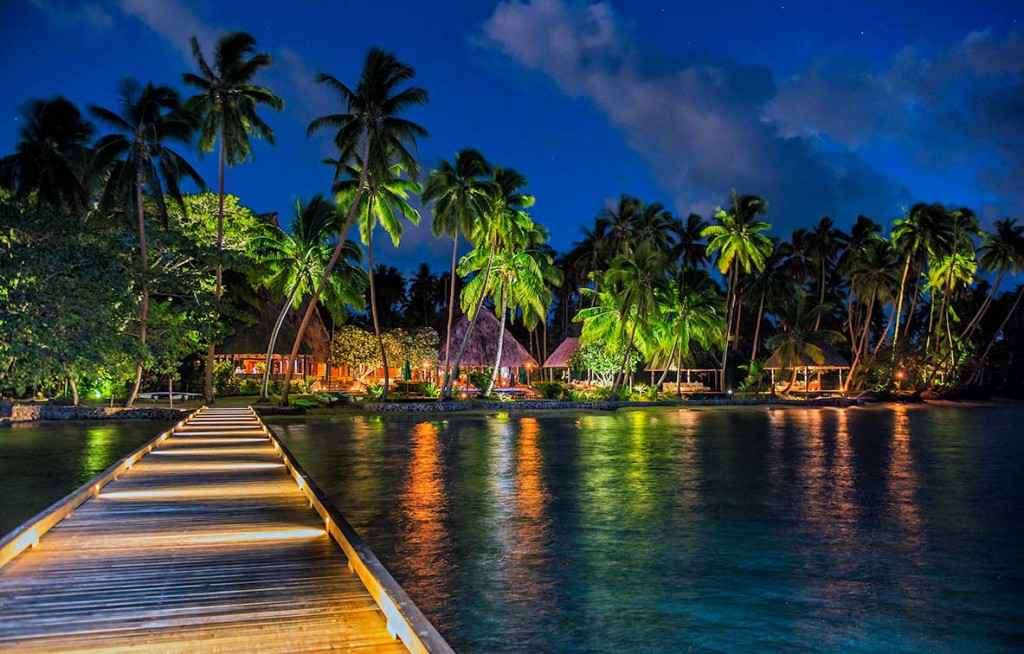 The Fiji Islands are made up of one thousand miles of unspoiled white sand beaches, fabulous coral gardens and azure lagoons. In total there are more than 330 islands, the result of significant volcanic activity, and many, like Naviavia, are uninhabited. 
With 25 traditional thatched Fijian bungalows, offering lush garden or ocean views, and featuring rattan furnishings, king-size bed, wooden louvered windows, overhead fan, and private deck. Best of all there are no phones or televisions in the bures to distract from the peaceful surroundings. The resort offers a Honeymoon/Romance package which includes five nights in a Point Reef Bure, all gourmet meals, unlimited bottled soft drinks and Fiji water, specialty teas, ground coffee, most activities including four off-site excursions and return vehicle transfers from Savusavu Airport.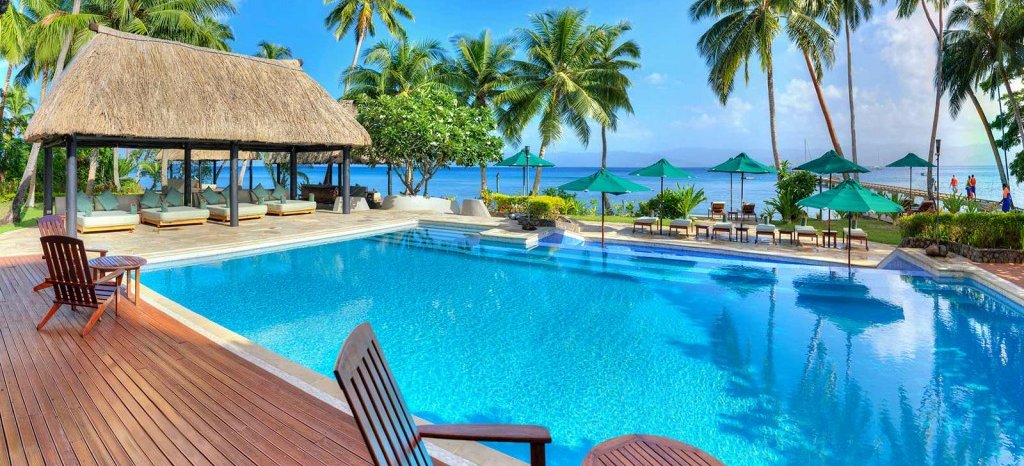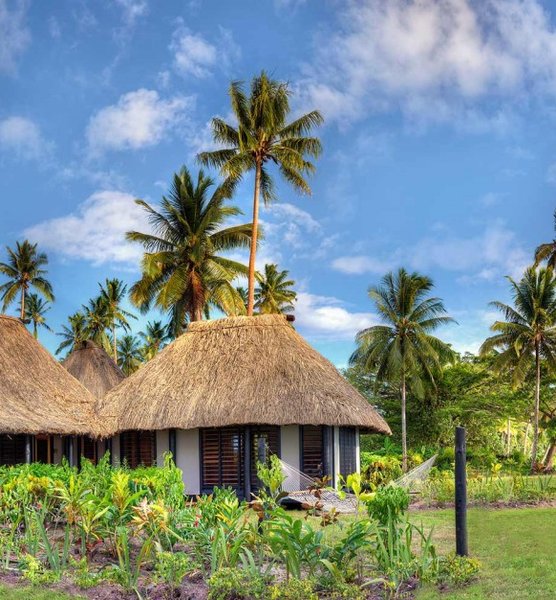 Before you know it, you've slowed down and adopted the locals approach to time - Fiji time - which is used to explain away delays or unexpected hold ups. I imagine the concept of island time could prove frustrating for some cultures that operate with precision timing, but everything manages to get done - eventually - and it actually feels good for the soul when you learn to relax and go with the flow.
The pristine coral reefs of Vavu Leve are world-renowned and the food at the Jean-Michel Cousteau Fiji Resort - a combination of contemporary Fijian, South Pacific and international cuisine - lives up to its reputation as some of the best in Fiji.  On arrival, staff members greet guests with a cool fruit cocktail and a traditional welcoming song. Romantic dinners by lantern light are held in an open-air dining room overlooking the sea or by starlight on the pier, as Fijian singers serenade guests on string guitars and ukuleles. Days are spent poolside, snorkeling off the pier, diving in the world renowned Namena reefs, experiencing a traditional Fijian massage in an outdoor spa bure or snoozing in a hammock. Quintessential Fiji at its very best.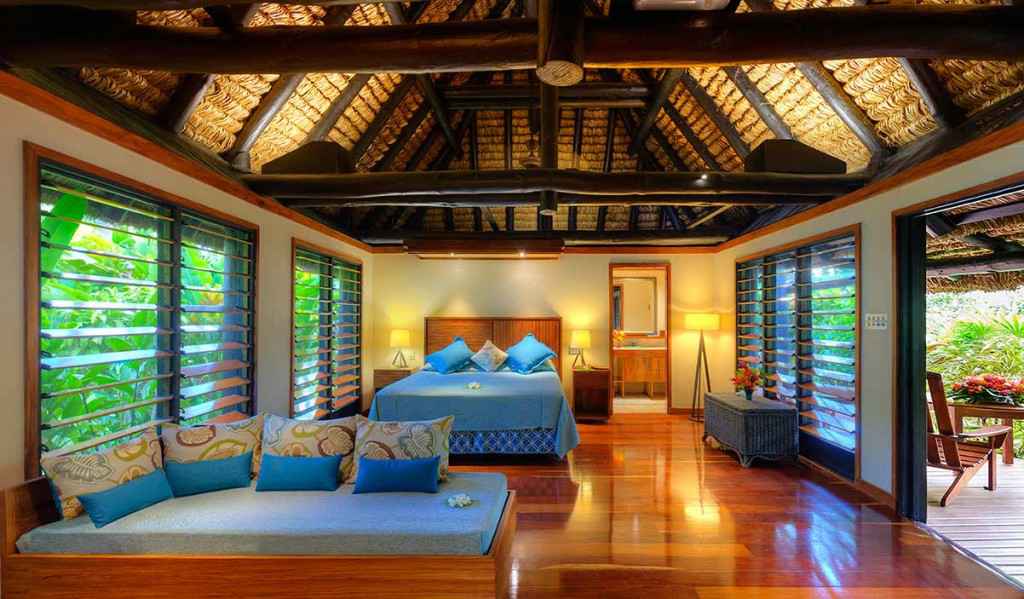 As we head for home aboard Pacific Sun Airline's reliable twin otter, the sounds of Fiji's moving farewell song Isa Lei rings in my ears as we fly low over the islands towards Nadi. I picture Jope and Toni with their ready smiles, I recall the patience of a Fijian nanny as she collected shells with her small charge; I remember every friendly wave, every hearty 'Bula', from those who crossed my path. Fiji had won another heart.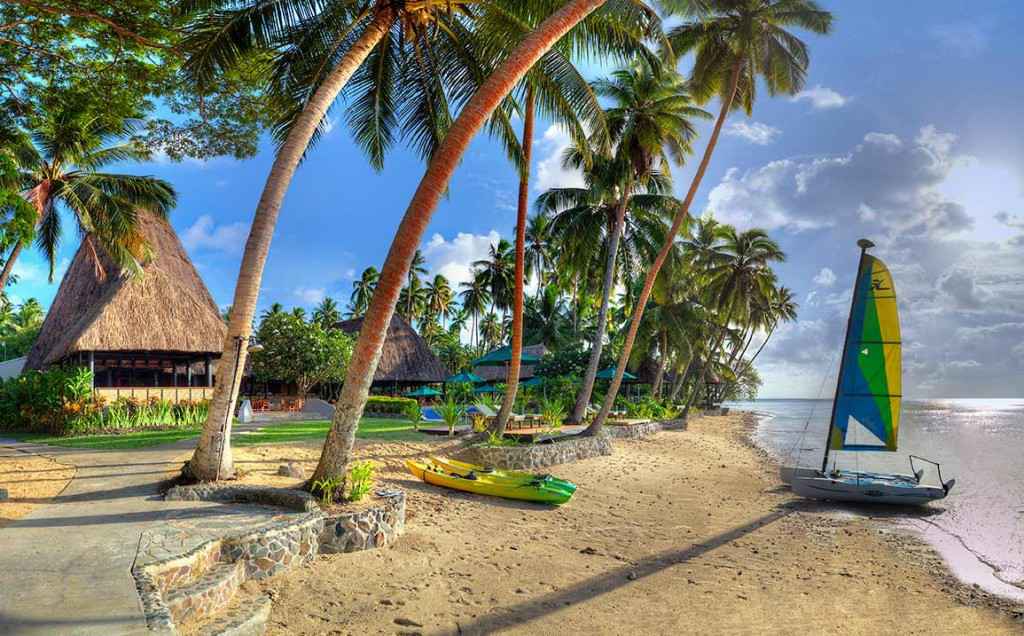 Tips
When visiting a village it is customary to present a gift of kava drinks. It is also important to dress modestly and not wear a hat, as it is considered an insult to the chief.
The traditional greeting in Fijian is Bula. The more formal "hello" - Ni Sa Bula - is pronounced "ni sahm' boola".
In Fiji men and women wear a flower behind their right ear to signify that they are married or spoken-for.   Why not do the same when you're there? A frangipani tucked behind the right ear is a lovely way to say you've just tied the knot.
Rugby union is widely played and followed in Fiji and a sure conversation starter.
Fijians operate on what they call "Fiji time" or "Island time" so try not to get anxious if your taxi, transfer or lunch doesn't arrive when it's supposed to.
Inoculations are not necessary for Fiji, which is free from malaria, yellow fever and major tropical diseases that are endemic to many tropical countries.
Visit Jean Michael Cousteau or check out Real Weddings to find your perfect Honeymoon Destination.
by Sheriden Rhodes