My best friend married Corey's best friend and we were both in their wedding party as bridesmaid/groomsman!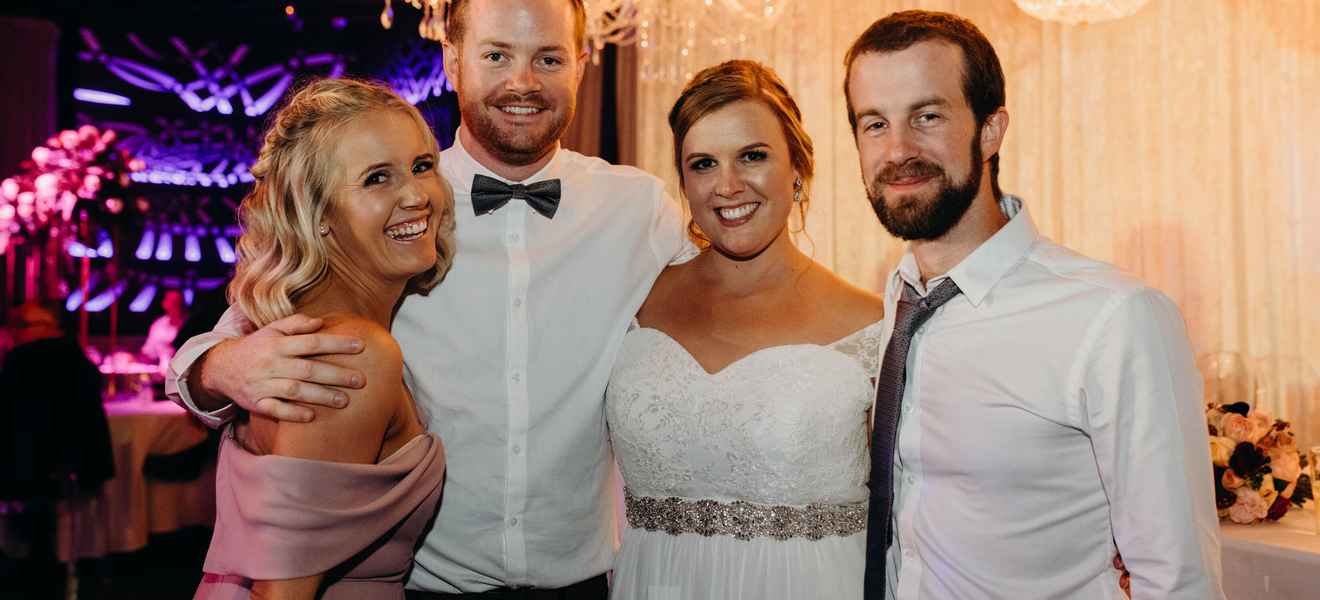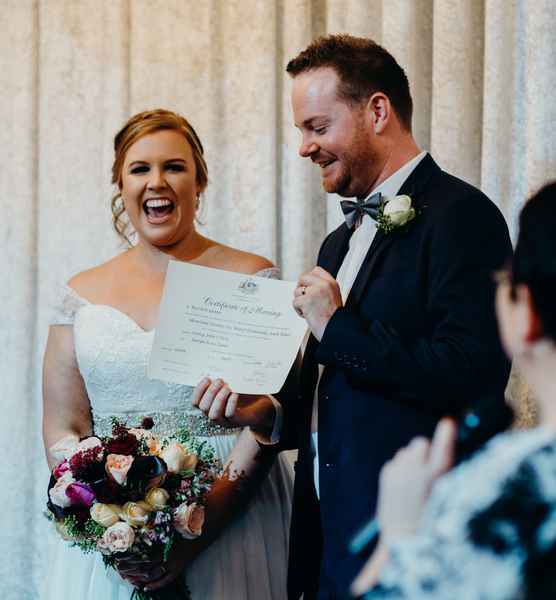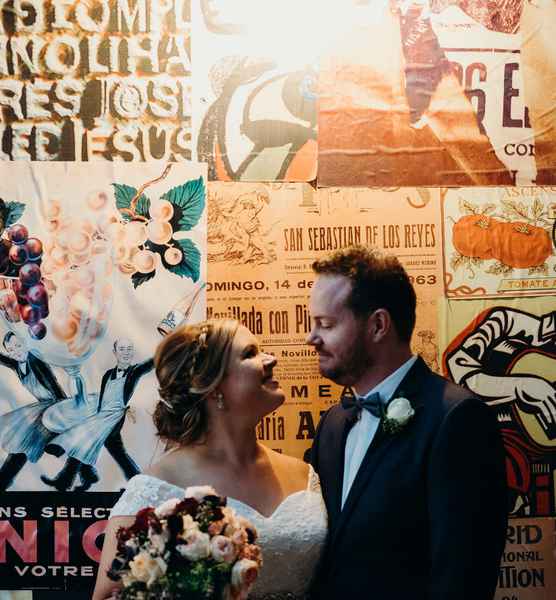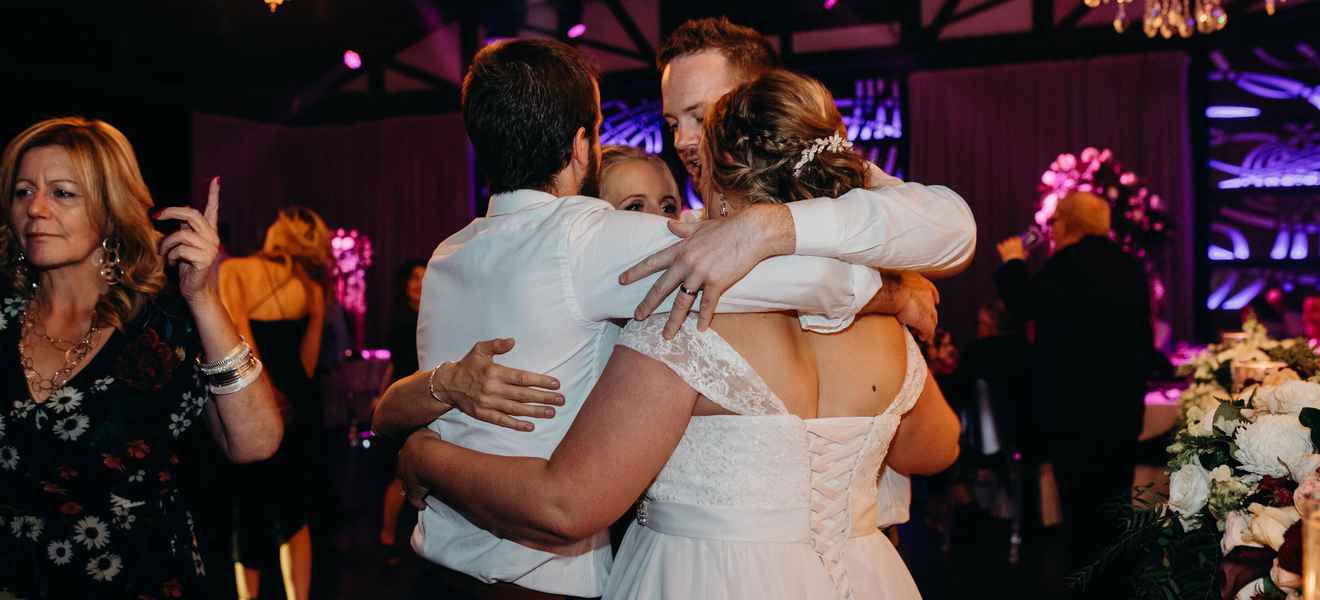 Tell us about the proposal.
When we started dating, Corey was living in Bendigo and I was over the other side of Melbourne so it was hard to date being 2.5 hours away from each other. The first date we went on, we went to the city, had a picnic on the Yarra River, followed by a trip to the aquarium and then we hit up crown casino for drinks and a bit of fun!  Corey took me to our first date spot and organised a picnic where he proposed on the riverfront.  We then went for another visit to the aquarium where I spent the entire walk staring at my ring.  It was quiet, low-key, romantic and perfect - very fitting of my husband!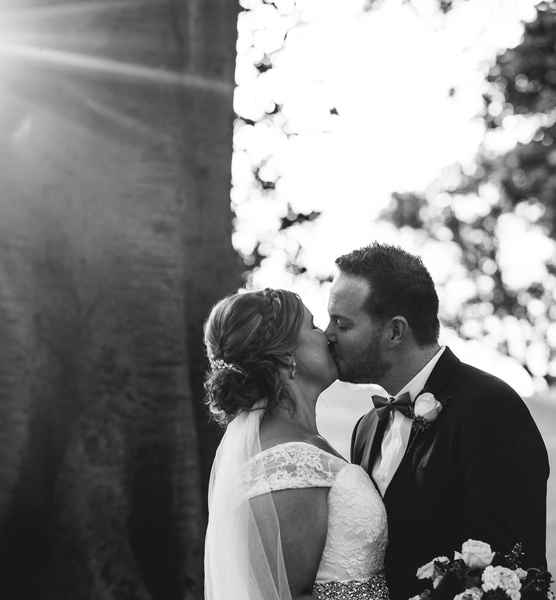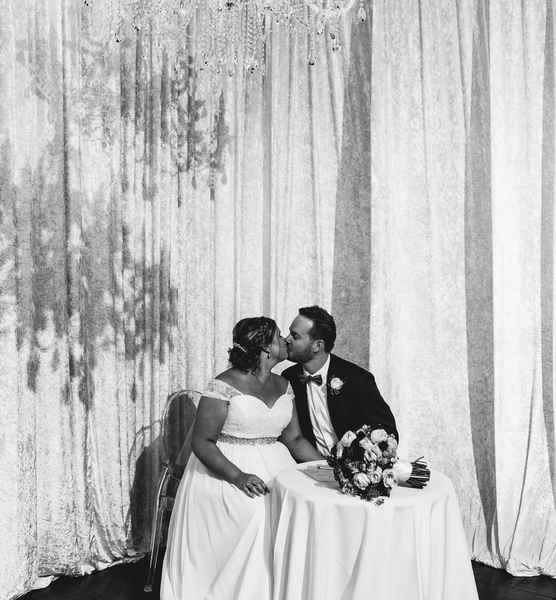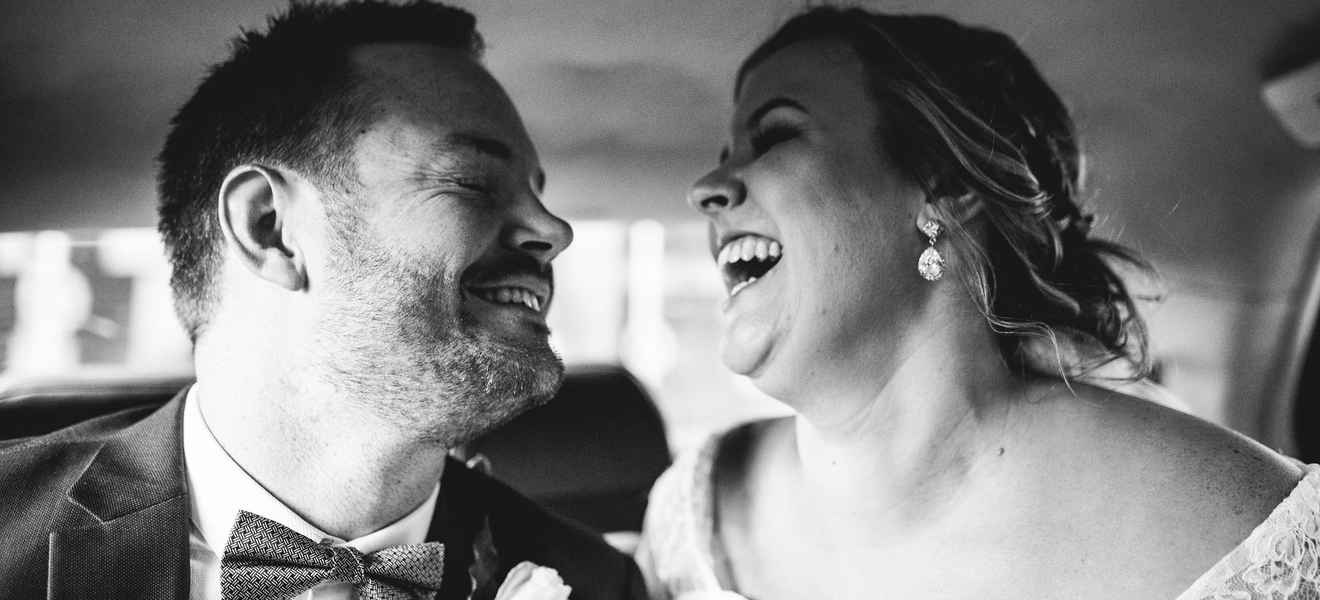 How did you choose your venue and location? Why?

We had looked around at about 6 other venues before we chose Showtime Events Centre. One of my friends was married at Cargo Hall and it was honestly the best wedding we had ever been to.  When I found out they had a sister venue in Showtime we went to check it out.  I could have cried when I walked in - everything was EXACTLY what we were looking for. The minute we met Karinda I knew we were going to get married at Showtime.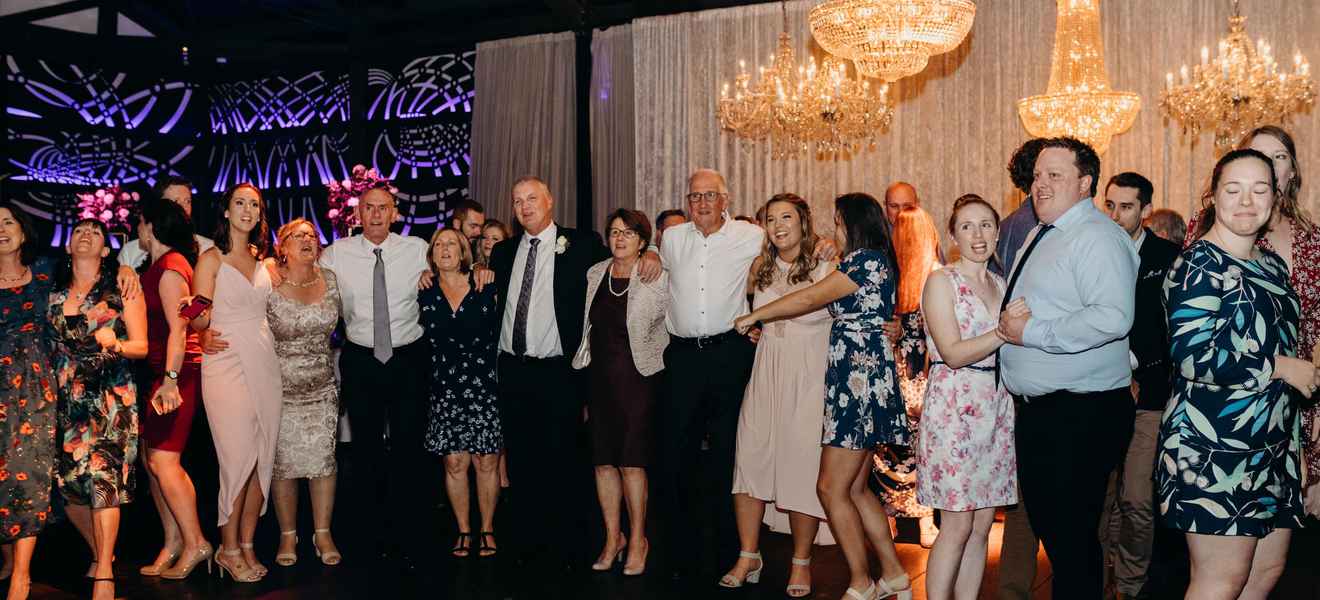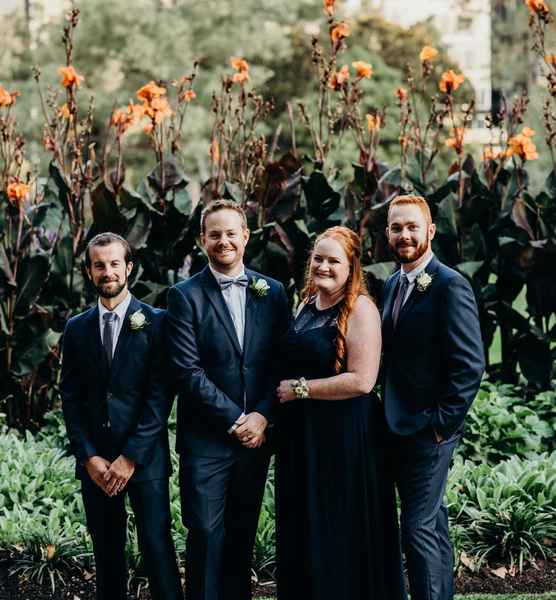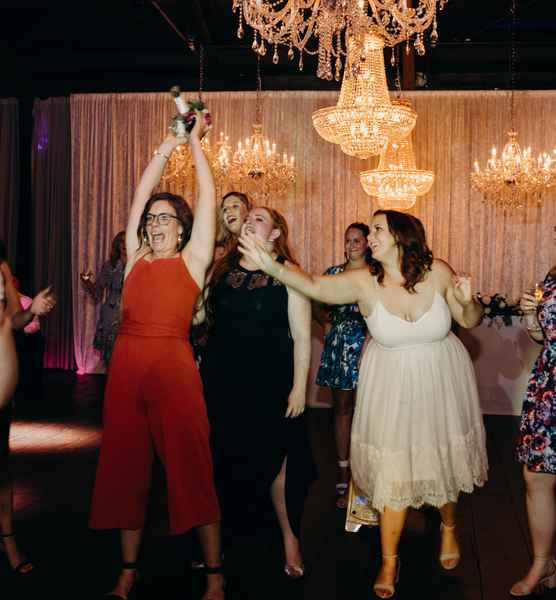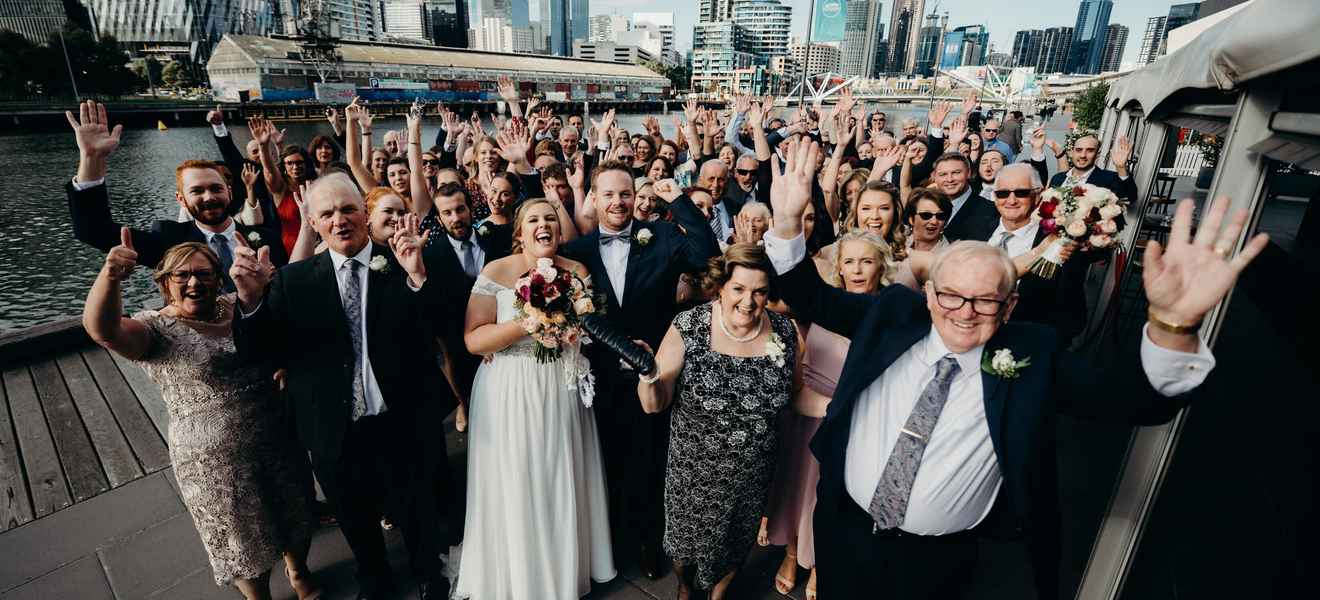 Tell us about your Gown. What about the groom and the bridal party fashion choices?
I had always thought I would like the classic Princess Kate long sleeve classy princess dress. I ended up being forced to try on a strapless dress by the wedding dress shop owner (and I thought as if this style will suit me as I'm a size 16) and it fit so perfectly and was so flattering I loved it!  I ended up adding-on off the shoulder short sleeves to make it more my style and I had so many compliments on the night.  It cost a total of $990 including alterations!
I wanted to make sure my bridesmaids felt comfortable in what they wore so I just chose a dusty pink color and let them choose styles that suit them. I also just said nude shoes and they picked their own too :)
The groom and groomsmen wore a navy blue suit which suited really well with the pink (and suited my husband who has gorgeous ginger hair).  We also had his sister as a groomswoman so she just wore a navy blue dress to match the boys.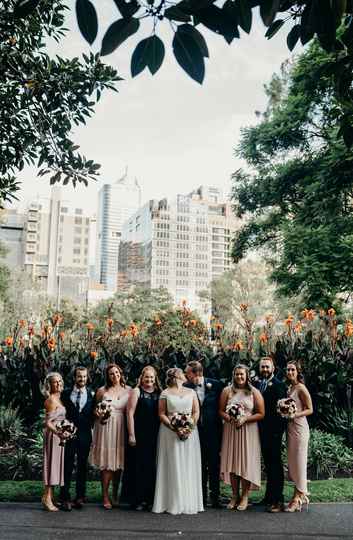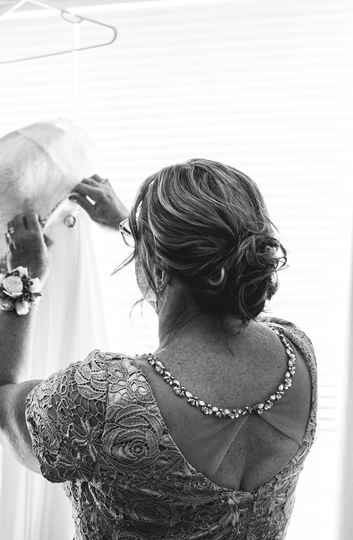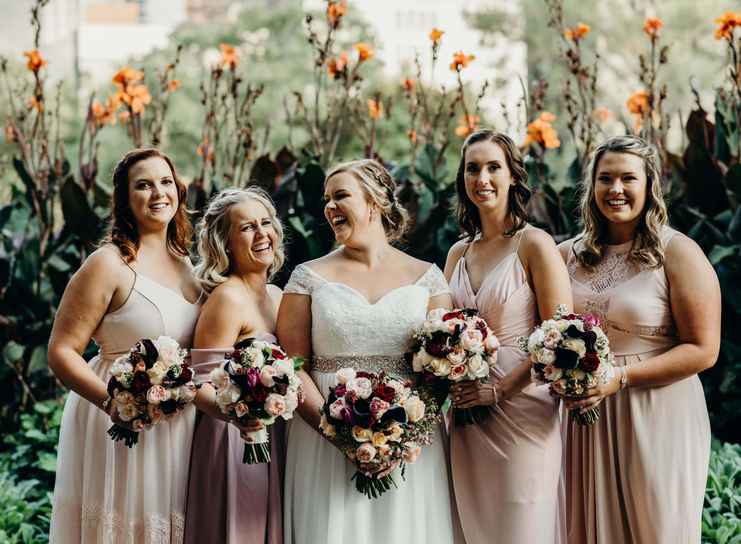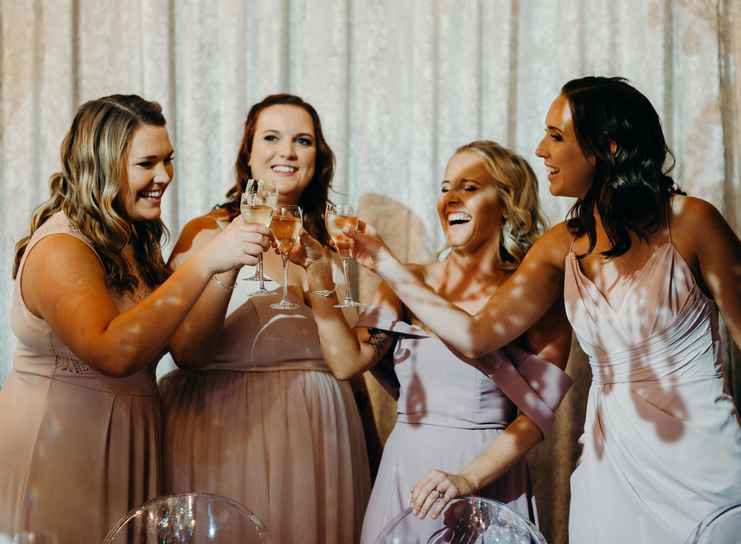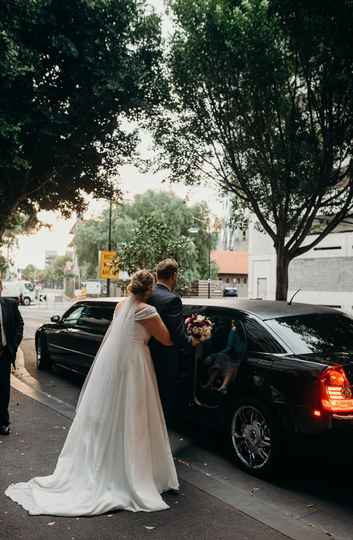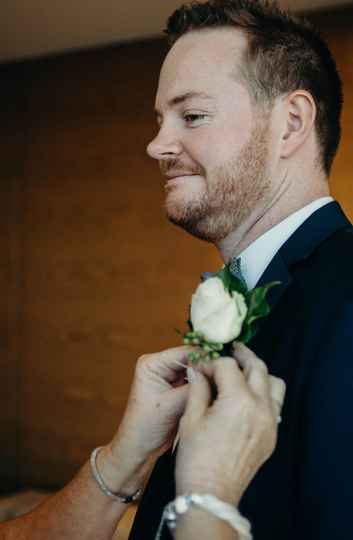 What Style / Styling did you choose for your wedding?
We really wanted gentle colors for our wedding day with a classy theme. Because Showtime has amazing lights and colors we opted for plain white flowers and ivory tablecloths to use the benefits of the Showtime team.  Our stationery was plain with soft florals and our cake was a naked white with gold drips for a classy touch!  We used some flowers from the florist to decorate and they fit in beautifully with the decorations.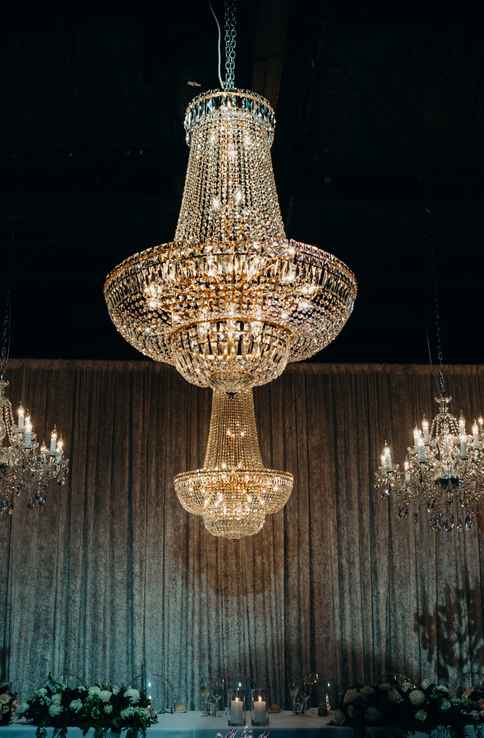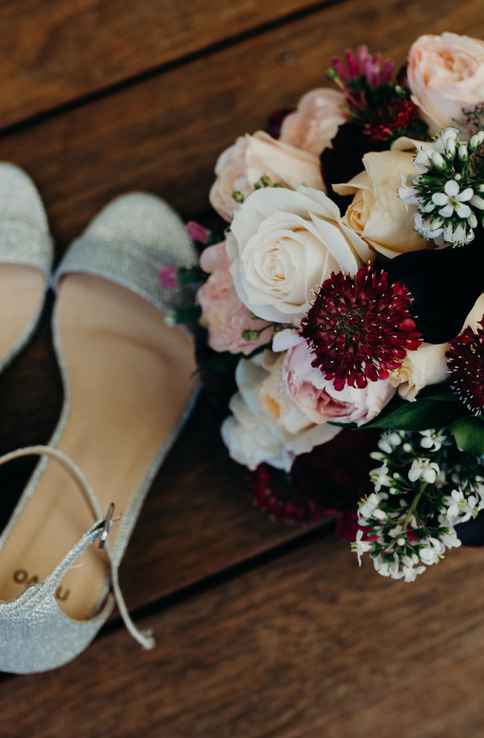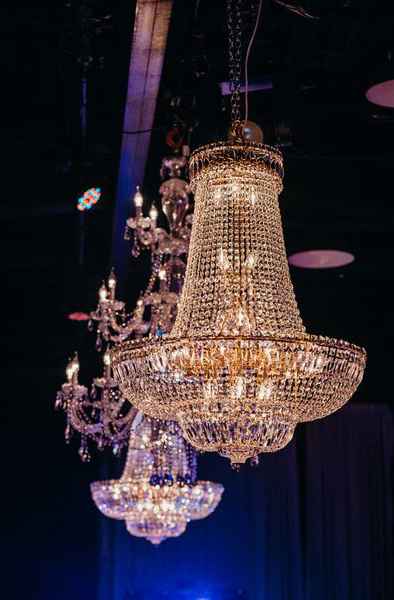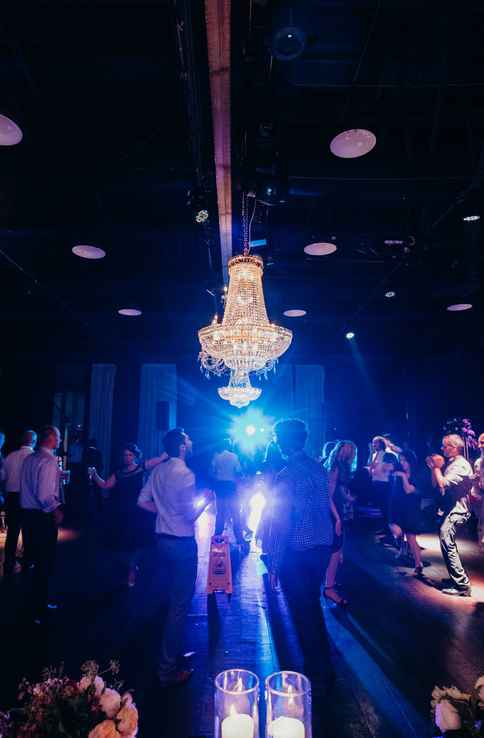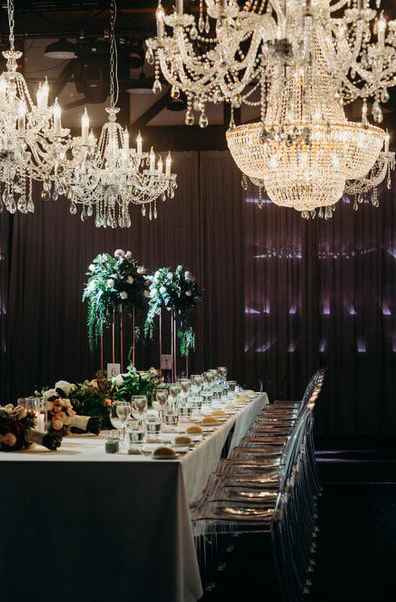 What were the highlights of your day?
It didn't go too quickly at all! I loved the morning getting ready with my family and bridesmaids. We had the best morning preparing!  I loved the speeches on the night and getting down on the d-floor with everyone.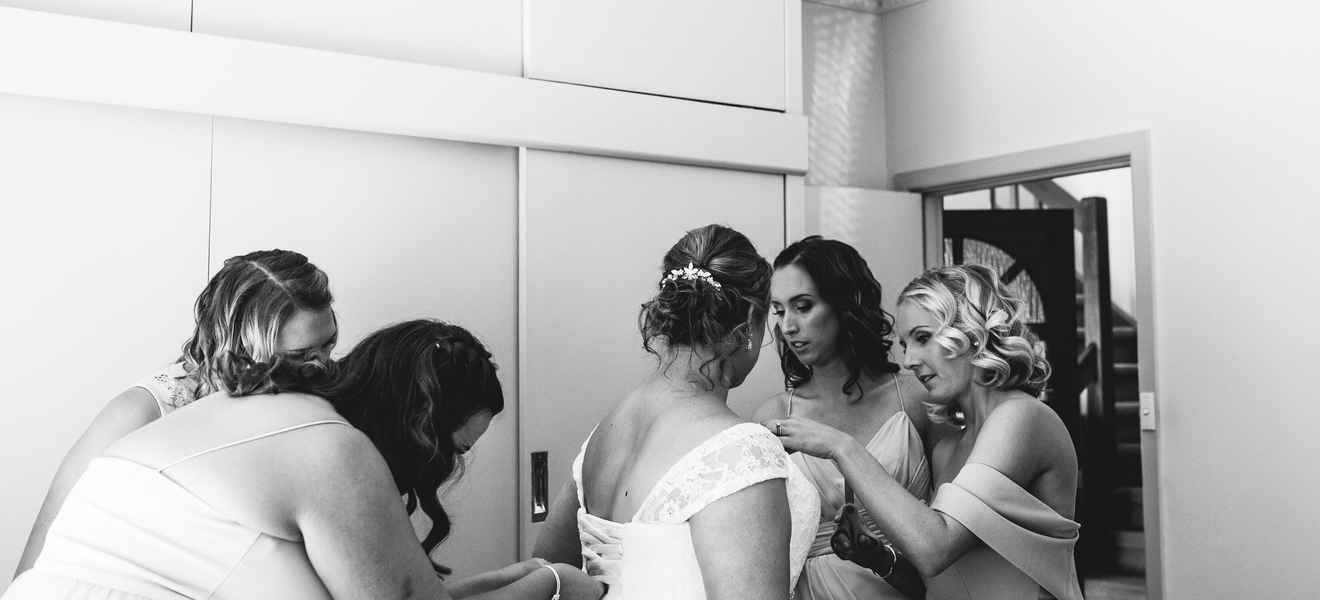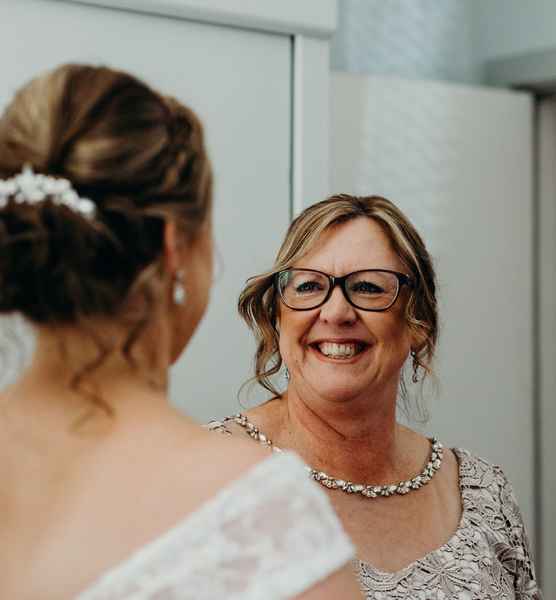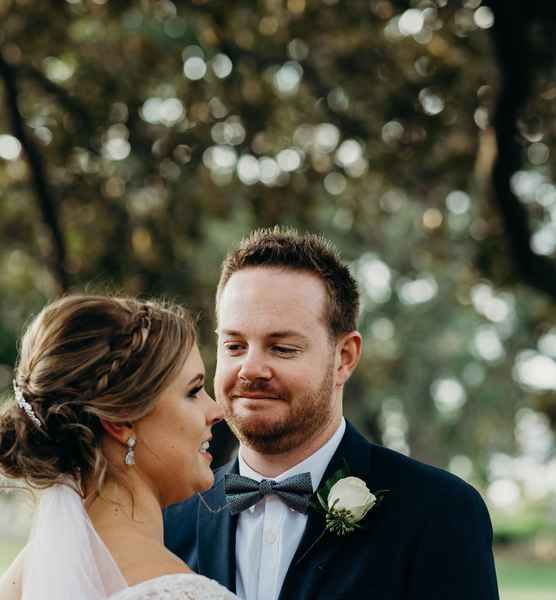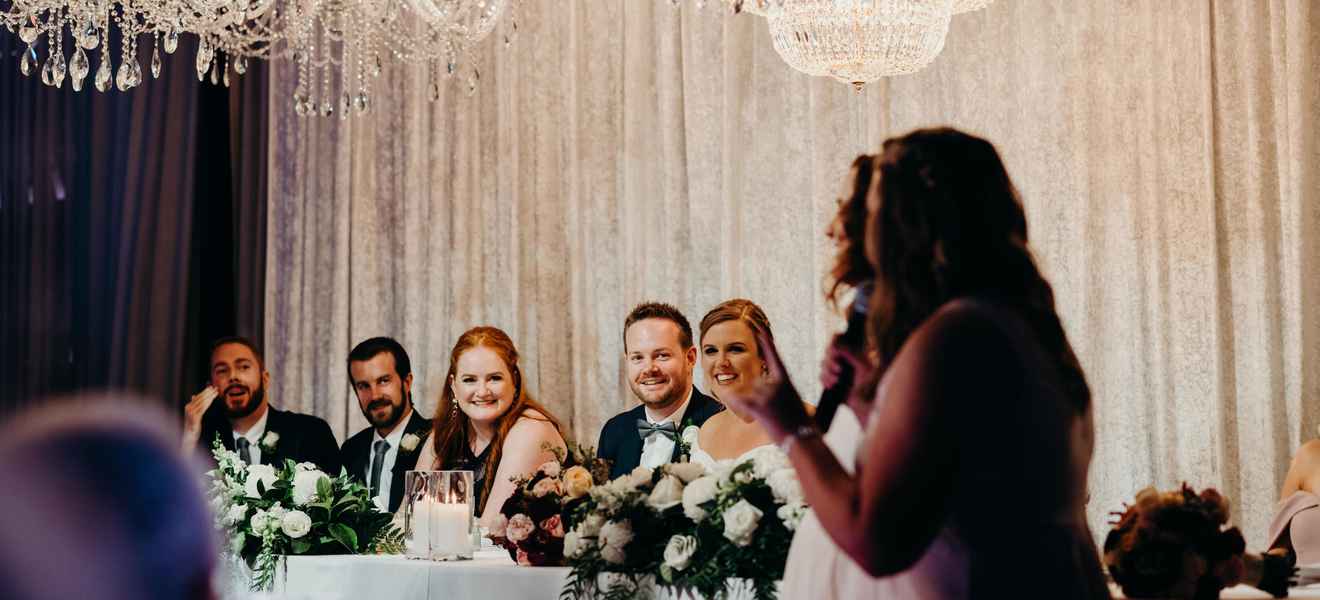 Tell us about any funny, poignant, challenging or emotional moments?
I thoroughly enjoyed planning the wedding which I think made the process so much easier. When you enjoy doing something it really helps with the stress levels. We had a few 'moments' before our wedding but they're probably more funny than anything! I actually lost my engagement ring diamond when I was wedding shoe shopping with my Mum. After much panicking and running around you wouldn't believe it but I found it in the shopping centre toilets on the floor under the sink!  The diamond sparkled at me as I was walked in. It is amazing no one else saw it on the floor or stood on it and it got lodged in a shoe. I must have washed my hands and shook them and that's when it came out. It's lucky it didn't fly down the sink!
The other funny thing that happened was coming home from work one day to find my husband white as a ghost waiting for me. He told me he had accidentally thrown out my wedding shoes (this is 3 weeks prior to the wedding) and the bin man had come and gone. I thought no problem and rang the store but they had none left. I ended up contacting head office who thought this was HILARIOUS and they only had a few pairs available left, mostly in NSW, as the shoe wasn't being stocked anymore.  After much nervous waiting I went for my final dress fitting and my shoes happened to be in my dress bag (not in the bin as my husband had thought). Two pairs are better than one right?  When you are three weeks out you just throw money at anything and everything!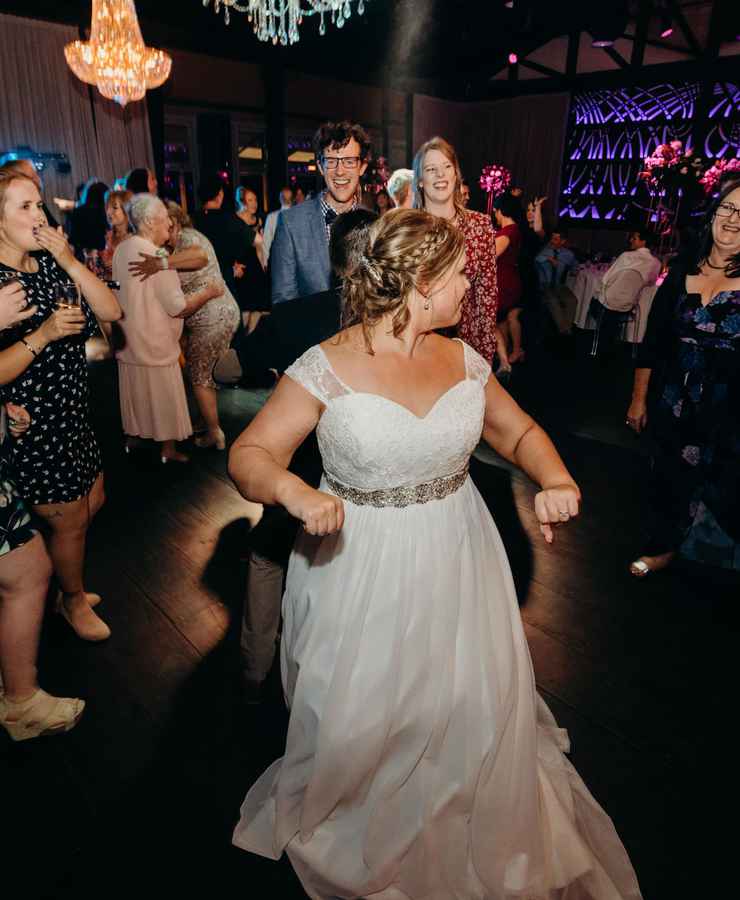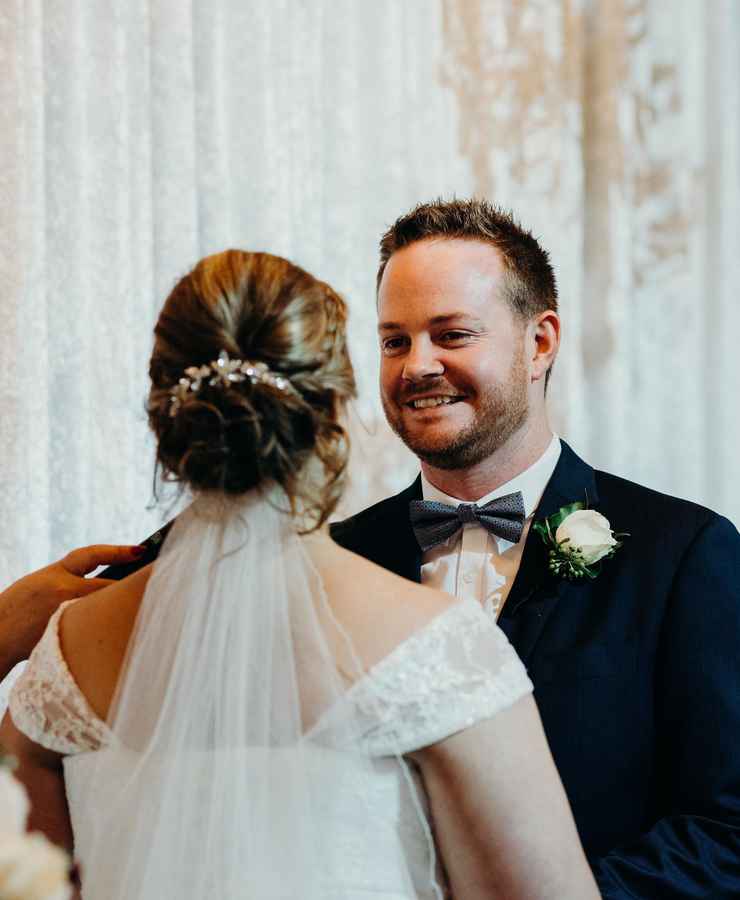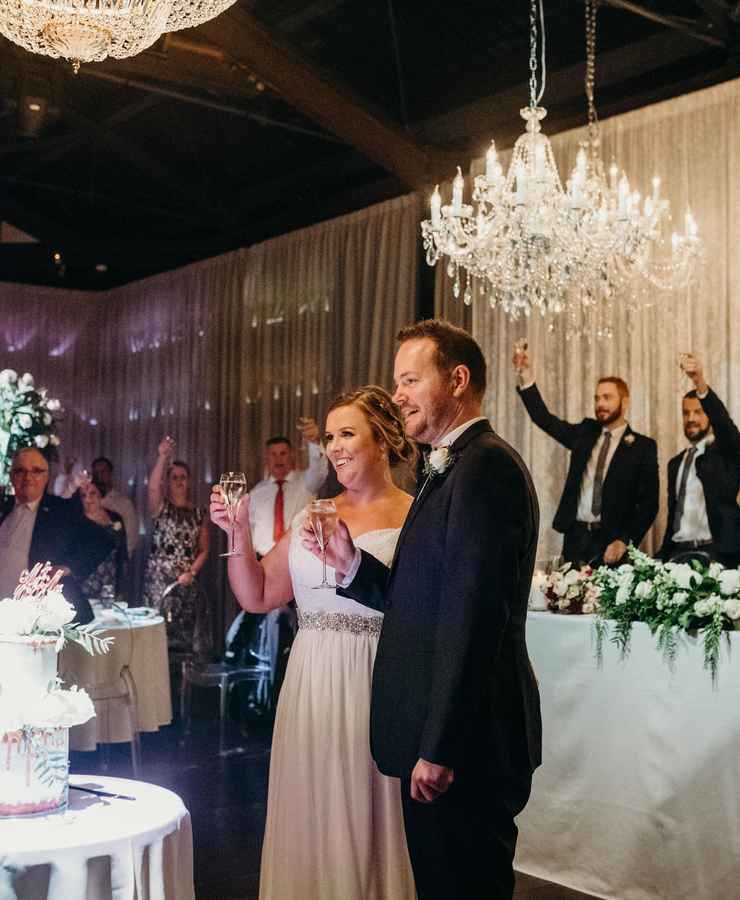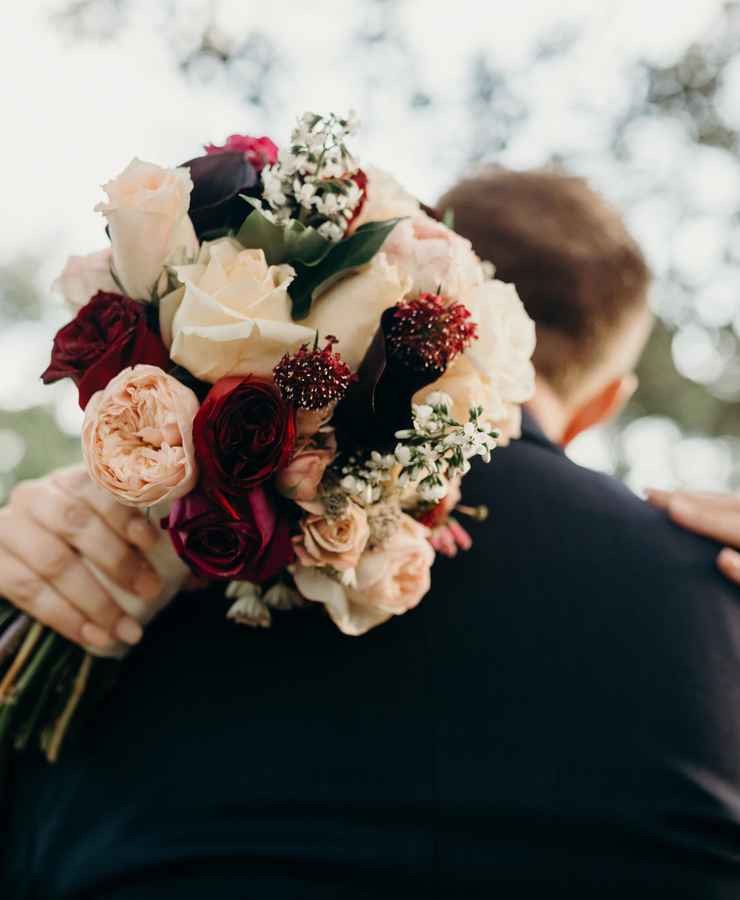 Where did you go for your Honeymoon?  Why?
We went to Malaysia and Hong Kong for our honeymoon.  We wanted some elements of relaxation but also some hustle and bustle of the city life. In all honestly I was SO sick day 2 of the honeymoon that I really didn't enjoy too much!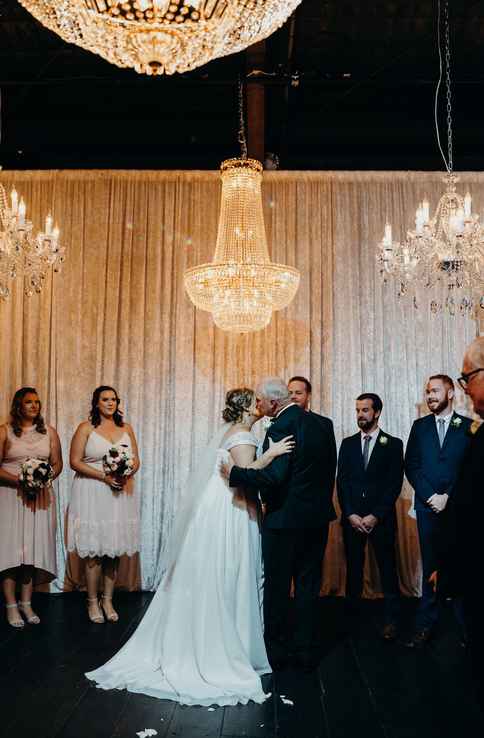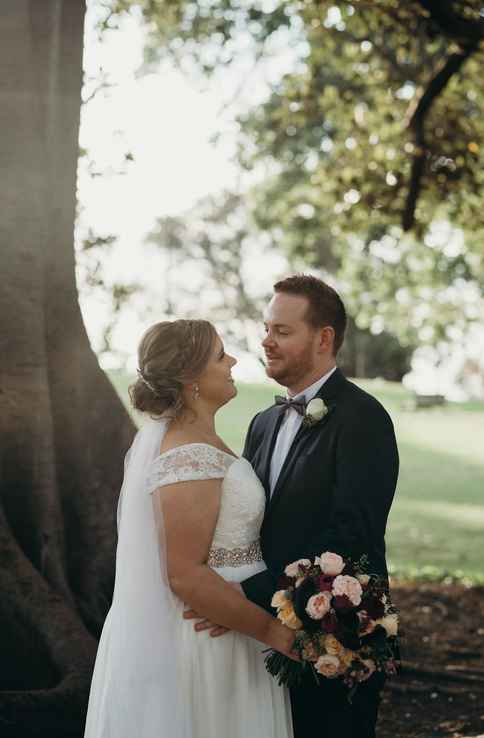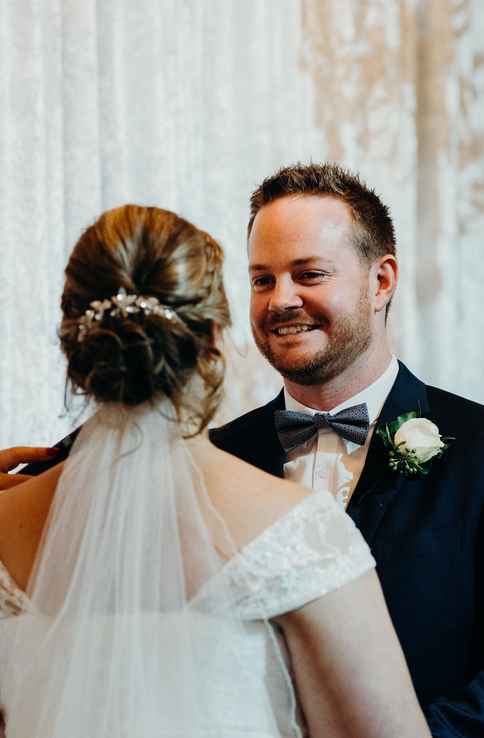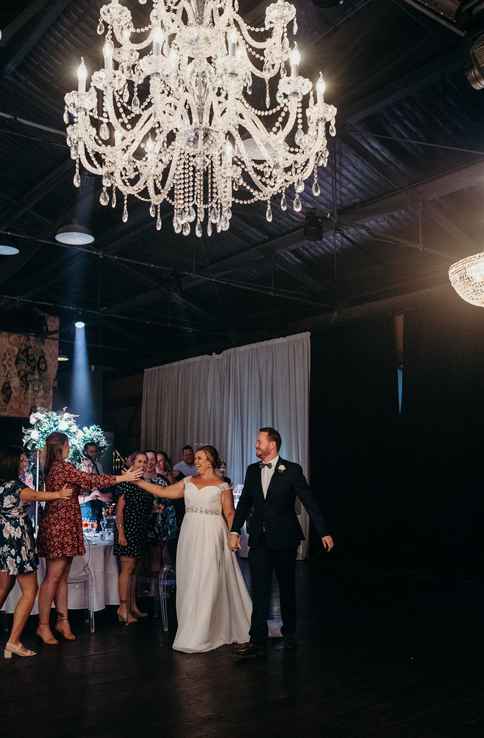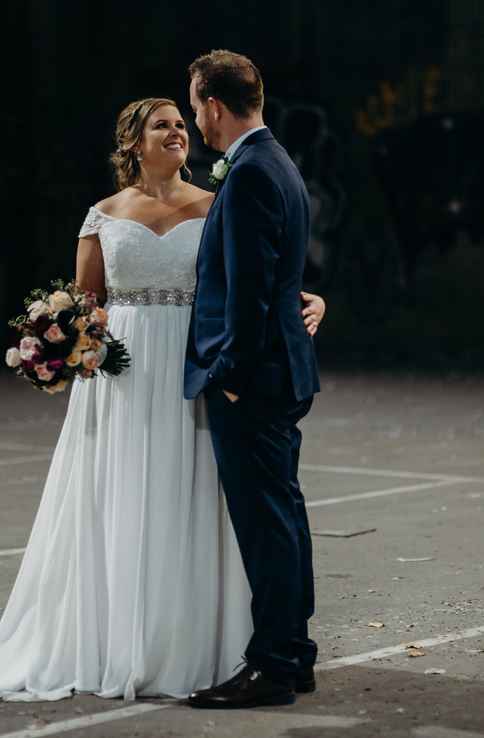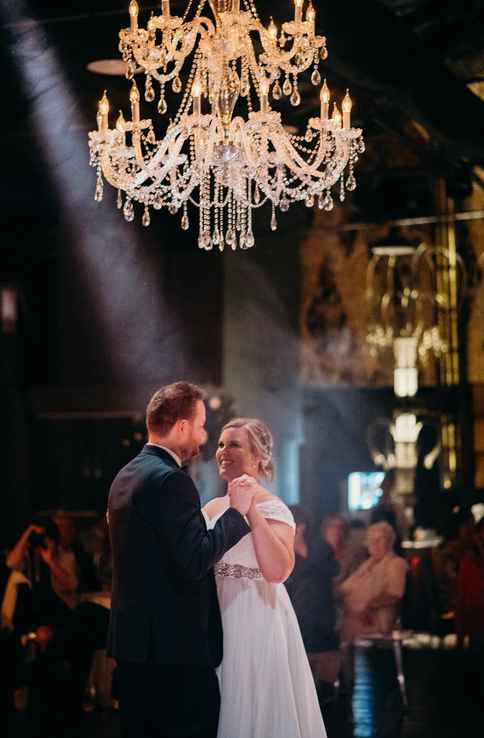 Do you have any advice for other couples?
My only advice I can give is to not take advice! Do what you want and only take on board opinions of those people that you want to. Try and block out the rest of the white noise and go with your gut!
For more inspirational wedding stories, Visit Real Weddings to find your perfect Melbourne wedding venue or get your obligation free quote today at Showtime Events Centre!