Tell us about the proposal.
On Janel's birthday in 2016, I said that I would be taking her to a 'surprise' restaurant for dinner that night. I also wrapped three gifts for her that day. Janel opened the first gift when she woke up – a pair of new shoes. I met Janel for a drink after work and gave her the second gift – a new perfume. We then walked to the Japanese restaurant Kobe Jones – one of Janel's favourite cuisines. Just before dessert was served, I gave Janel her the third present – a ring and I asked if she would marry me. Firstly there were was only tears (I think she was in shock), so I had to check that if this meant her answer was a yes, to my relief it was.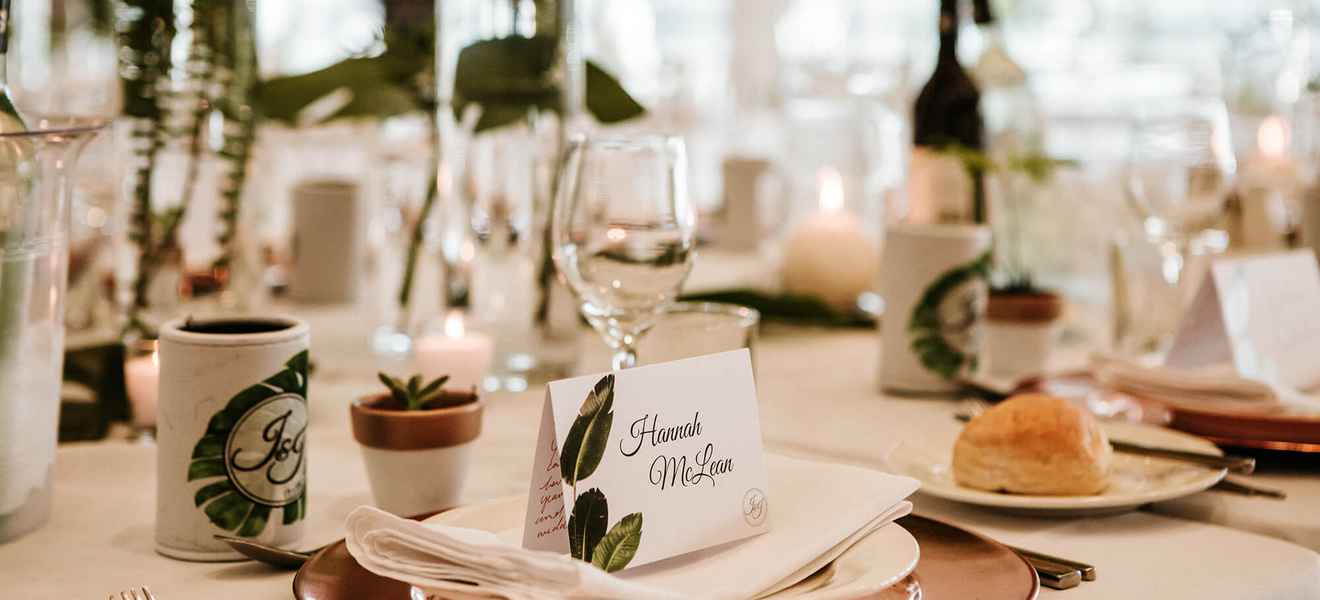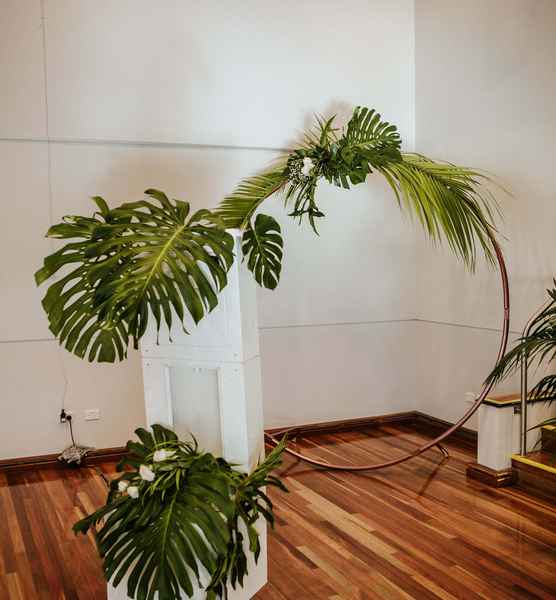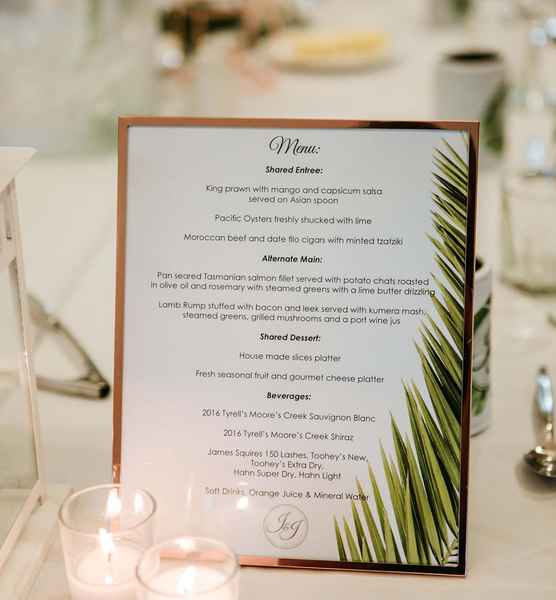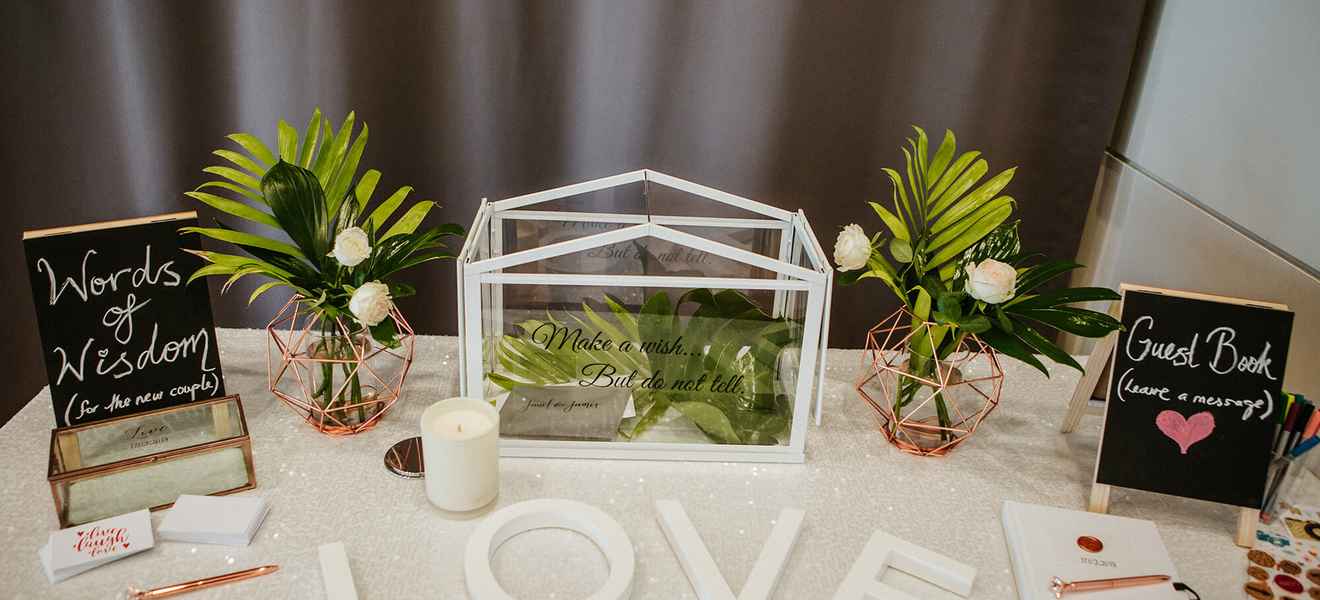 How did you choose your Venue and location? Why?
The NSW South Coast is a special place for us, our family has a holiday house in Lake Conjola and many other locations have been the destination of many a holiday or short break. Kiama has the relaxed coastal charm we were looking for, as well as access to a variety of accommodation and other amenities within a short walk of our chosen venue. The Pavilion Kiama was on the short-list of venues in our initial research, but when we conducted a site inspection of the venue, we knew it 'was the one'. The Pavilion is situated on a headland with stunning water views, great facilities, partnered with exceptional catering company, Culinarius, and is easily accessible by nearby accommodation.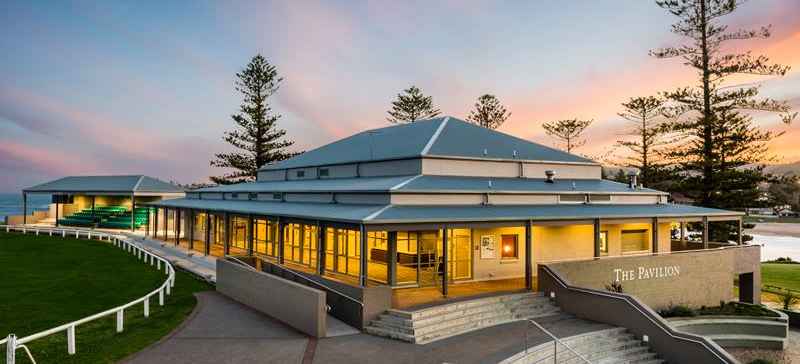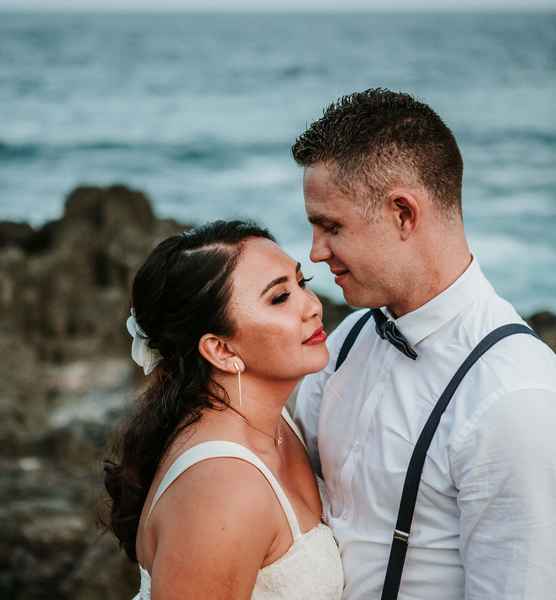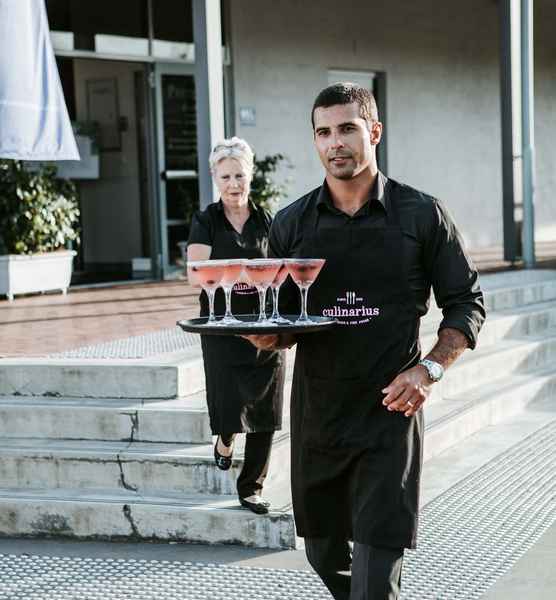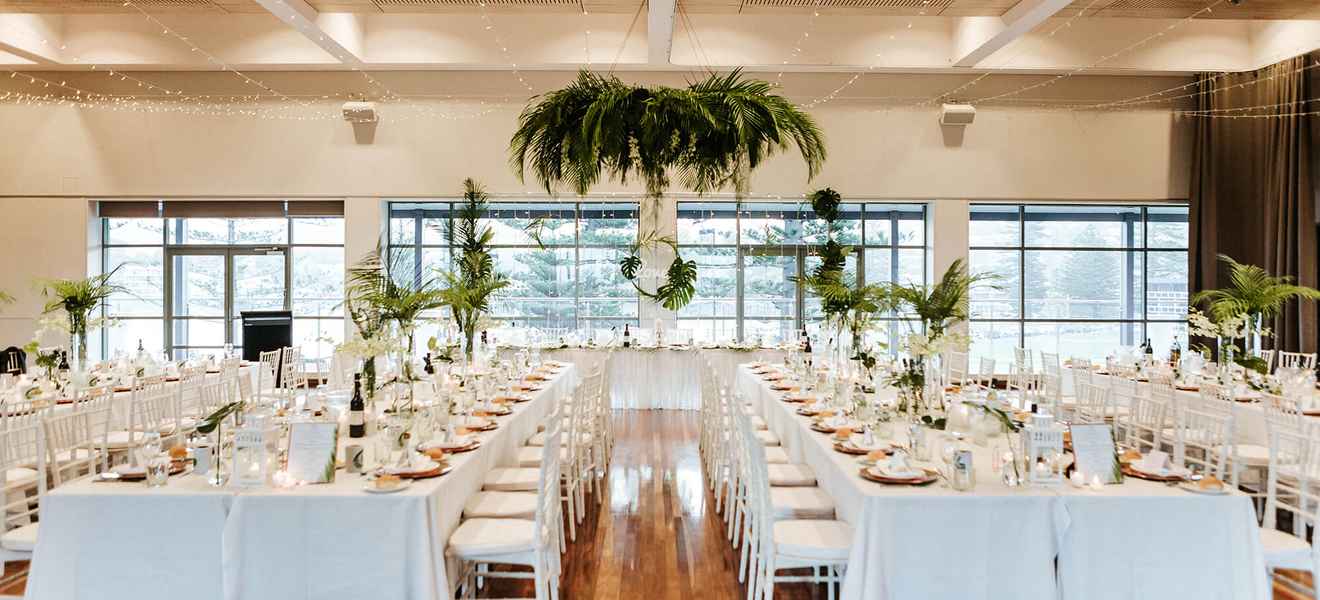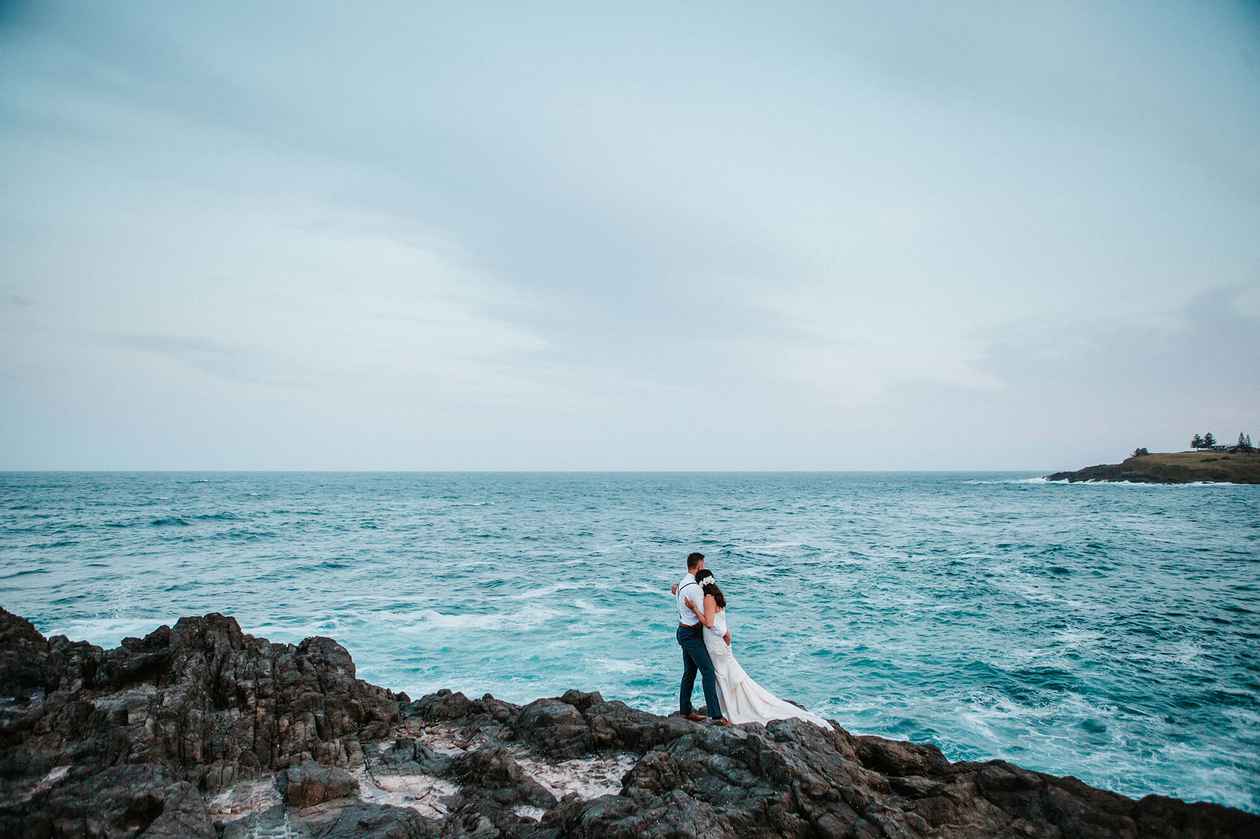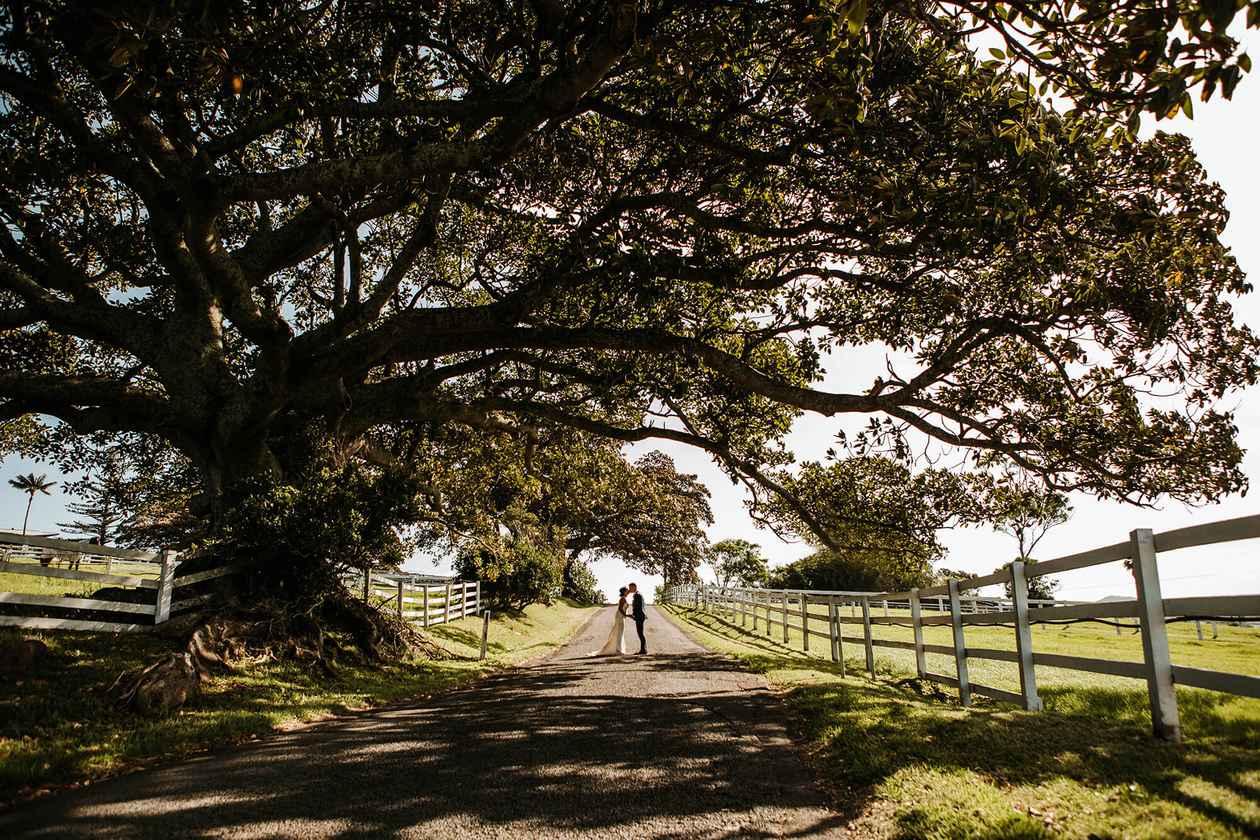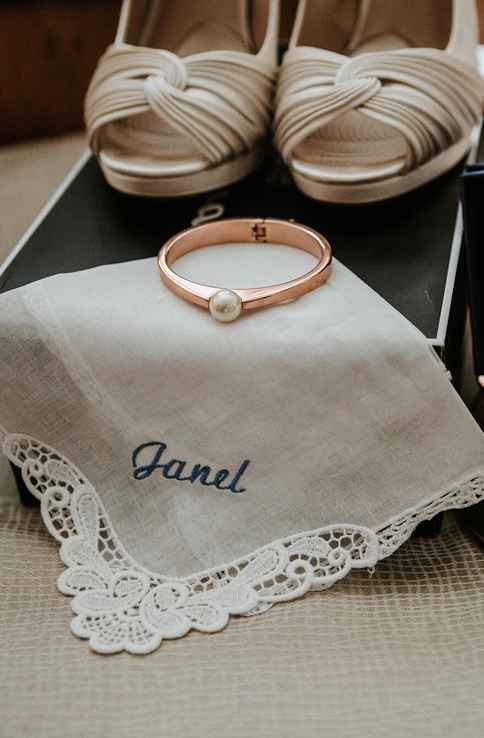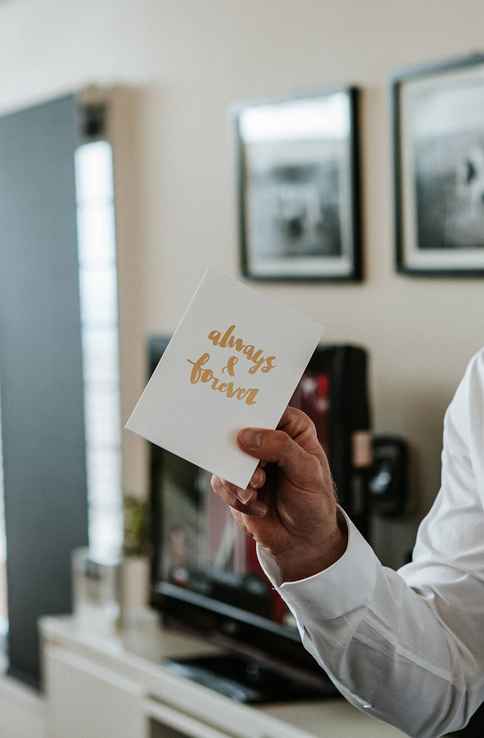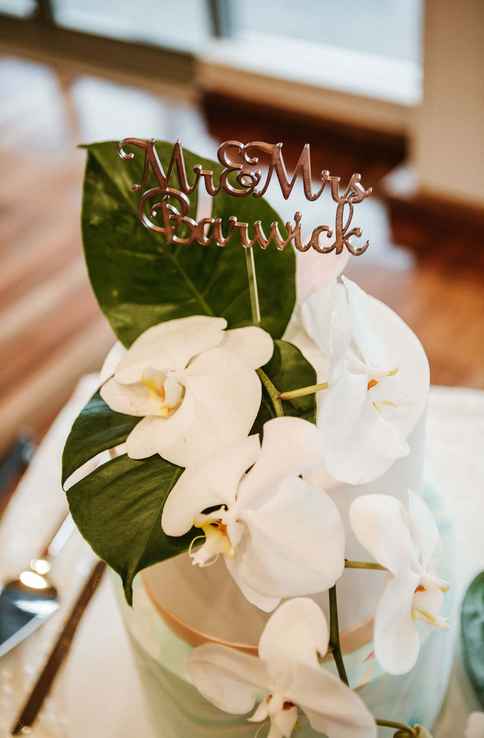 Tell us about your Gown. What about the groom and the bridal party fashion choices?
Janel

On my first trip to the bridal shops with my mum and all of my bridesmaids, there were so many gorgeous dresses I tried on, but nothing really felt like 'the one'. I didn't want to close-myself off to a particular 'style' of dress, so I was open to trying on anything. But I did know I was after a dress that was timeless, elegant and feminine. It was on my second trip to the shops the following weekend, with just my Mum present, I found the dress I would wear on my wedding day. The shop assistant and my mum suggested I try on an exquisitely made ivory double satin and lace dress, by London design-house Enzoani. As soon as I put it on, I loved how the dress made me feel beautiful and how I could imagine myself walking down the aisle, seeing James's smiling face – I absolutely adore my dress.
I have to say, that the process of picking my bridesmaids was more difficult than picking my own. For my bridesmaids I wanted dresses to be a light, summery colour, a material that complimented by wedding dress, but was unique to each them and something that they would love to wear again. After much deliberation I decided on my original preference by Australian designer Shona Joy. The dresses in the bridesmaid Luxe collection are lovely; they are a luxurious silky material and come in a range of colours and styles.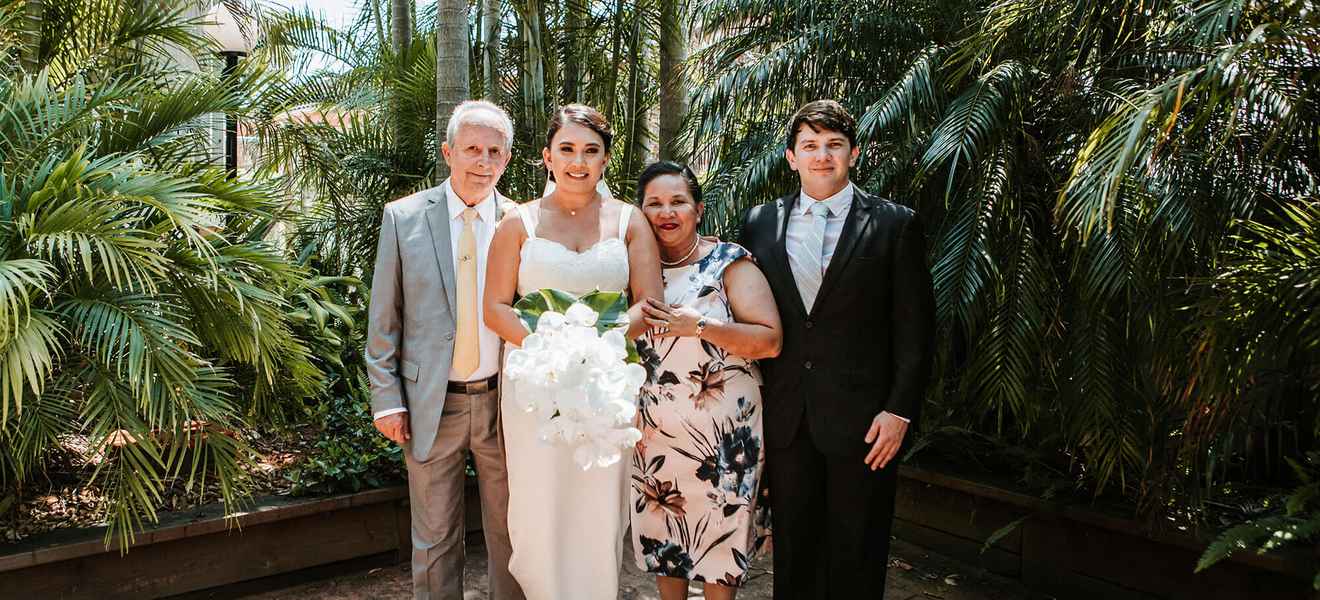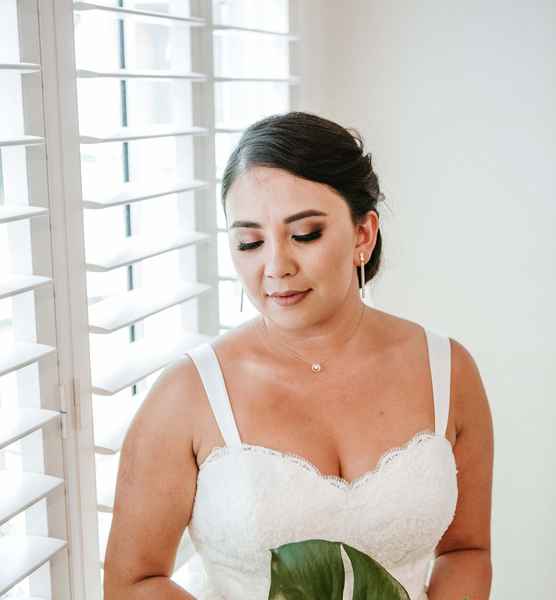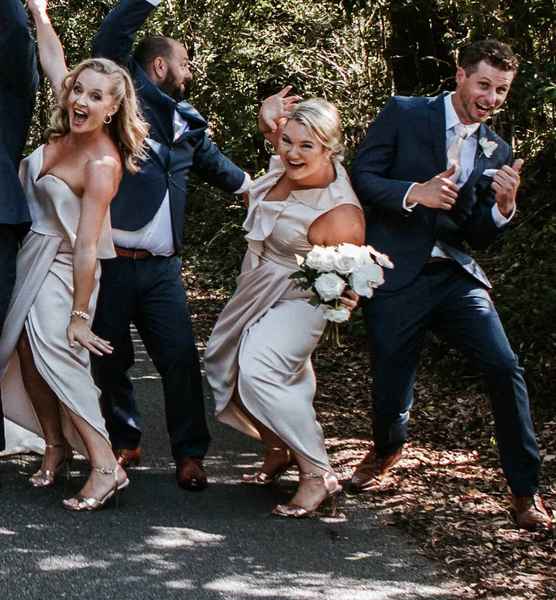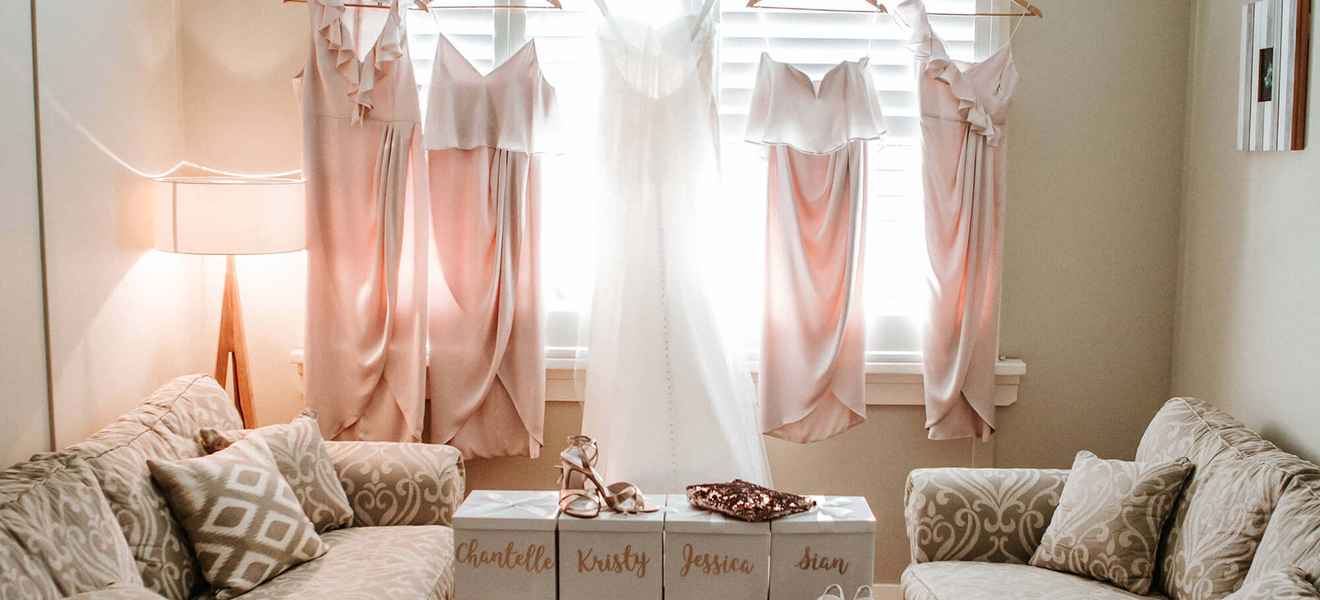 James
Blue is my favourite colour and so naturally I went with a navy-blue colour for my groomsmen's suits and mine. The colour also reflected the overall coastal theme we wanted, it was sophisticated yet relaxed. We considered the idea of doing a two-tone look, but I also wanted something that my groomsmen would be able to wear again and again, long after the wedding. Because my overall look was quite similar to the groomsmen, I wanted something subtly unique to me, so I wore a different coloured bow-tie and suspenders. I was really happy with how we scrubbed up; the fellas and I looked pretty schmick.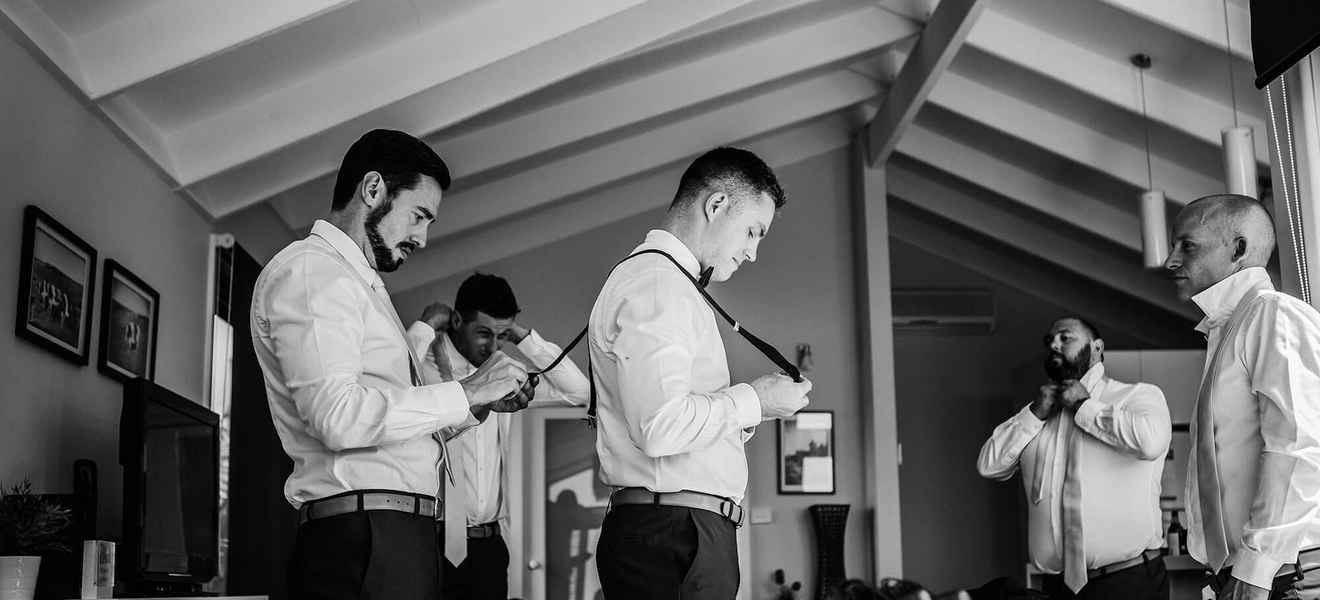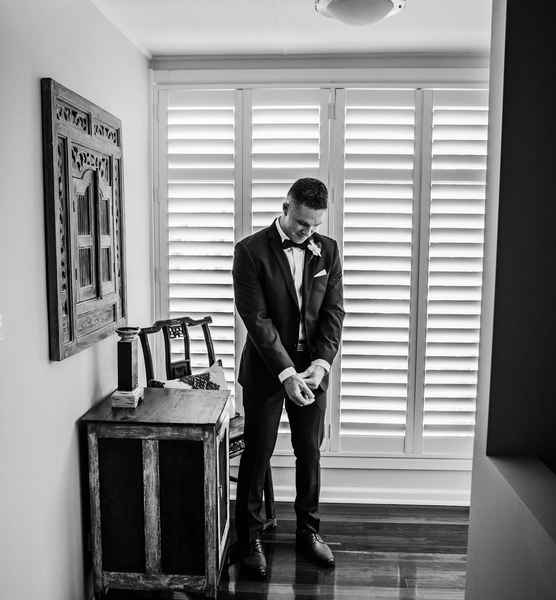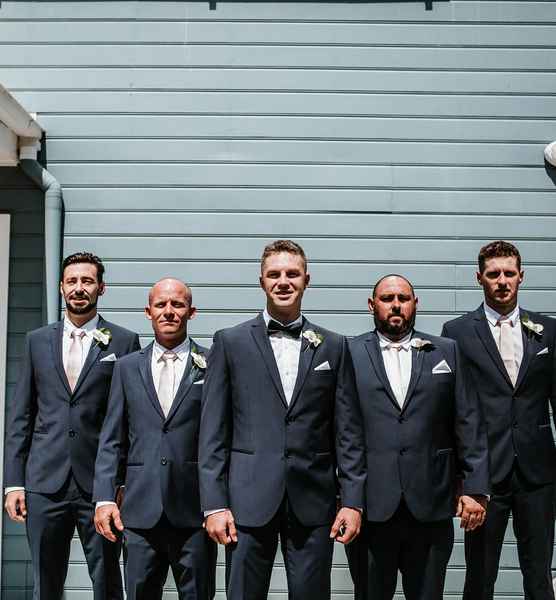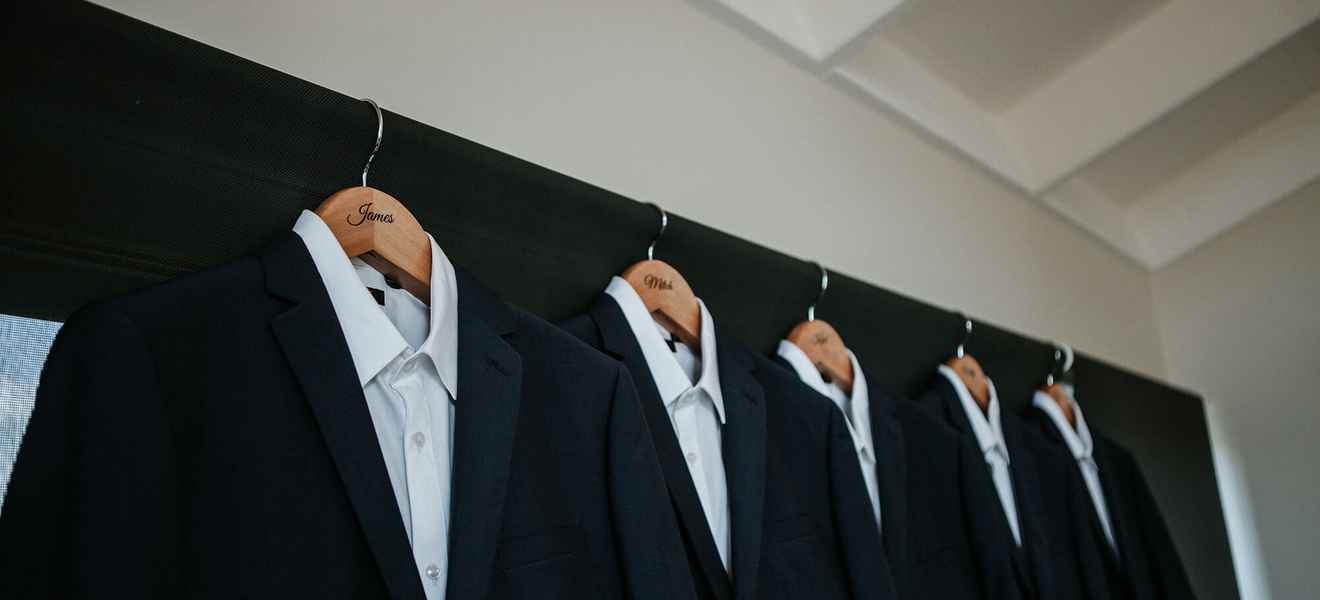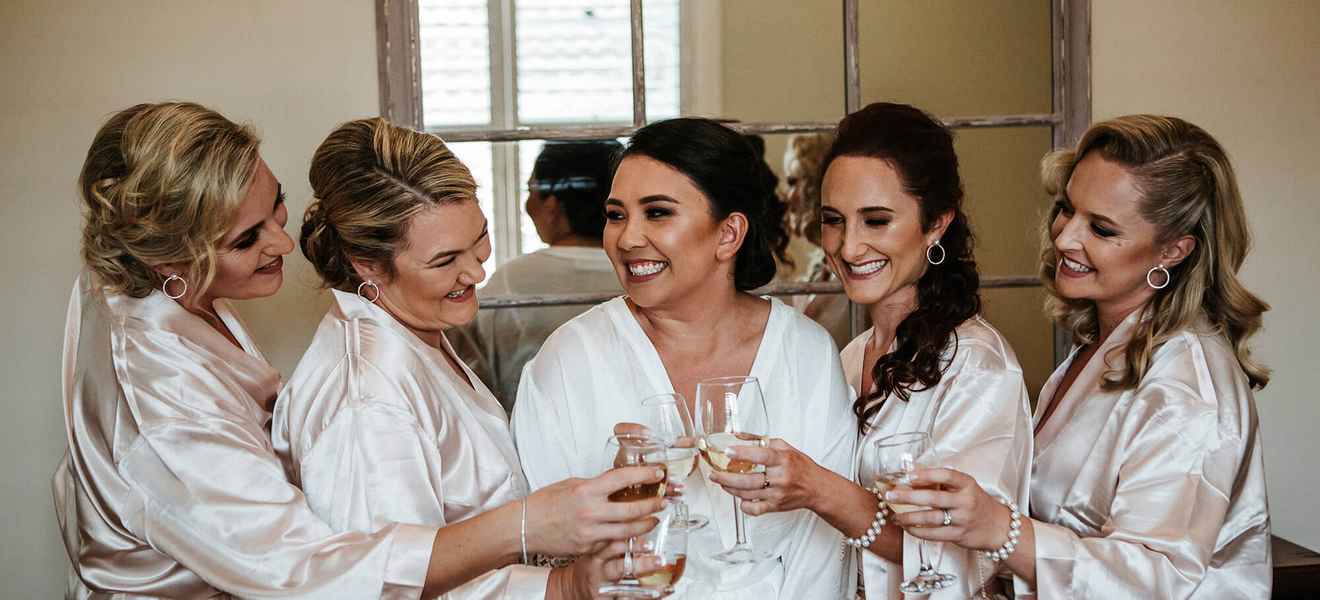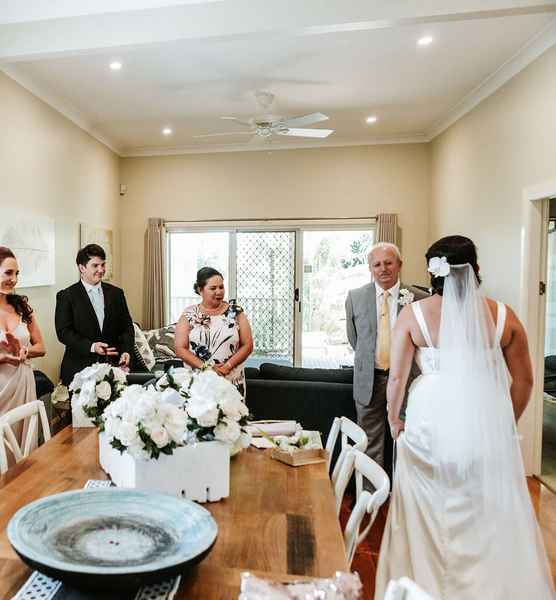 What Styling did you choose for your wedding?
We wanted our wedding style to reflect who we are as a couple and what we love, so everything from the invitations to the wedding cake had a relaxed coastal feel with a hint of luxe tropical. Our colour-scheme was clean & simple; crisp whites, lush greens with hints of blue and rose gold. But what was most important to us was to create an experience that not only we would love and treasure, but also our guests would enjoy and remember; we wanted it to a happy day full of fun and laughter. We invested time in selecting a quality menu, activities that encouraged interaction, a talented band with a booty-shaking song selection, but also small thoughtful touches that would mean something to our guests, such as personalized messages in their name tent cards.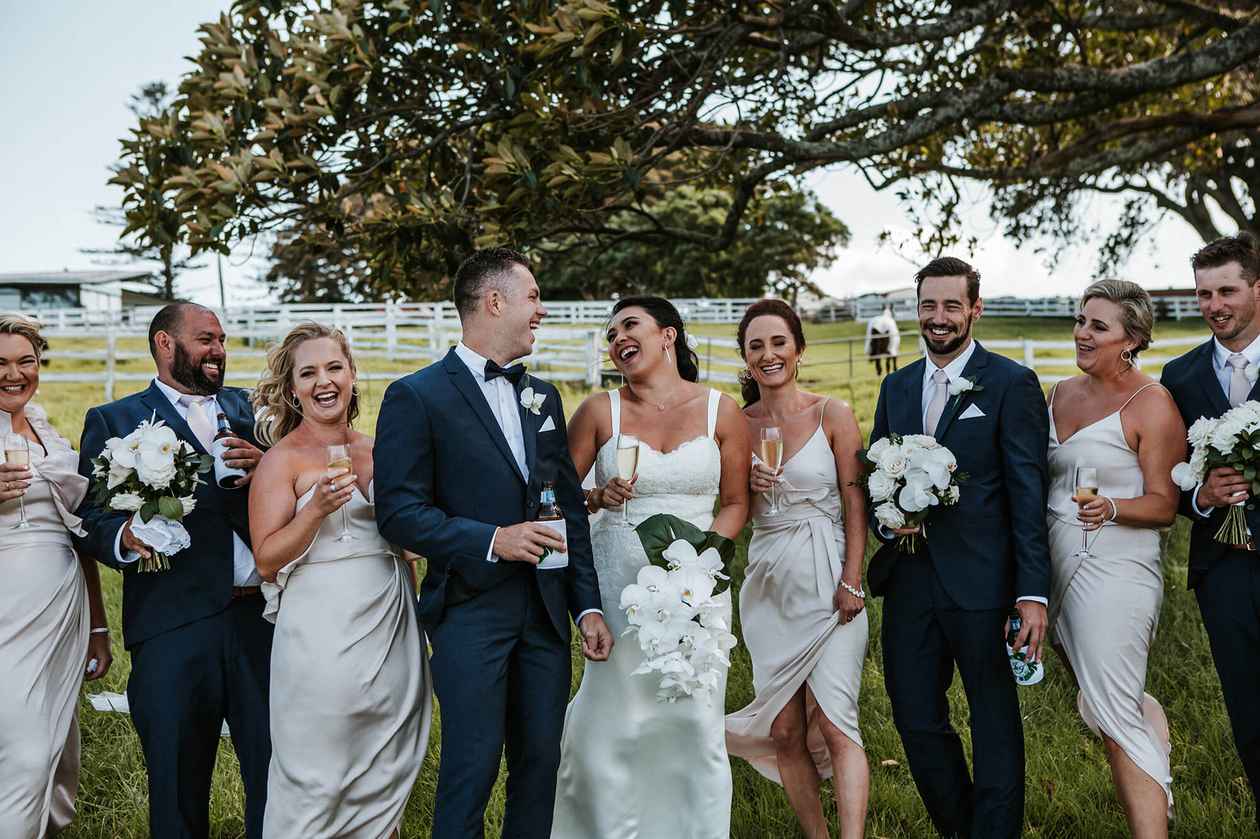 What were the highlights of your day?
There are so many amazing memories; it truly was the best day ever in our lives to date. It was our day to be surrounded by our nearest and dearest, in celebration of our love for one another.
Janel

For me some of my highlights were coupled with happy-tears, waking up in the morning to my bridesmaids and the realization it was my wedding day, having my bouquet delivered, revealing my wedding dress to my family and walking down the aisle to James.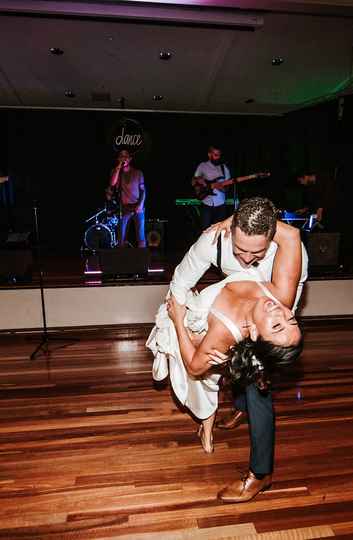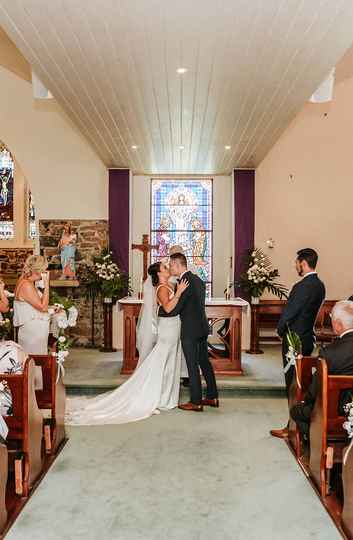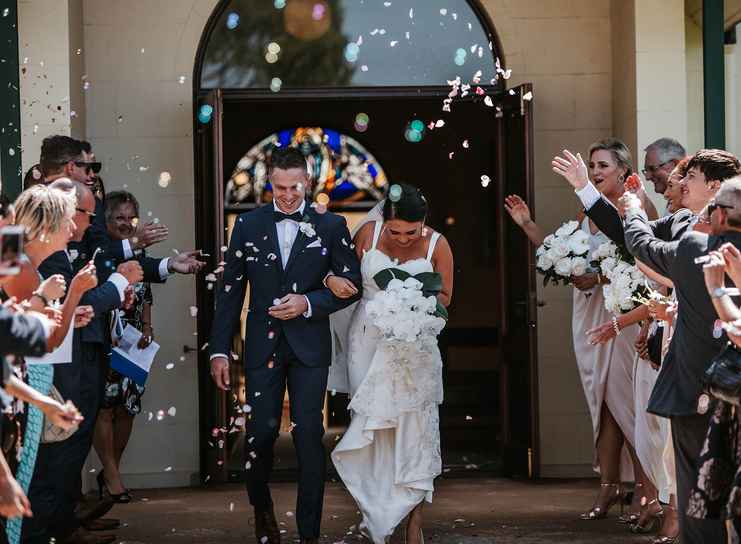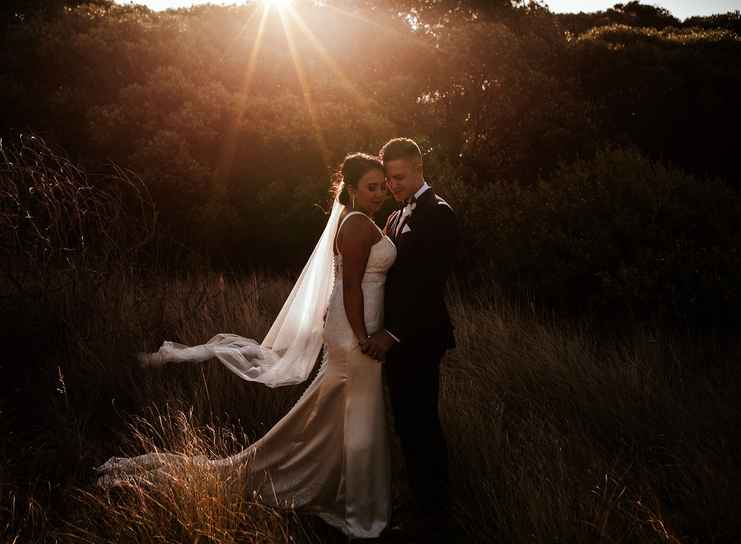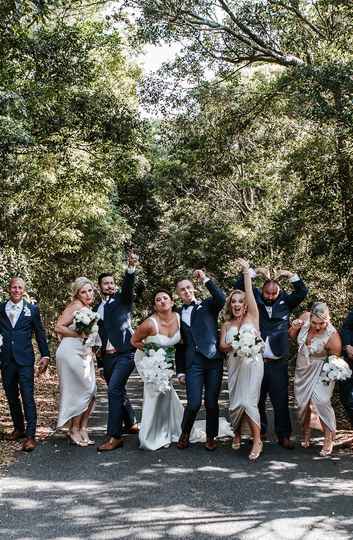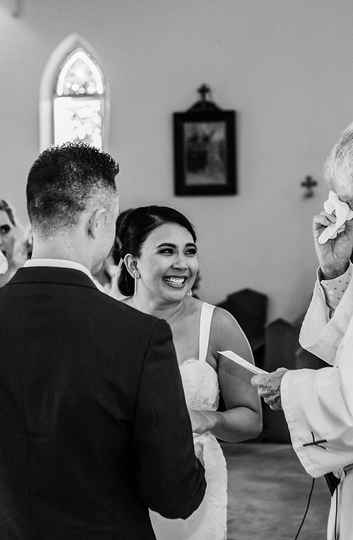 James
My highlights included a morning surf with perfect conditions, reading Janel's love-letter, seeing all the fellas all suited-up and watching Janel walk down the aisle.
For the both us it was such a beautiful day full of so much profound love, joy and laughter. As soon as it was over, we wanted to relive the day again. Some highlights include seeing each other for the first time on the day (we both had happy tears), saying our vows to one another, walking out of the Church together as husband and wife, location photo-shoot, our first-dance together with our bridal party and our sparkler send-off at the end of the night.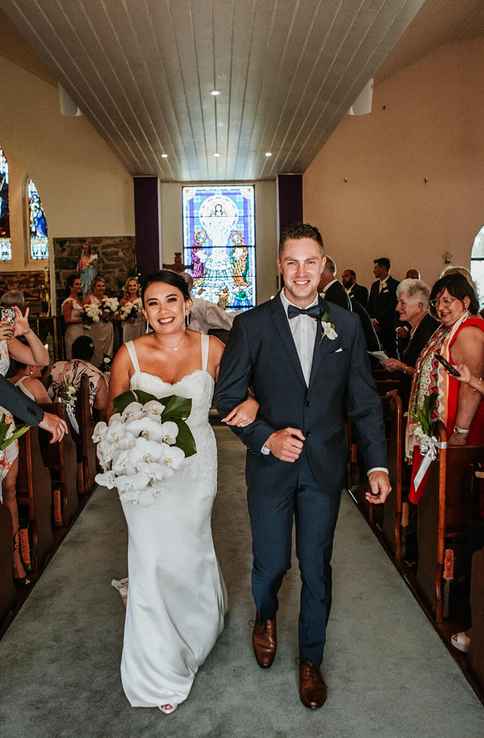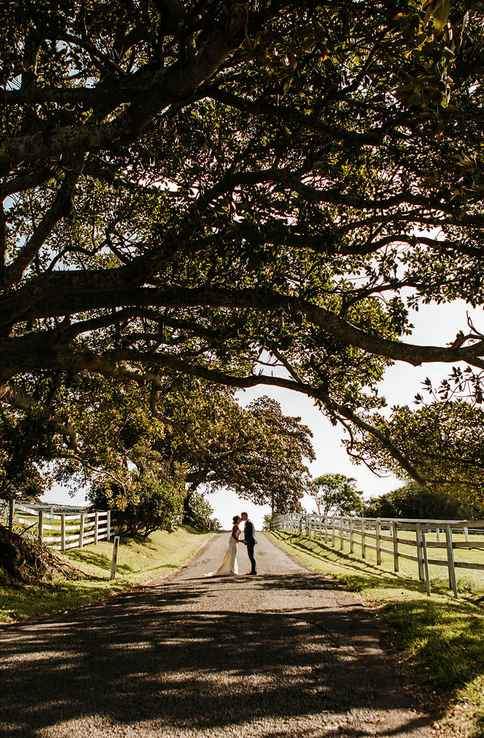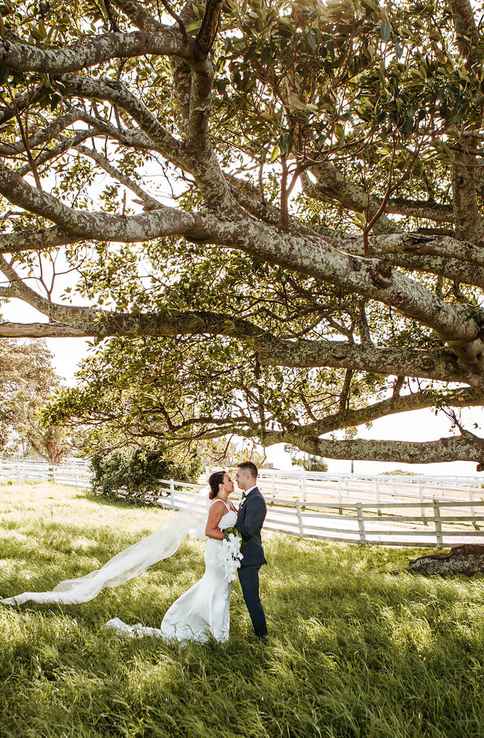 Tell us about any funny, poignant, challenging or emotional moments?
The whole day was full of genuine and special moments. Our day was quite an emotional (in a good way), many happy-tears were shed by all. Luckily for us, the most challenging moments were pre-wedding day in the planning, preparing and paying for everything. We had friends who are in the events industry manage the day for us, so once they were given an event brief, we were able to relax and soak it all in. I think the most challenging part of the day, was clambering over the rocks, in the heat at Bombo Headland, just to get an amazing photo.
One of our sweetest memories was when we took some time-out at sunset, with just our photographer and videographer on the headland outside our venue. It allowed us to have a quiet moment together, to reflect and savour the day.

Where did you go for your Honeymoon? Why?
We chose Hawaii for our honeymoon destination. Neither of us had been to Hawaii before, both of us had wanted to visit for a long time, its tropical and a place where you can do anything or nothing at all – so it was perfect for us. We had lazy days by the beach and not so-lazy days swimming, snorkeling, surfing and exploring the islands.
Do you have any advice for other brides?
Compromise
Just like marriage, the planning, preparing and paying for a wedding takes work, communication and compromise. Brides, remember it is your Grooms wedding also – so involve him in key decisions and let him put his personal touches on this special day too.
Have a plan
It's never too early to start planning but also take your time, don't rush into making decisions on everything all at once. We don't all have endless amounts of time and money, so put together a plan, draft a budget and invest wisely in the areas that matter most to you both. Don't be too rigid with your plan though; be flexible and realistic with your expectations. It is so valuable to create a guide of how you would like your wedding day to pan out.
Be true to yourselves
Despite what is the latest wedding trend, remember to create a day that represents you as a couple, a day that you will both enjoy reflecting on. There is so much inspiration/information available in the wedding market and everyone has an opinion, sometimes it can get a bit overwhelming on what to do. Don't let all the options over-complicate the process and potentially cause unnecessary stress. Stay focused on what is important not what is popular at the time.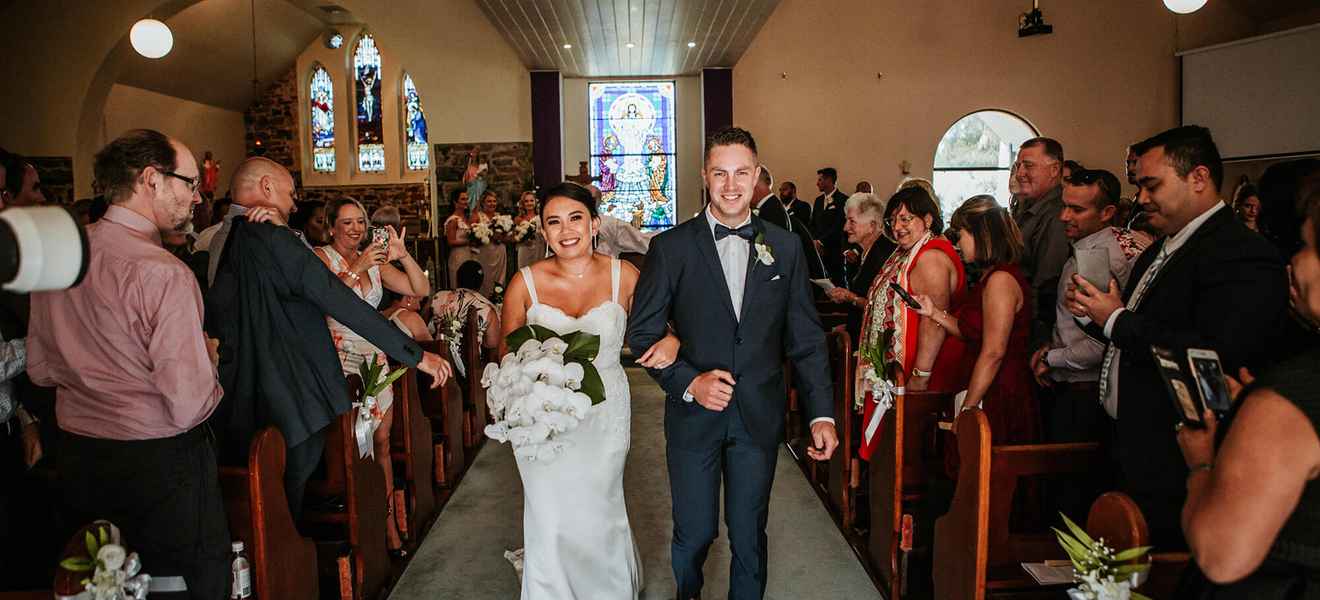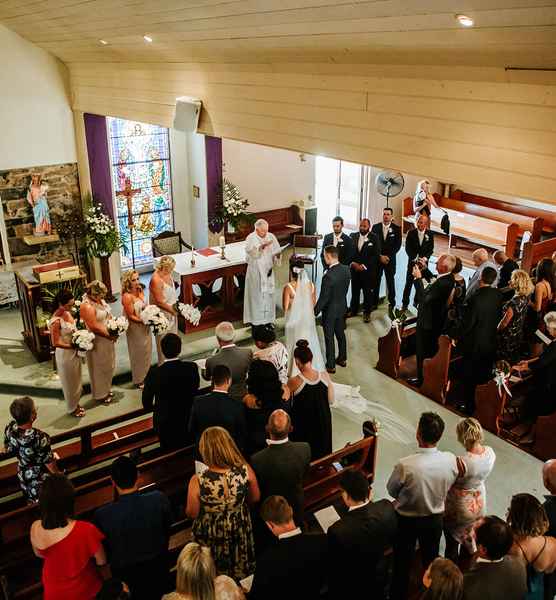 Know your priorities
Like most of the wedding blogs say, priorotise the 'big-ticket' items first and don't sweat too much about the small-stuff. If you have time and money after all the really important things are locked in, then you can fill it up with the less-important things. For us, we wanted to ensure we celebrated our day somewhere special, that it was captured beautifully, we ate and drank well but also danced the night away. So our big-ticket items that we locked-in first were our ceremony & reception venue, photographer & videographer, menu and band.
Our second-tier priorities were our rings, clothes and florist. The suppliers we worked with were great; they listened to our needs and delivered a gorgeous product within our budget. We saved money in areas by not having a huge guest list, doing some things DIY (such as the flowers at the church, some theming elements etc.) and we were lucky enough to have a friend who was a graphic designer in the print industry. By being smart about where we spent and didn't spend money, in the end we could also afford the little luxuries such as a photo-booth.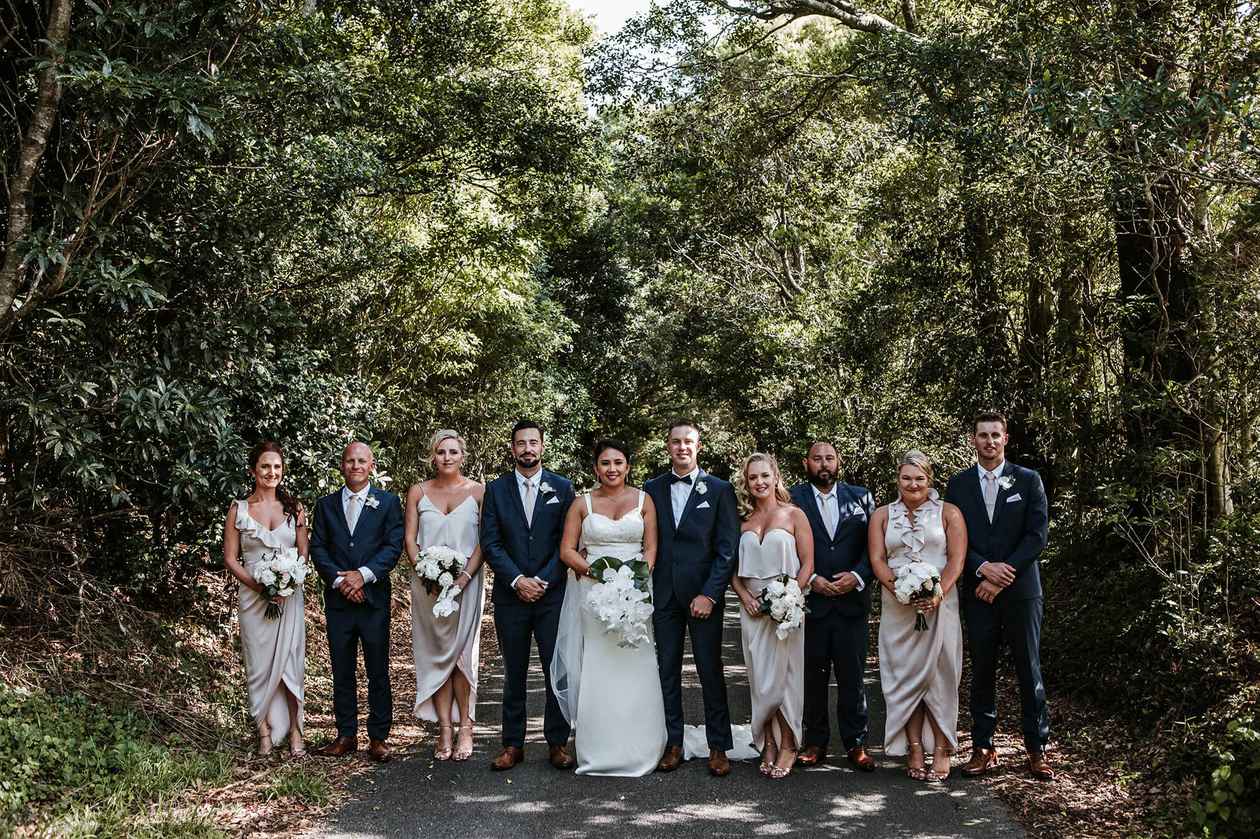 Support network
Surround yourself with a good support network; your bridal party, family and reputable suppliers. Avoid being a bridezilla – be respectful of their time and be open to their suggestions or feedback. However, also be clear with what you want and communicate this appropriately. For your family and bridal party have scheduled informal catch-ups where you can talk through what support you need from them. Put together basic briefs for your suppliers with the key wedding details, contacts, schedules and key deliverables. On the actual day, appoint someone as the primary contact for your family and wedding suppliers for any questions or last-minute decisions, whether that be a friend or someone from your bridal party; that way you can relax, be present in the moment and enjoy the day.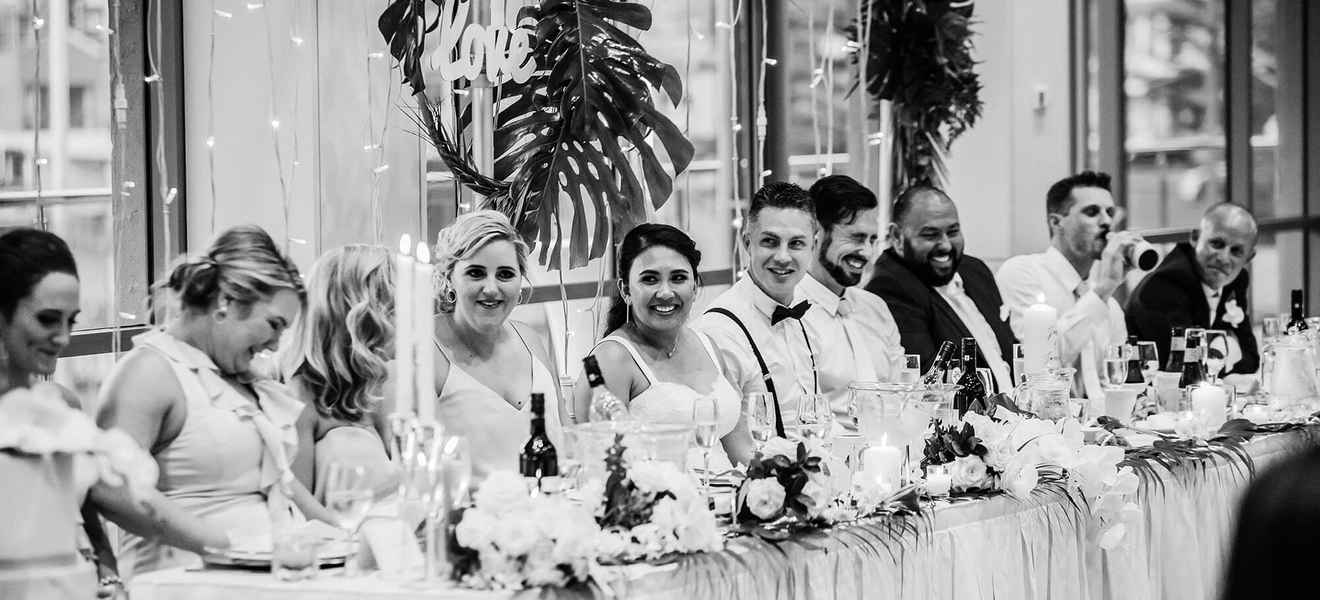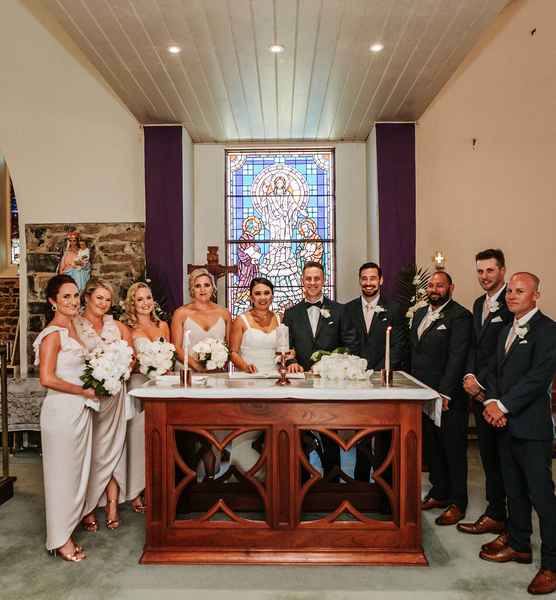 Capture the moments
Make sure you take the time to have photos with all of your guests. You may not be able to talk to everyone at length during the night, but it is so lovely looking over the photos of all the special people who were with you on your wedding day. The day really does go by so fast and it will be over before you know it, so have fun and just enjoy being in the moment. Remember to stop, take a breath, soak it all in and take multiple mental pictures – you will cherish these memories forever.
Is there anything else you'd like to add?
Dear Bride & Groom to be,
Congratulations! Always remember why you entered into this journey in the first place – love. This is such a significant time in your lives, so look after one another and enjoy celebrating your love with the people who matter most.
Janel & James
For more inspirational wedding stories, visit Real Weddings and find your perfect New South Wales wedding venue.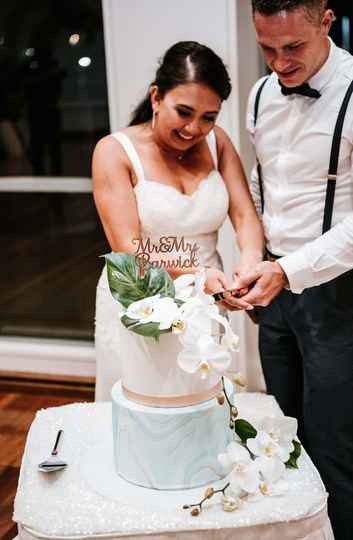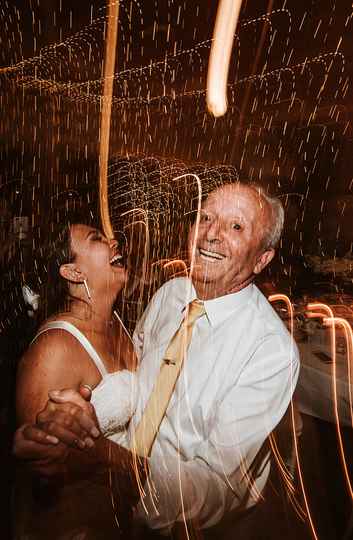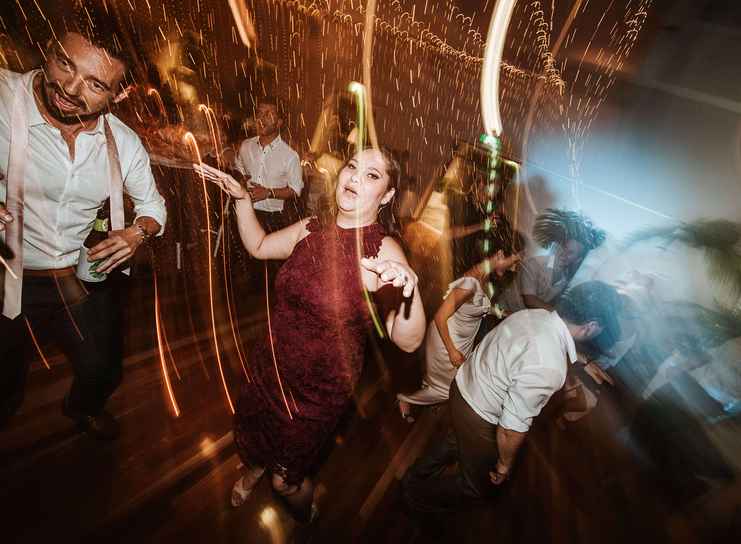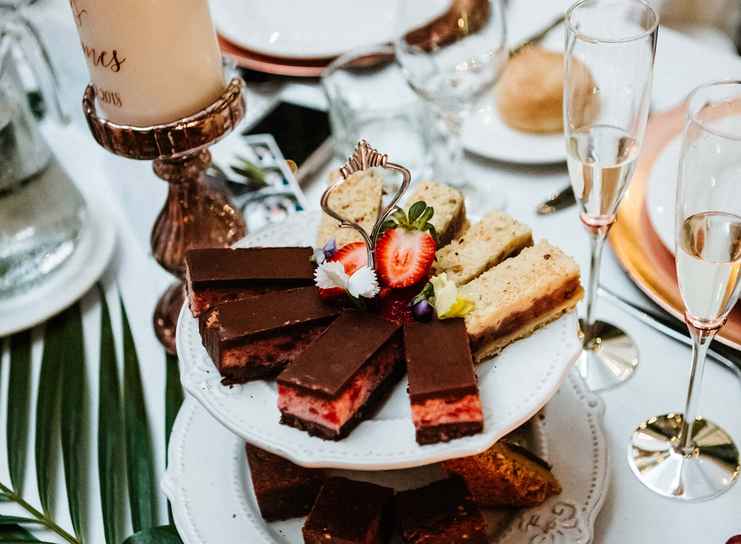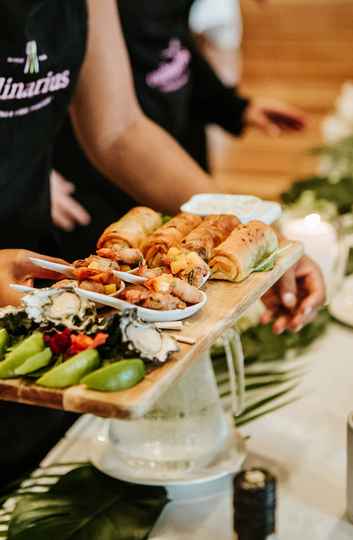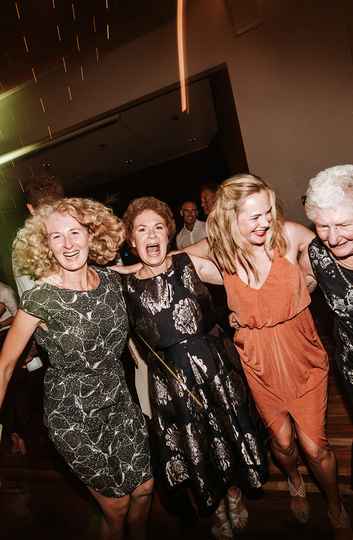 Photographer: Red Berry Photography | Reception Venue: The Pavilion, Kiama | Reception Caterer (if different): Culinarius | Gown: Enzoani | Videographer: Honey Bear Films | Flowers / Styling: Botanic Art | Stationery: Worldwide | Cake: One More Slice | Transport: Kombi Occasions | Bridesmaid's dresses: Shona Joy | Band: Mike Champion & The Cool | Photo Booth: Love & Laugh | Hire Furniture: South Coast Party Hire | Photo Booth Backdrop: Bliss & Bear | Make-up: Liv Slee | Hair: Zen Hair, Gerringong