Laura Smith and Oliver Doederlein's wedding exuded elegance. Quat Quatta's old world charm influenced the styling and, lavish floral arrangements with fresh whites and soft greens as well as accent furniture pieces imbued the space with a majestic and timeless quality.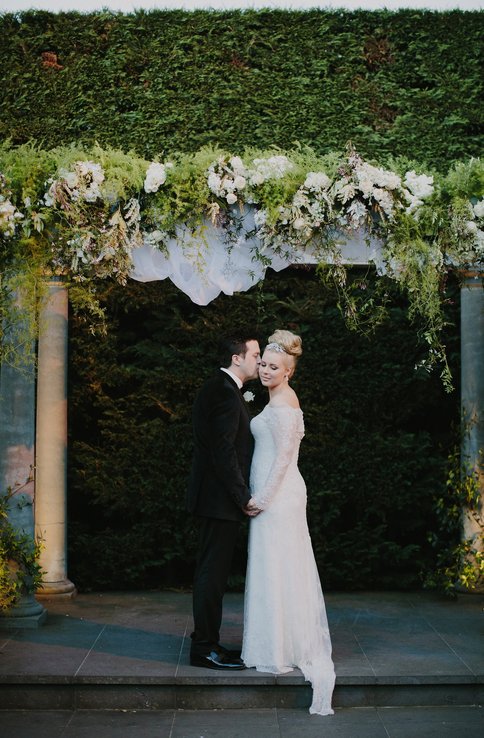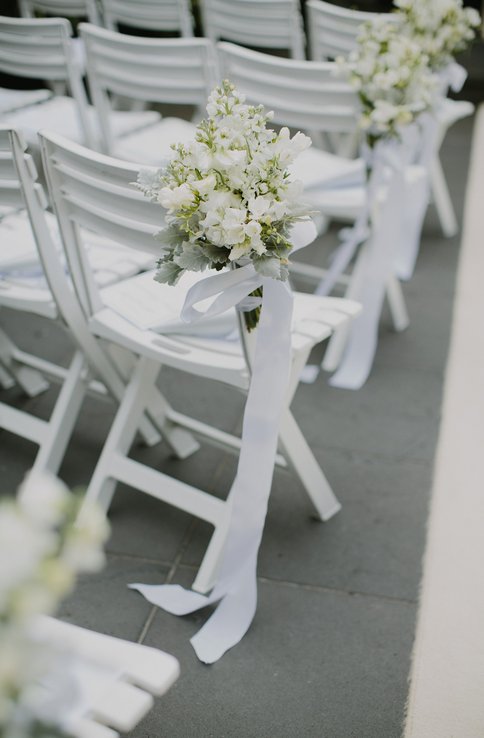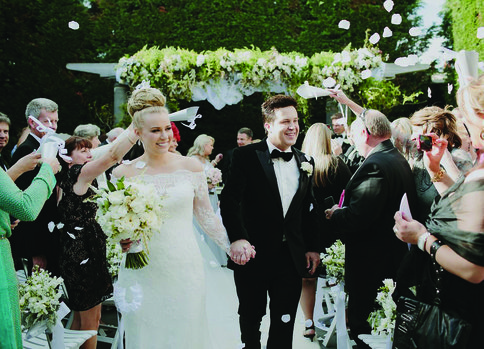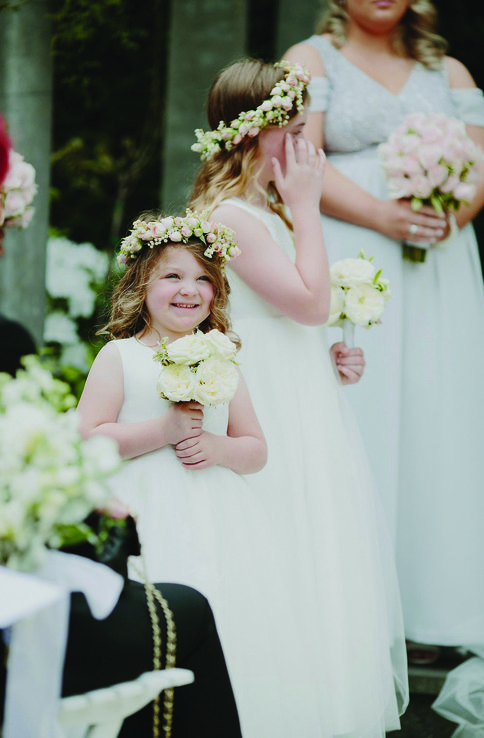 When Laura first met Oliver she was intrigued by his smile and gentle charm. Four years later Oliver proposed to her with an engagement ring that he had hidden inside a freezer at the hotel where they were celebrating their anniversary. 
"I burst into tears as soon as I saw the beautiful, black leather box. On bended knee Oliver said, 'Will you marry me because I want to spend the rest of my life with you.' It was so special."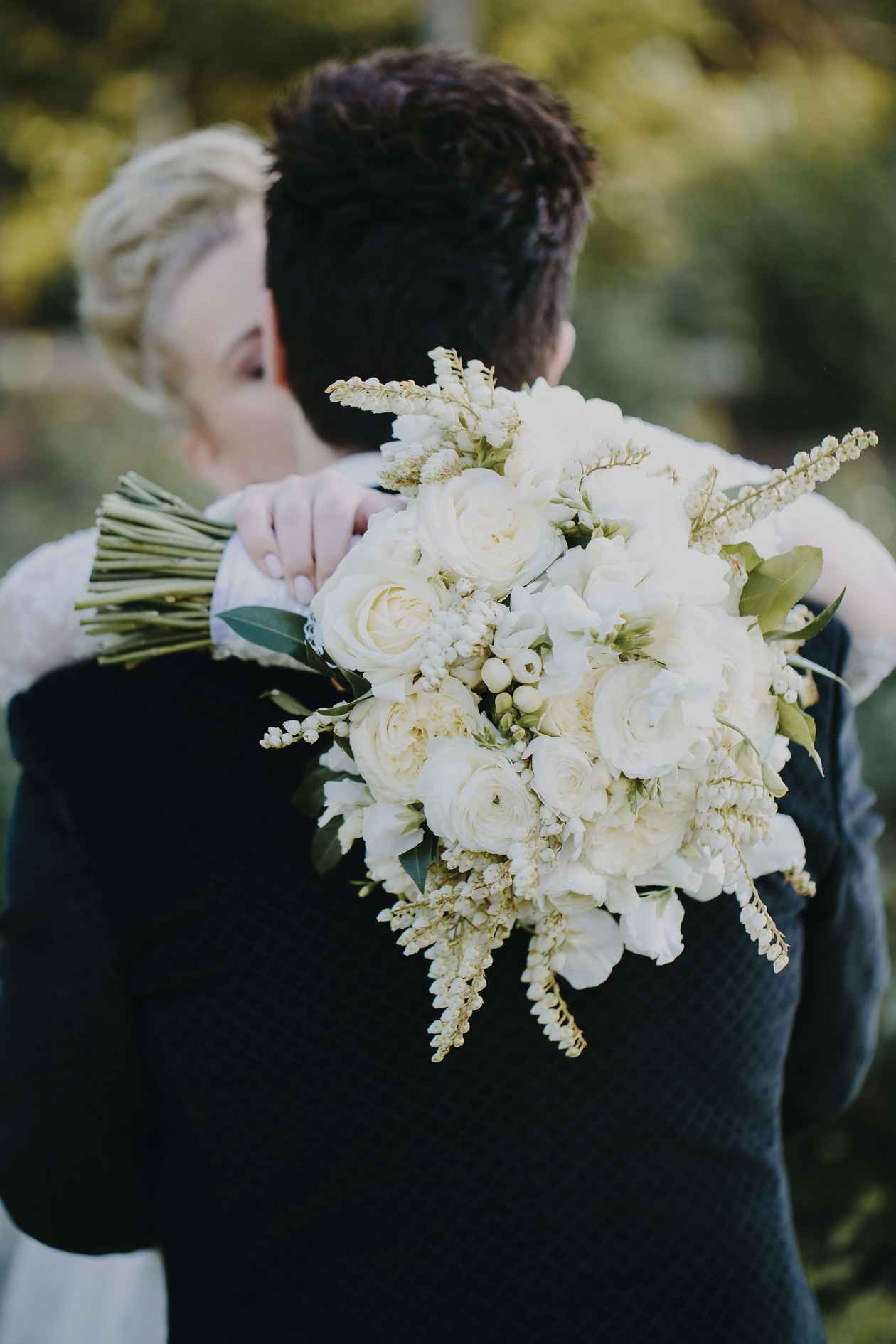 "The day after Oliver proposed we made an appointment to look at Quat Quatta where my mother and father were married. Recently refurbished by the renowned interior designers Hecker Guthrie, the Victorian mansion had an enchanting and calm atmosphere." The secluded hedge courtyard of Quat Quatta created a romantic setting for Laura and Oliver's spring wedding.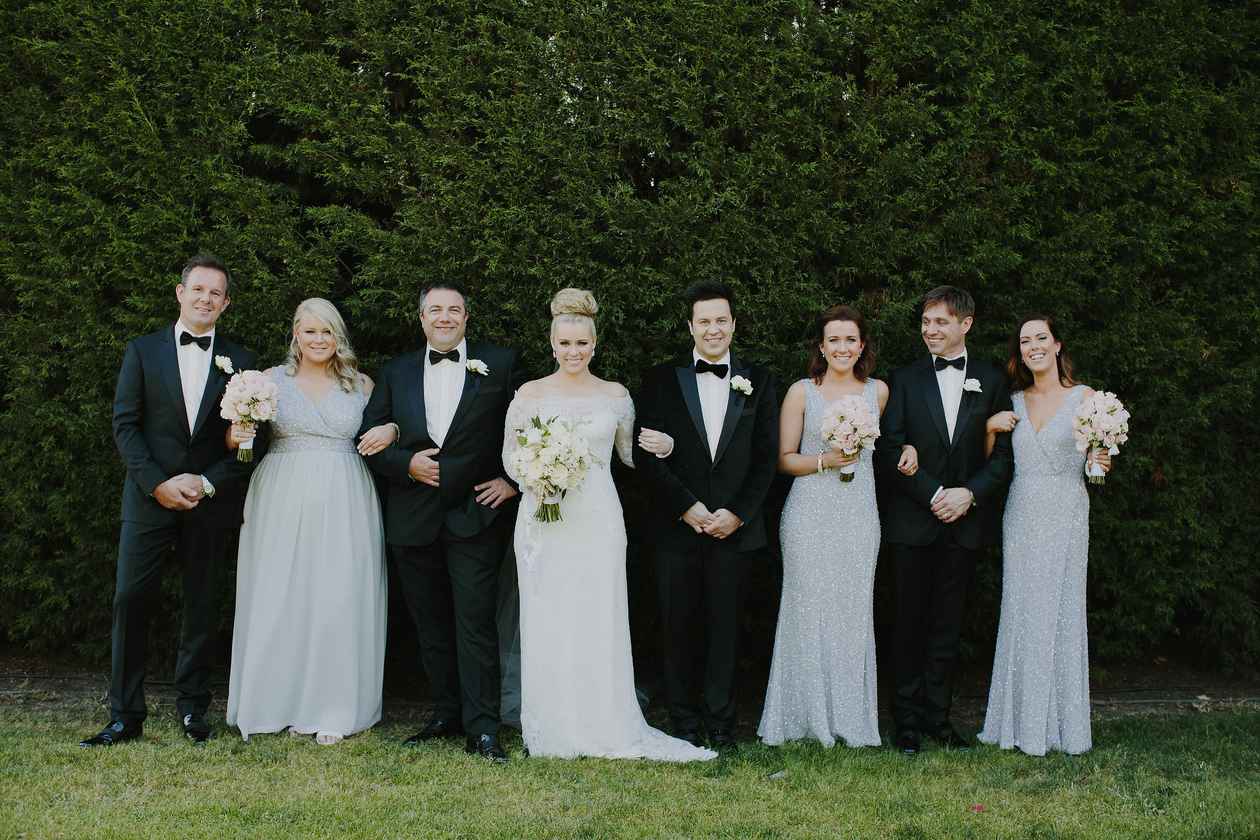 Laura remembers speaking "a lot of nonsense" to her father in the car on the way to the ceremony. "Then, just as we pulled into the semi-circle driveway, he started his emotional, 'proud dad' speech. My tears erupted, however as soon as I saw Oliver, I felt completely calm and giddy with happiness. He grounded me and I was able to enjoy the ceremony without becoming a blubbering mess!"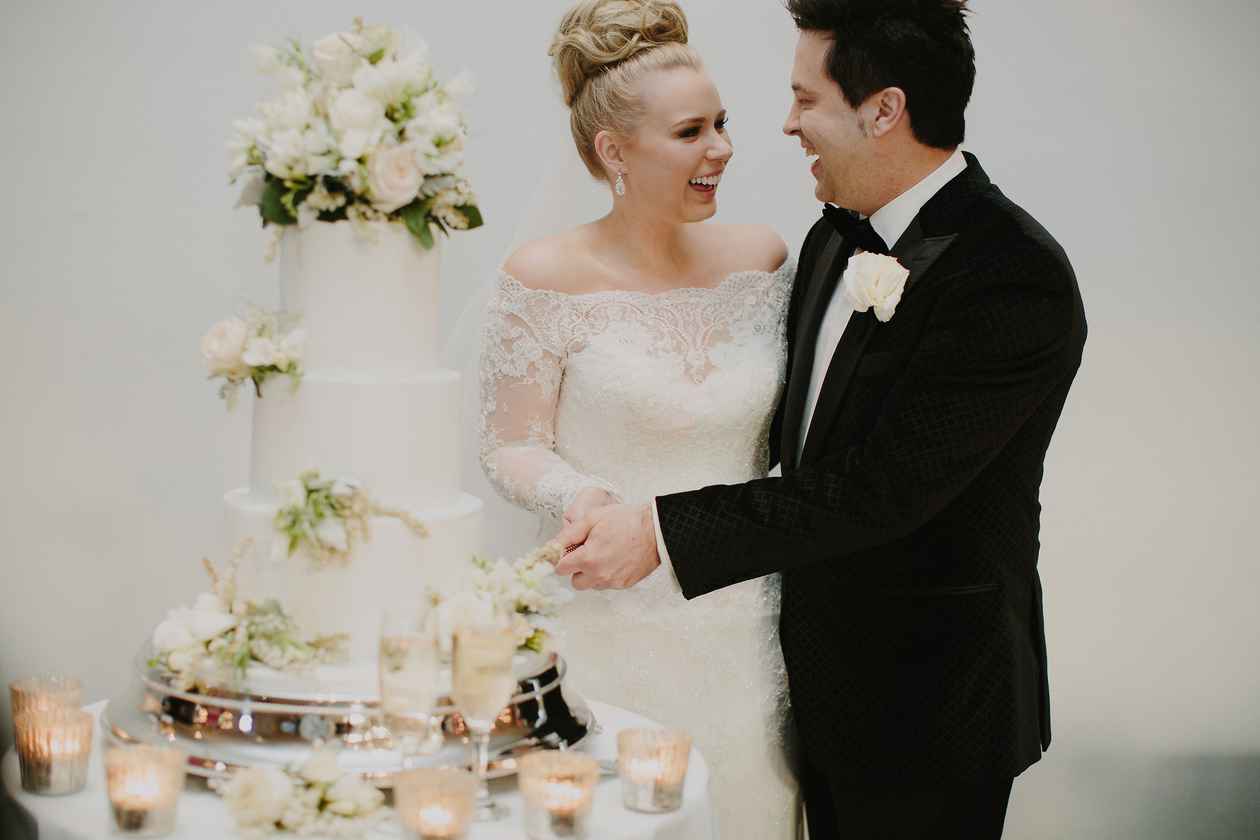 The stately charm of the venue tied in nicely with Laura and Oliver's vision of a classically styled wedding. Expertly decorated by Victoria Whitelaw, the courtyard's marble and timber arbour was a stunning feature of the wedding ceremony. Laura and Oliver were married beneath a lavish installation of trailing ferns, burgeoning white flowers and draped silk Georgette. 
"The garden's azaleas and wisteria had come into bloom for the season and along with the cheerful music of the string quartet our garden party was brought alive. It was a magical day. I was in a state of euphoria from start to finish," Laura said.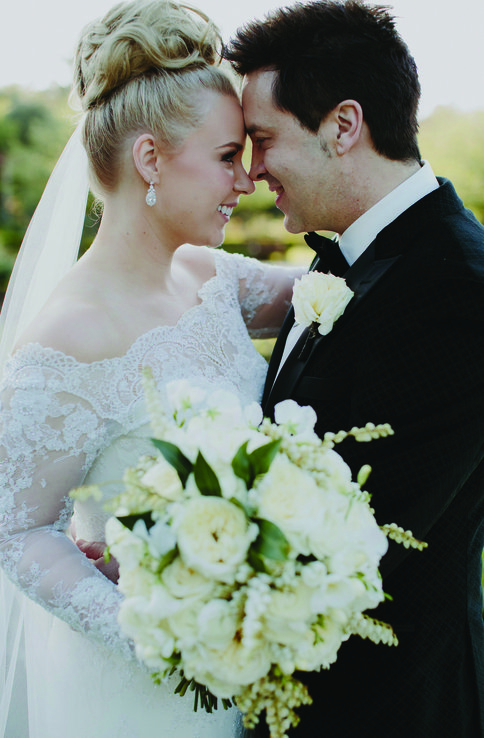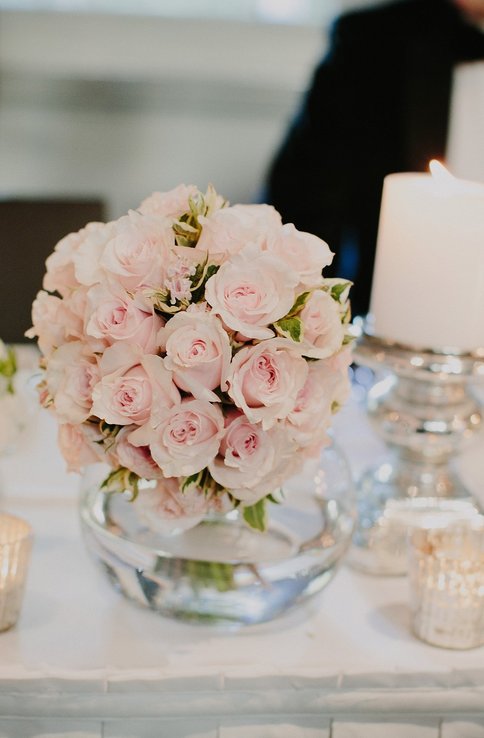 Laura carried a loosely structured bouquet of white blooms; "I loved my perfectly imperfect bouquet," she said. She looked the picture of 19th century elegance in her long sleeve, off-the-shoulder lace gown. It had a flattering, high neckline and low back. Her hair was piled high and fastened with a jewelled clip.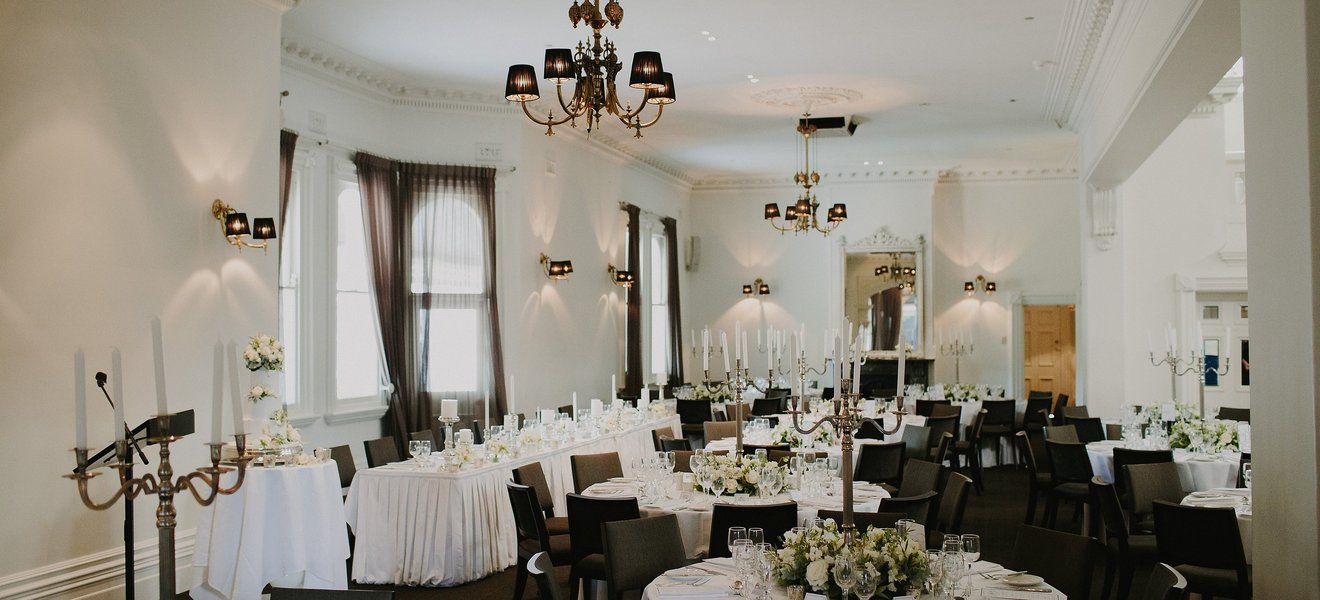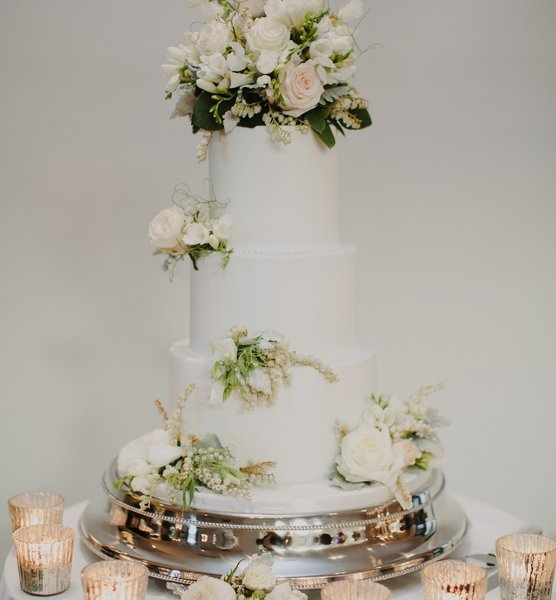 The ceremony setting had a dignified appeal and the French provincial style signing table, coupled with Perspex chairs, made a lovely accent piece. Inside, elegant floral arrangements were the focus of the reception room styling as well as tall, silver candelabras with rings of green foliage at their bases. Mercury tea light holders adorned the tables alongside small fish bowls of feminine, blush pink roses.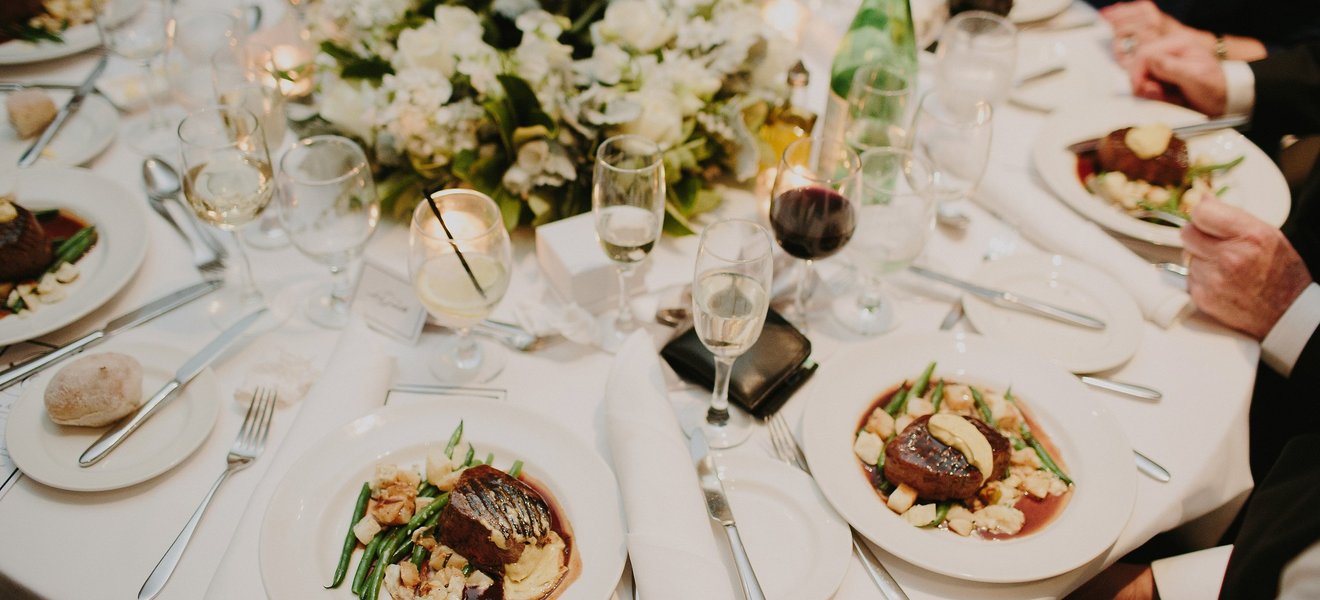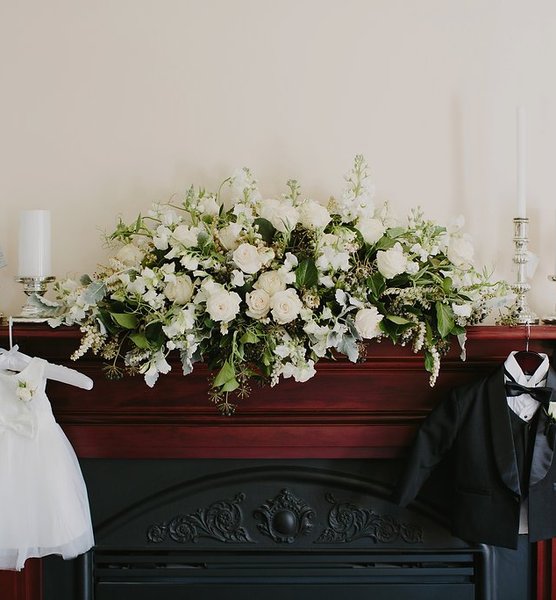 Continuing the thematic colours of black, white, grey and pale pink, Laura's flowergirls, Emily and Jessica, wore miniature rose flower crowns in pink and carried small bouquets of David Austin roses. They looked adorable in their tulle skirts and raw silk tops. Oliver and his groomsmen looked dapper in their black tuxedos and bow ties. Oliver's velvet jacket featured silk lapels.