How did you meet?

At the 21st party at our local pub!  A friend of mine had just started dating someone and was bringing him to this party but the guy didn't want to come on his own so decided to bring a friend (which was Kieran!). Being a good wingman the guy asked what single girls would be there that he could set up with Kieran and my friend suggested me. They sent Kieran a photo of me the night before and said: "We are setting you up with this girl Sarah tomorrow". He wrote back "no thanks!" (he insists now that this was to being setup in general and not to my photo!). 
I'd also been clued in so knew who he was when he walked in. But we both tried to play it cool for a while and so didn't talk until later in the night. When we finally did speak I was a few drinks in and not so great at playing it cool as Kieran said "you've been staring at my lips for ages… you can just ask to kiss me if you want".  And we've been together ever since that classy kiss at Oatley Pub.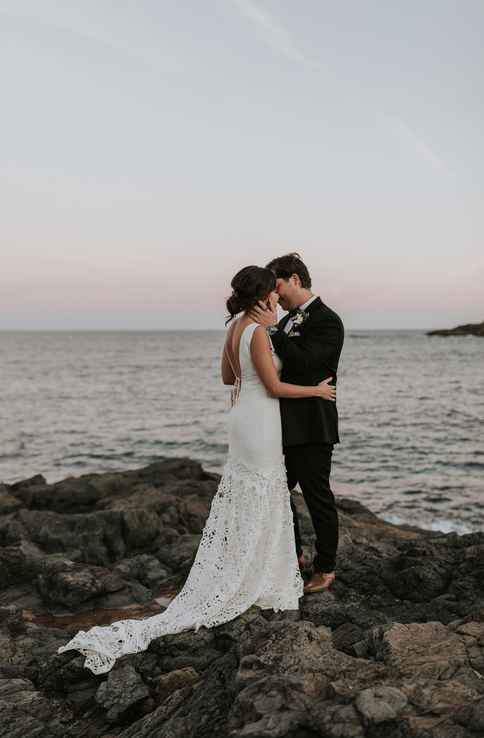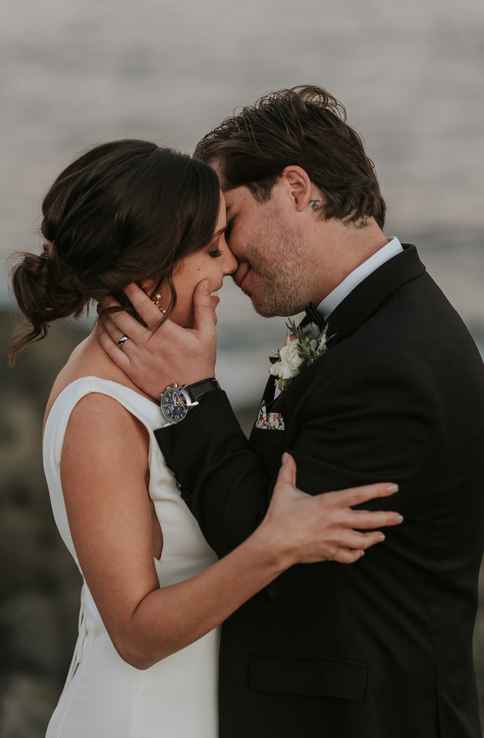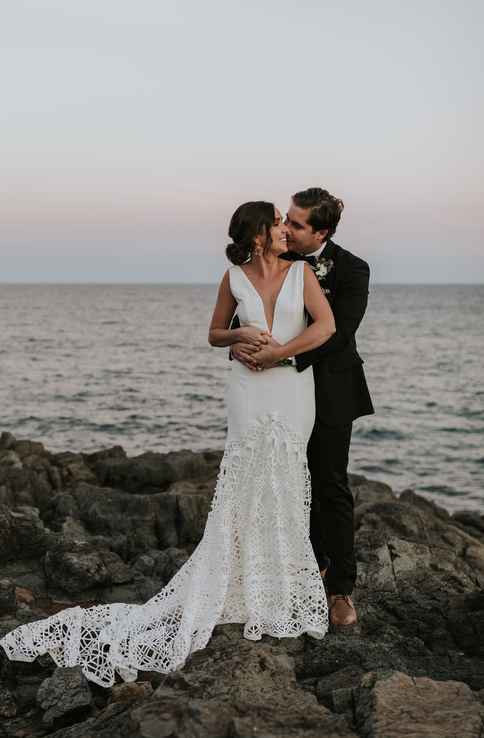 Tell us about the proposal.

I asked to do something lowkey after a few busy weekends so played right into Kieran's hand as he responded suggesting a picnic at Cronulla. It was perfectly imperfect, we had an XXXX Gold picnic blanket, some cheap drinks, fancy snacks (not really… Doritos, dip, jatz, etc) and while enjoying all this realized we were in the 'no alcohol zone' and could be fined at any minute! Before we went to leave Kieran said: "Close your eyes I have a surprise for you". He says this all the time at home and it's always something that I've lost… so I thought it was my missing Havaiana thongs!  And so was completely shocked to open my eyes and see him on one knee with a beautiful ring in hand. Every day at 11:11 I say to Kieran "make a wish"… it was November 11th that day, the 11th of the 11th… so he chose that day to make my wish come true.
If I had known I might have washed off the spray tan I'd got for a party we had the next day!! I was horribly presented… streaky, stinky, sticky and orange; but as I said, perfectly imperfect.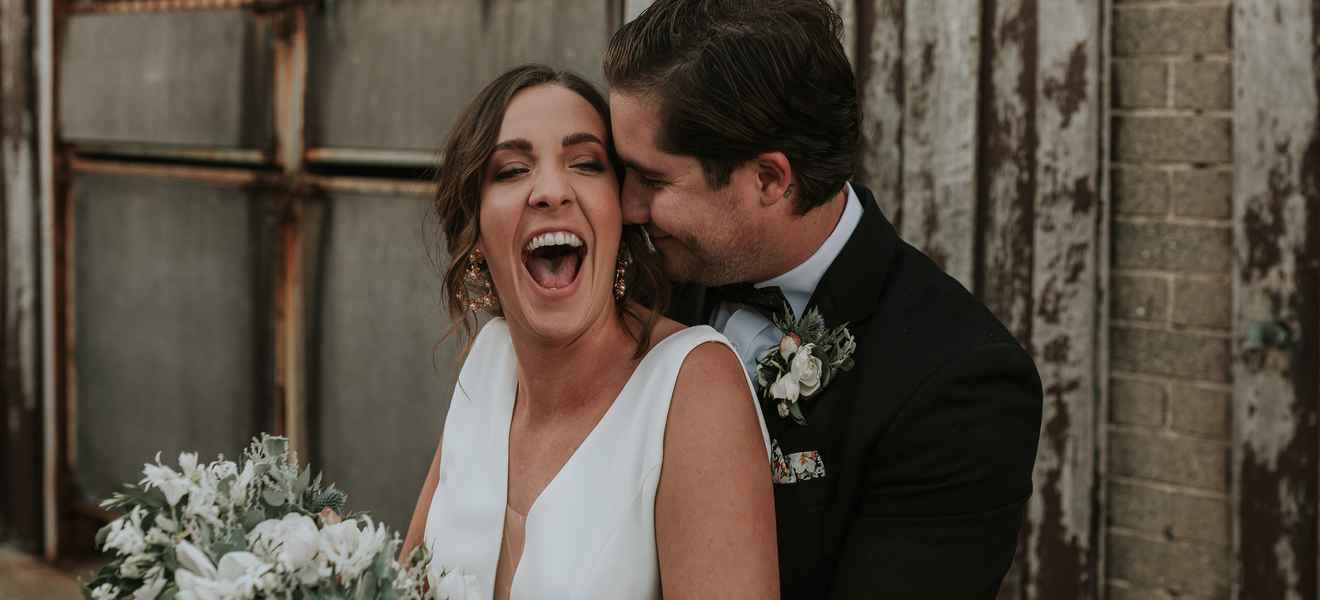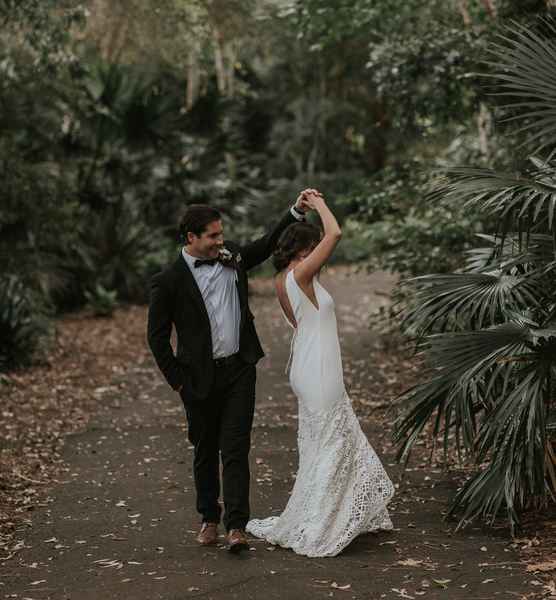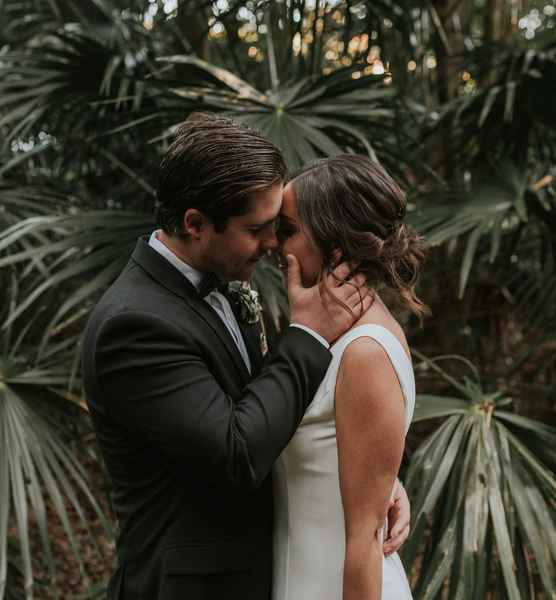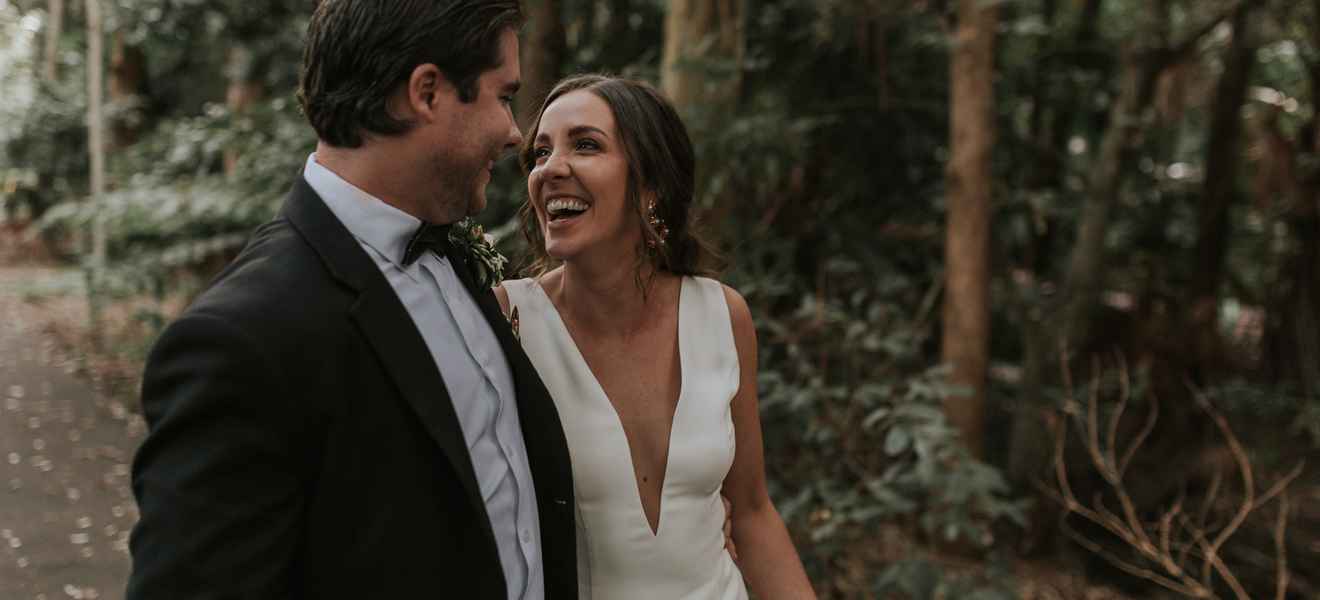 How did you choose your Venue and location? Why?

I had been to a wedding at The Pavilion in Kiama about 8 years prior. Of all the weddings I had ever been to it was still the one I always remembered as the most fun and relaxed and I truly felt that had a lot to do with the staff that ran it. So we didn't even look at other locations. Once I went for my first site visit and knew the staff was just as lovely and relaxed as I remembered we booked it immediately.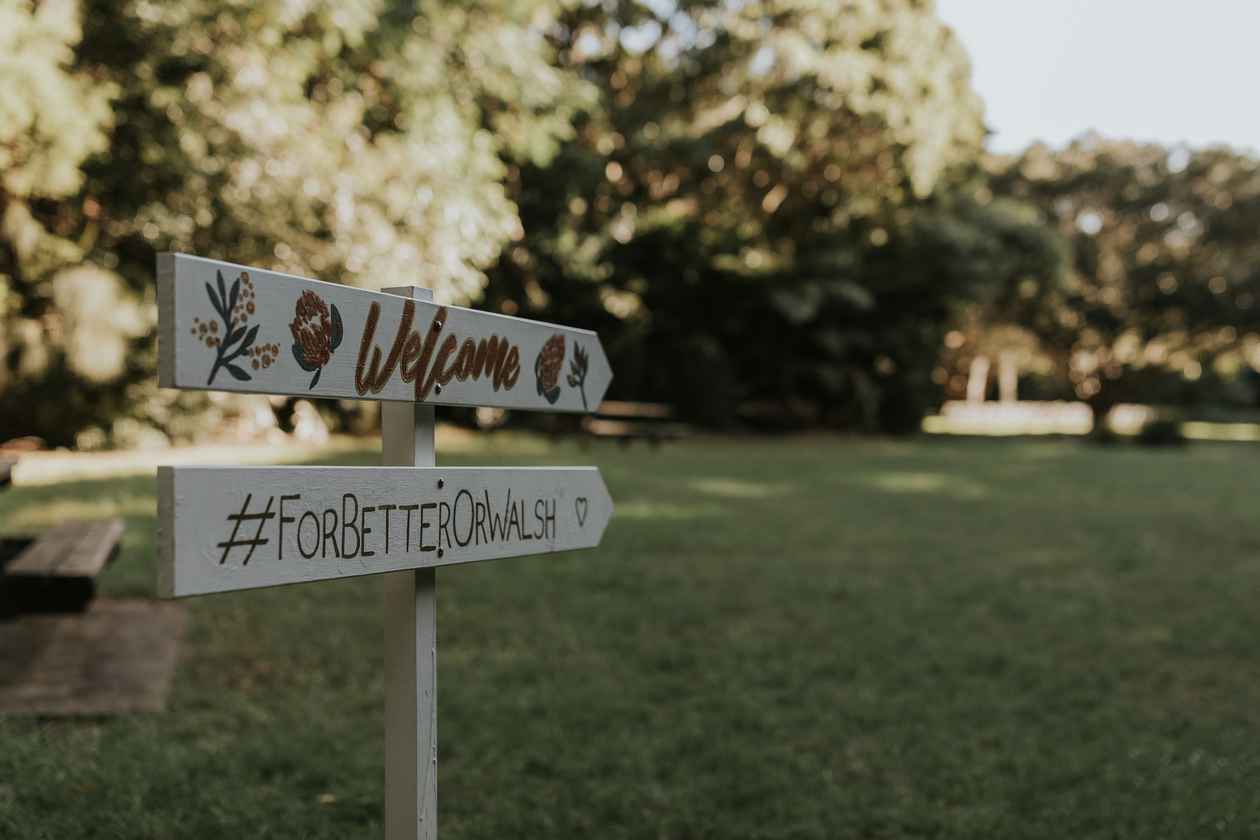 Tell us about your Gown (style, how you found it, what you loved about it). What about the groom and the bridal party fashion choices?

I always knew I wanted something backless, fitted, non-strapless and primarily plain material like crepe/satin as opposed to detailed lace which doesn't suit me. I was due to visit The Bridal Atelier one Saturday to kick off the gown hunt, but 2 days before saw a gown on Instagram by a New Zealand designer Rue De Seine. I commented asking if it was available in Sydney and the only store it was available at was The Bridal Atelier. Meant to be!
My husband refused to let me be involved in the boy's style as he wanted one part of the wedding planning to himself!  He nailed it though, very chic black suits, white shirts, black ties (bow tie for the groom though) but complemented with tan shoes and belts and funky patterned pocket squares.  
The girls wore deep rust-colored satin dresses from Sheike (they were such a hit!), then whatever nude shoes and gold jewelry they wanted.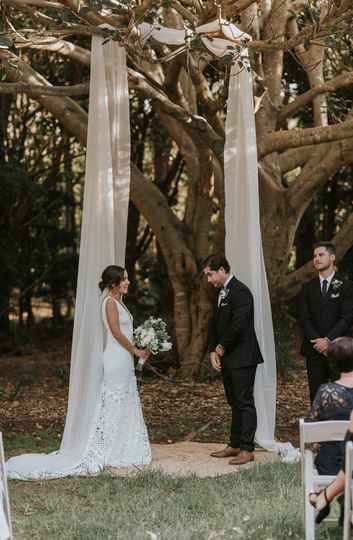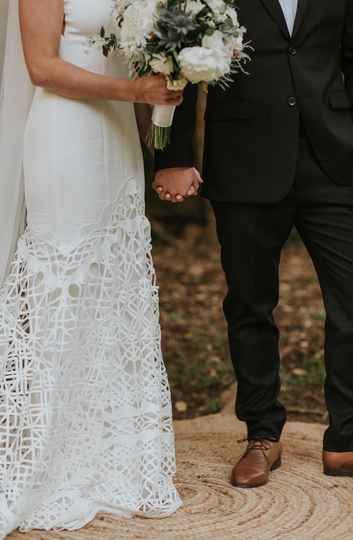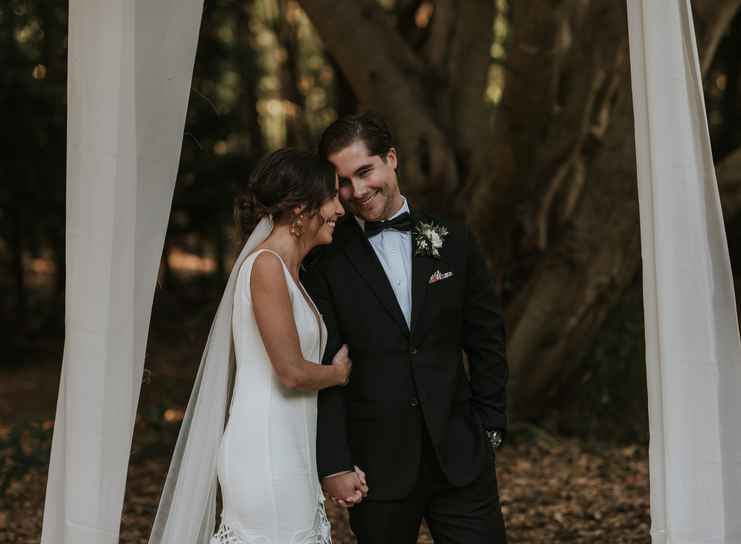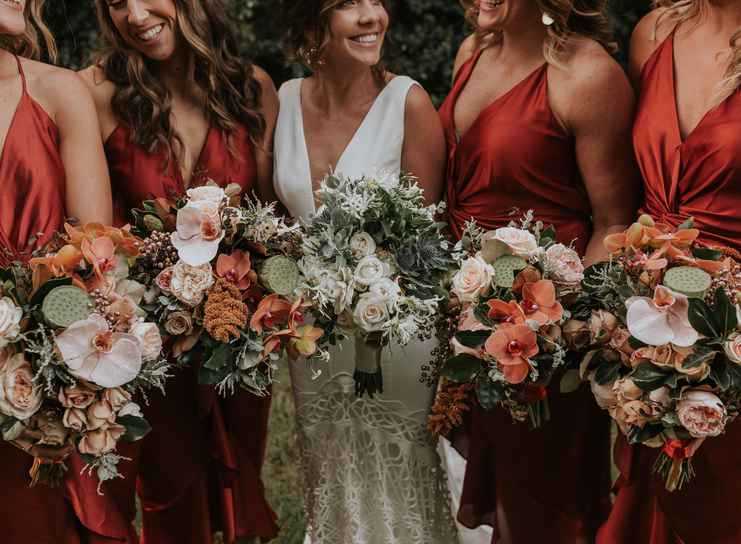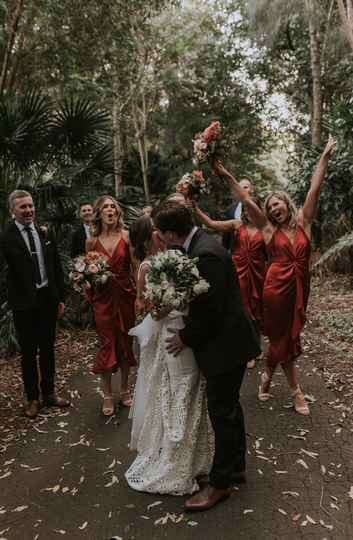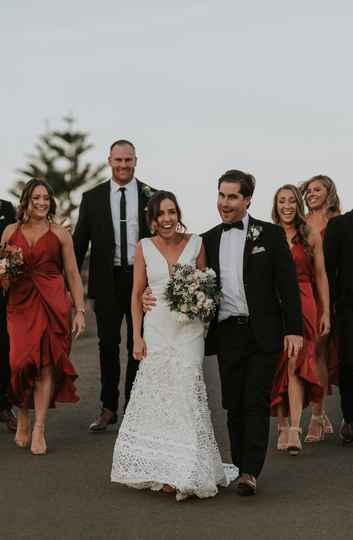 What Style / Styling did you choose for your wedding? (eg: color scheme, flowers, stationery, cake, transport, details, themes, inspiration, the overall "look and feel")

Our primary objective was to make the style of our wedding be a reflection of us as a couple. We had a travel-themed wedding as Kieran and I did a lot of long-distance in the early stages of our relationship before I gave in, joined him and traveled around the world together. So the seating chart was actually replaced with individual boarding passes directing the guests to tables named after our favorite places (our bridal table was 'Home', our favorite place of all).  The wishing well was a vintage suitcase and there were funky signs around e.g. "in-flight beverages!" by the bar. 
We aren't really caked lovers ourselves so instead, we borrowed our caterer's vintage ice cream cart and filled it with our favorite ice creams - Cornettos, cyclones and snickers ice-cream bars for the guests to enjoy!
We really wanted to have fun with color as our life together is fun and colorful.  So we used the girl's rust-orange dresses for inspiration, with the florals being all shades of copper, orange, and cream and added pops of deep blue to complement it in a fun way. (Don't even start me talking about our amazing florist Rheannon from Love Hope Flowers – I'll be here all day!). The blue then carried through the styling with decorative blue side plates and the wishing well. 
We also had a neon sign saying "Always" that hung from the amazing floral piece above the bridal table.  Every day I ask Kieran "are we best friend?" and he responds, "always".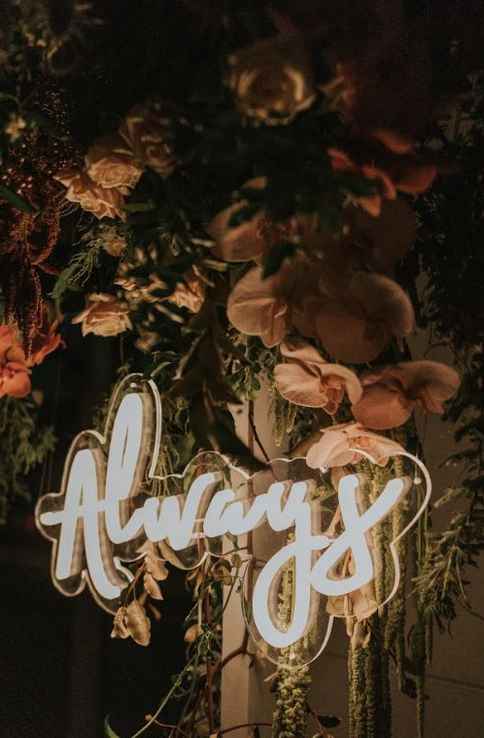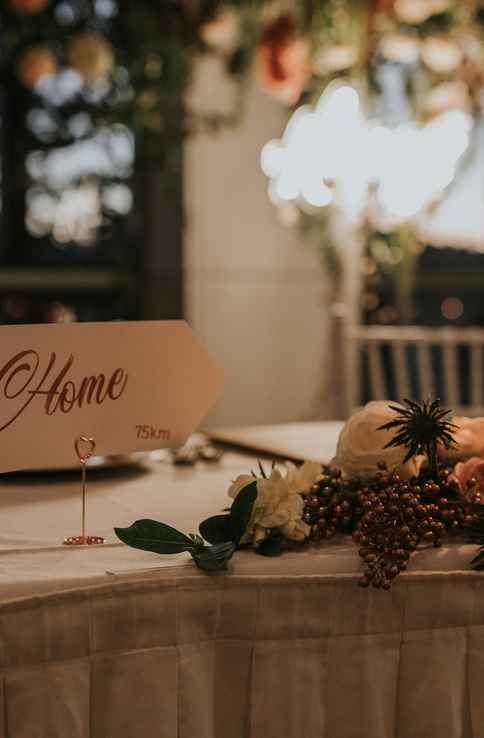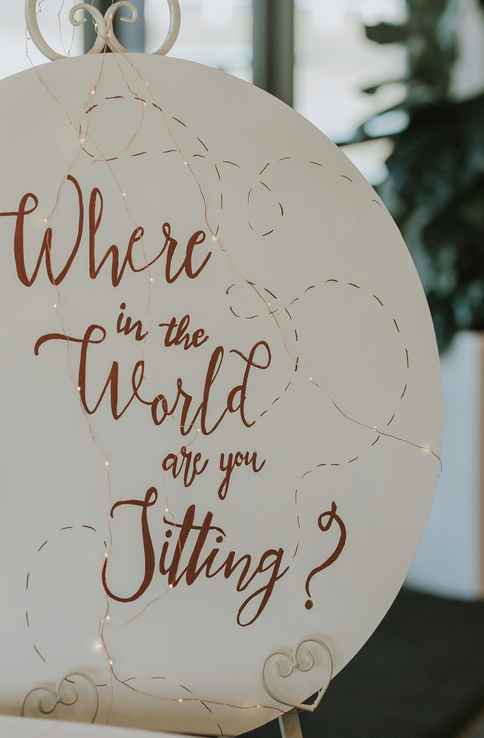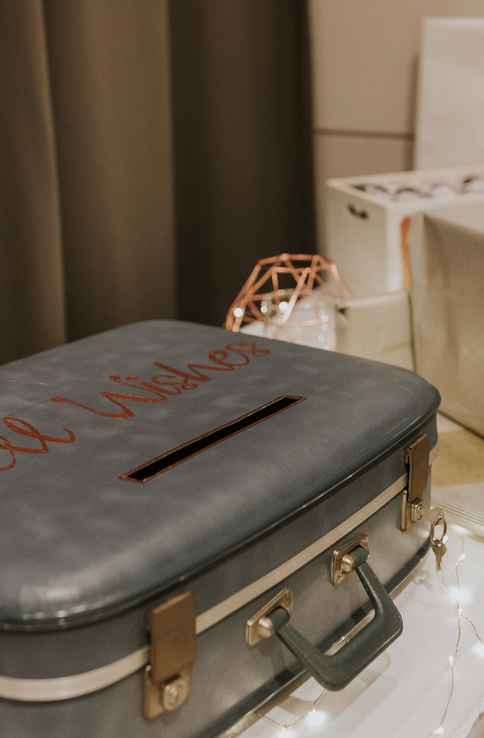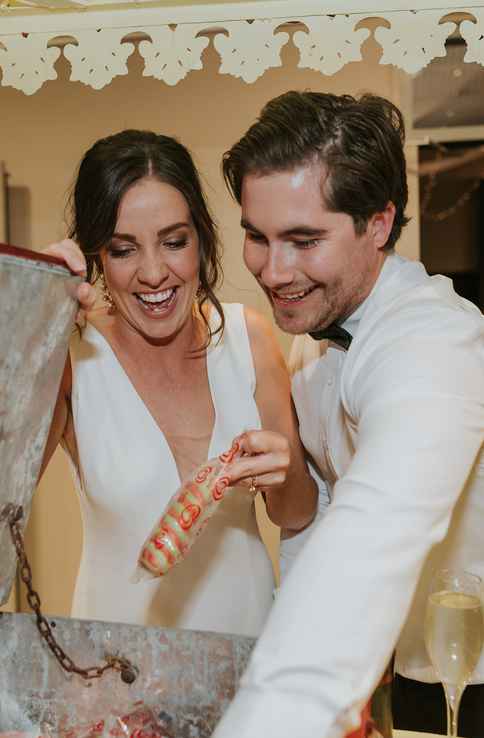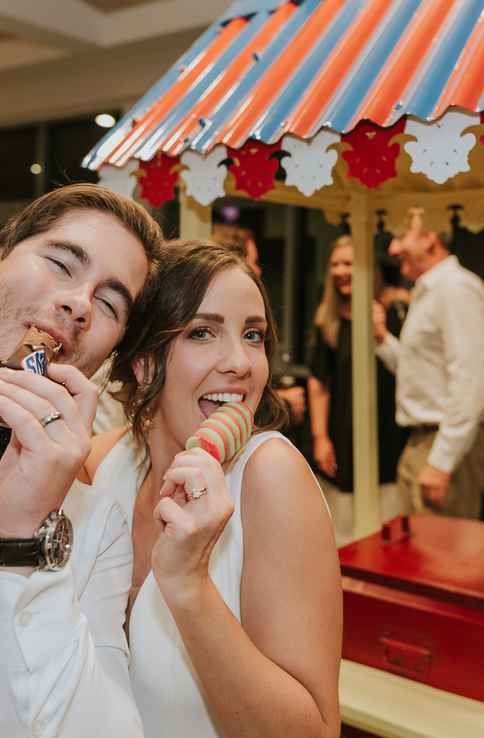 What were the highlights of your day?

While all the styling came off perfectly (which was important to me as I just started my own event styling business and this was my first chance to prove myself!), the highlight was truly just how much fun we had with each other and with everyone that came to celebrate with us.  Not one thing stressed us on the day, we just soaked it up and enjoyed every second with everyone we loved.  Which is exactly why I had picked our location with our amazing caterer Culinarius, to deliver a relaxed, fun-filled day!  
A specific highlight that surprised us both, however - my sister delivered a flash mob as her Maid of Honour speech!!  Guests from the wedding randomly joined in a full dance routine to a song she re-worded about Kieran and I! Insane!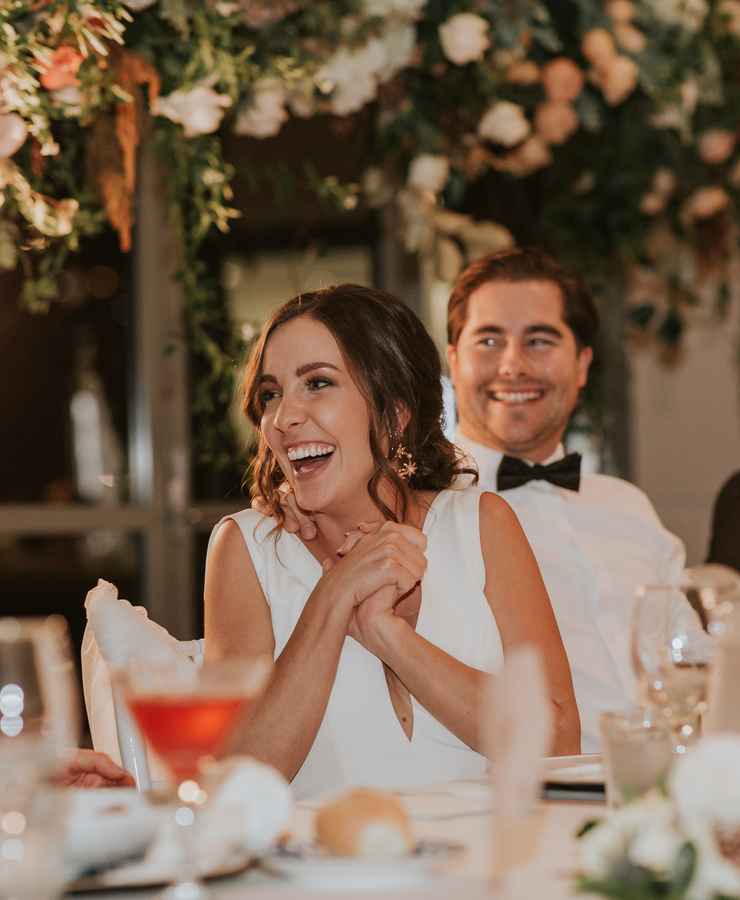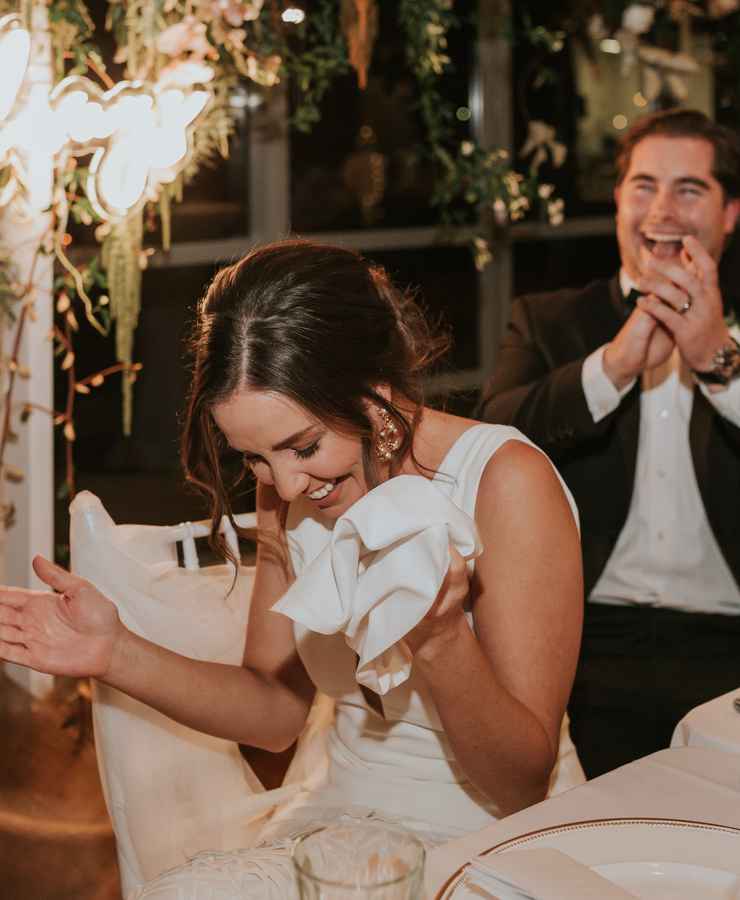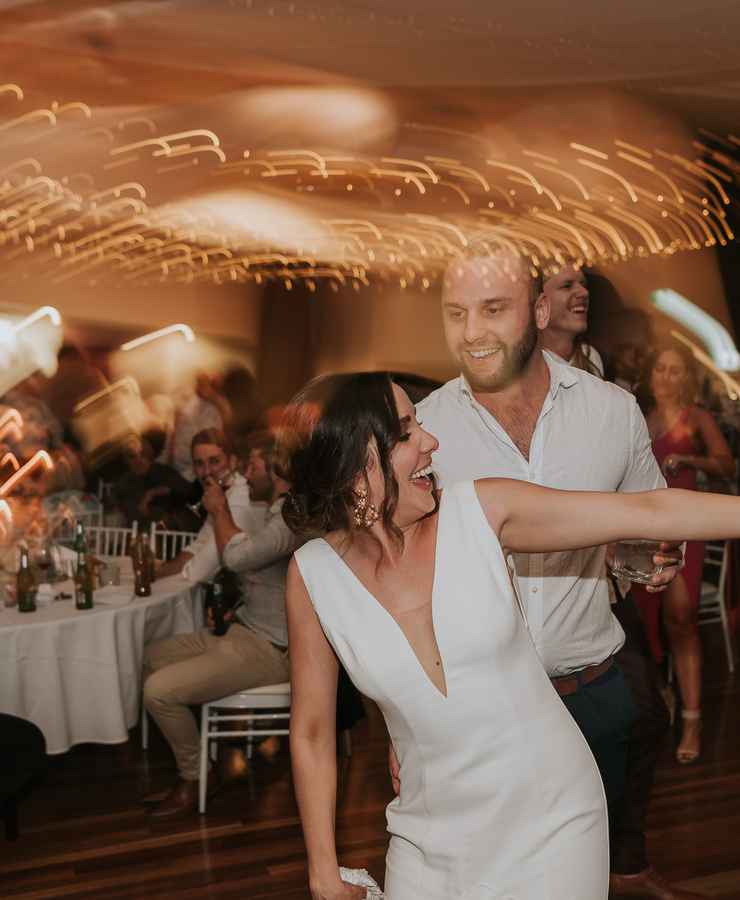 Tell us about any funny, poignant, challenging or emotional moments?

My dad, Craig Moran, was our Wedding Celebrant. That made the ceremony extremely funny, emotional and challenging!  Funny because he knew all the hilarious moments Kieran and I have had as a couple which was mentioned in the ceremony, emotional because he's my dad and we love him! And challenging because we all cried through a lot of the ceremony as a result! Happy tears though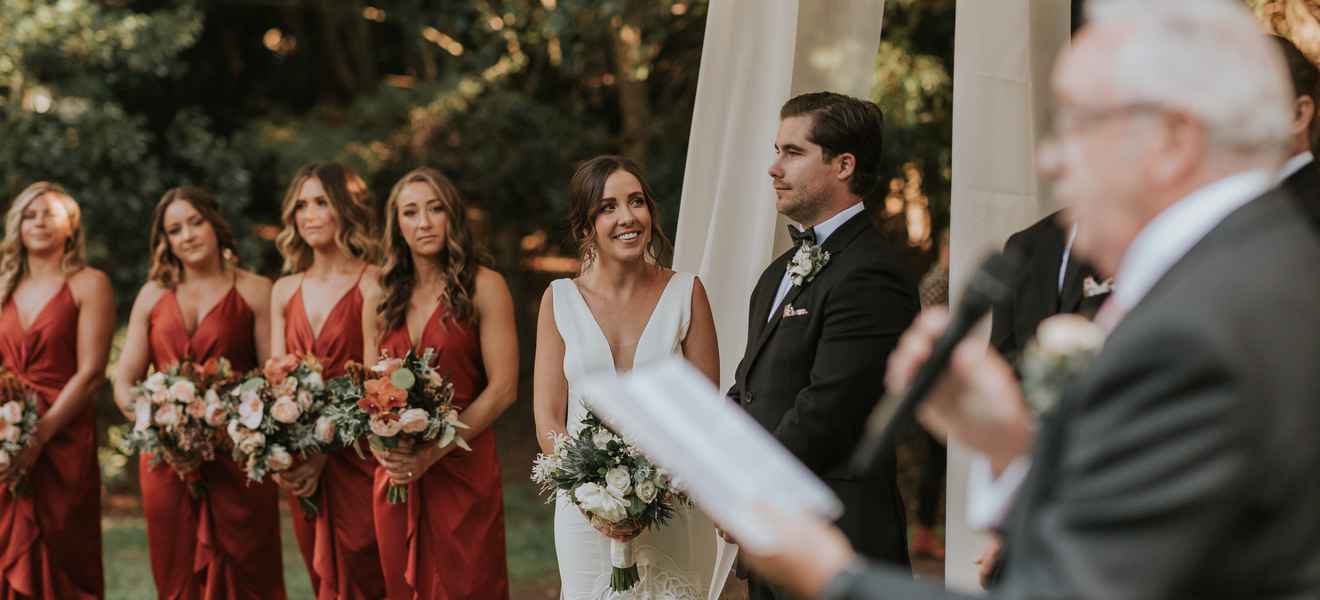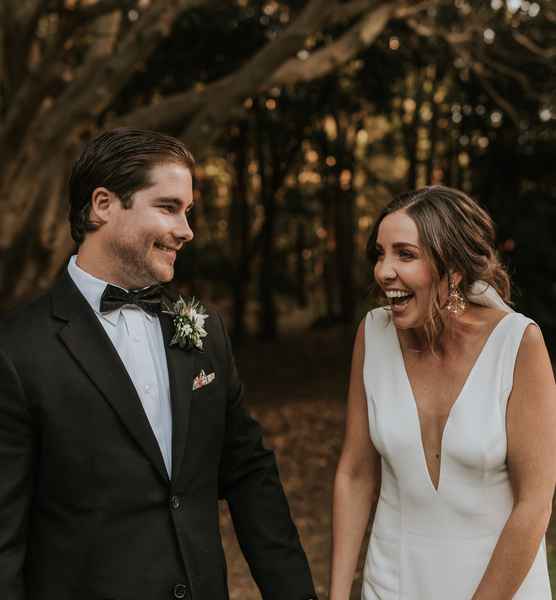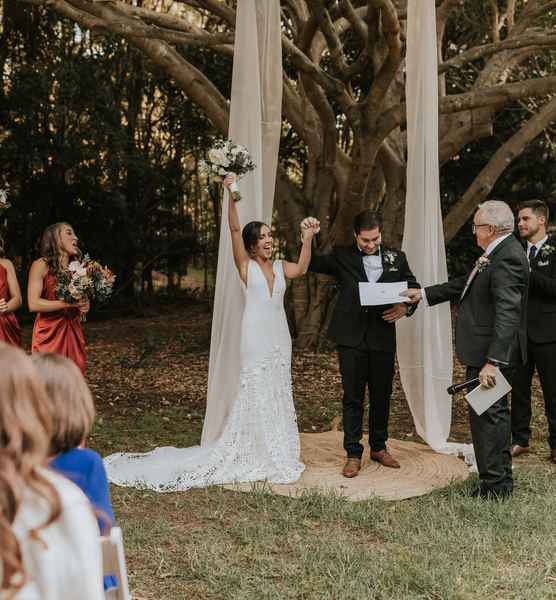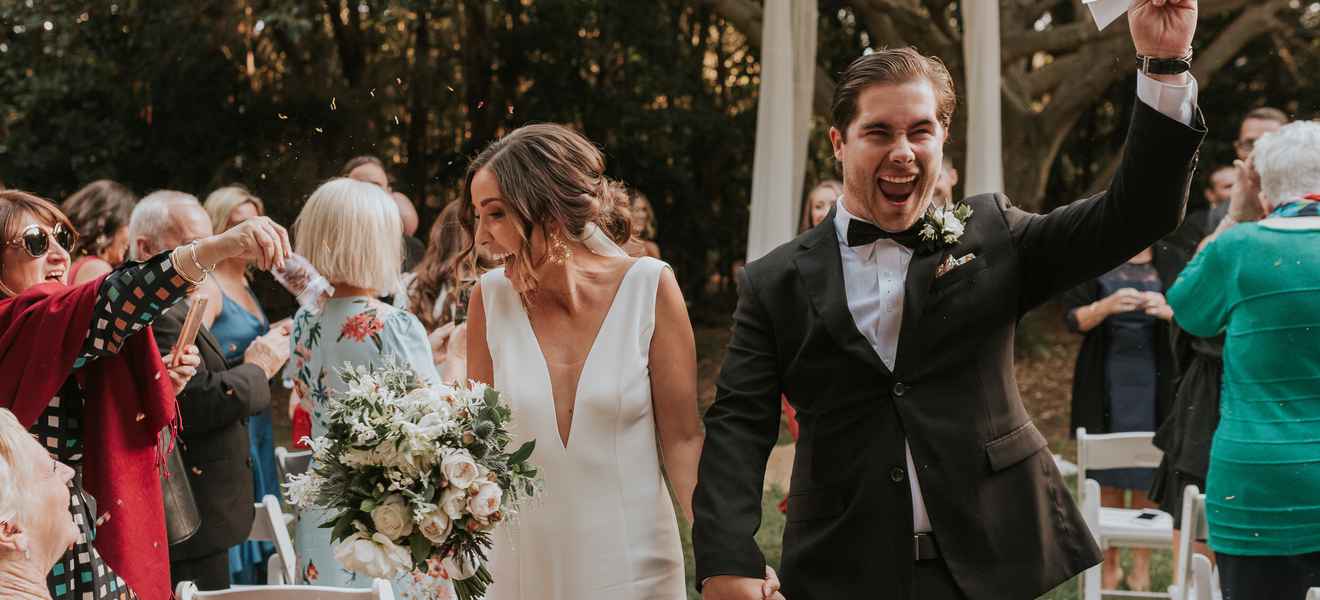 Where did you go for your Honeymoon? Why?

Bali. Because we wanted to simply spend time in the sun, sleep, swim, eat and drink! And that's exactly what we did!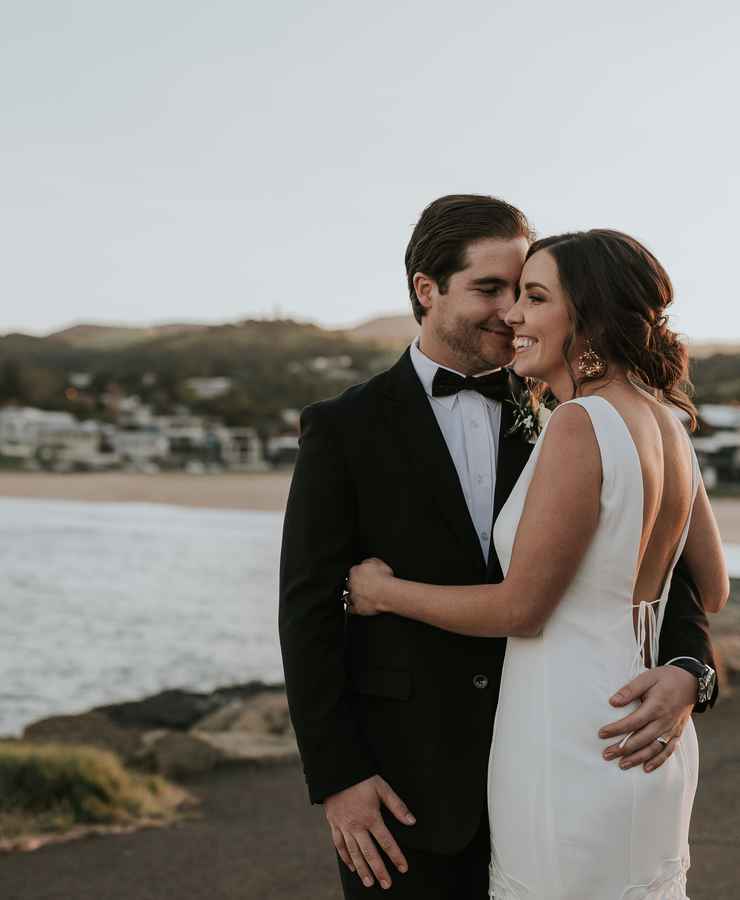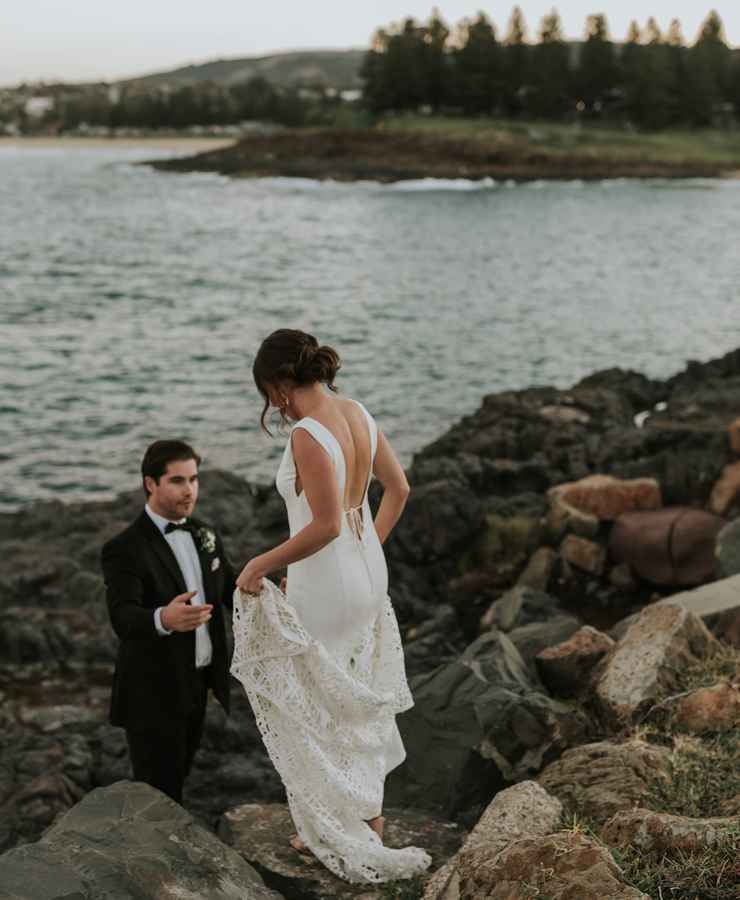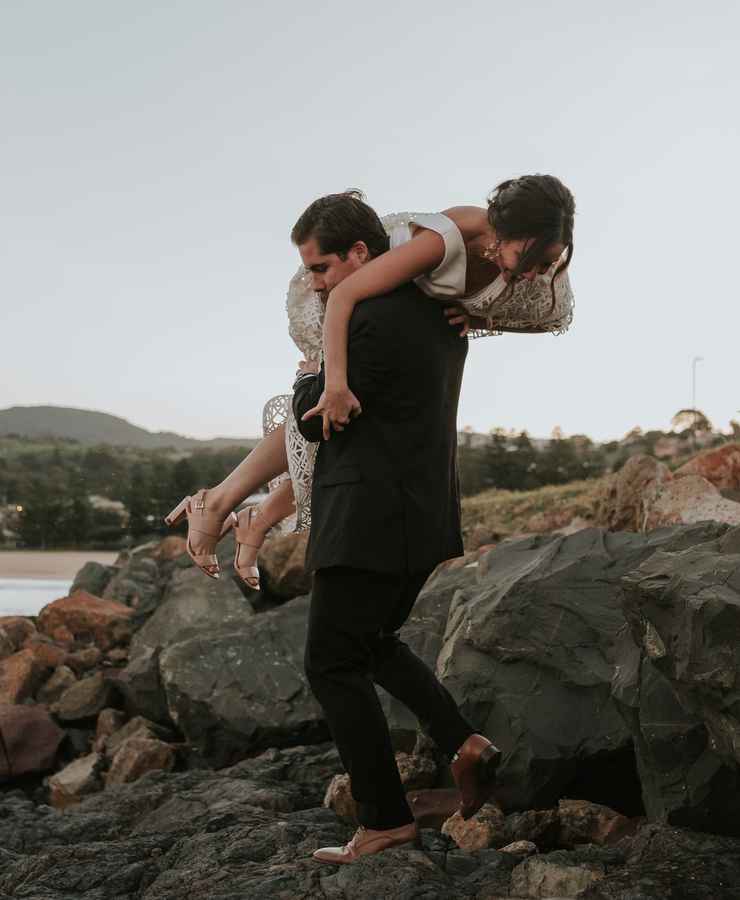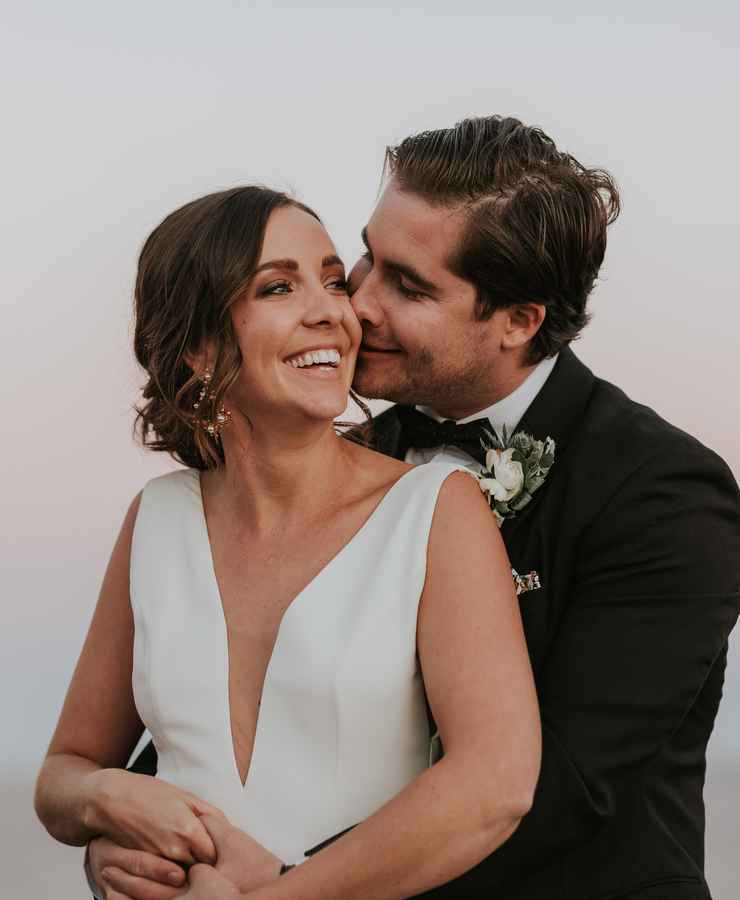 Do you have any advice for other brides?

Give yourself a deadline of at least a few days before the wedding where you agree with yourself to be finished with everything.. all the planning, all the styling, all the nitty-gritty tasks… EVERYTHING! And let the rest go.
Because the most important thing is to just enjoy it all and to walk away at the end happily married with your partner. And you can't do that if you're still stressing about centerpieces the morning of the wedding.
The rest of what makes up a wedding, while beautiful (trust me I know, I have an event styling business), is just fluff, it doesn't matter enough for you to be stressed and not enjoy your day.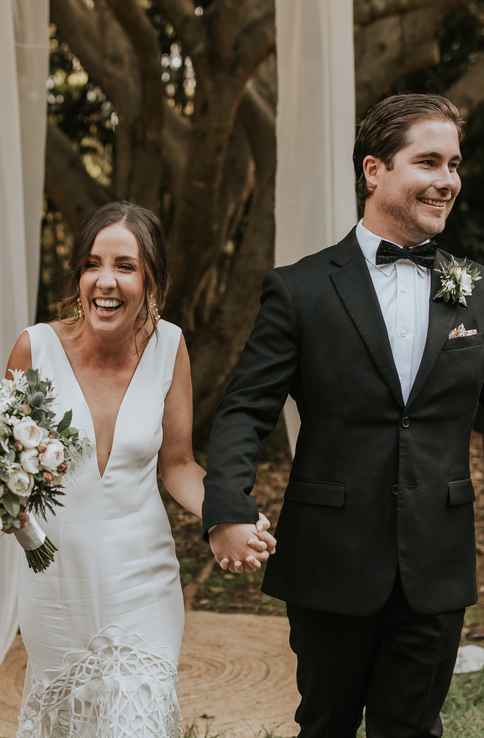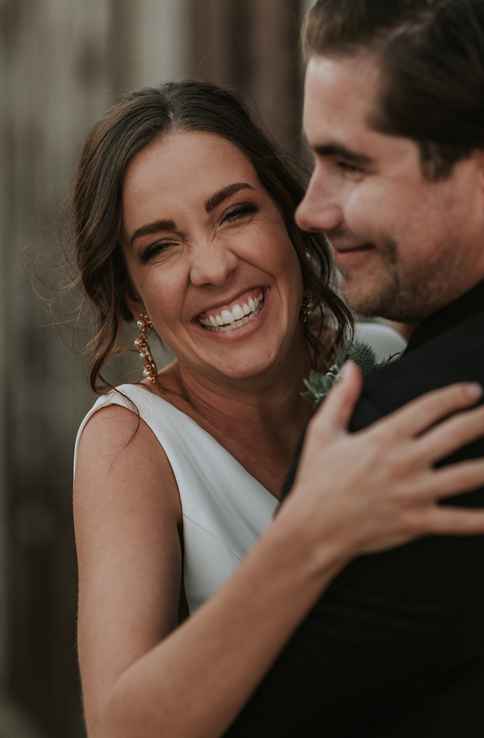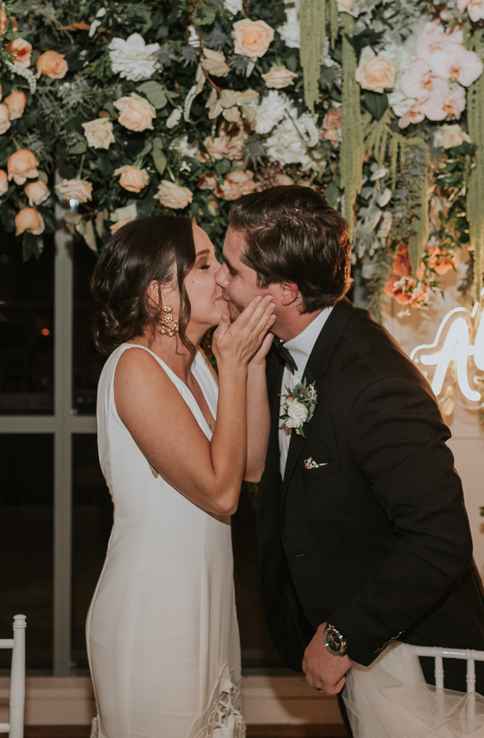 Is there anything else you'd like to add?

Your wedding day is incredible. But a happy marriage is even better. So compromise throughout the process and make the day a representation of you as a couple not what Pinterest told you it should look like.
For more inspirational wedding stories, Visit Real Weddings to find your perfect Sydney wedding venue or get your obligation free quote today at The Pavilion Kiama!