Weddings can be expensive, but there are several ways to save money without sacrificing the quality of your special day. Firstly, consider having your wedding during the off-season or on a weekday to get better deals on vendors and venues. You can also cut costs by opting for a smaller guest list or having a buffet-style dinner instead of a formal plated meal. Another option is to DIY some of the decorations and favors, or to borrow items from friends and family instead of buying new. Finally, don't be afraid to negotiate prices with vendors and to shop around for the best deals. With some smart planning and budgeting, you can have a beautiful and memorable wedding without breaking the bank.
Weddings are joyous occasions that bring families and friends together to celebrate the love between two people. However, the cost of weddings can add up quickly, leaving newlyweds with a significant financial burden.
In this blog post, we'll share some tips for saving money on weddings without sacrificing the magic of the day.
1. Consider Other Days of the Week
When it comes to saving for a wedding, it's important to consider other days of the week besides the typical Saturday wedding. Weekday weddings can often be more affordable as venues and vendors may have lower rates for non-peak days. Additionally, having a wedding on a weekday can also give couples more flexibility and availability with their chosen vendors, as they may not be booked up as far in advance. While weekday weddings may not be ideal for all guests, it's worth considering if budget is a concern. By thinking outside the box and being open to alternative wedding dates, couples can save money without compromising on their dream wedding.
2. Accept Letterpress
While letterpress invitations can add a touch of elegance and sophistication to a wedding, it's important to use them sparingly when saving for a wedding. Letterpress printing involves a labor-intensive process and can be quite expensive, especially when compared to digital printing options. Instead of splurging on letterpress for every aspect of the wedding, couples can consider using it selectively for their invitations or other key details, such as table numbers or menus. By incorporating letterpress in a strategic and thoughtful way, couples can elevate their wedding while also sticking to their budget.

3. Pick Your Card Stock Carefully
Choosing the right card stock for wedding invitations can have a significant impact on both the aesthetic appeal and cost. It's important to choose card stock wisely when saving for a wedding, as higher quality materials can quickly drive up expenses. However, that doesn't mean that couples should skimp on quality altogether. Instead, they can opt for a mid-range card stock that strikes a balance between affordability and elegance. Additionally, couples can also consider purchasing bulk card stock and printing their own invitations at home, which can be a cost-effective solution. By making smart choices when it comes to card stock, couples can save money while still achieving the look and feel they want for their wedding invitations.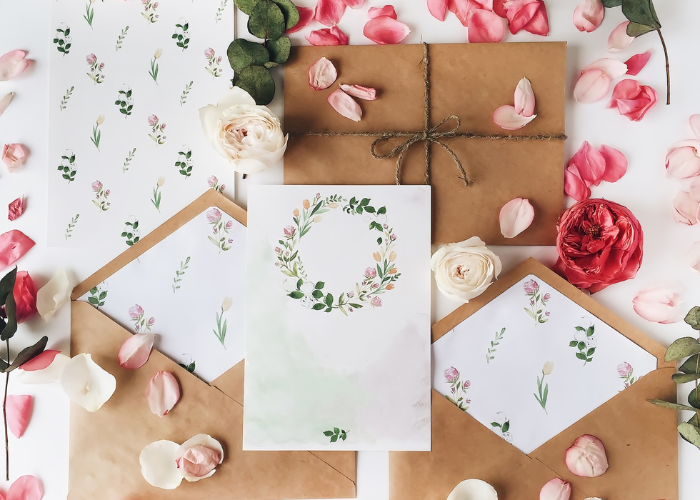 4. Leave the envelope liners off.
While envelope liners can add a decorative touch, they can also significantly increase the cost of each invitation. Instead, couples can opt for a simpler, yet still elegant design for their invitations. Alternatively, they can consider using a colored or textured envelope that does not require a liner to make a statement. By focusing on the content and design of the invitation itself, couples can create a beautiful and memorable invitation while also being mindful of their budget.
5. Send your visitors to the wedding website
Directing guests to a wedding website is a cost-effective and convenient way to keep everyone informed about the wedding details, especially when saving for a wedding. Instead of printing and mailing multiple inserts or information cards, couples can direct their guests to a wedding website where they can find all the necessary information in one place. This can include details such as the wedding date, time, location, dress code, and any other important information. Couples can also use their wedding website to collect RSVPs, share their love story, and even share photos and updates from the wedding day. By using a wedding website, couples can save money on printing and mailing costs while still keeping their guests informed and engaged in the wedding planning process.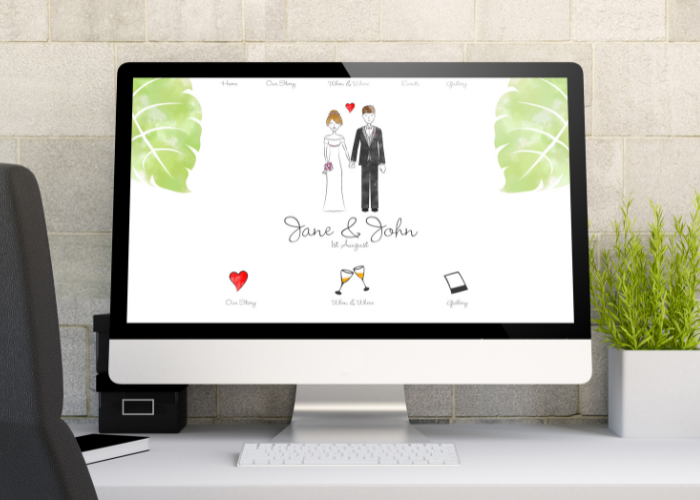 6. RSVP Cards Are Modern and Exciting
RSVP postcards can be a fresh and fun way to collect responses from wedding guests while also saving money. Unlike traditional RSVP cards that require an envelope and additional postage, postcards can be mailed with a single stamp, making them a more budget-friendly option. In addition, postcards can be designed in a wide range of styles, from whimsical and playful to elegant and formal, giving couples the opportunity to showcase their personalities and wedding theme. With their convenience and versatility, RSVP postcards can be a great option for couples who want to simplify their wedding planning while still making a stylish statement.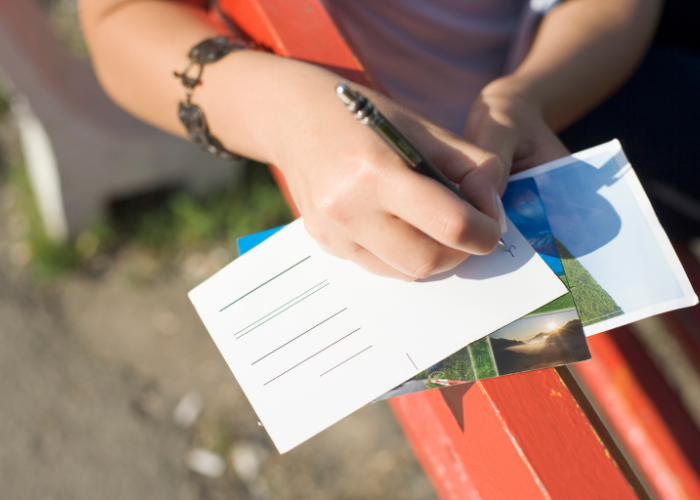 7. Reduce Your Printing Costs
Printing items can quickly add up when saving for a wedding, so it's important for couples to be mindful of their printing needs and find ways to cut costs. One option is to go digital, by creating e-invites or online RSVPs instead of printing physical invitations. For couples who still prefer physical invitations, they can consider printing them at home or finding a local print shop that offers affordable rates. Another way to save on printing costs is to limit the number of printed items, such as having one menu per table instead of per guest. By being mindful of their printing needs and finding cost-effective solutions, couples can save money while still achieving their dream wedding.

8. Make a custom invitation.
Creating your own wedding invitations can be a great way to save money while adding a personal touch to your special day. With a little creativity and some basic design skills, couples can craft unique and beautiful invitations that reflect their personalities and style. DIY invitations can be customized to fit any budget, as couples can choose to use affordable materials and printing methods. By taking on this project themselves, couples can also have complete control over the design and production process, ensuring that their invitations are exactly what they envision. While creating your own wedding invitations may require some extra effort and time, the end result can be a stunning and memorable addition to your wedding day.

9. Start your dress shopping now
Getting a jump on dress shopping can save couples money when saving for a wedding. By starting the search early, brides can take advantage of sales and discounts, as well as avoid rush fees for alterations and shipping.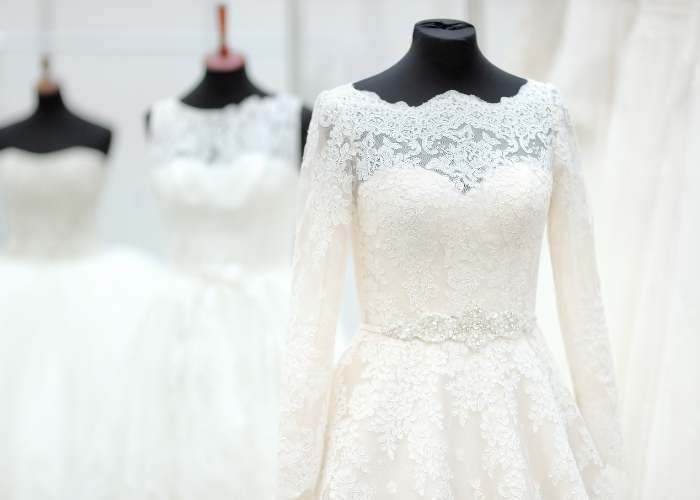 10. Keep an eye out for sales and deals on social media.
When saving for a wedding, it's important to keep an eye out for deals and sales on social media. Many retailers and vendors will offer special promotions and discounts exclusively to their social media followers, which can help stretch your wedding budget further.
11. Save During a Trunk Show
Attending a trunk show can be an excellent way to save money when planning a wedding. Trunk shows typically offer discounts on designer dresses and accessories, allowing brides to save hundreds or even thousands of dollars. By taking advantage of these deals, brides can stay within their budget and still have the wedding of their dreams.

12. Grab a Sample
By requesting free samples of products such as invitations, favors, and decorations, couples can test out various options before committing to a purchase. This can ultimately help them save money by ensuring they make informed and cost-effective decisions for their special day.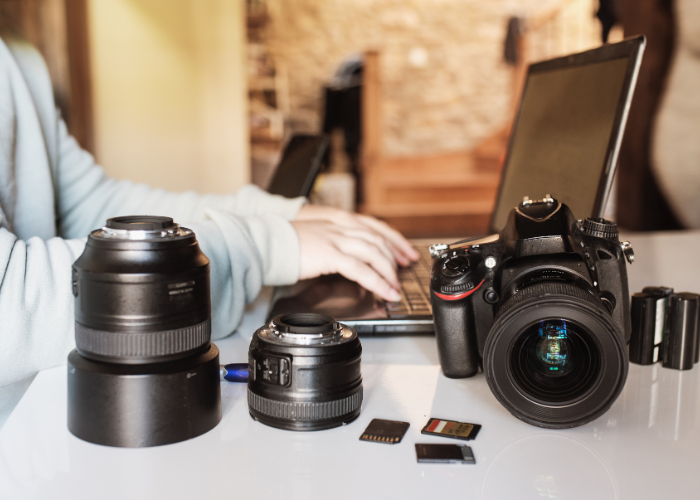 13. Look for emerging photographers
It can be tempting to splurge on a well-known, established photographer. However, seeking out up-and-coming photographers can offer several benefits. Not only are they often more affordable, but they can also bring fresh, unique perspectives to your special day, resulting in truly one-of-a-kind photographs.
14. Choosing flowers in bulk
If you're looking to save money on your wedding flowers, one great way is to bulk up on your blooms. This means choosing flowers that are in season and readily available in large quantities, such as carnations or baby's breath, and using them to create a lush and full look. Not only will this save you money, but it can also add a rustic or bohemian vibe to your wedding decor.
15. Consider sustainable and greenery
Going green when saving for your wedding is not only environmentally friendly, but it can also save you money. Consider using sustainable and locally sourced flowers and greenery for your decor. Additionally, using digital invitations and opting for plantable seed paper for your wedding favors are both great ways to reduce paper waste and give back to the environment.

16. Utilize Your Baubles
Another excellent option for couples who are looking to save money while still having beautiful jewelry for their wedding day. By renting jewelry, couples can have access to high-quality pieces without the high cost of purchasing them outright. This allows couples to put their money towards other important wedding expenses while still looking fabulous on their big day.

17. Maximize Your Photographer's Time
When planning for your wedding photography, it's important to make the most of your photographer's time. To do so, be sure to discuss your vision and preferences with your photographer in advance, so that they can prepare accordingly. Additionally, consider having a shot list prepared to ensure that all desired shots are captured efficiently, and consider scheduling an engagement shoot to get to know your photographer and become comfortable in front of the camera.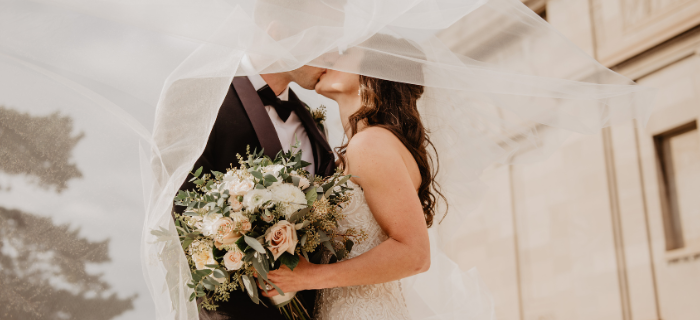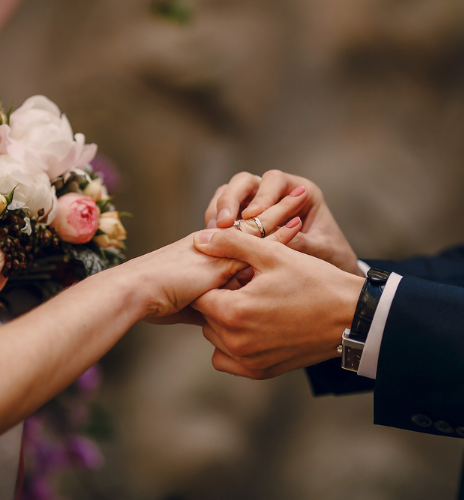 18. Score Second Shooter Savings
By hiring a second shooter for your wedding photography, you can save money without sacrificing quality. This allows you to capture more moments from different angles, making your wedding memories even more special.

19. Embrace Minimalist 'Maids Bouquets
These small and simple arrangements can be just as stunning as larger, more elaborate bouquets, and they can also save you money. By opting for a minimalist approach, you can focus on the beauty and elegance of a few carefully chosen flowers rather than overwhelming your bridesmaids with too many blooms.

20. Banish Boutonnieres
Banish Boutonnieres is a budget-friendly option for couples looking to save on their wedding expenses. By eliminating the need for boutonnieres, couples can potentially save hundreds of dollars on floral arrangements. This can free up funds for other important aspects of the wedding, such as the venue or catering.

21. Sharing Is Caring (& Means Fewer Programs)
When it comes to printing ceremony programs for a wedding, it's best to limit it to just one per couple to save on costs. Since most couples attend the ceremony together, it's unlikely that they will each need their own program. By printing only one program per couple, you can not only save money on printing costs, but also reduce paper waste.
22. Have Your Ceremony Florals Do Double Duty
Numerous possibilities exist when it comes to repurposing your wedding flowers. For instance, you can utilize decorative florals from your ceremony site to decorate the escort-card table or the bar area. Similarly, bridesmaids' bouquets can be repurposed to add a touch of beauty to your reception tables, thus making your wedding more cost-effective and sustainable.

23. How about repurposing your chairs as well?
With a little creativity and some DIY skills, you can transform old or second-hand chairs into beautiful and unique pieces for your special day. Not only will this help you save money, but it will also add a personal touch to your wedding décor that your guests will love.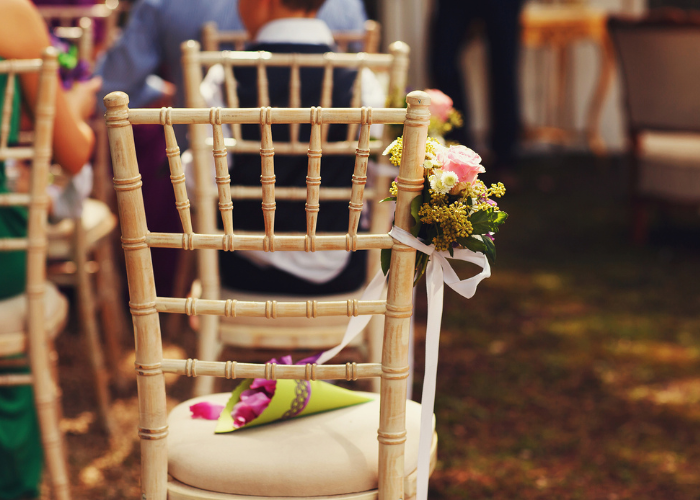 24. Ditch the Escort Cards
Instead of assigning specific seats, opt for open seating where guests can choose their own seats. This not only saves on the cost of the escort cards themselves but also eliminates the need for a seating chart and any additional printing costs.

25. Go for a Wow Moment
Collaborate with your florist to create a stunning floral centerpiece that will leave a lasting impression on your guests, instead of scattering your budget on numerous small floral arrangements that may go unnoticed. Concentrate on high-traffic areas, such as the bar and the dance floor, where your guests are likely to gather. By doing so, you can create a more impactful display and make the most of your floral budget.

26. Unique Doesn't Mean Expensive
It's a common misconception that having a unique wedding means breaking the bank. In reality, there are plenty of ways to make your big day stand out without spending a fortune. From DIY decor to personalized touches, getting creative can lead to a memorable and affordable wedding.

27. Add Fruit To the Mix
Adopt an organic theme by crafting centerpieces that showcase fresh fruits. For instance, arrange lemons, oranges, or apples in a bowl and adorn them with scattered flower petals. Alternatively, you can add a touch of elegance by gilding some of the fruits with gold paint.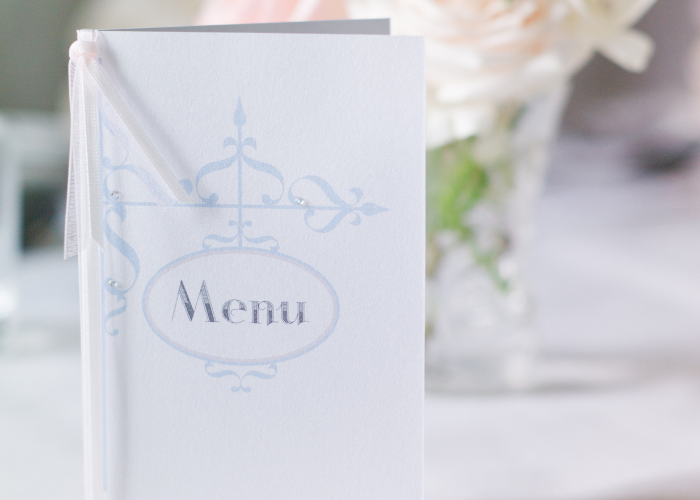 28. Print Fewer Menus Per Table
If you're looking to save money for your wedding, one practical tip is to print fewer menus per table. While it's important to provide your guests with a clear idea of what they'll be eating, printing one or two menus per table should suffice. This can help reduce printing costs and ultimately save you money.

29. Choose a Statement Glass
It's important to choose a statement glass that represents your style and personality. Whether you prefer a classic and elegant design or a more modern and unique look, selecting a statement glass can add a special touch to your big day. Not only will it serve as a beautiful addition to your wedding decor, but it can also be a cherished keepsake for years to come.

30. Swap Centerpieces for Bud Vases
Every little cost-saving measure can help. One way to cut down on expenses is by swapping out expensive centerpieces for affordable bud vases. Not only do bud vases offer a more budget-friendly option, but they also add a touch of elegance and simplicity to the overall aesthetic of the wedding.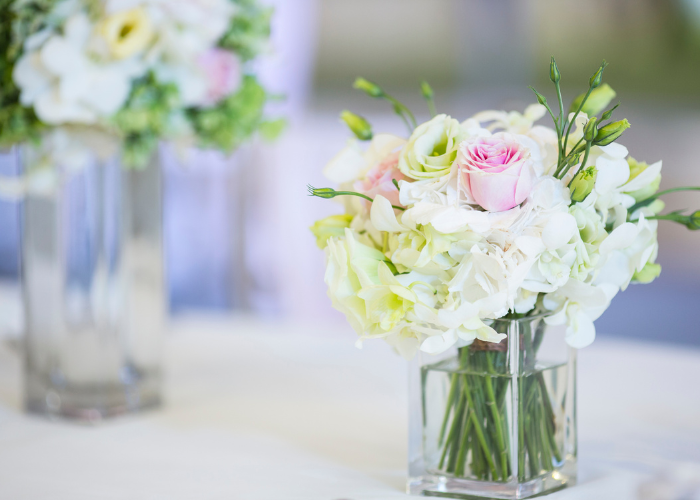 31. Lose the Linens
Another way to cut costs is to lose the linens. Instead of renting or buying expensive tablecloths, consider using bare tables or opting for a more affordable alternative like table runners. This small change can add up to significant savings and still allow you to create a beautiful and memorable wedding atmosphere.

32. Make It a Bamboo Bash
Bamboo is a versatile and sustainable material that can be used in many ways to create beautiful and eco-friendly wedding decor, invitations, and even wedding favors. By incorporating bamboo into your wedding planning, you can save money while also making a positive impact on the environment.

33. Get Glowing
Enhance the romantic ambiance and reduce expenses on flowers by filling the room with candles. To create a more dynamic visual effect, combine tall candelabras with short glasses containing tea lights.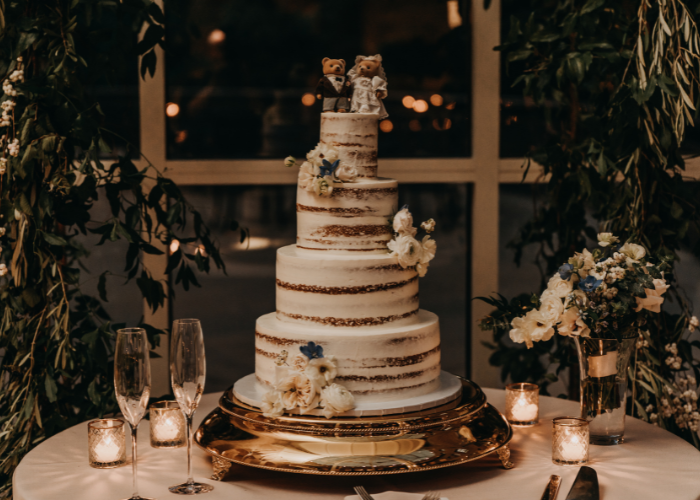 34. Cut Transportation Costs
One effective way to save money for a wedding is to cut transportation costs. Instead of renting expensive limousines or relying on expensive rideshare services, consider using public transportation or carpooling with family and friends. By cutting transportation costs, you can allocate more of your budget toward other wedding expenses, such as the venue, catering, or photography.

35. Set Up a Lounge for Less
Setting up a lounge area for your wedding doesn't have to break the bank. Start by repurposing furniture you already own, such as a few comfortable chairs or a vintage coffee table. Add some affordable decorative items, like candles or throw pillows, to create a cozy and inviting space for your guests to relax and socialize. With a little creativity and smart budgeting, you can create the perfect lounge area for your wedding without overspending.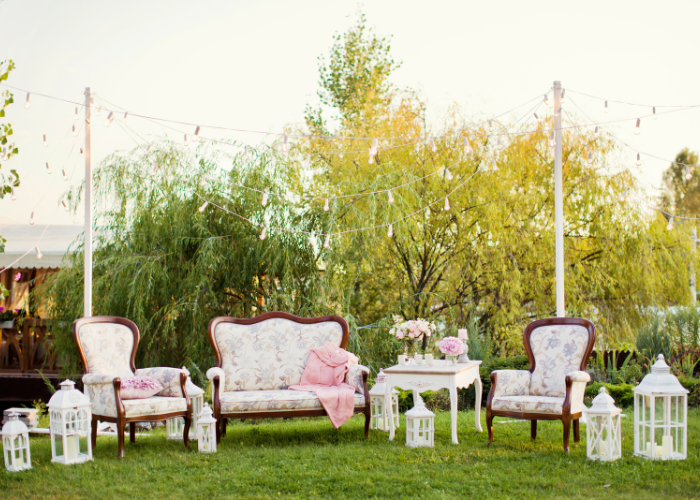 36. Shake It Like a Polaroid Picture
When saving for a wedding, it's important to be mindful of your expenses and avoid unnecessary splurges. Remember the famous song "Shake It Like a Polaroid Picture" and shake off any frivolous spending habits. Focus on your priorities and save for the things that truly matter, like creating lasting memories with your loved ones on your special day.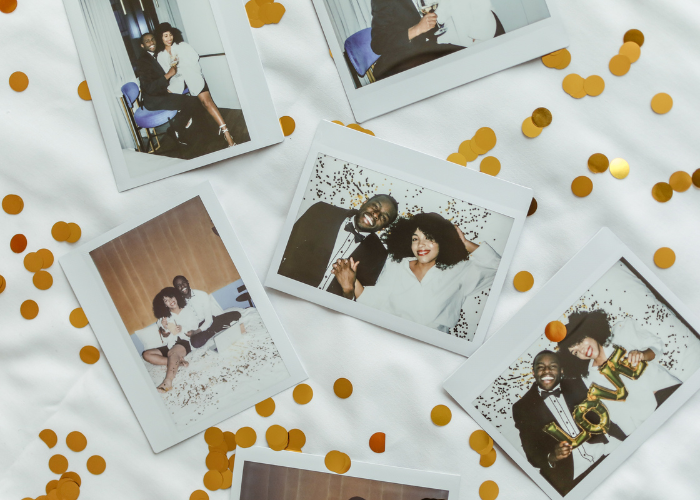 37. Make Your Signature Drink a Limited Edition
Creating a signature drink can add a personalized touch to the reception while also being cost-effective. To make it even more special, consider making the signature drink a limited edition by incorporating seasonal flavors or unique ingredients. This can make your wedding feel even more exclusive and memorable for your guests.

38. Forgo Top-Shelf Liquor
One way to cut costs is by forgoing top-shelf liquor. While premium spirits may be tempting, they can quickly add up and strain your budget. Instead, opt for quality but less expensive options, or consider offering a signature cocktail that features a more affordable spirit.

39. Only Serve Bubbly at the Bar
Champagne or sparkling wine can be a sophisticated and elegant option for toasting, and guests can still enjoy other non-alcoholic beverages or limited cocktail options. This choice can help you stick to your budget without sacrificing the celebratory atmosphere of your special day.

40. Source Your Caterer From the Suburbs
When saving for your wedding, one way to cut costs on catering is to source your caterer from the suburbs. Many caterers in suburban areas have lower overhead costs than those in urban areas, making their services more affordable. Additionally, suburban caterers may be more flexible with their menus and pricing, allowing you to tailor your catering to fit your budget.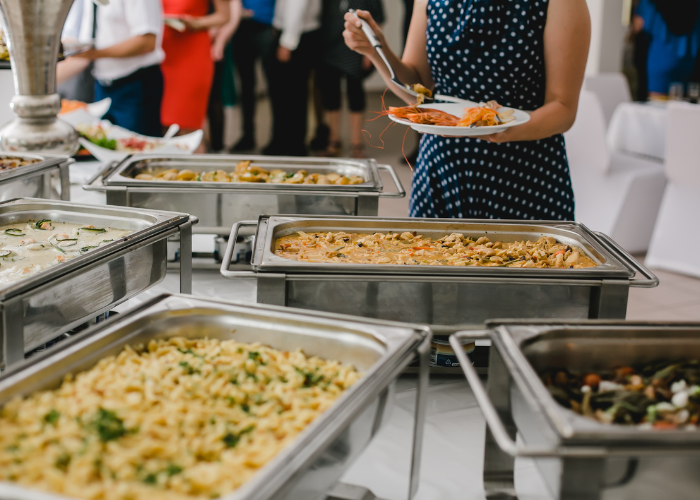 41. Save on Kids' Meals
If you're saving up for your wedding but still want to treat your kids to a meal out every now and then, there are a few ways to cut costs. Look for restaurants that offer discounts or free meals for kids, or consider ordering smaller portions for them from the adult menu. You can also try eating out during happy hour or other off-peak times when restaurants may have special deals on meals.

42. Get On Board with a Bountiful Buffet
Get On Board with a Bountiful Buffet is an excellent strategy when saving for a wedding. By preparing a variety of dishes at home, couples can save money on expensive catering costs. Additionally, this approach allows for customization and personalization of the menu, making the wedding even more special and memorable for the happy couple and their guests.

43. Avoid Hard-to-Prepare Foods
To save money, it's best to avoid hard-to-prepare foods that may require more time, effort, and money to make. Instead, opt for simpler and easier-to-prepare dishes that are still delicious and satisfying.

44. Recruit Grad School Musicians
Consider recruiting graduate school musicians to perform at your wedding. Many music schools have talented students who are looking for performance opportunities, and hiring them can be a win-win situation. You can save money on expensive wedding musicians while providing a valuable performance opportunity for these young musicians.

45. Downsize Your Cake
One effective way to do this is to downsize your wedding cake. Opting for a smaller cake or cupcakes can still provide a beautiful dessert display while also saving you money in the long run.

In conclusion, saving for your wedding is a crucial step towards ensuring a successful and stress-free celebration of your love. By starting early and setting clear financial goals, you can avoid unnecessary debt and make the most of your special day. Remember, every penny counts, so be sure to prioritize your spending and find ways to cut costs without sacrificing the things that matter most to you. Happy planning!