How did you meet?

We met on my first day at work. Arwinder was very nervous as soon as he saw me and I was baffled as to why he is acting so oddly, such as bumping into cabinets around the office every time he would see me. We became great mates after it. Shortly after, he ended up changing his job and then asked me out on a snow day trip as our first date because I mentioned once I haven't seen snow since I was a kid. Within one year we got engaged and married the next year. I think both of us knew, the moment we saw one another that we will end up marrying each other.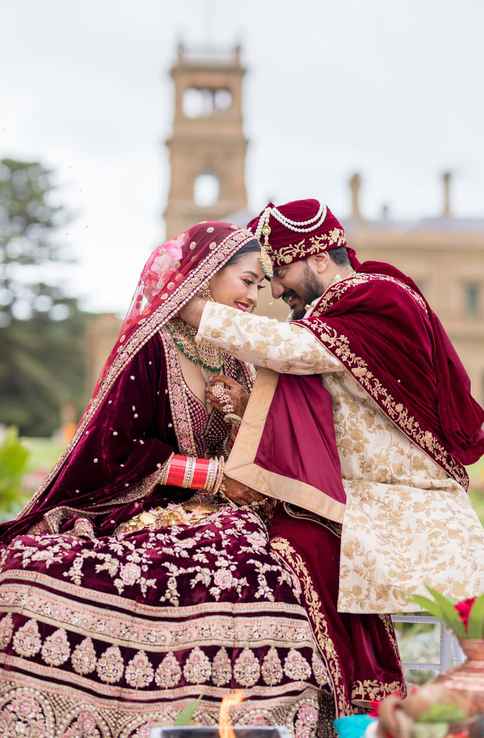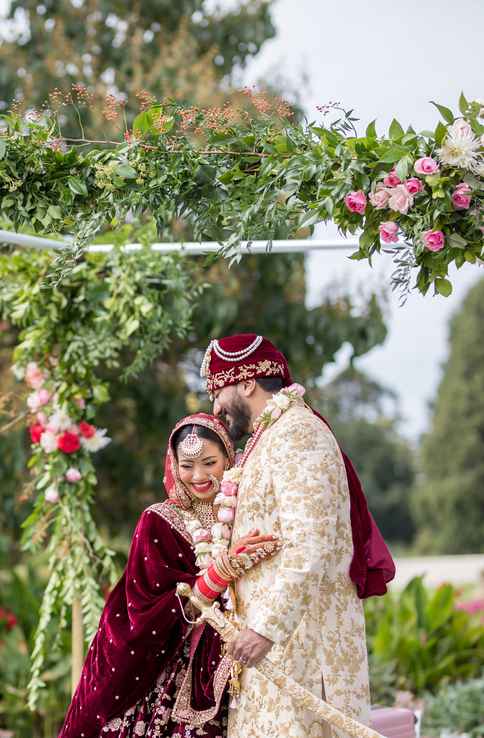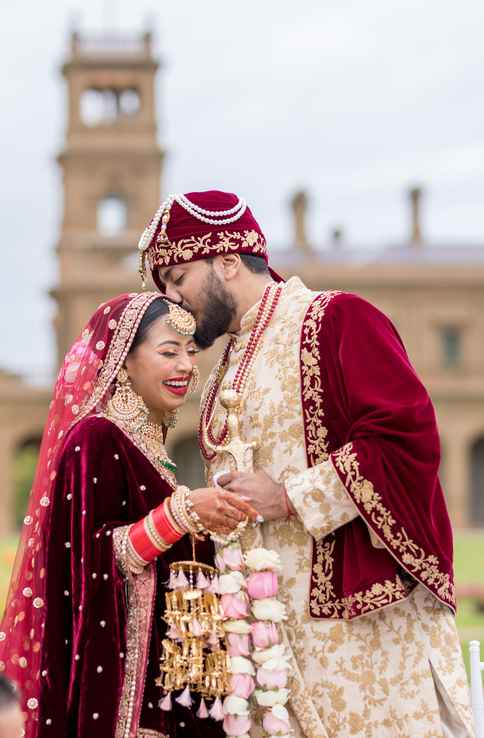 Tell us about the proposal.

It was the most beautiful proposal. Arwinder got up at 2 am and drove to my house on my birthday to pick me up as he had organized a surprise hot air balloon ride in the Yarra Valley. The night before, he bought bagels from my fav bagel shop in Elsternwick and flowers from my favorite florist in the city. At 3 am, he was standing in front of my house, all sleepy-eyed with a bag full of bagels and a bunch of my favorite flowers, lilies. We drove to the Yarra Valley to see the most beautiful hot air balloon ride and after our breakfast, we went for a walk around this pond. He got down on his knees and presented the most amazing ring of my dreams and asked me to marry him. It was so surreal that we both ended up crying as soon as I said yes. It was very emotional for us and it felt so natural.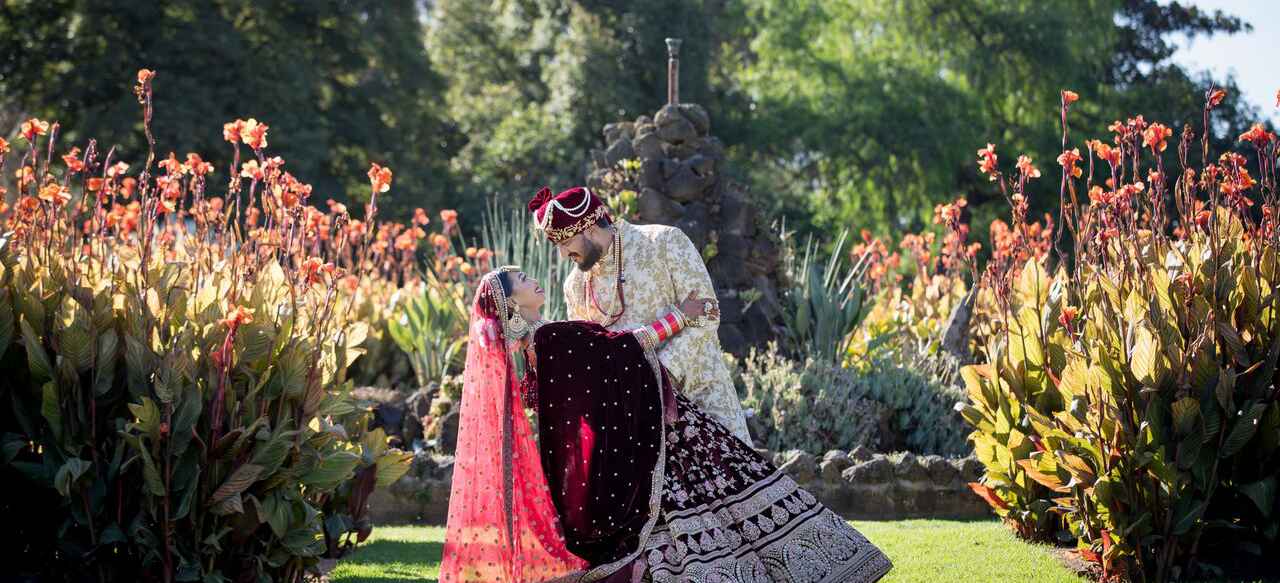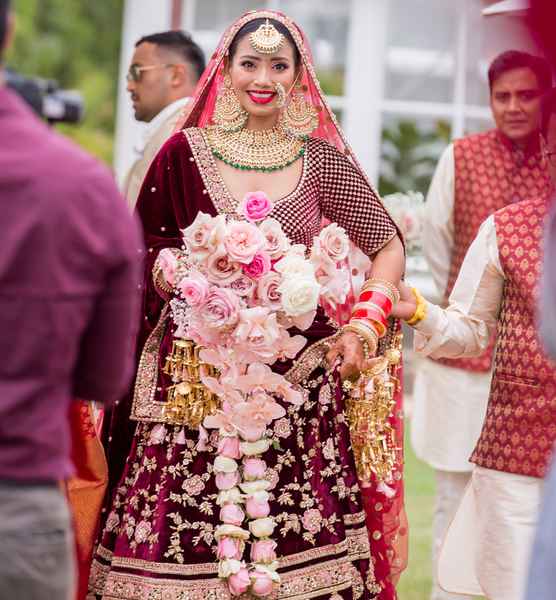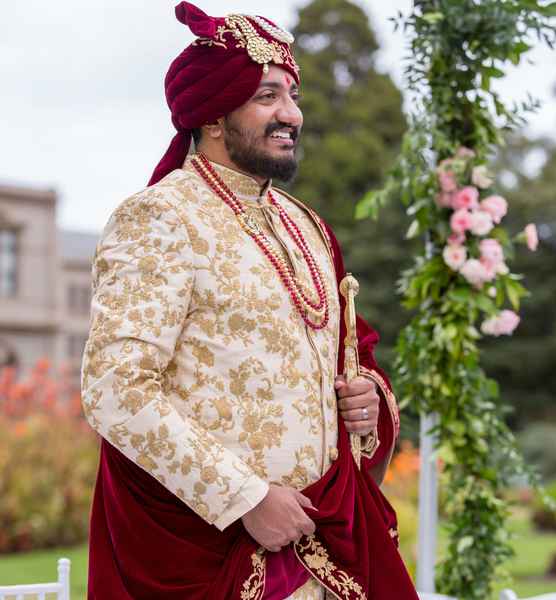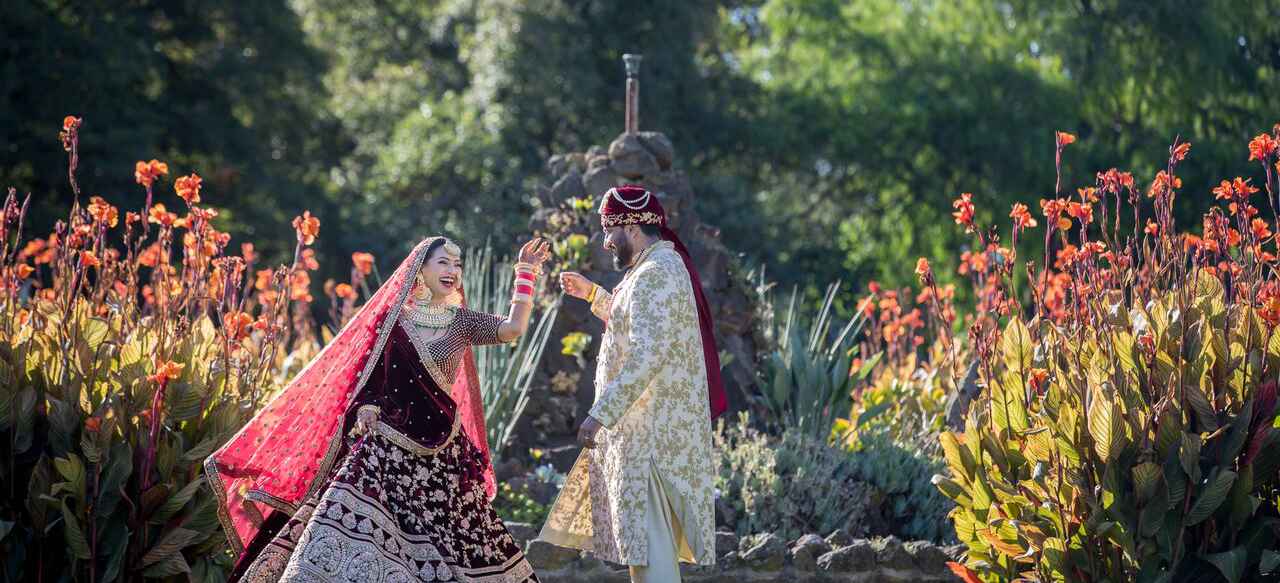 How did you choose your Venue and location? Why?

The moment we got engaged we had a customary engagement party with our loved ones. We knew the venue had to be a dream venue. We wanted to get married outdoors, but Hindu weddings do not happen outdoors. As we have a fire ritual in our wedding ceremony, it was tough to find a venue to accommodate us. I visited Werribee Mansion when I was a child and was enamored by the beauty and grandeur of it. 
We revisited it as part of our venue hunt and fell in love with it all over again. We managed to get the first-ever approved permit to conduct a fire ceremony in the beautiful Werribee Mansion Gardens. It was all possible due to a very hardworking and amazing venue coordinator at The Refectory by Bursaria. She managed to get the permit for us and organized every possible thing to make our beautiful wedding a reality. The Refectory by Bursaria did an amazing job for us. From taking care of the menu to the service, everything was just perfect.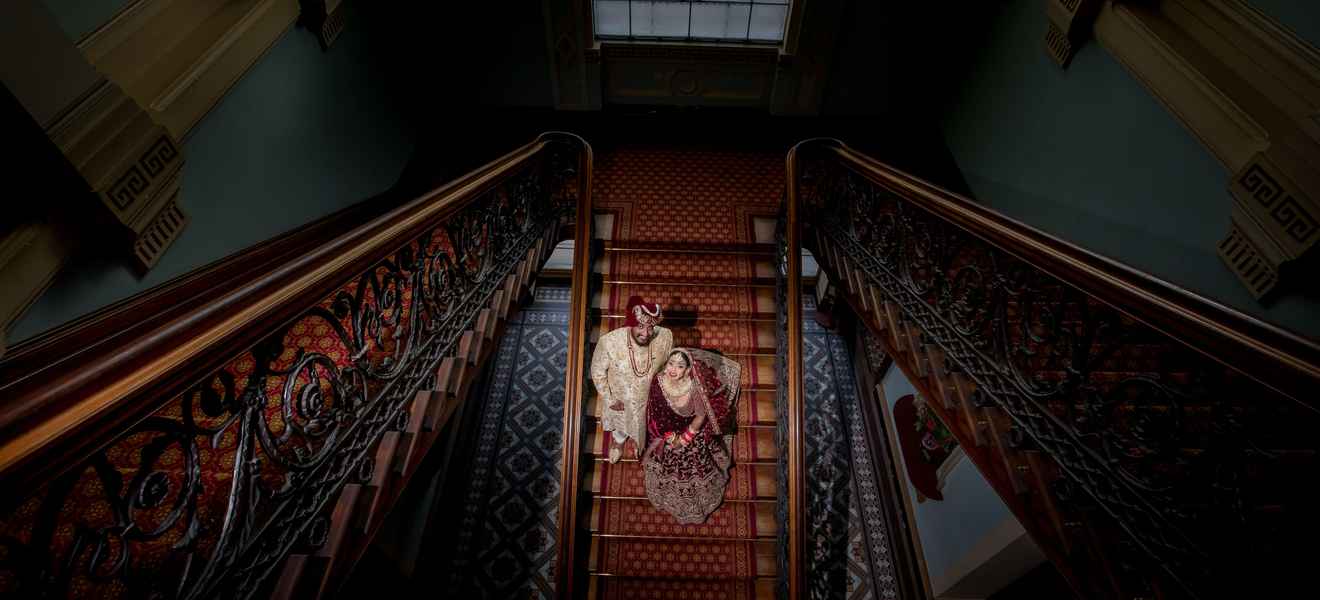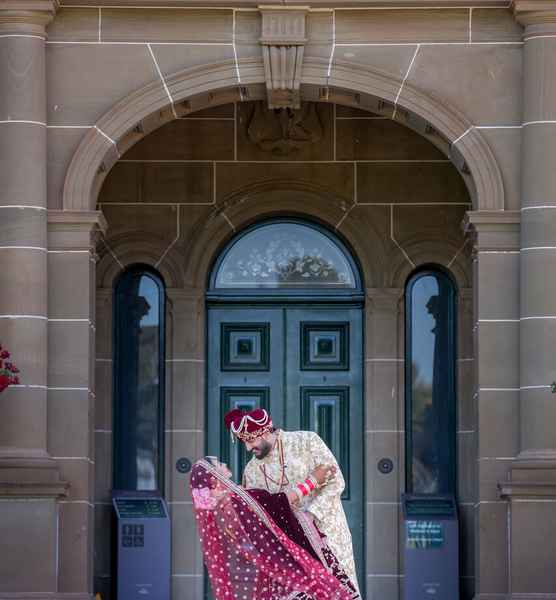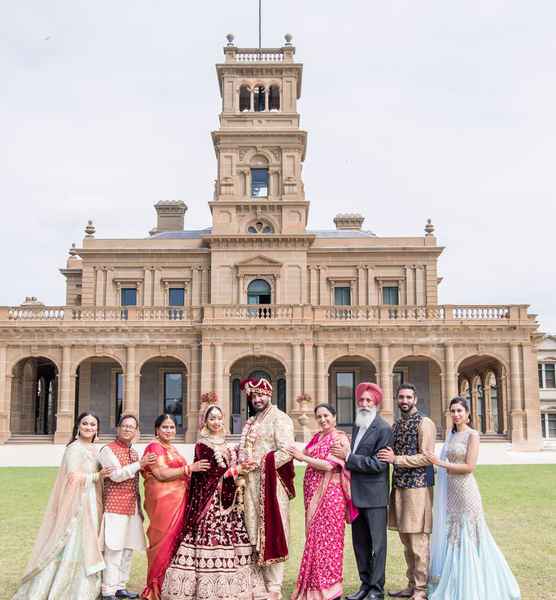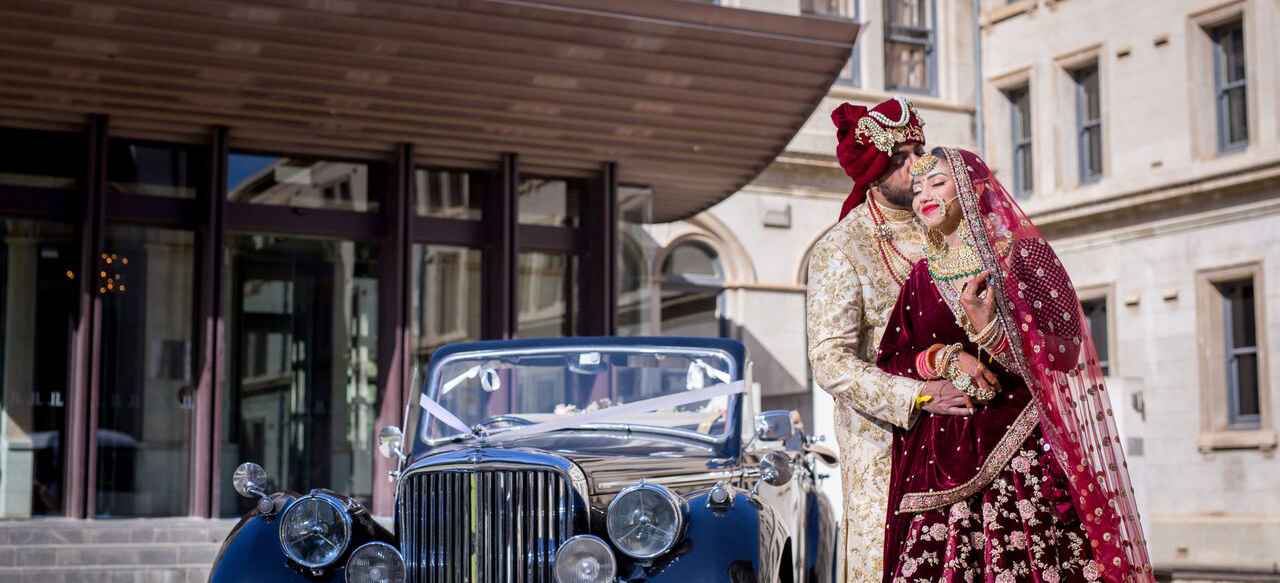 Tell us about your Gown(s) / Suit(s) (style, how you found it, what you loved about it). What about the bridal party fashion choices?

Ever since I knew I wanted to get married, I knew I had to wear the bridal dress from Sabyasachi, who is the Indian equivalent designer of Vera Wang. The designer is the top bridal designer in the Indian bridal fashion industry. I flew to India and visited his exclusive bridal store and the moment I walked in, I saw my bridal dress. The problem was that it was very expensive, almost $20,000 and without doing any other dress shopping, my family and bridal party suggested that I look around more before committing to the first thing I saw. I then spent the whole month going around different parts of India to see if I would like any other bridal dress by any other designer. 
Sadly, I nor my bridal party liked any other dress except the very first velvet dress we saw in Sabyasachi's store in New Delhi. My bridal dress is made of luxurious velvet material with intricate hand-woven beads and gems. It evoked images of royalty and elegance. I was so honored to wear something like this; a timeless and classical Indian bridal dress. It took 3 months for the Sabyasachi team to recreate the dress according to my measurements. I flew back to New Delhi and tried it on, it fit like a glove. I wanted to create a legacy for our kids that someday when they get married, they can take away something from my dress. This bridal dress is for creating a legacy, a beautiful legacy. Arwinder cried the moment I walked down the aisle. I was so surprised that he cried, it was indeed amongst one of the most beautiful moments of our wedding.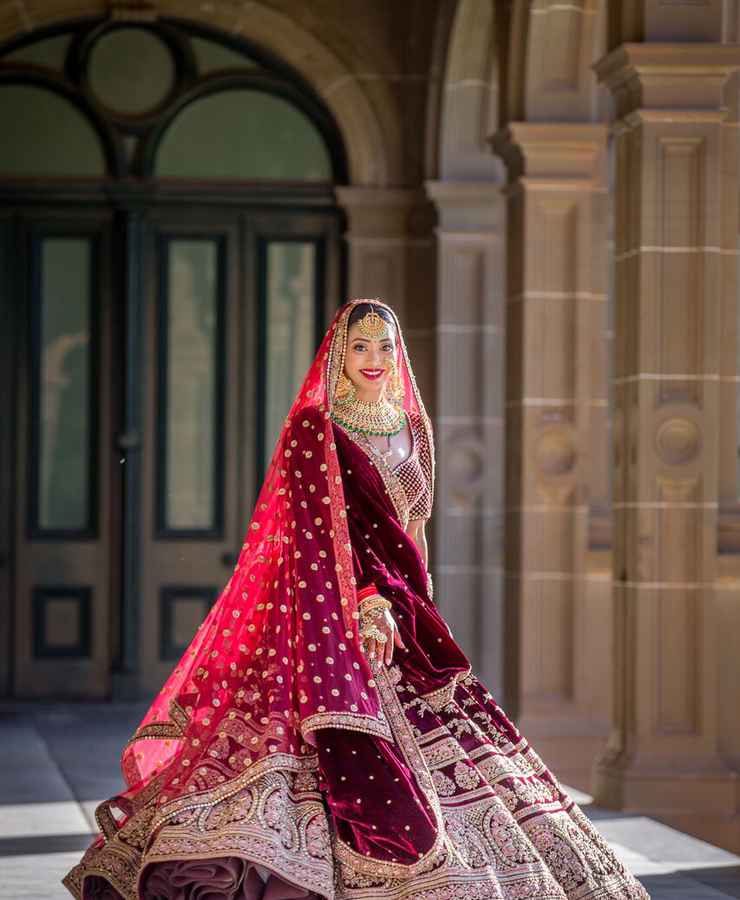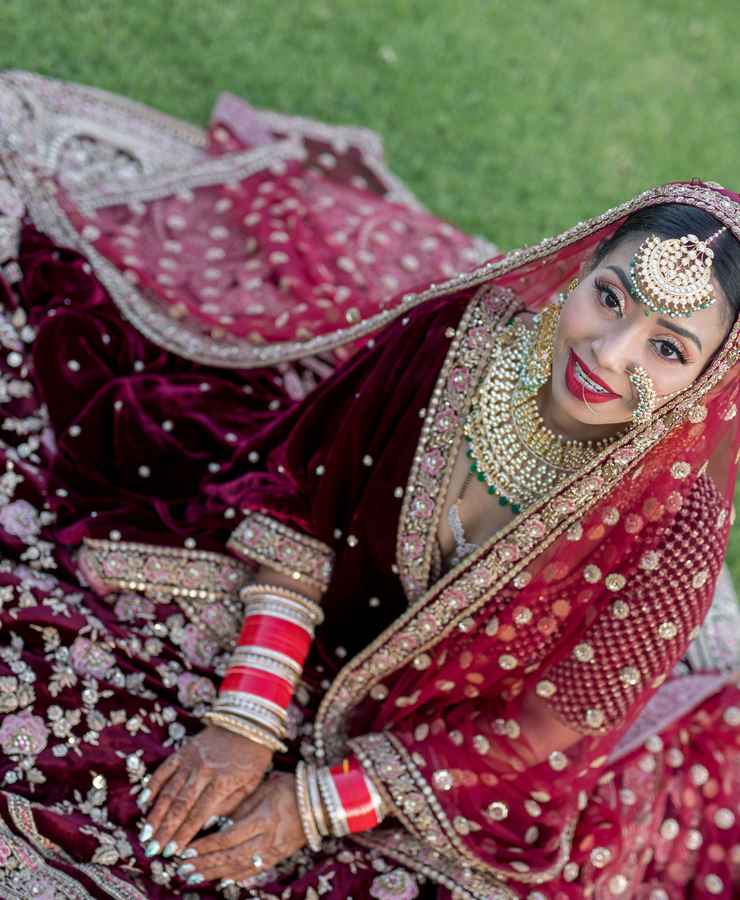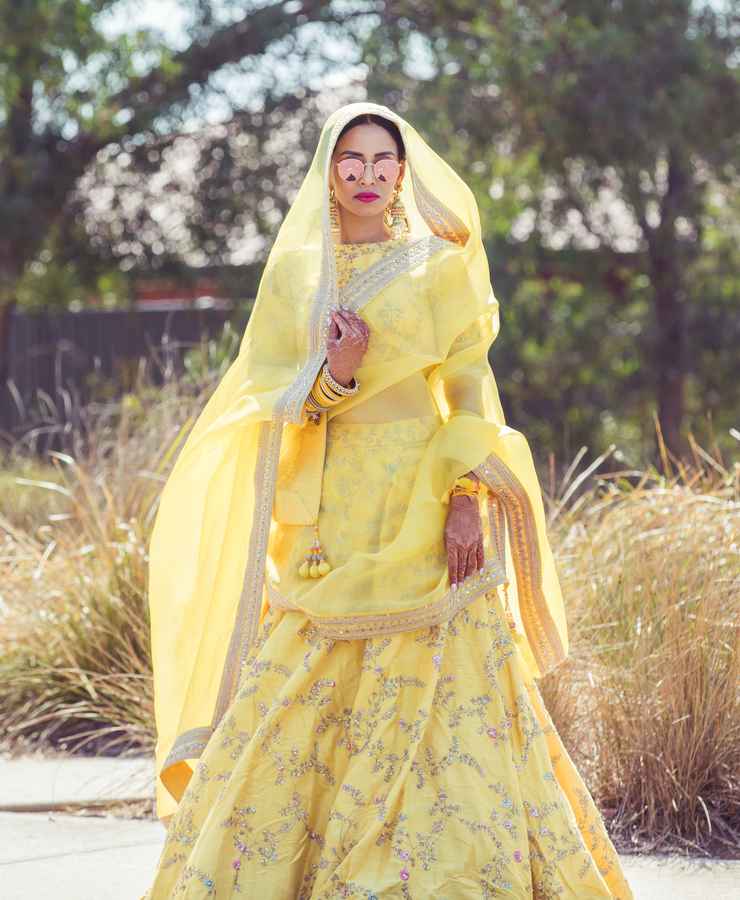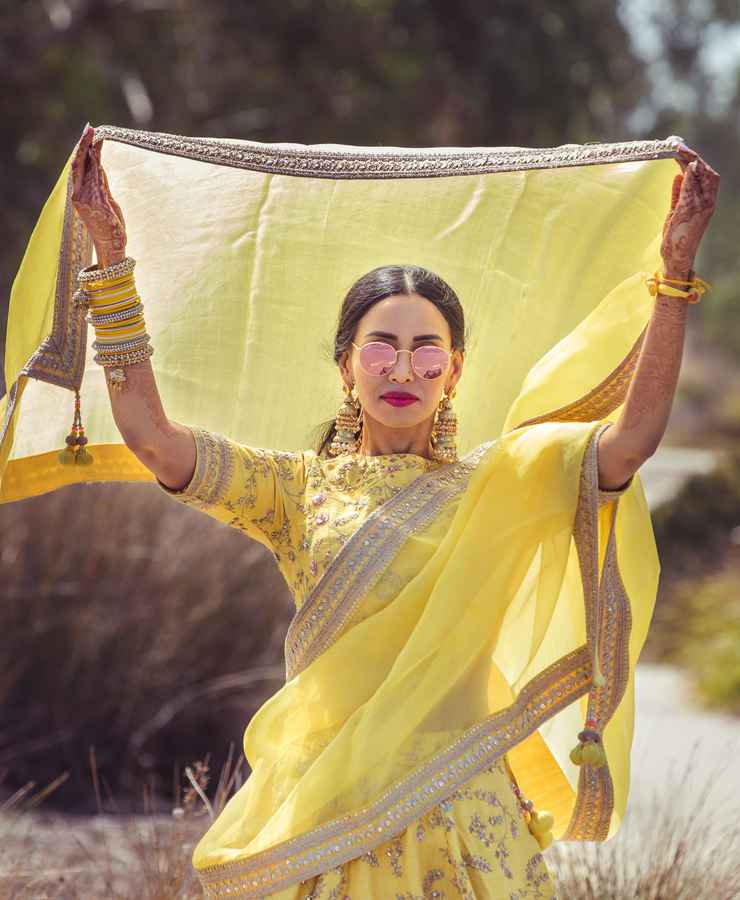 What Style / Styling did you choose for your wedding? (eg: color scheme, flowers, stationery, cake, transport, details, themes, inspiration, the overall "look and feel")

We both wanted a royal Indian wedding to be created in Melbourne, so we chose Werribee Mansion for our venue to reflect that. I love florals, so both our wedding outfits had floral designs. The overall look and feel of our wedding was a beautiful, modern, Australian-Indian summer wedding. Our venue and outdoor ceremony area were decorated with beautiful pink and white pastels with lots of natural greenery. We married under a big outdoor floral four-poster arch that looked amazing in the gardens of Werribee mansion. My bridal bouquet was filled with pink and white pastels to replicate the flowers on my bridal dress. 
We have a tradition where the bride walks under a canopy during her bridal entry. I was having a lot of trouble finding the pre-made wooden four-poster canopy but two days before the wedding, my 'husband to be' then surprised me when he handmade a wooden canopy for me. I was very moved by the gesture as it was such a hard task and he still undertook it so close to the wedding. It was decorated with lots of baby's breath and pink roses to keep up with our theme. 
I like the olden era, so we organized a convertible Jaguar for our wedding car. It was also decorated with baby's breath and pastel flowers. Even our food was amazing and so colorful. We went with a grazing menu at The Refectory and it was the most amazing wedding food served. I drew a lot of inspiration from my bridal dress as it had so many colors and intricate design.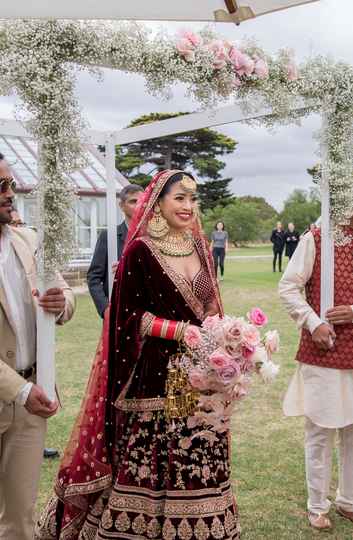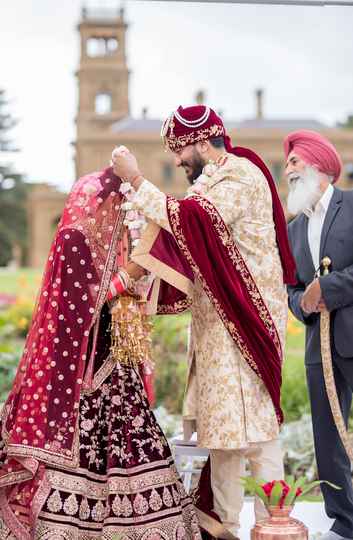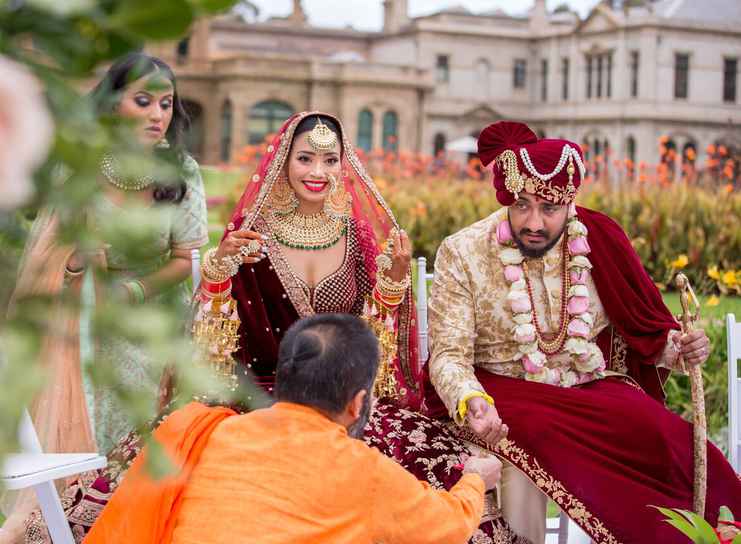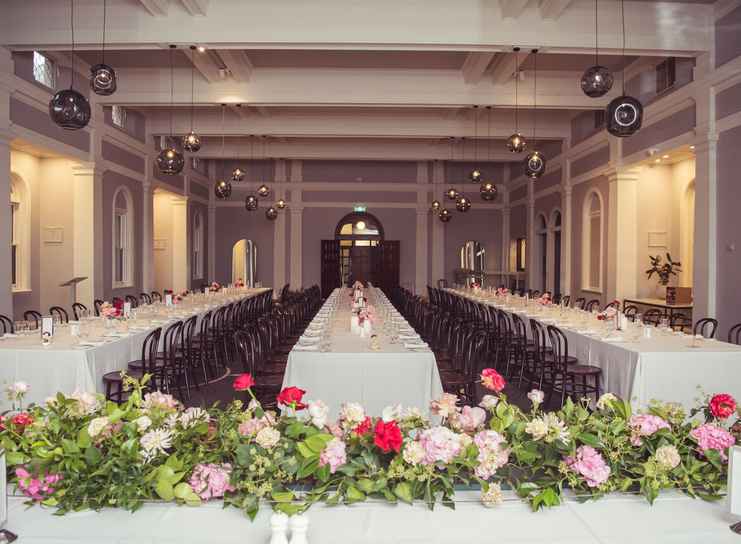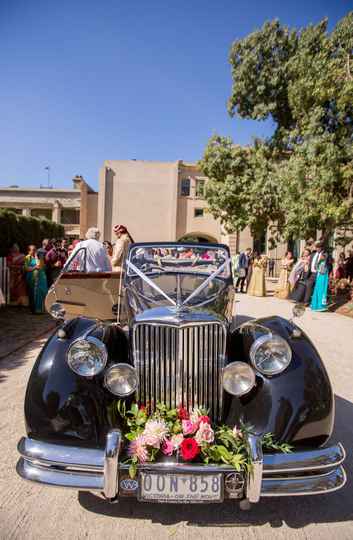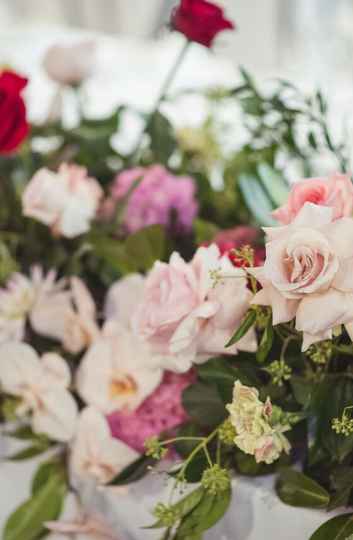 What were the highlights of your day?

The highlight of the day for me was walking down the aisle over our favorite song and looking up to find Arwinder crying. It literally took me by surprise, so much so I started laughing as I do when I am surprised. During wedding planning, he was like 'I won't cry' as he is not the crying type, I was not expecting that from him at all. It wasn't even small tears, everybody got shocked just how overwhelmed he was feeling then. I couldn't believe it myself.
The other highlight was when we were saying our wedding vows. I forgot to write mine as in our culture it is not a big thing, but we had organized to have a legal western ceremony shortly after our Hindu ceremony. At 1:00 AM the night before, I started writing my wedding vows. Surprisingly because it was written so late, what came out was raw, honest, and emotional. I encourage every bride to pen a letter or notes the night before, it was a very intimate and emotional time for me. It kind of takes out the stress of what was about to come too because it reminds you why you are doing what you are doing. 
Another highlight of our day was during our Sikh wedding ceremony the day after our Hindu wedding. As I walked into the Sikh temple for my bridal entry, it felt so calm and surreal. The religious hymns were playing in the background and Arwinder was sitting down at the front for me to take my place next to him. I walked straight to him and it felt like the world had stopped and it was only us, me and him in that room. It was the most peaceful walk of my life.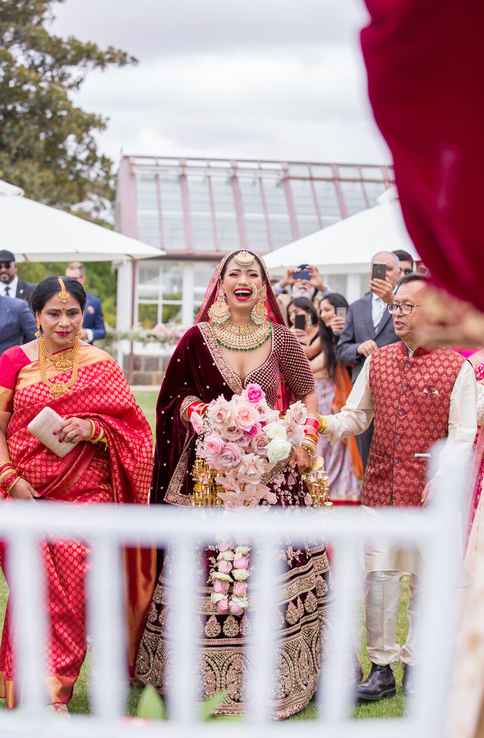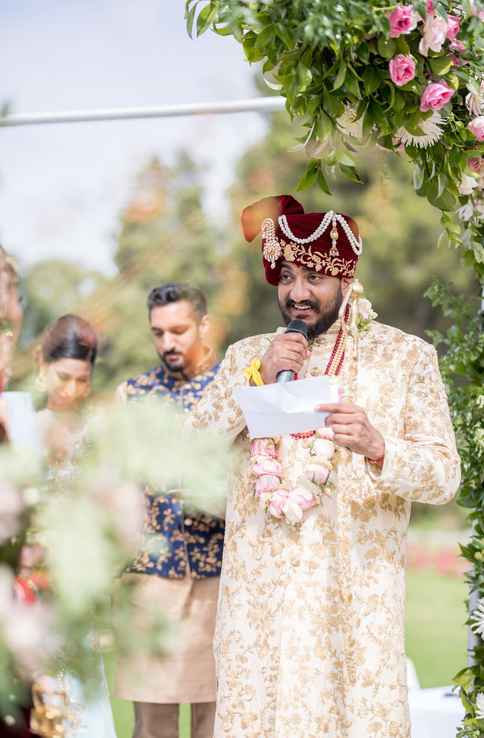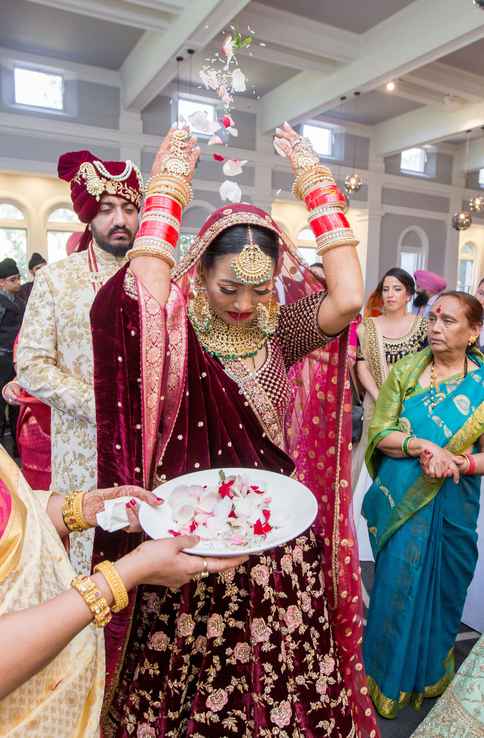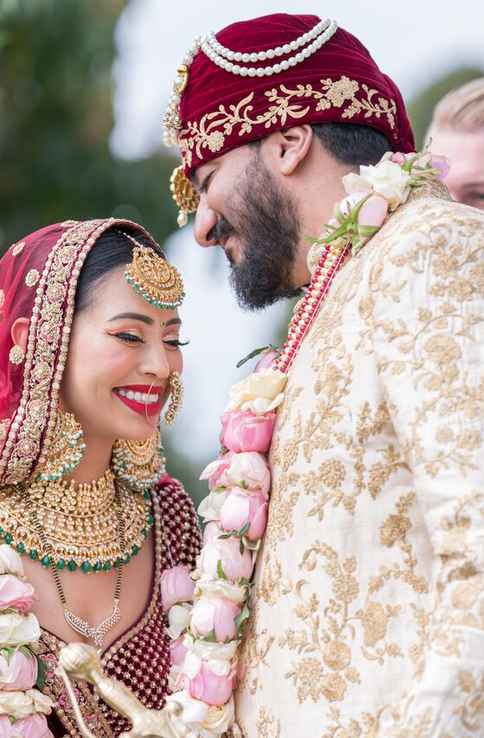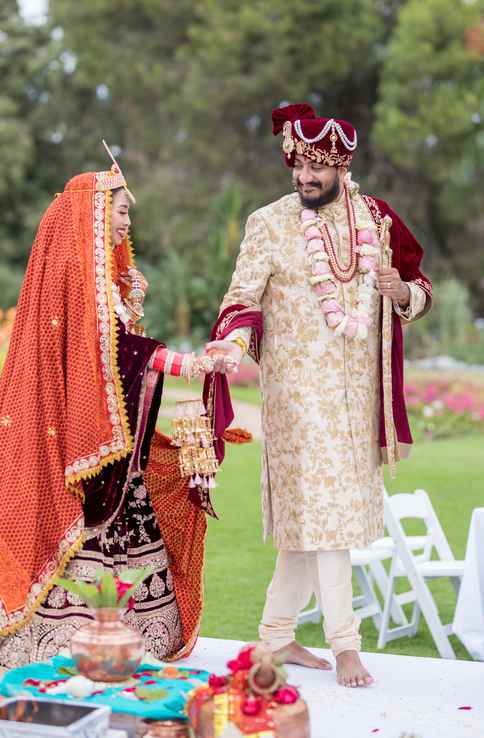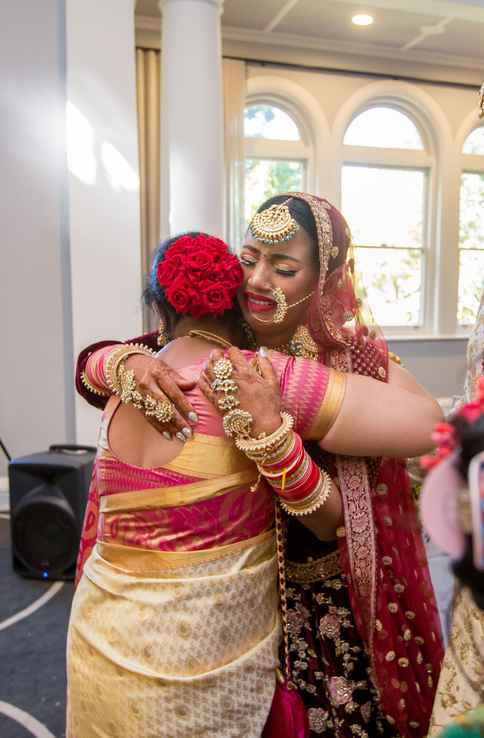 Tell us about any funny, poignant, challenging or emotional moments?

Our most challenging time in wedding planning was our trip to India for our wedding outfits. There are limited options in Australia for Indian bridal attire, so we had to fly out to New Delhi, India. The whole process of getting my wedding dress just a week before the wedding was very stressful but it was all worth it. The whole trip just made us come closer to each other as we went through something so tense.
It was absolutely amazing seeing our friends and family being there for us. The rigorous planning of 10 months all coming together. Some of the planning didn't go as expected but it didn't matter to us because the moment we saw each other, we did not care at all about anything. 
My dad was hilarious in the morning, he was more stressed than me. It was raining a little bit in the early hours of the morning and he said, he felt very nervous. The moment I stood to start my walk, the sun came out. From there onwards, the sun was shining the whole ceremony. I was nervous about wearing a Velvet dress in March, but the weather was chilly enough for me to get away with it. It all worked out.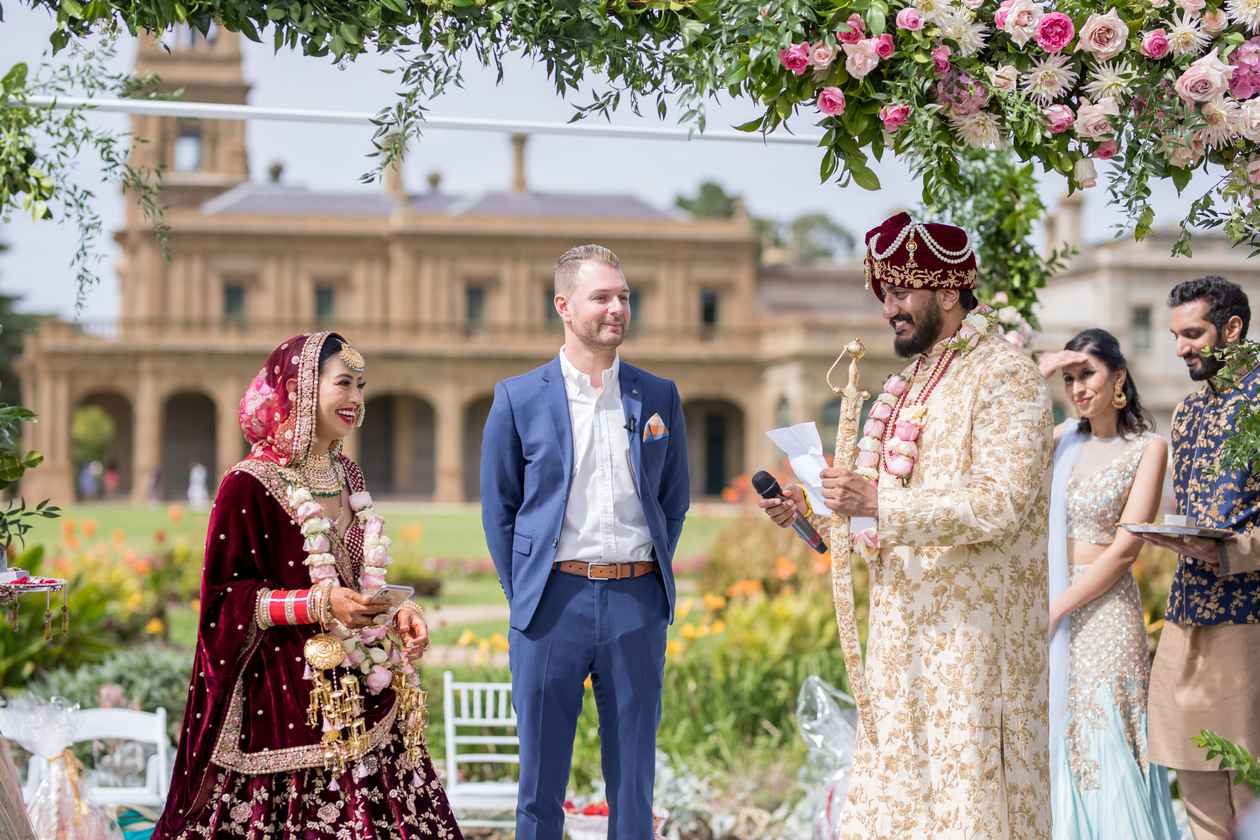 Where did you go for your Honeymoon? Why?

Ever since I was a little girl, I wanted to go to Santorini. It was a non-negotiable option for our honeymoon. My husband agreed on the terms that he gets to choose every other trip after the honeymoon, it was worth it. We had a 3-week long honeymoon exploring the Greek Islands. We went to Athens, Mykonos, Naxos and finally stayed more in Santorini. It was a purely magical stay. I wished we had an even longer honeymoon!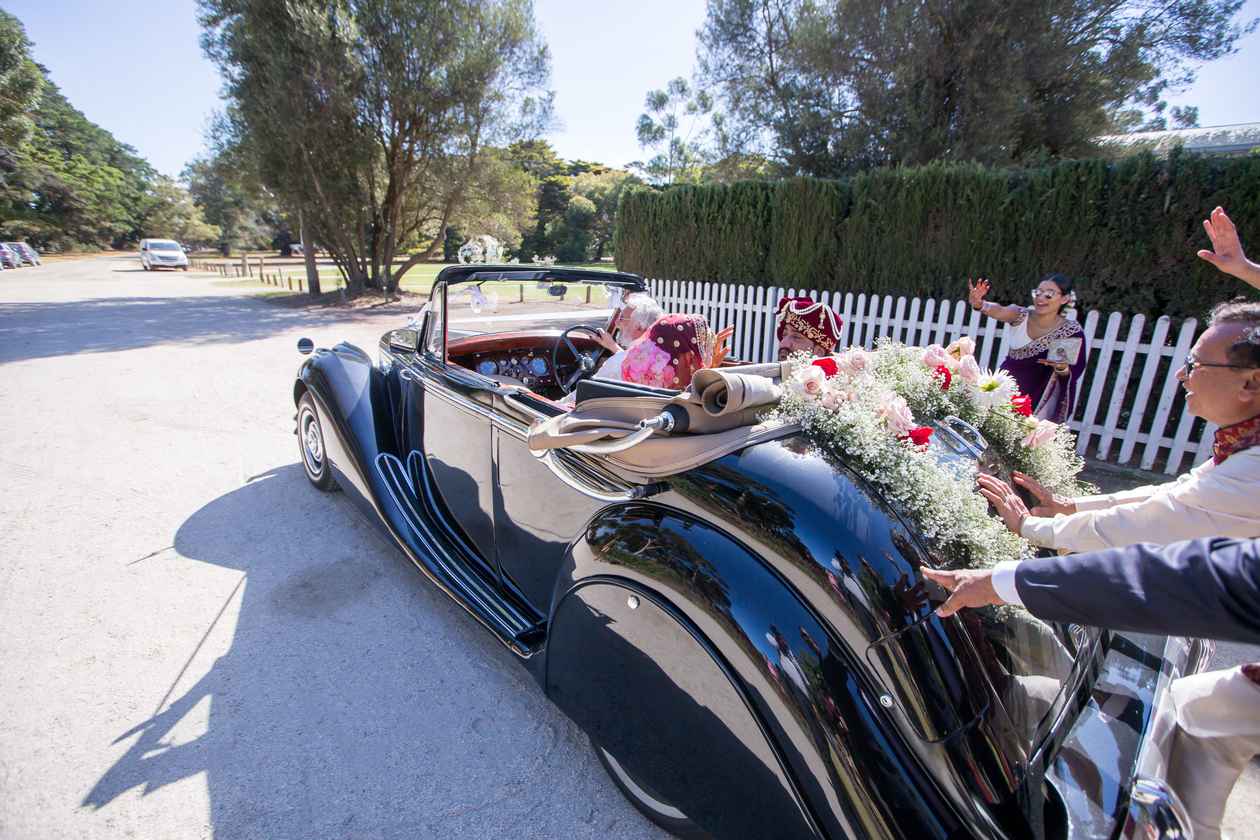 Do you have any advice for other couples?

My only advice is to enjoy the process, learn to let go and don't forget why it all started. Often, we get so driven by our unrealistic expectations that we forget about the real reason for having a wedding - love! Don't get too caught up in the details. Take a step back and remember what is important—you are marrying the love of your life!
Take care of your mental health as much as your physical health. Brides can get caught up and forget to take care of their mental health. As a bride, allocate your time well. 
Also, it is very important to invest in a good photographer who understands your concerns. Have a chat with your photographer beforehand and let them know what your expectations are. Take reference pictures, explain why the shots are to be done this way. I made the mistake of not briefing the photographer properly. Same with every vendor, sit with them and explain your vision.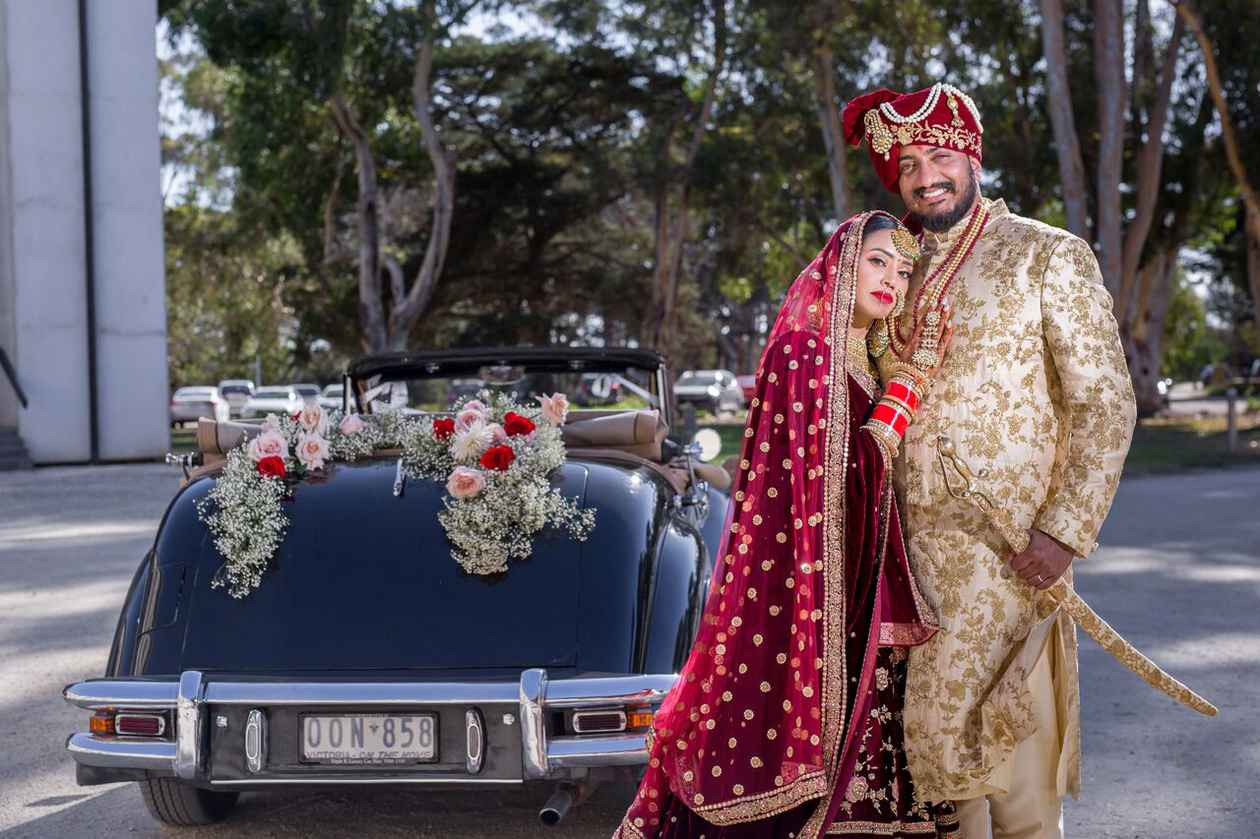 Is there anything else you'd like to add?

I enjoyed our wedding day and it will be a lifelong memory. I think I am very lucky to have my partner, who takes great care of me. I hope our wedding life is also as beautiful as our wedding day.