Woodwark Bay is mesmerising in the fading light of day. The last of the sun's rays play on the Whitsunday Passage and overhead a full moon rises over the string of islands.
A manicured lawn dotted with swaying coconut trees stretches to the water's edge where small waves crash upon the shore. I am the only one here apart from a lone catamaran anchored way off in the distance and a grazing wallaby.
It's a sensation so foreign that it takes a little getting used to. There's no rumble of passing cars, no noisy motorboats; not even the familiar ring of a mobile phone.
In fact there's nothing here but the increasingly rare sound of silence. We stand on the deep, covered veranda of the main house - a stylish, thatched, high-gabled building with views over Woodwark Bay - for a long time; searing the image into a storehouse of treasured memories. Few people in Australia have heard of Woodwark Bay.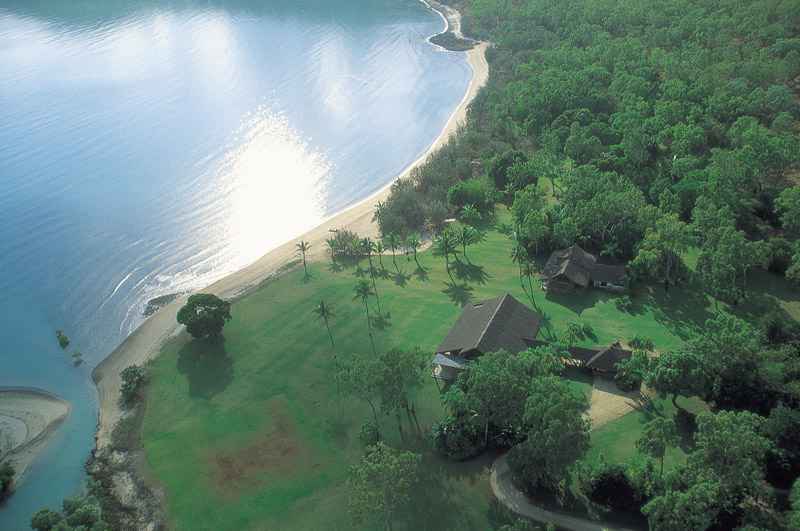 Tom and Nicole, when they were together, were one of the celebrity couples to holiday here. The resort has also hosted the King of Morocco and several US businessmen and women. Many guests fly by private jet to either Hamilton Island or Proserpine airports and then transfer to the property by road or helicopter - far from paparazzi.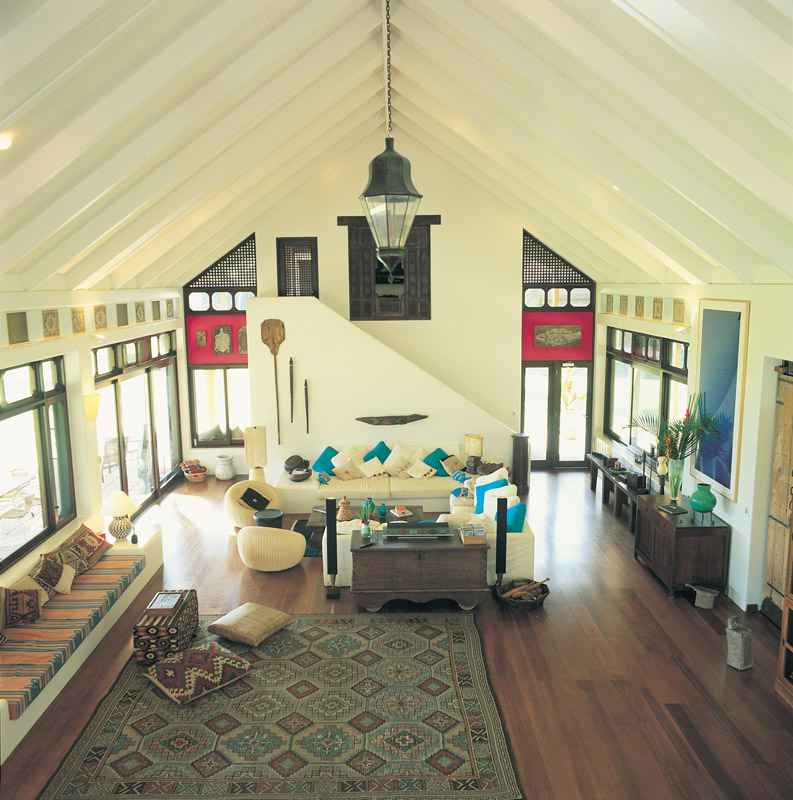 Set on 1618 hectares, it has lush tropical rainforest, a deep freshwater lake, manicured gardens, more than 100 kilometres of roads, waterfalls and picnic huts and surrounded by 20,000 hectares of uninterrupted and untracked national parkland. It's aptly marketed as the outback by the beach.
The property is luxurious but it's understated rather than ostentatious. There are six private South Seas-style thatched cottages (that sleep a maximum of 14) filled with one-of-a-kind pieces: an antique Russian chest, African wall hangings, damask, silks, Tibetan temple doors and tiles from palaces in India.
Some of the spacious guest rooms feature open-air bathrooms, either with deep baths that look out on lush foliage or showers where you can look up at the night sky. Each of the cottages has evocative names like Pebble House, Dream House and Island Hut.
The Dream House is the ultimate in luxury and perfect for the bride and groom with cool limestone floors, a large stand-alone bath, pebble-lined shower that overlooks a private bamboo garden and a wide shady veranda with wooden swing and day bed where you can take in the views to Double Cone Island.
Even the smaller guest rooms like the Siamese Huts are special. With wrap-around deck and hammock, there's an open air shower for watching wildlife weave among the shrubbery.
The main communal house, surrounded by a deep paved veranda, is where guests gather - if you choose to share the experience, that is. It's airy and expansive, crammed with a mix of interesting artwork and furniture and comfortable lounges for passing the afternoon with a book.
You step into the house through a fantastic antique wooden door sourced from an old estate in India. Upstairs is a cosy library with commanding views over the bay, where you can read, watch a DVD or surf the internet.
Or you can simply gaze out at the azure waters, smug in the knowledge that it's all yours. For now anyway.
Visit Woodwark Bay or check out Real Weddings to find your perfect honeymoon destination.