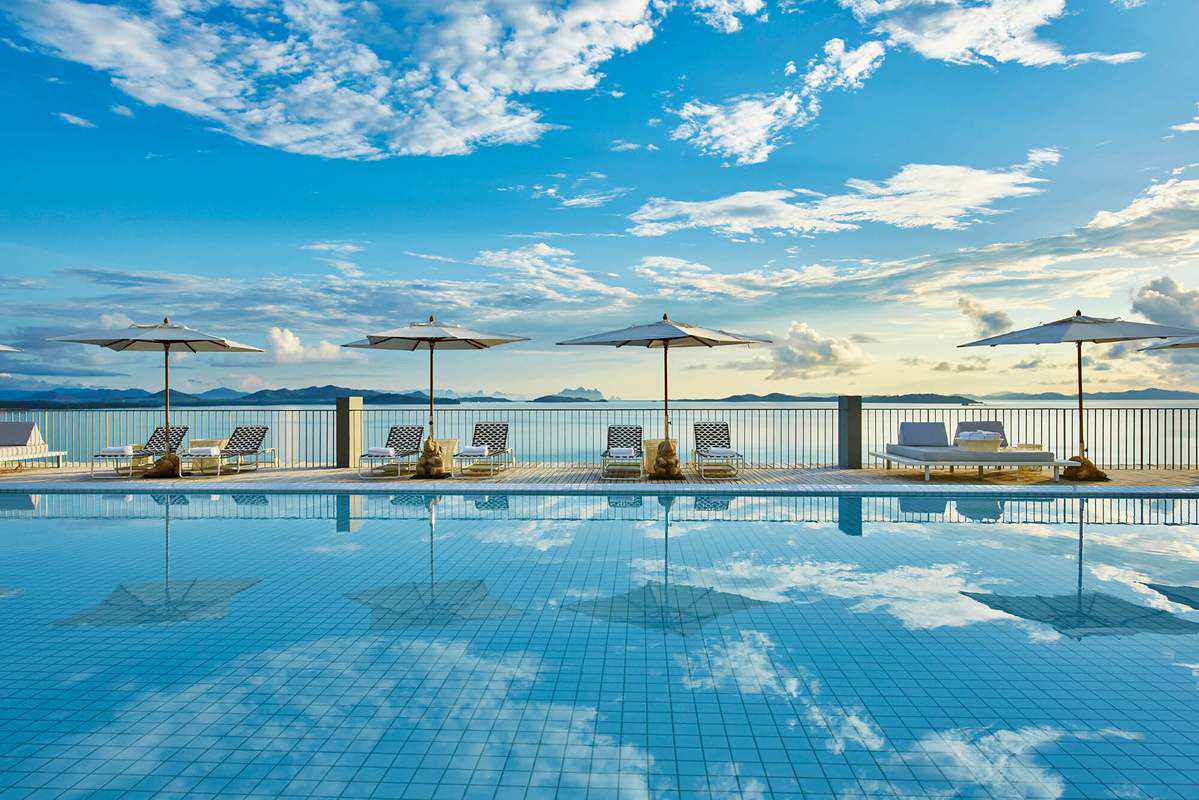 Don't worry as Real Weddings has got your back. We have compiled a list of perfect Phuket wedding venues to help you to plan your dream Phuket beach wedding.
A dream destination wedding in Phuket can offer great value for money. A minimum spend of $2,000 AUD is enough to have a wonderful wedding to last a lifetime. 
However, higher-end Phuket weddings by the beach which are hosted and organised by hotels and resorts tend to cost on average $10,000 AUD up to $15,000 AUD at a beautiful 5-star resort for an all-inclusive event with friends and family.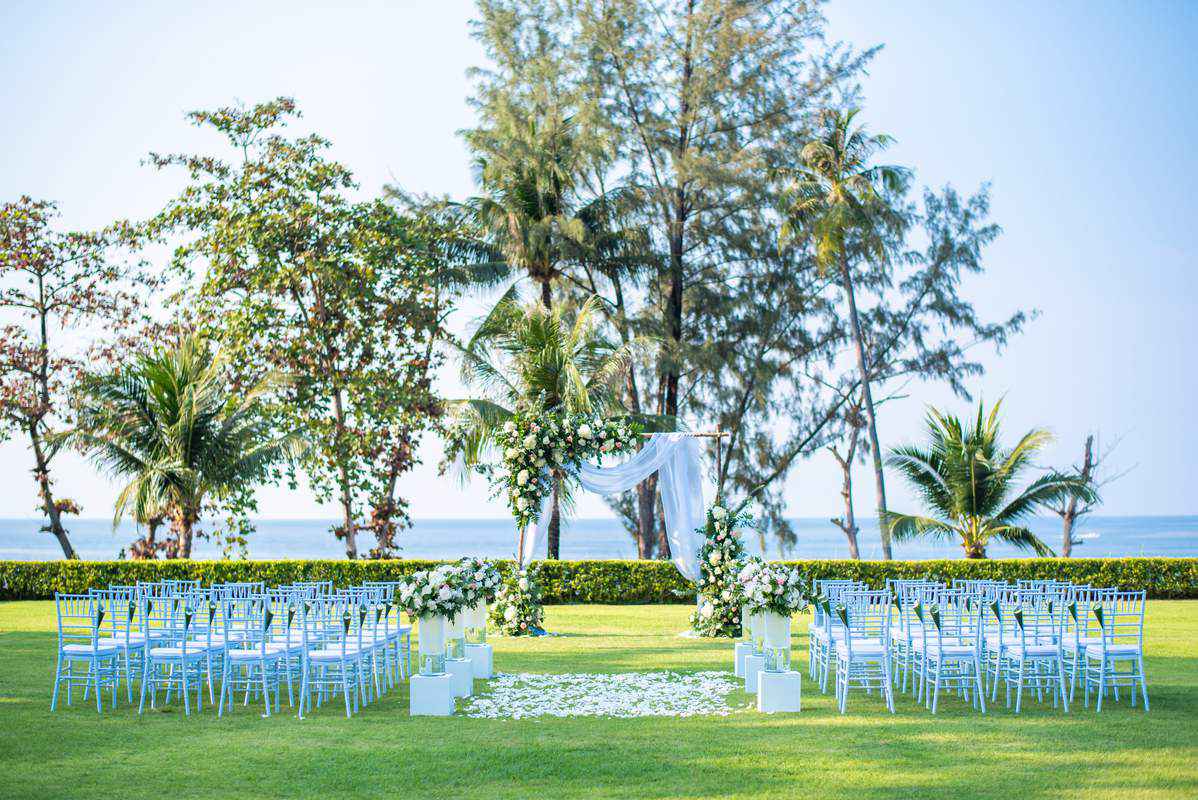 Below is our list of the most perfect Phuket wedding venues that will give your wedding that magical touch.

Standard Wedding Package at THB 50,000++ (Maximum 30 people) and/or Premium package at THB 90,000++ (up to 80 people)
SALA Phuket Resort and Spa wedding and honeymoon venue offers a stunning deluxe pool villa resort combining rare historical Sino-Portuguese architecture. Located just 20 minutes from Phuket International Airport and the famous Blue Canyon Golf Course, The SALA Phuket is also just 25 minutes from picturesque Phang Nga Bay and offers an exceptional array of International and Thai cuisine from a variety of dining outlets and locations as well as an entertaining mix of themed menus throughout the week.
Your dream of a perfect Phuket wedding and honeymoon will become a reality with SALA Phuket Resort & Spa for your perfect Phuket Wedding. Our team of dedicated experts will work with you in advance to understand your wishes for this extraordinary moment. Relax and savour your most special day as you experience.
Request for a free wedding brochure here.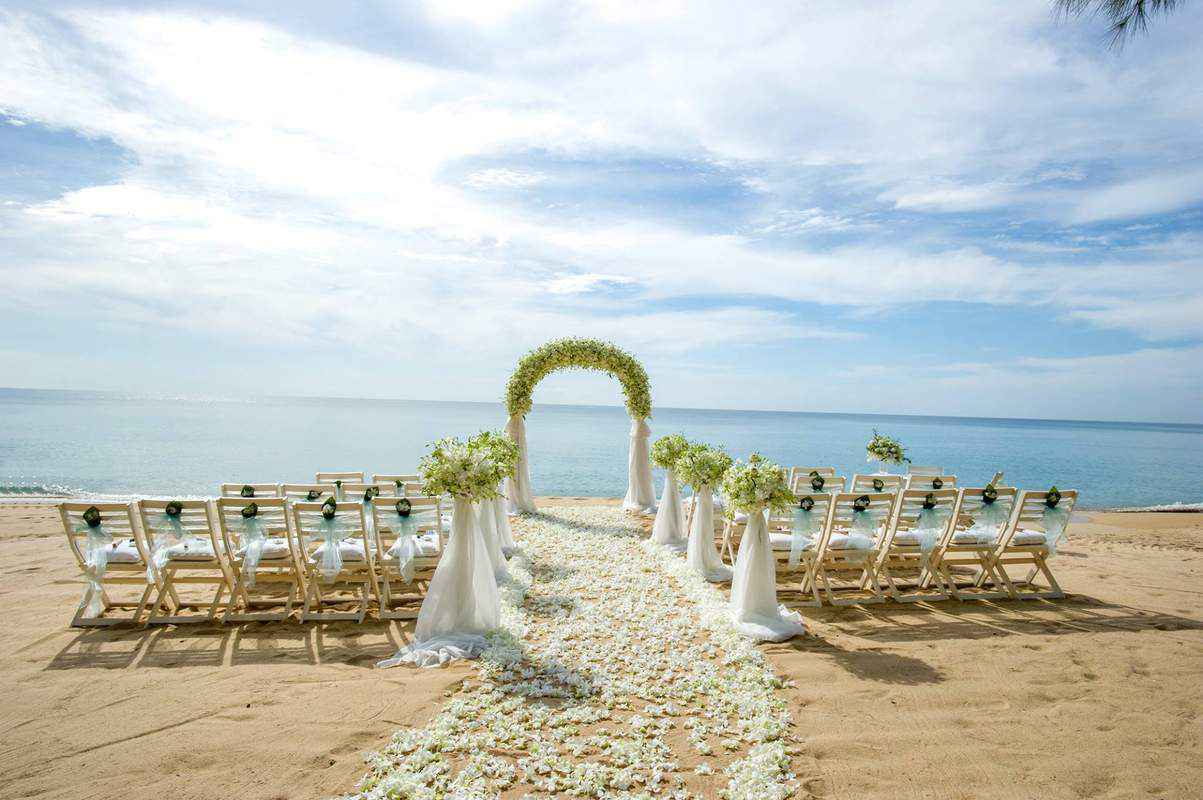 The Pavilions Phuket is your perfect honeymoon and wedding destination. Featuring three award-winning bars and restaurants with gourmet cuisine prepared by an exceptionally skilled international culinary team.
Unwind with state-of-the-art amenities including spa and wellness center offering relaxing treatments and massages, a world-class lap pool and a fully equipped fitness centre.
Enjoy inspiring international taste sensations and authentic unique local cuisine, with mindful, personalised services and stunning views. From the tantalizing tastes of our full gourmet dining options to relaxing by the pool with expertly crafted cocktails, the range of wonderful dining experiences at The Pavilions is sure to enhance your once in a lifetime Phuket wedding!
Get your obligation free quote here.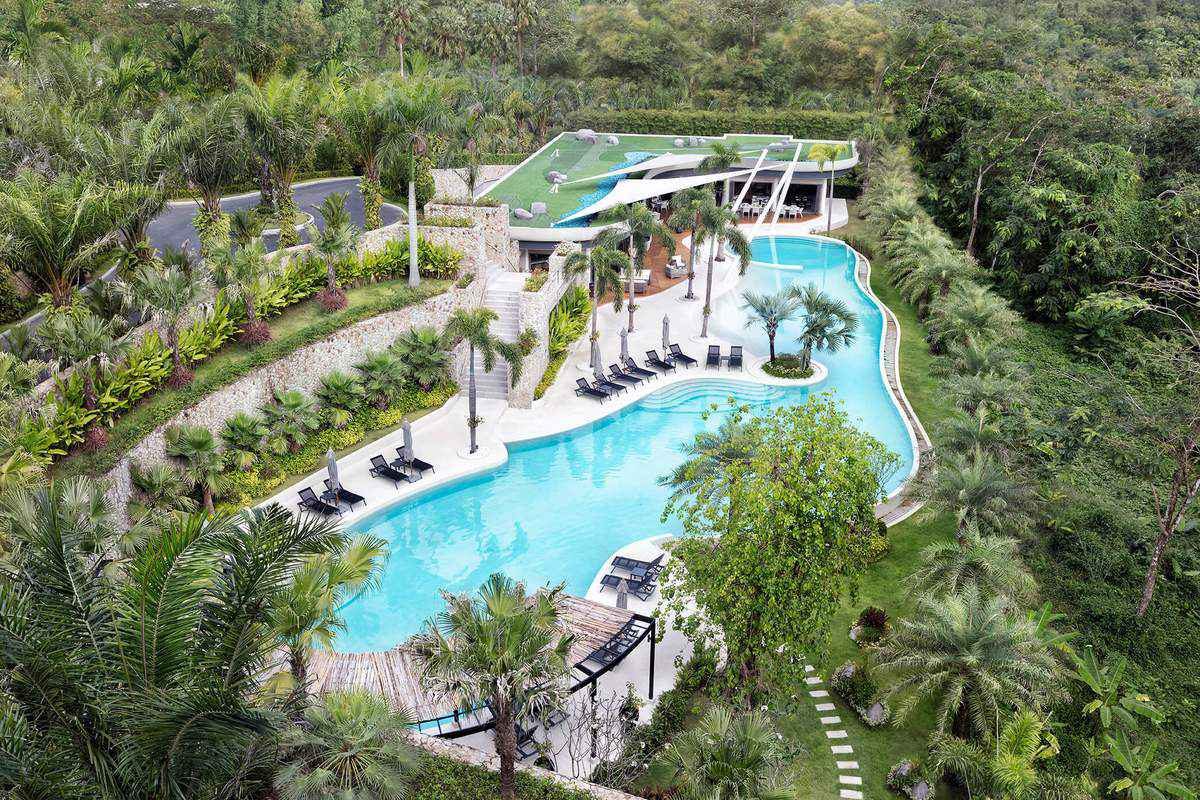 Explore one of the best wedding hotels in Phuket
Cascading down a lush tropical hillside at Kamala Bay with 201 elegant, spacious and contemporary rooms and suites offering private balconies with spectacular panoramic sea and sunset views. World-class facilities include: two restaurants serving International and Asian cuisine; a poolside bar with stylish private cabanas; a clifftop Tapas bar with complete entertainment lounge and infinity pool; Nahm Spa; Camp Hyatt kids club; dive center with sustainability initiatives, snorkeling and diving at the house reef; hilltop Regency Club; fitness center with wellness activities; indoor function rooms and outdoor event space with sea views; the largest seafront infinity pool in Phuket, and curated experiences. Also, the newly-renovated spacious and contemporary rooms showcasing spectacular views of the Andaman Sea are always available for your friends and family.
Download your free wedding packs online here.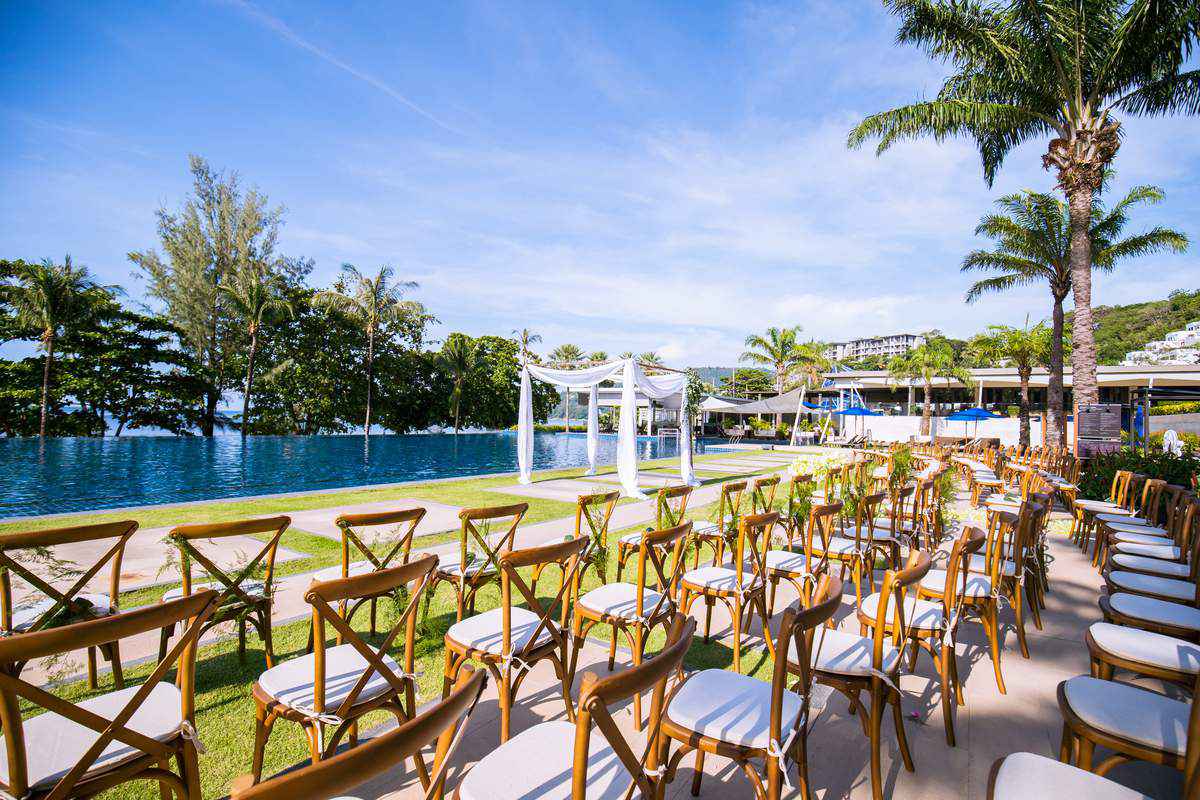 Phuket luxury wedding resort anticipates your every need, from accurate service to cutting-edge world-class facilities, from sunrise yoga to sophisticated Italian and Thai cuisine, from beach picnics to diving in Phang Nga Bay. COMO Point Yamu wedding venue offers 360-degree views across the Andaman Sea and the ancient limestone karsts of Phang Nga Bay. 
The wedding and honeymoon venue is located at the tip of Cape Yamu in Phuket, Thailand. The interiors of each room, suite and pool villa have been crafted by Italian designer Paola Navone, featuring bright aquamarines to reflect the beautiful ocean.
Request for a free online wedding packages quote here.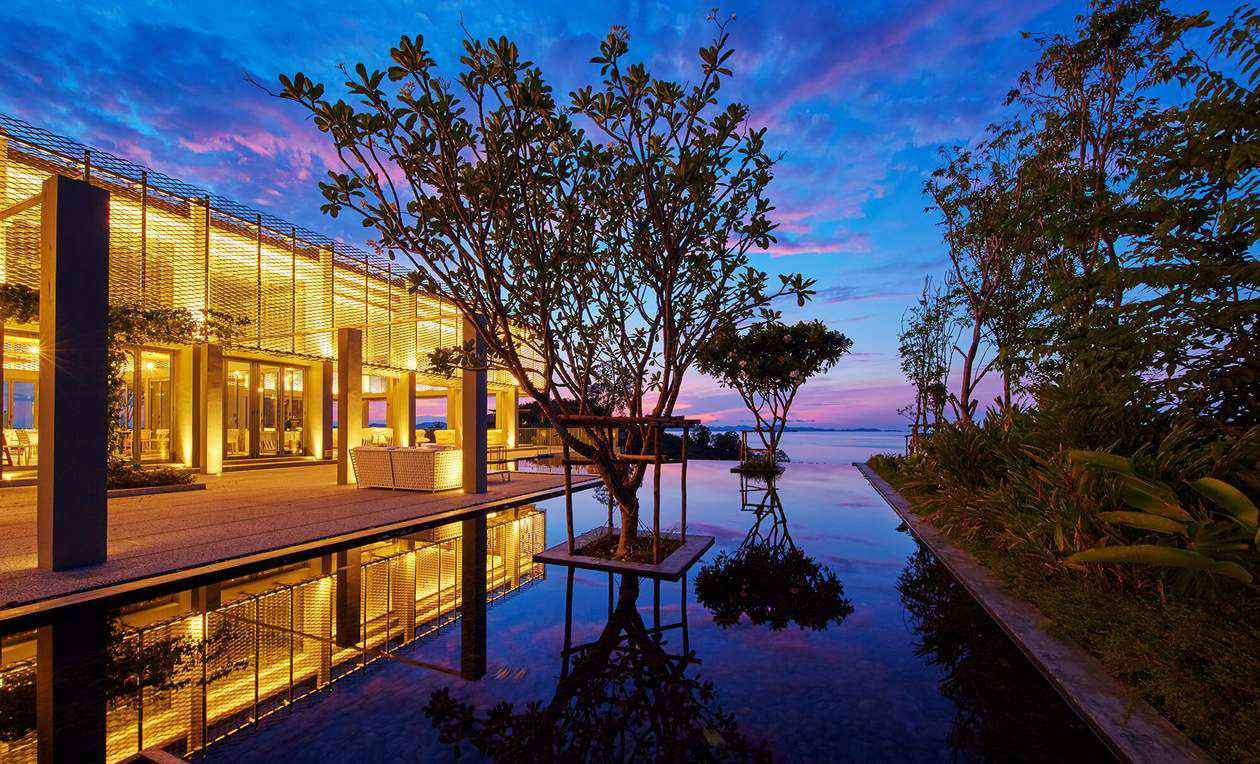 Akyra Beach Club Phuket Resort offers 42 stylish rooms and suites perfect for your dream Phuket Wedding and Honeymoon, but if you want to go big, there are 16 villas for friends and families to enjoy. Designed with contemporary Thai influences and an eye on the stunning surroundings, the elegant accommodation opens onto balconies or garden terraces offering an ultimate tropical sanctuary vibe.
Flexible and budget friendly wedding packages are available. Download their free wedding packs here.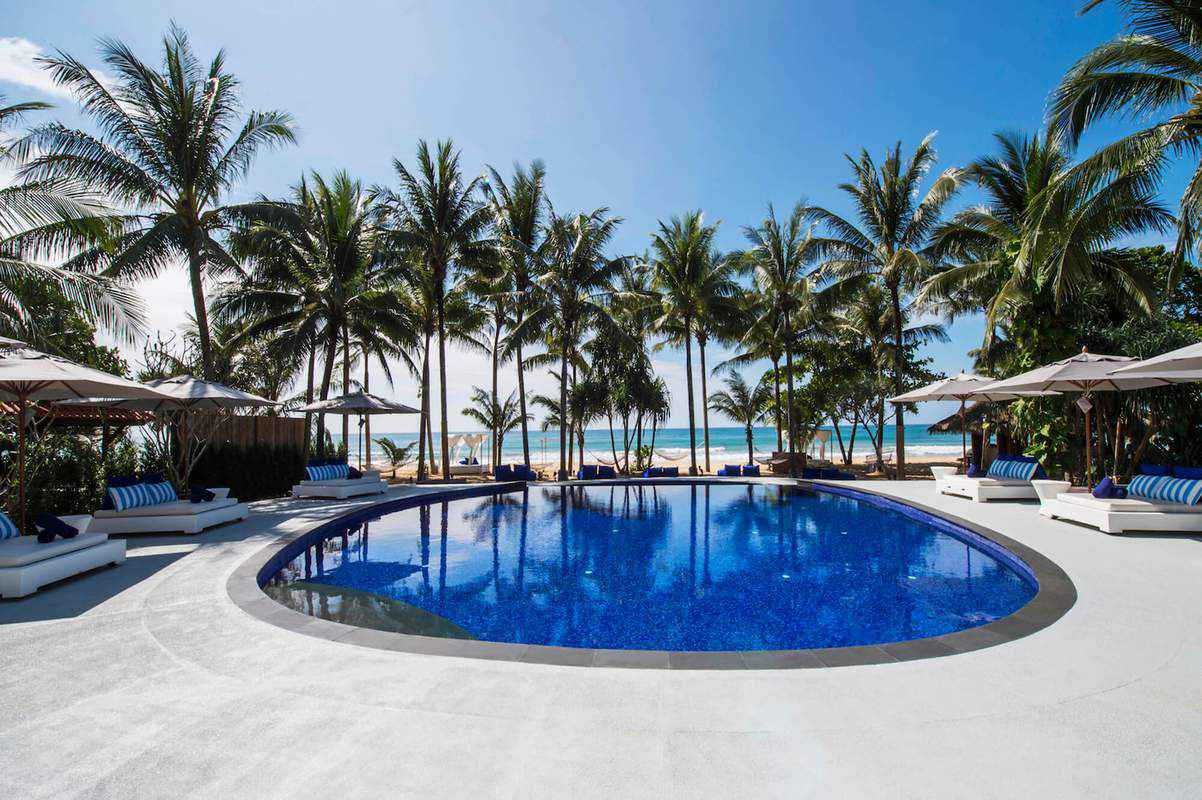 Phuket's Most Luxurious and Private Pool Villa Beach Resort 
On a secluded cove nesting in the tropical hills of northwestern Phuket, a stroll on the shores of the crisp blue Andaman Sea inspired a vision. Here, among centuries-old ficus trees and breezy coconut and fishtail palms, we envisioned a place where land and sea come together, where culture and heritage can flourish and anchor life's journey. This is our version of Trisara – a garden in the third heaven.
Inspired by Thailand's rich heritage, rooted in timeless tradition and bound to nature, Trisara offers sincere, generous experiences that celebrate spiritual and physical well-being and encourage moments of reflection and connection. Our intimate community of private villas and residences sit on terraced, tropical hillsides and look straight out to sea.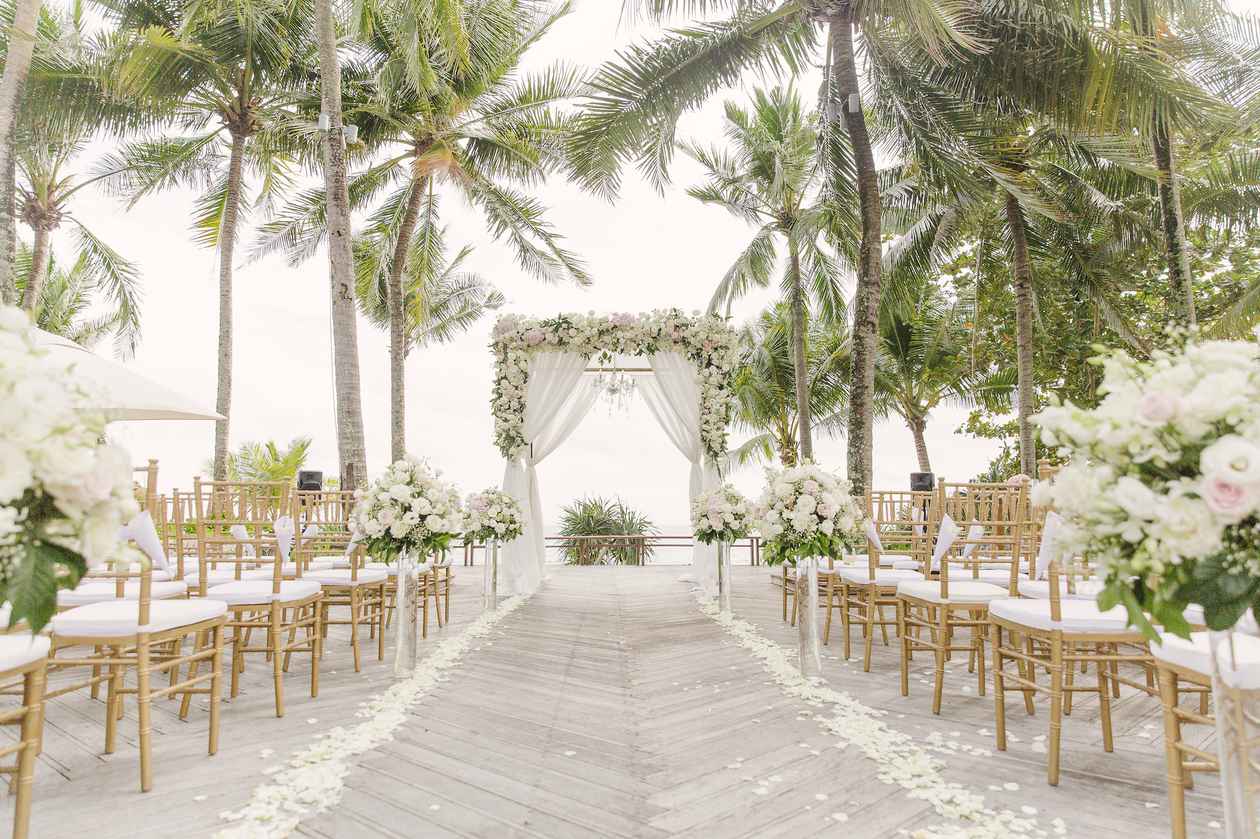 A search for the idyllic and the refreshing has brought us together at Paresa, the heaven of all heavens where the outside world fades away and time stands still.
Perched on the seaside slopes, amid tropical forests, over azure blue waters and a picturesque panorama of the Andaman Sea, Paresa is an oasis of tranquility and unrivalled luxury. Cocoon yourself in style within a five-star Phuket resort that is the island's best kept secret, along its most spectacular coastline at Paresa luxury Kamala Resort. A secluded retreat to get away from it all and enjoy an island escape.
'Heaven of all Heavens' denoting the highest levels of all the Hindu heavenly realms.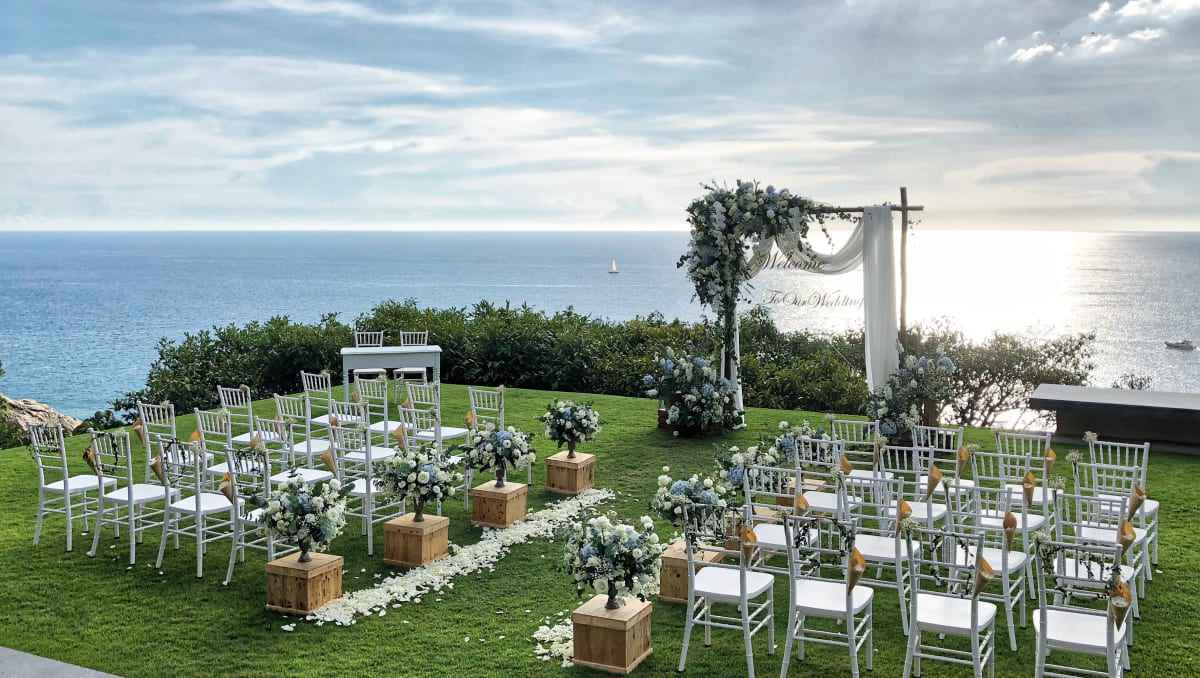 Whether you are planning a large, lavish banquet or an intimate wedding celebration, REAL WEDDINGS will help you plan all the details to ensure your special day is everything you dreamed it would be. For enquiries, contact us today and we'll be happy to assist you!