How did you meet? 
We first met many years ago through many mutual friends. But it wasn't until 2 years ago when I walked into Fuel Café before my hair appointment next door and saw Andrew having some lunch with his friend Fabio that our life together really began.
Andrew and Fabio asked me to sit with them. Andrew really wanted me to stay, he kept offering me food and endless coffees and even asked me to cancel my hair appointment. Instantly he made me feel safe and we both felt at home. Needless to say, we hit it off immediately and this was the start of our beautiful love unfolding. 
Since then, we have been an integral part of each other's, and our family's lives and this brings us to the lifelong commitment we made on our wedding day.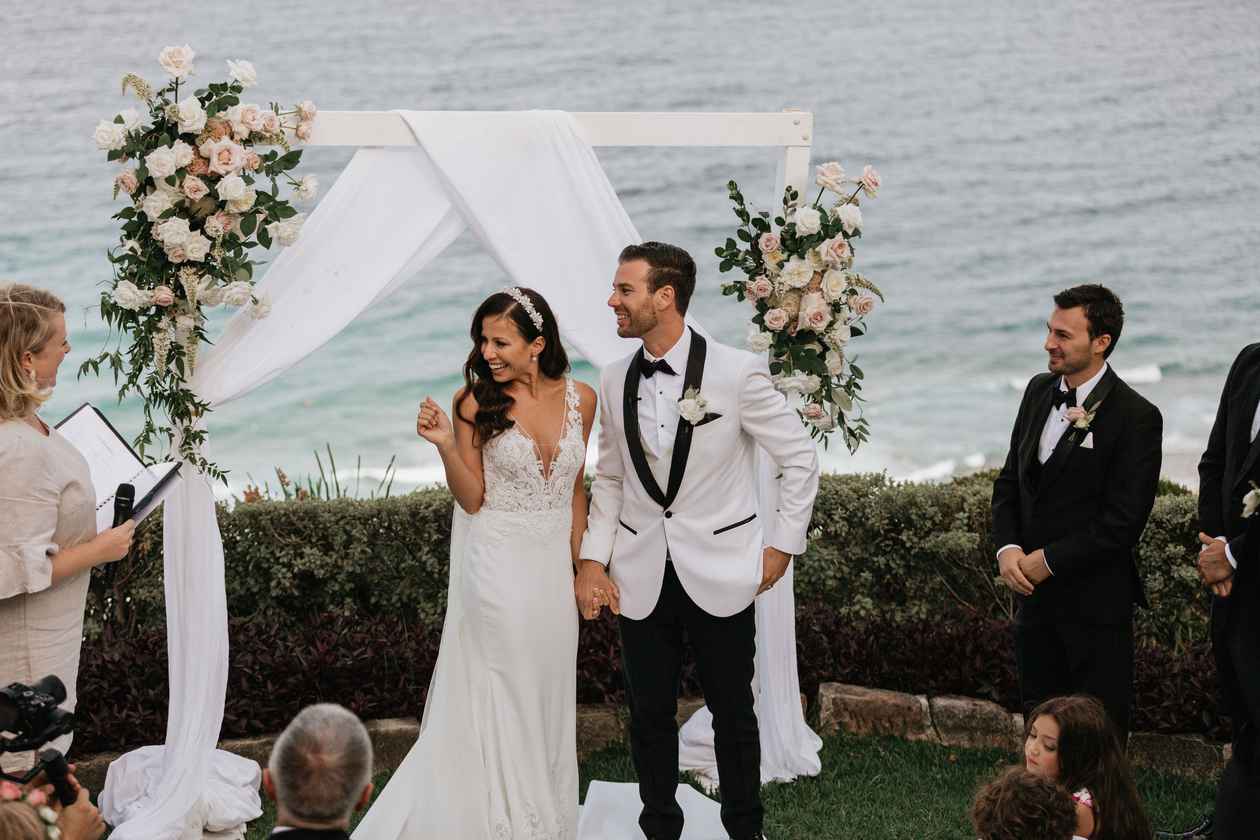 Tell us about the proposal. 
Andrew proposed at our favorite restaurant Ormeggio over the June long weekend. Andrew had called Ormeggio earlier to book our favorite table and let the staff know of his plans. After a degustation with matching wines – Andrew ended the long boozy lunch by getting on one knee with the ring in hand. I immediately said 'Yes' and we both cried and kissed. 
The staff at Ormeggio were so wonderful, they even teared up watching the proposal.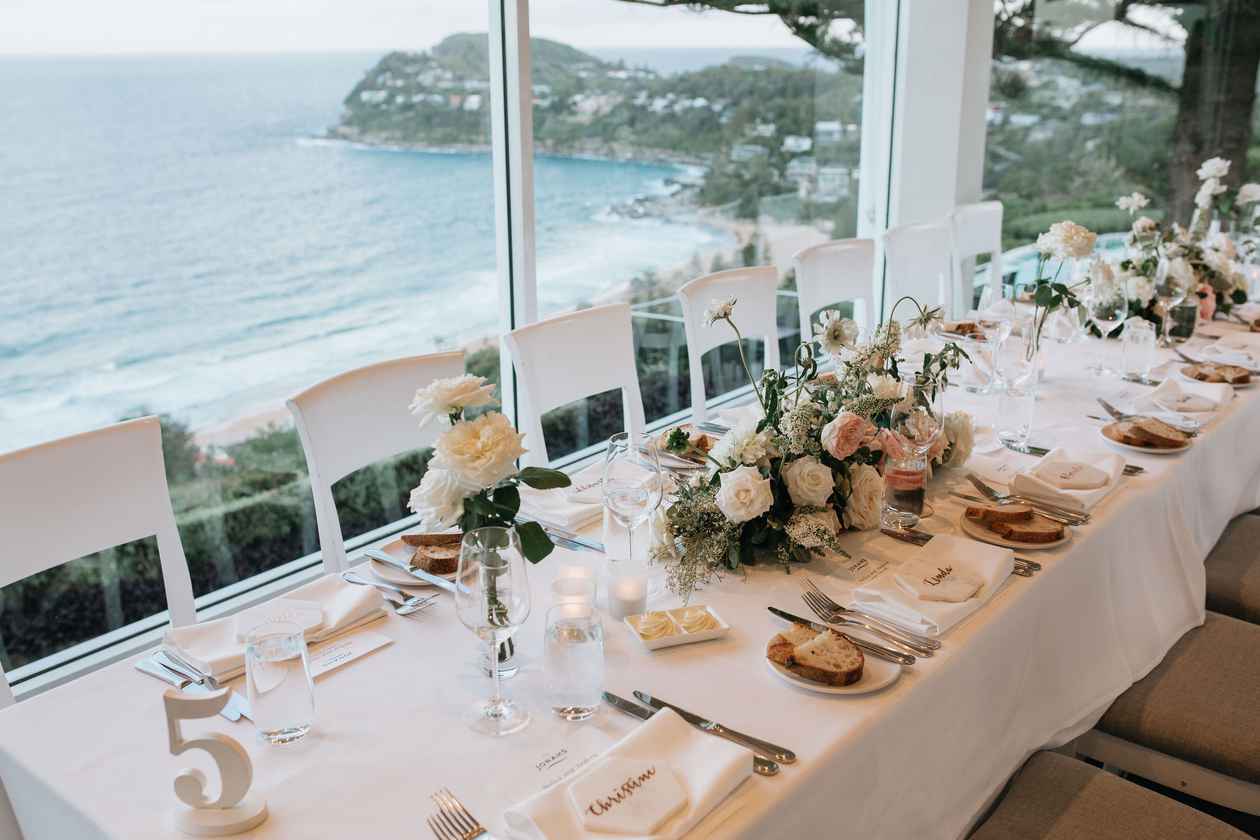 How did you choose your Venue and location? Why? 
I first went to Jonah's when my best friend Shari took me there for my birthday over 2 years ago. Every year Shari and I celebrate our birthdays by taking each other to a surprise restaurant and Jonah's was on the hot list to go to. The spectacular view, prestigious service, and incredible food were just some of the reasons why I loved it.   
 
At that time, I remember saying "One day I am going to get married here" – this was 2 months before Andrew and I met each other and started dating. I then took Andrew to Jonah's when we got engaged to view the venue and enjoy lunch overlooking the Whale Beach aspect – Andrew instantly loved it as it was everything that both of us are about – Good food, wine, and the ocean! 
 
We didn't even look at other wedding venues – we knew it would be simply perfect and it matched our own style.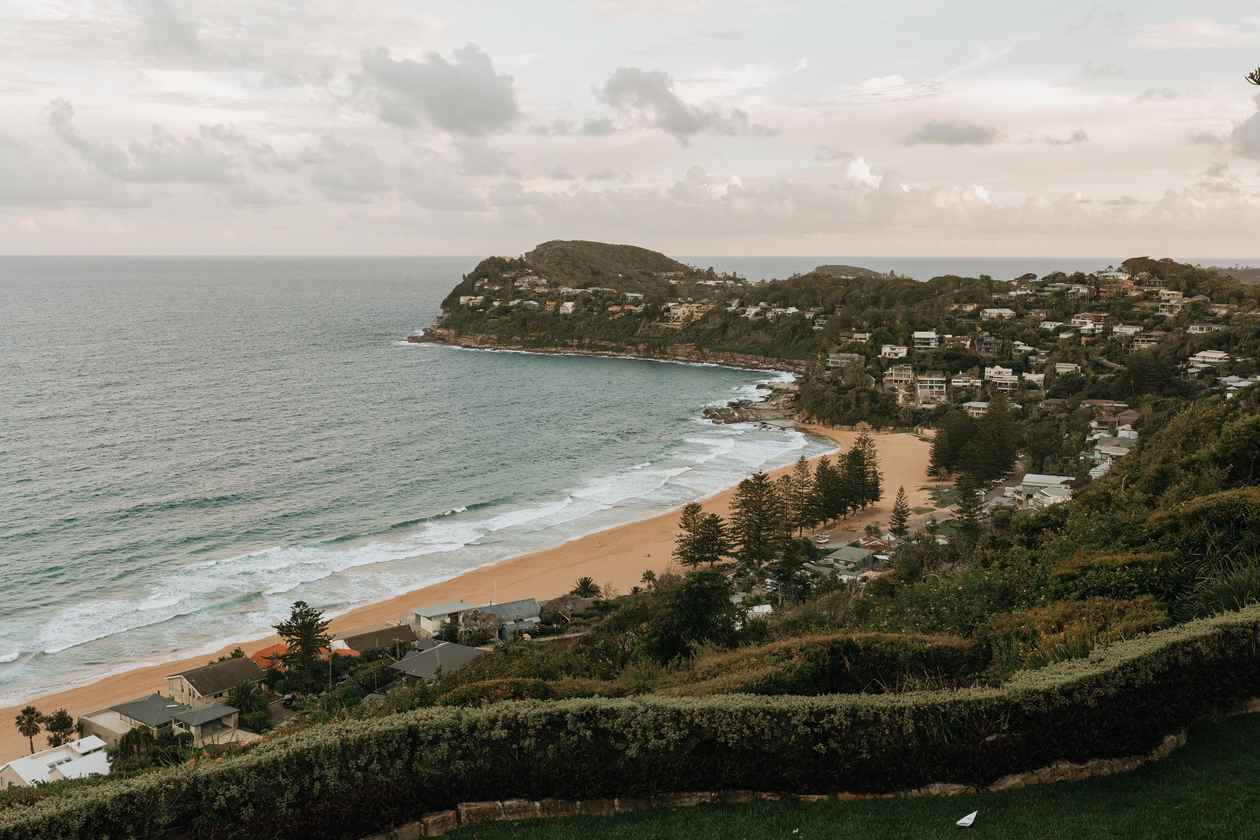 Tell us about your Gown(s) / Suit(s) (style, how you found it, what you loved about it). What about the bridal party fashion choices? 
I wore a backless Pronovias lace gown with a long train.
Andrew wore a white suit jacket and black tuxedo.
We chose tuxedos for the best men and pink Jadore dresses for the bridesmaids to match the overall theme of romance, class, and elegance.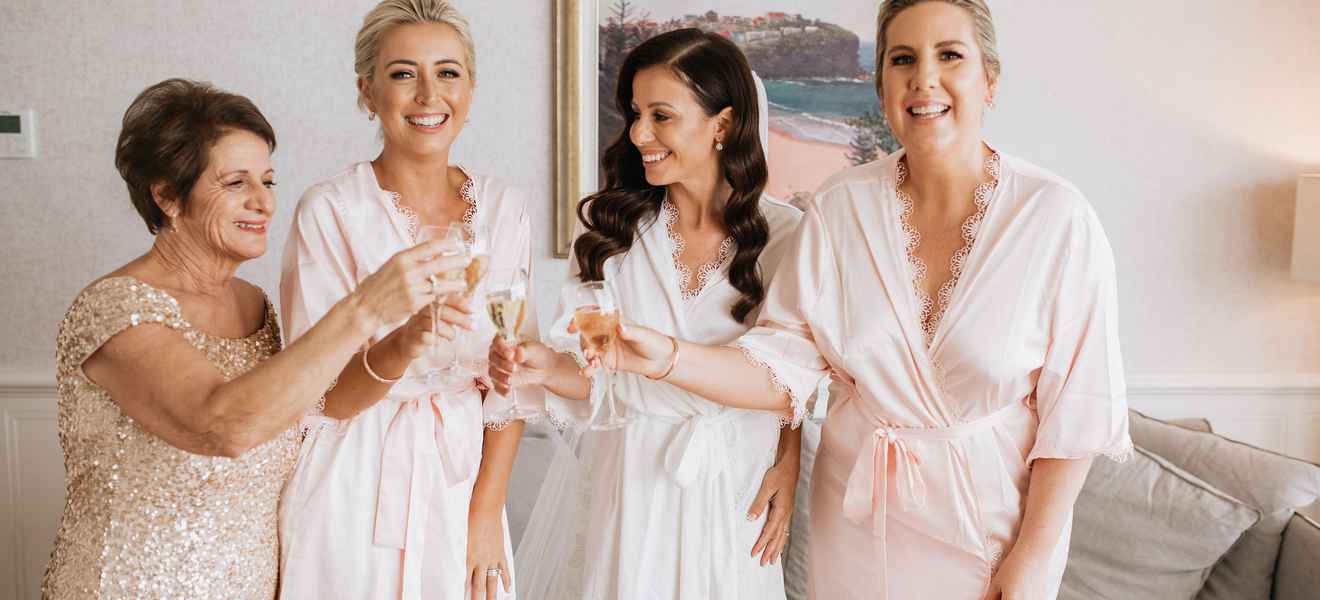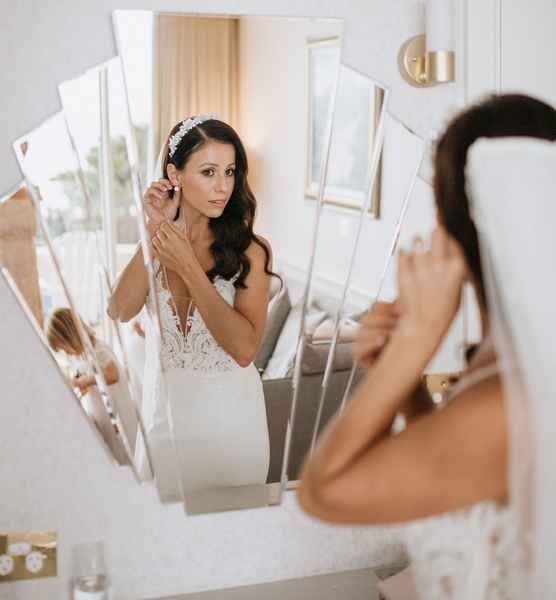 What Style / Styling did you choose for your wedding? (eg: color scheme, flowers, stationery, cake, transport, details, themes, inspiration, the overall "look and feel") 
The flowers we choose were garden roses in memory of my grandmother (Nonna Rose) who loved roses – white, blush, and peachy tones. 

The cake was from "By Gigi" – we chose a two-layer cake waterfalled with garden roses – coconut, lime and dulce de leche for the bottom layer and chocolate for the top layer.
Rose gold coaster place cards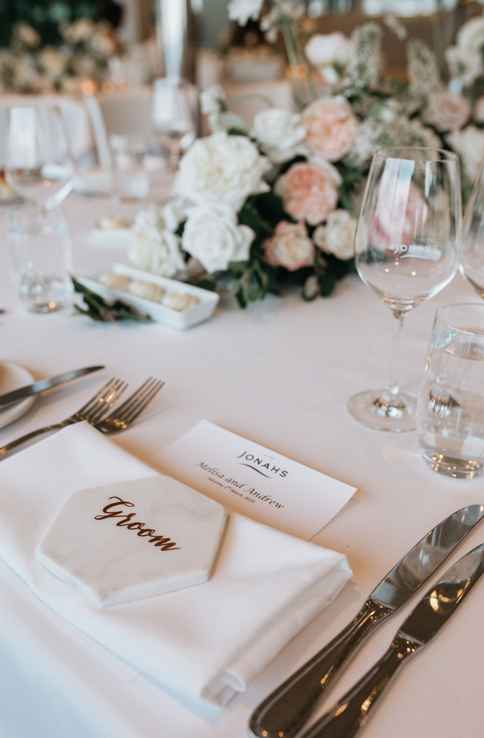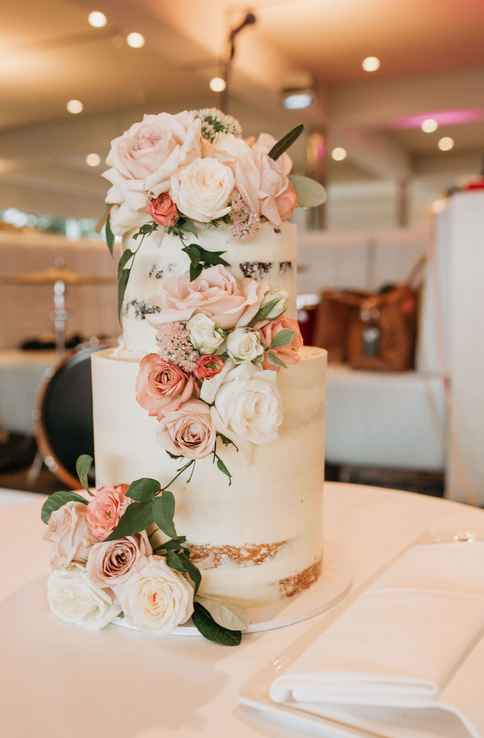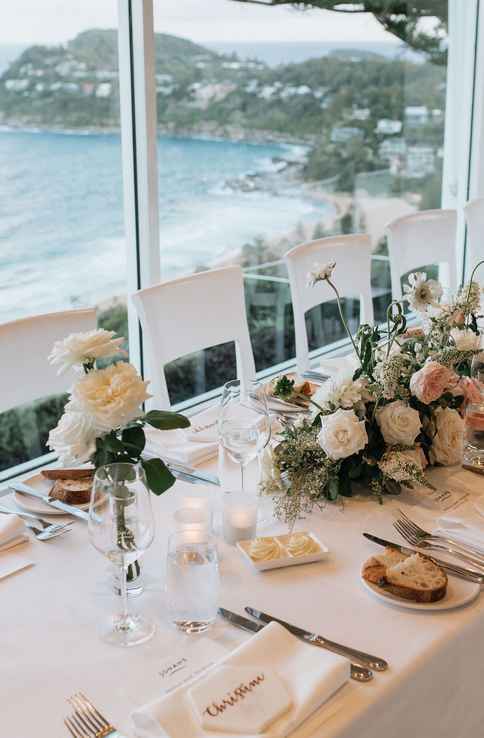 What were the highlights of your day? 
The biggest highlight for me was walking down the stairs overlooking magnificent Whale beach and locking eyes with my husband to be – seeing family and friends all there to support us on our big day was so special and a memory I will hold in my heart forever!
For Andrew – the biggest highlight was our first dance – we felt like we were the only two people in the room – what a blast!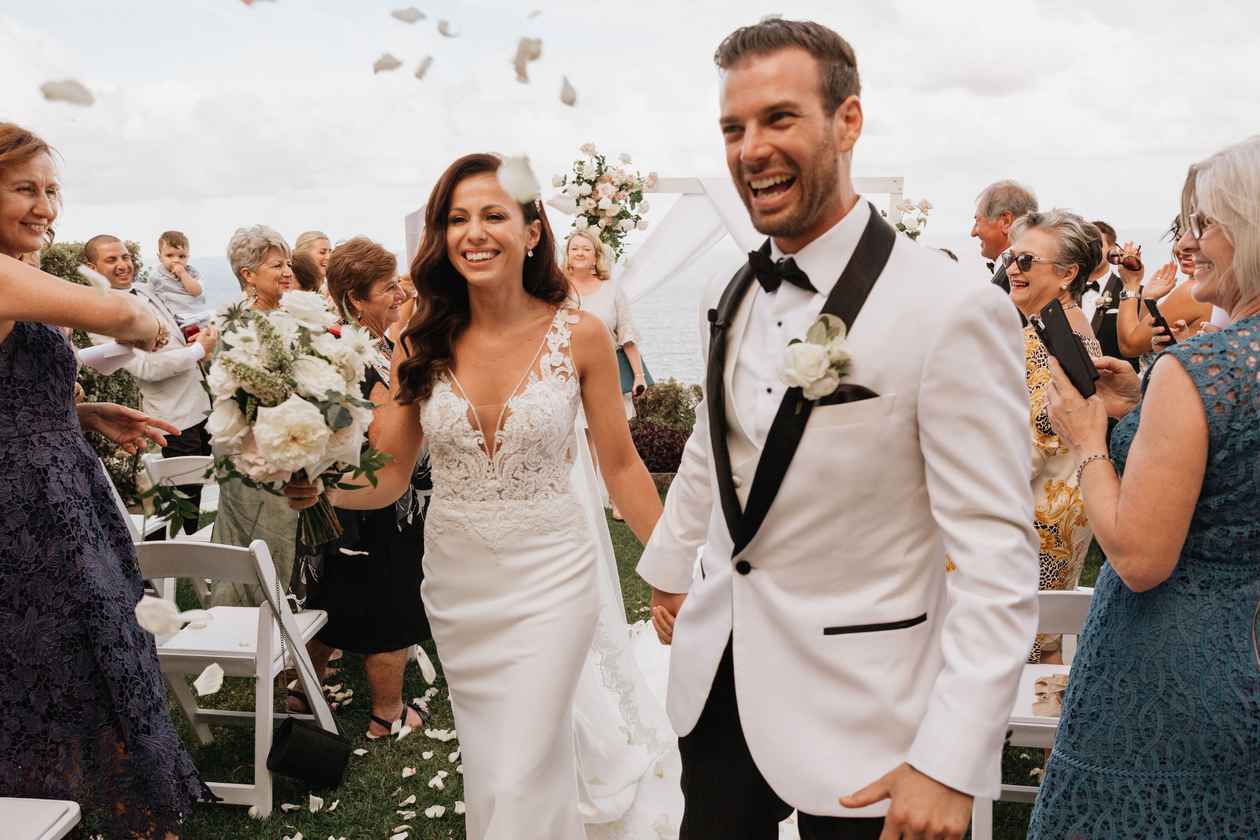 Tell us about any funny, poignant, challenging or emotional moments? 
A funny part was when our two flower girls started to walk down the aisle and then decided to turn back and head back to the restaurant – for a 3 ½ and 2 ½-year-old – they were super cute and everyone was giggling at their performance. We always knew our gorgeous flower girls would steal the show!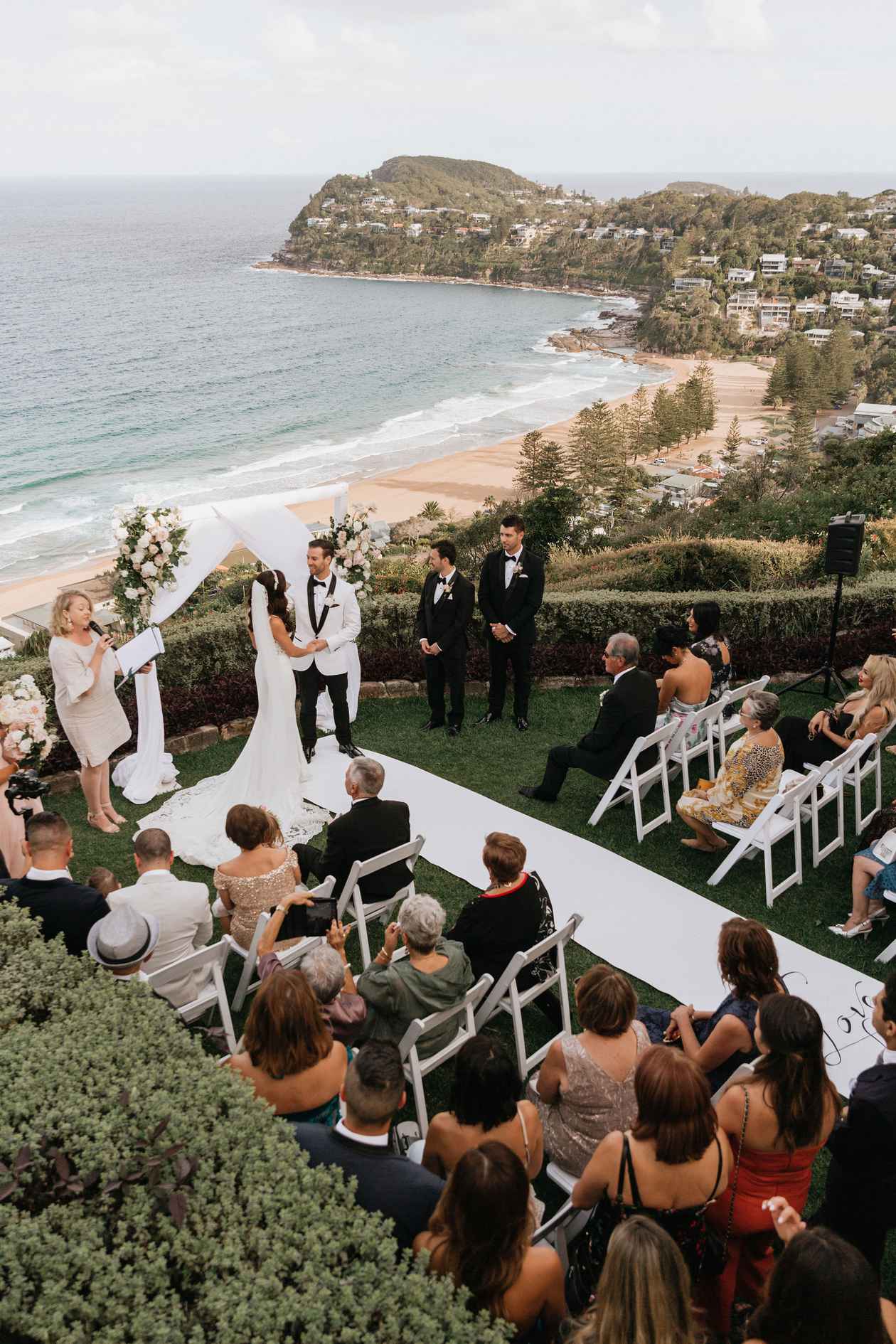 Where did you go for your Honeymoon? Why? 
We went to the 5 star resort Qualia at Hamilton Island – we had a private pool room where we just got to have some quiet time as a newly married couple. In July, we plan to go to Europe to enjoy the summer travelling through the South of France and South of Italy.  

Do you have any advice for other couples? 
We had great advice from previously married couples to ensure that we take a moment as Mr. and Mrs. Roman all to ourselves. We decided to take photos in between the ceremony and reception with just ourselves so we had time to reflect on what just took place and breathe at the moment together. 
When setting a budget – don't skim out on the venue, food, wine and spirits and definitely the band! If you want a big party – this is the cocktail mix for the perfect celebration! 
Is there anything else you'd like to add? 
Best day and night of our lives! Jonah's was the perfect venue and location and we couldn't be happier with the wonderful service and beautiful food! 

For more inspirational wedding stories, Visit Real Weddings to find your perfect Sydney wedding venue or get your obligation free quote today at Jonah's Whale Beach!