"As pilots, Jeff and I used to fly freight planes for separate companies. I would fly a freight route to rural New South Wales where Jeff was based. We met one day on the tarmac as cargo was being transferred between our aircraft. We had so much in common and our relationship blossomed from there.
Jeff and I had always dreamed of climbing Mount Kilimanjaro. Together we flew to Tanzania and started the trek. It was a challenging and inspiring experience. I started showing symptoms of altitude sickness 2 days into the 8-day trek but Jeff was so encouraging and supportive. At 5895 metres above sea level, Jeff proposed on the summit of the mountain."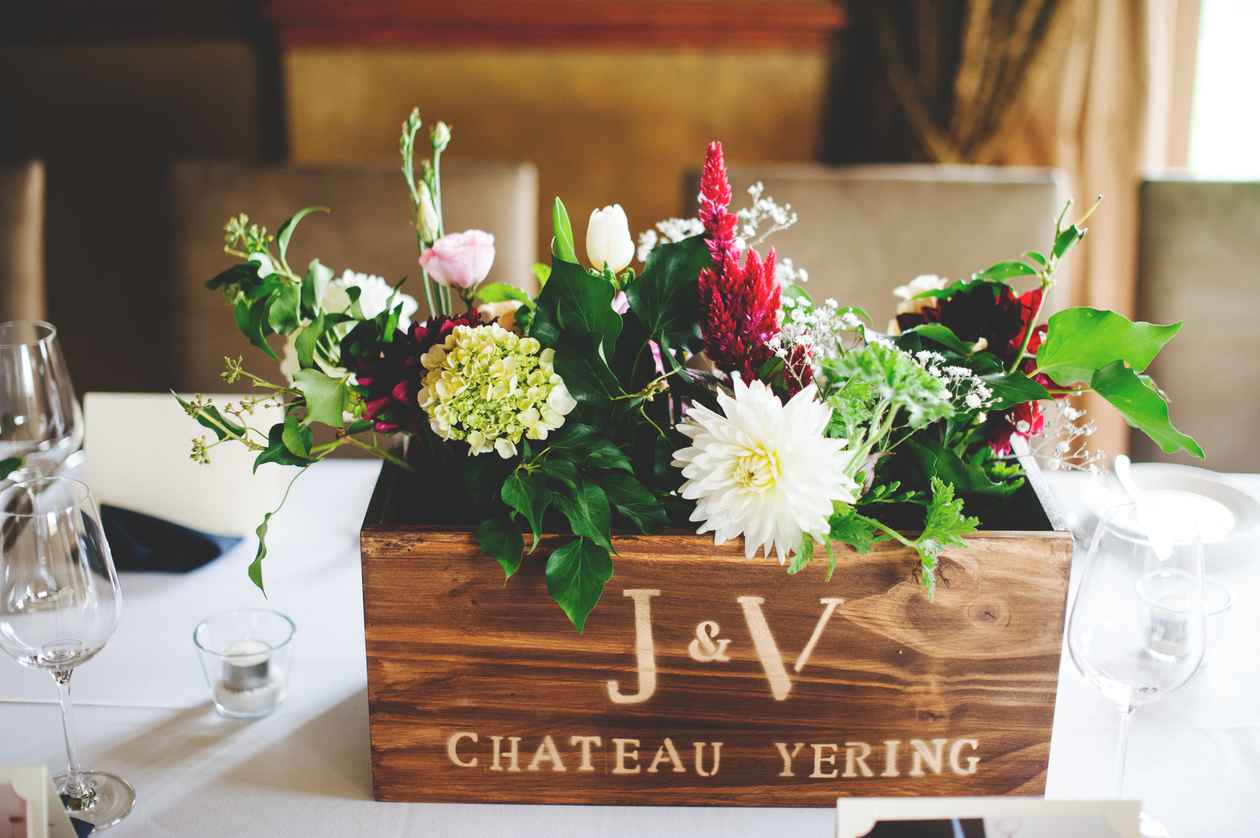 "According to Jeff, while we were scrambling down the side of Mount Kilimanjaro I started asking his opinion about the colour of my wedding shoes. Was it too early to start planning? On our return home I fast became a Pinterest addict.
Jeff and I knew it was important for the wedding to be personal so we decided to create the majority of the decorations ourselves. I had so much fun imagining and collecting decorations and it made the wedding feel intimate and unique. The day had an English garden party feel with a formal dress code. Navy, gold and maroon were the dominant colours and were showcased in the bridesmaids' gowns and the bridal bouquets."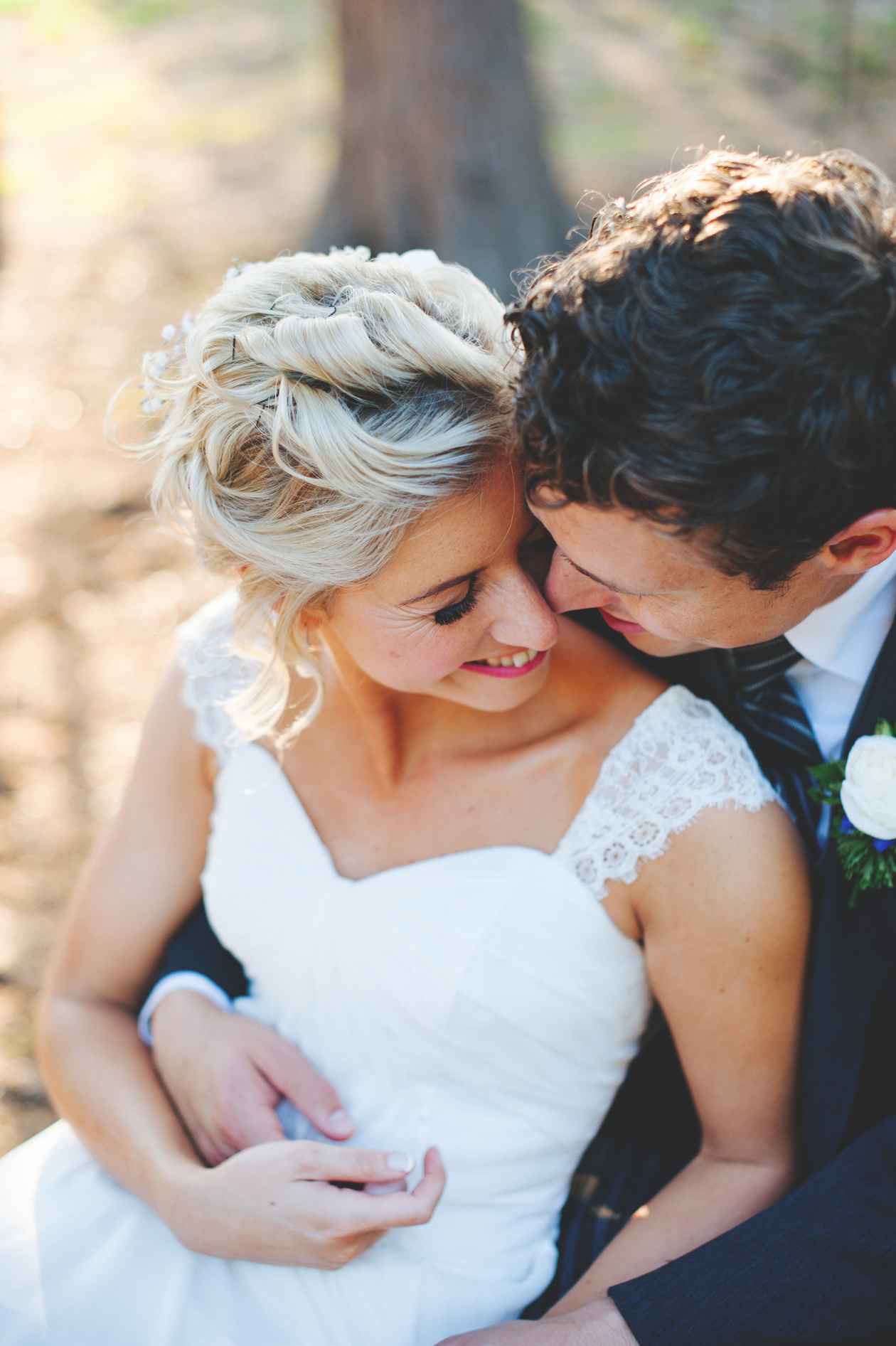 "We were married on the lawn of Chateau Yering beneath an old oak tree with sprawling branches. Jeff had constructed a ceremonial arch that consisted of 3 bits of pine that we stained a dark walnut colour. It was draped with organza and trailing ivy. 
The arch slotted into 2 large cream coloured stone pots and dahlias and other flowers budded from the soil. Paper garlands in navy and gold hung from the surrounding trees and reflected the sunlight. White chairs were set up in a semicircle and chalkboards with my favourite poems were propped up around the garden. I sourced pictures with gold frames from charity stores and sprayed their backing boards with chalkboard paint."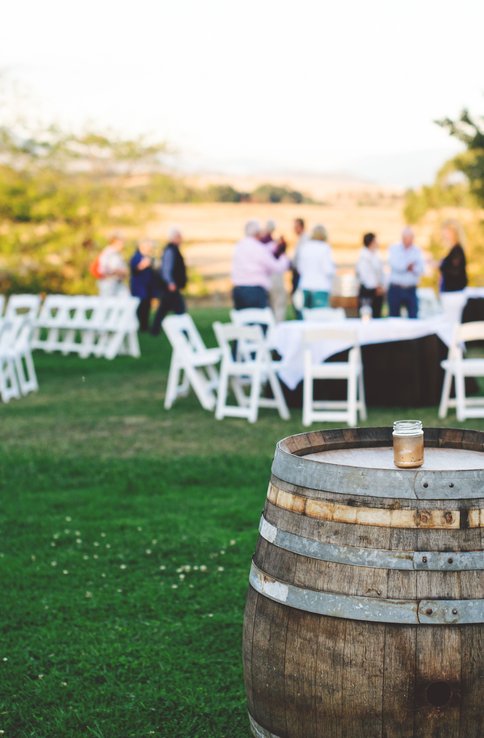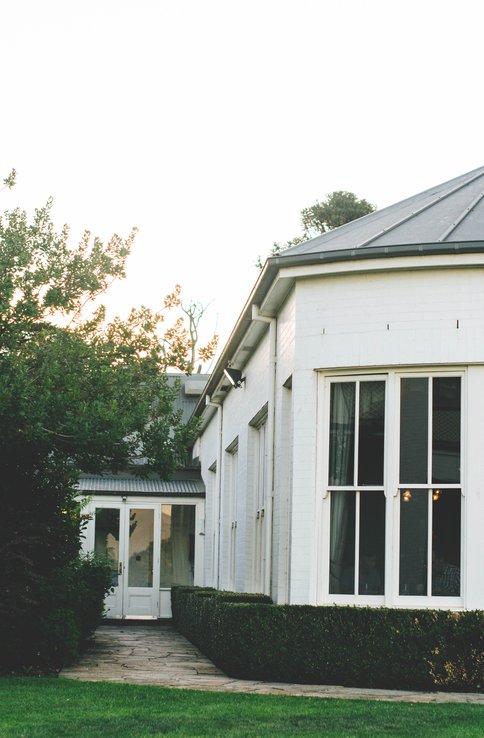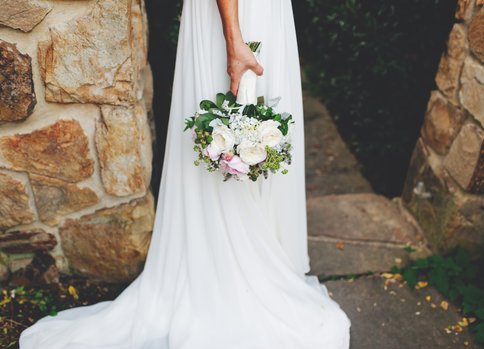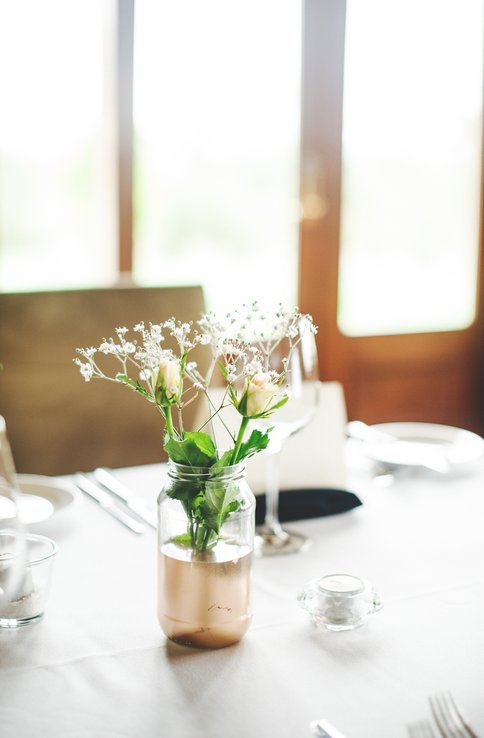 "We used navy napkins and white tablecloths on the 4 long tables that were set up at our reception. The centrepieces were wooden boxes that I had ordered through our local Salvation Army who employs handicapped workers and teaches them woodwork. I stained the boxes and stencilled 'J&V Chateau Yering' in gold spray paint. Hints of pink were found amongst the hydrangeas, roses, dahlias and baby's breath that were placed inside.
Each place setting had a photo of either Jeff or myself with the guest. The photo was mounted on a card and had a personal message inside. Some of the photos were touching and some were funny. For those guests we didn't have photos for, we gave a card and a disposable camera to rectify the problem. Although this was really time-consuming the photos served as great conversation starters."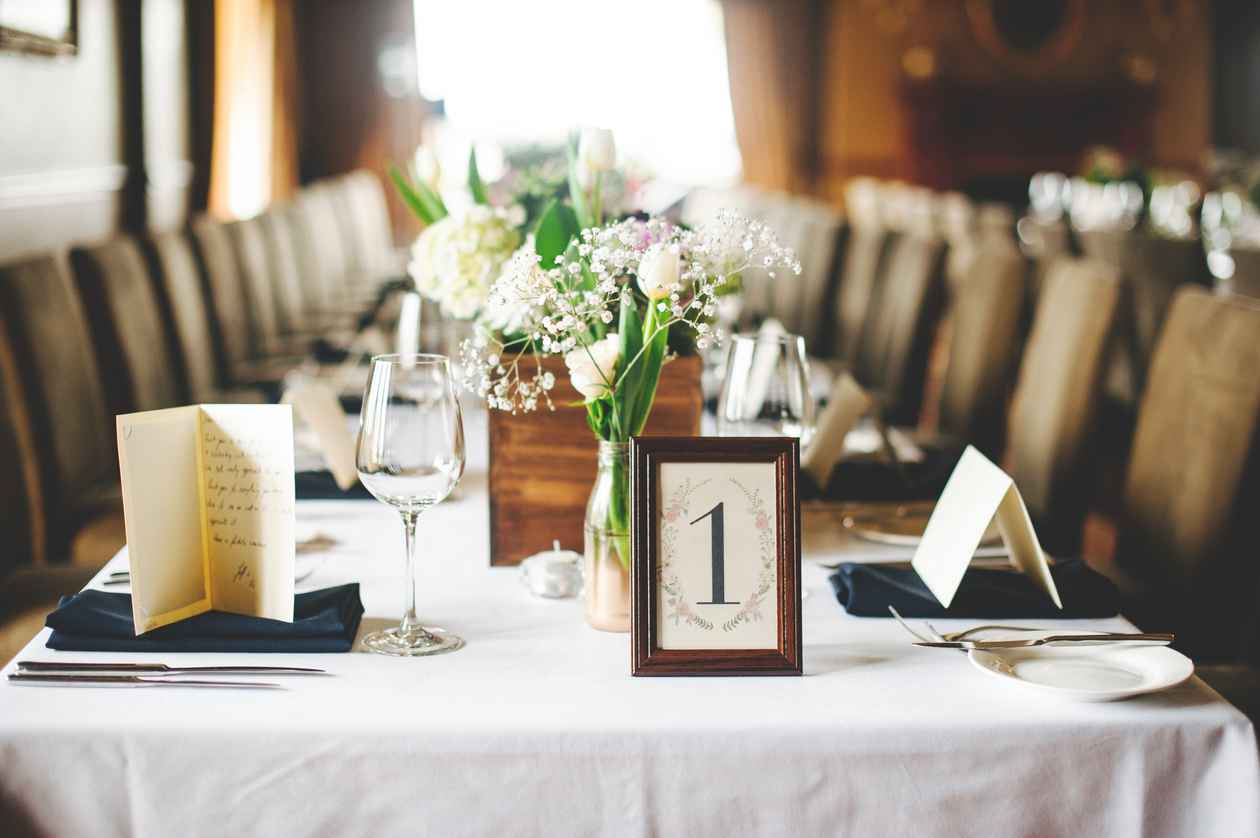 "Although initially sceptical about Jeff's choice of attire, the groomsmen loved their morning suits. They looked very smart and we had trouble making sure they didn't wear them prior to the wedding! Jeff also designed cufflinks for the groomsmen, himself and our fathers. They had a tanzanite stone from Tanzania where we were engaged."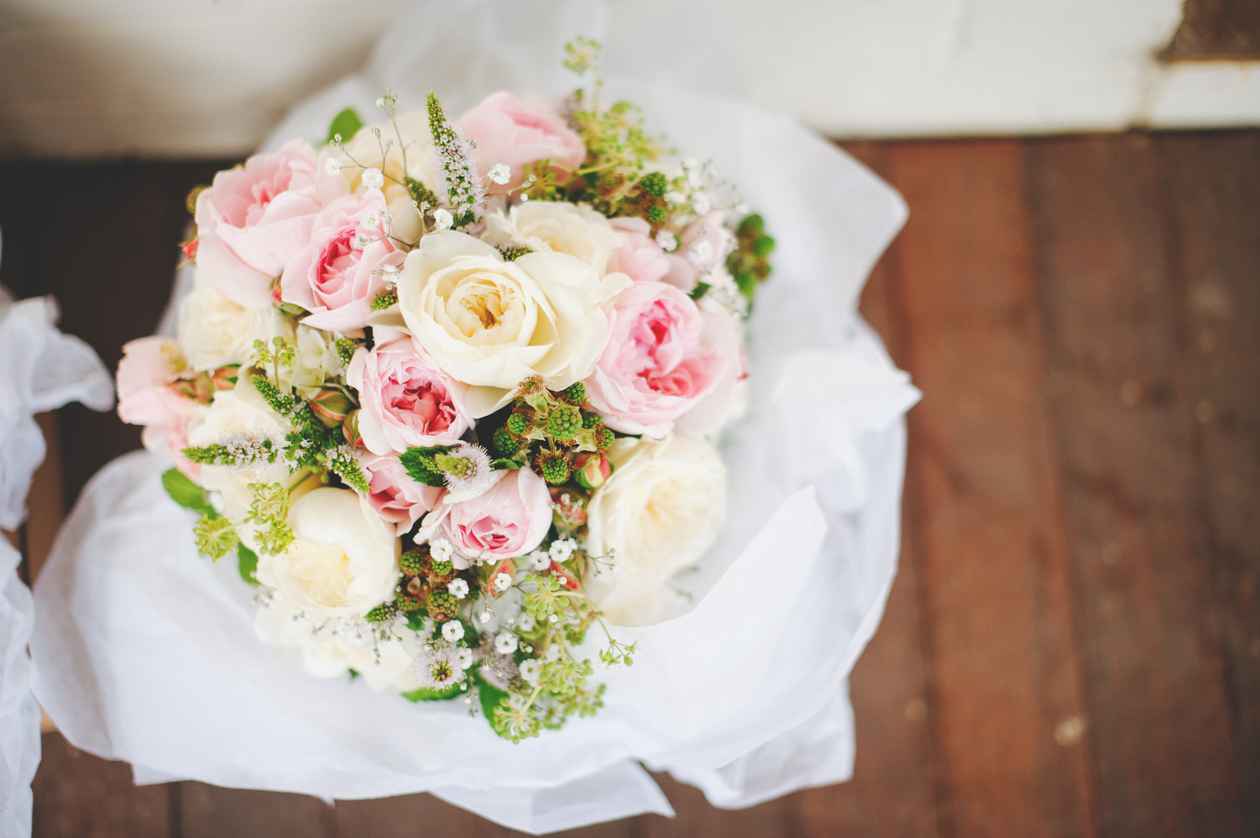 "Despite my frustration, (there were 16 pilots present at the wedding, surely we could do something to help) he didn't make it in time for the ceremony but finally arrived at midnight. Luckily we thought of a creative solution so all was not lost. 
Early the next morning our photographer kindly popped back to the venue to take some family portraits. Although there were some droopy buttonholes and our hairdos were slightly askew we put our wedding clothes back on and took some snaps. The funniest part was seeing the faces of the staff at Chateau Yering as we came downstairs!"
For more inspirational wedding stories. Visit Real Weddings to find your perfect Yarra Valley wedding venues!