1. How did you meet?

We met in 2011 on the second day of university. Although we studied different degrees, Max studied Paramedicine and I studied Exercise and Health Science, we shared a biology course. In our first biology tutorial I took the first seat I saw in the classroom which was at the end of a row nearest to the door. Max walked in after me and took the only seat next to me. When the tutor asked us to introduce ourselves and have a conversation with the person next to us, the only person next to me was Max. 
We spent the whole semester sitting next to each other and getting to know one another every Tuesday in our biology tutorial. In second semester we no longer shared a tutorial, so instead in the same hour every Tuesday afternoon we spent it surprising each other with fun activities in the city: dumplings, juice bars, laying in the sunshine in Carlton Gardens. 
Later that year, Max asked me to go as his date to the end of year university ball and we had our first kiss. We have always considered that our anniversary date. We went to our following 2 end of year balls together and then graduated together at the same ceremony, which was pretty special. The rest is history!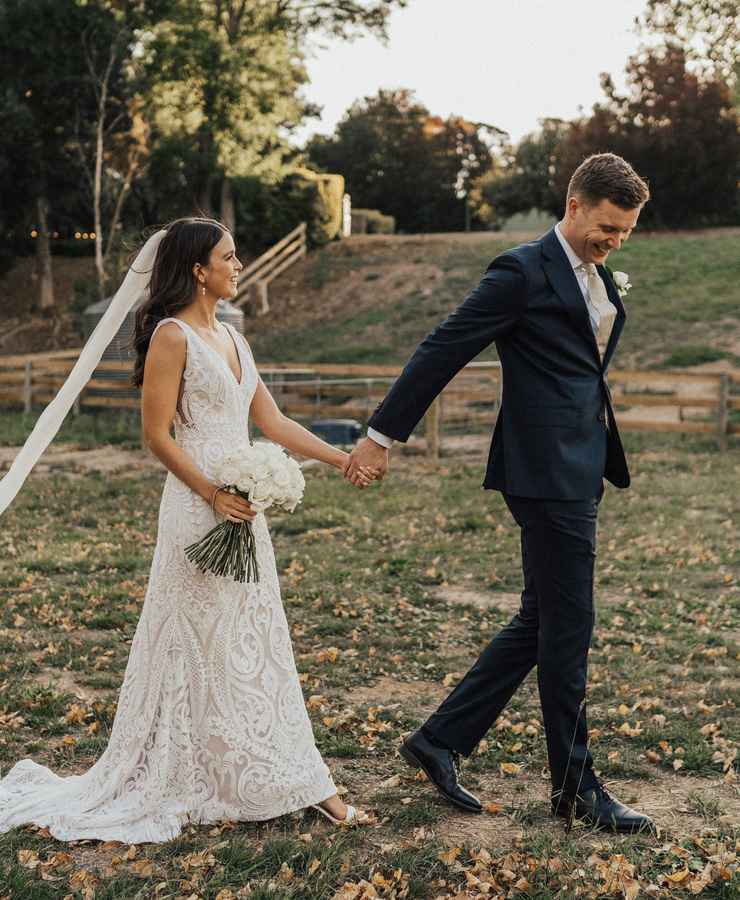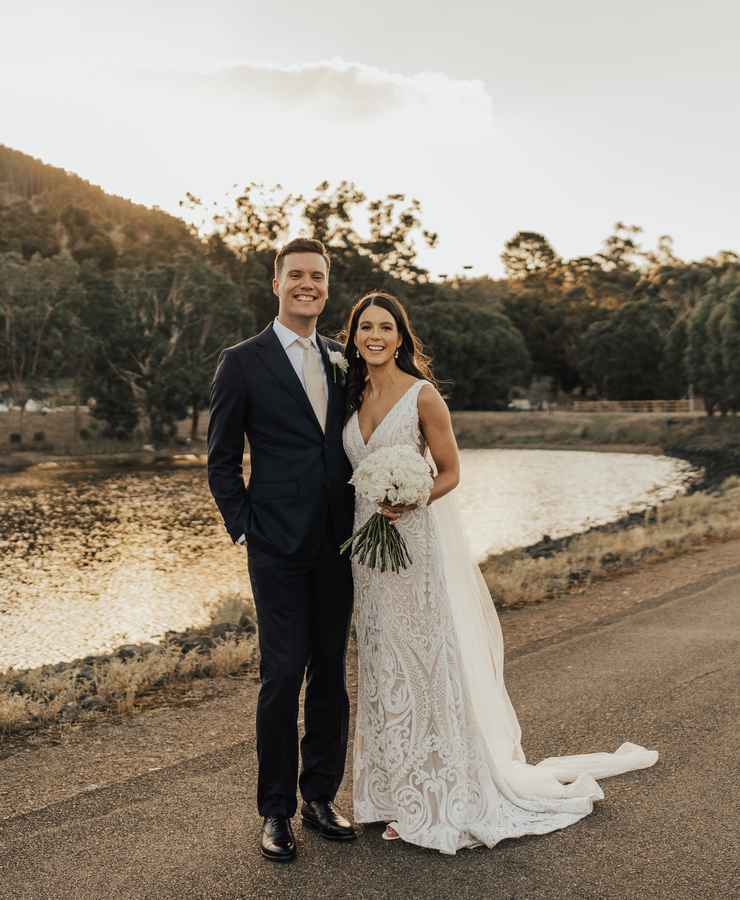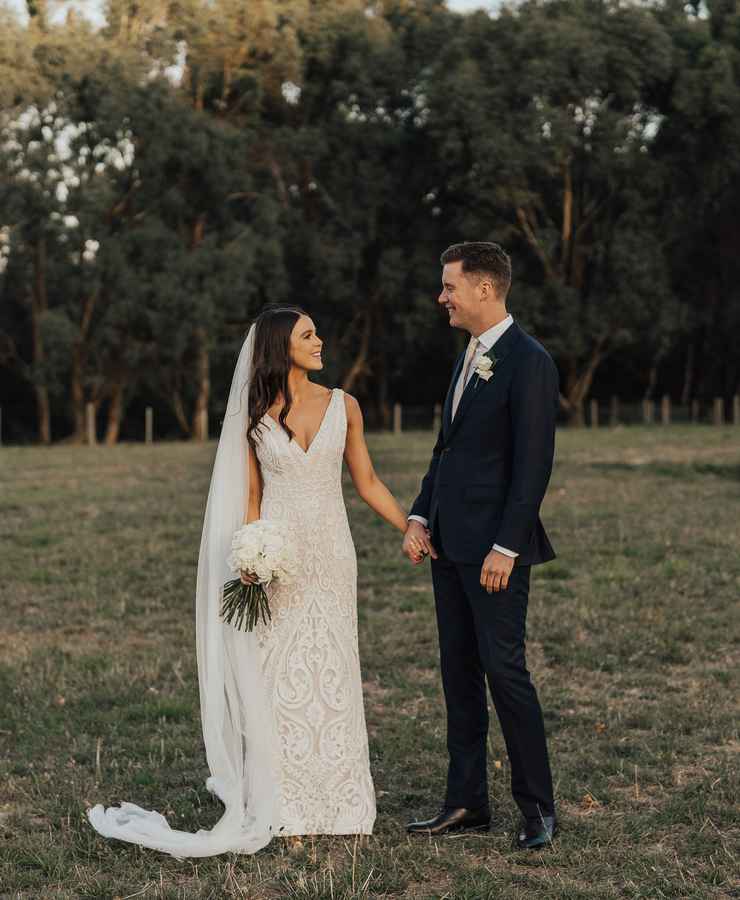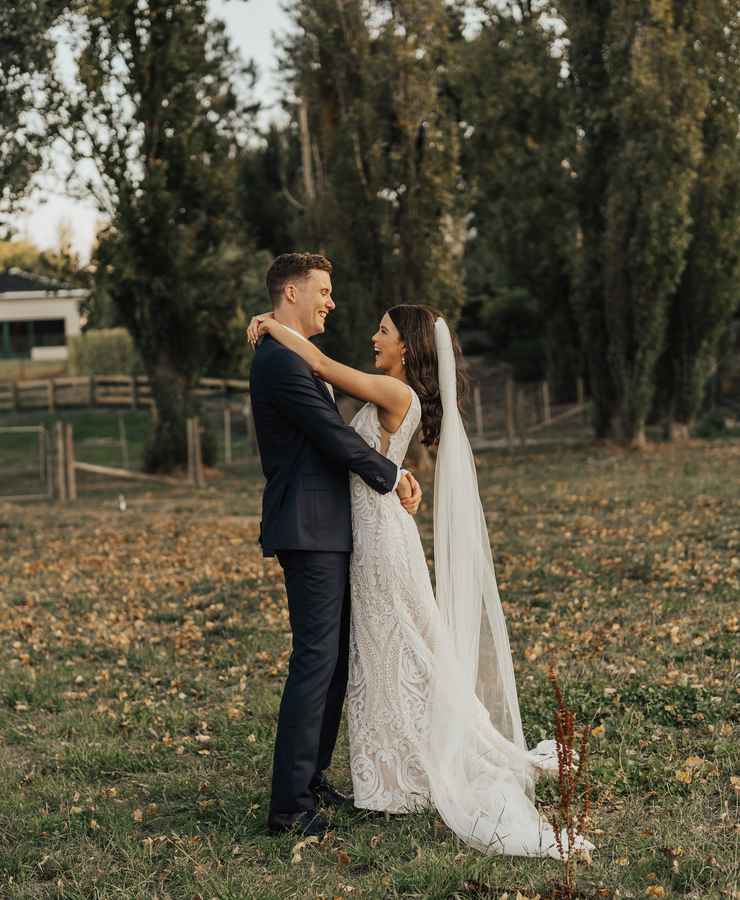 2. Tell us about the proposal.
 
Max proposed on a holiday in South Australia. We were 2 days into the holiday when we went on a hike from a waterfall up to the summit of Mount Lofty. On our walk down we went to a path that shot off to the side and Max said "I have a question for you". He got down on one knee and pulled out a ring box. He said "Do you want to get married?" and I said "Yes!" It was just us, out in nature, makeup free – it was perfect!  
We went on to have the most romantic and fun 2-week holiday exploring South Australia. We didn't tell anyone our exciting news until we got home. Having that big secret all to ourselves was really special. 
I found out later that Max had asked my dad for my hand in marriage several months earlier.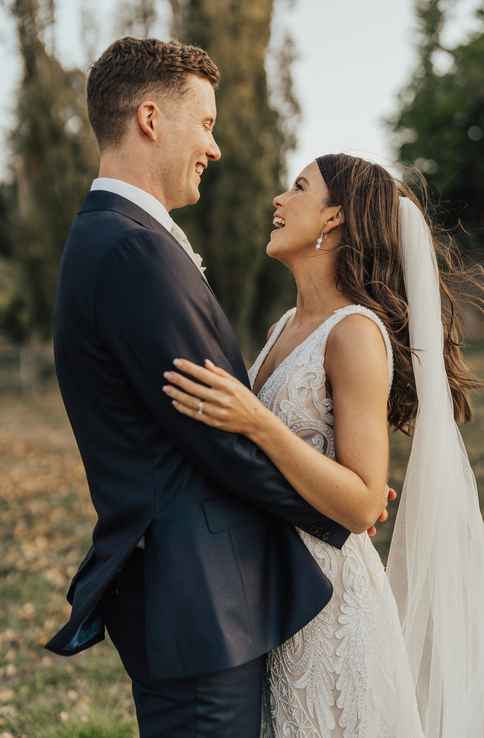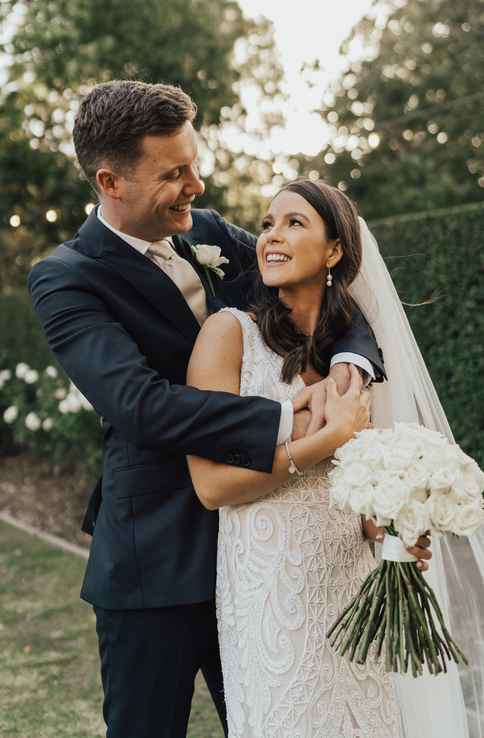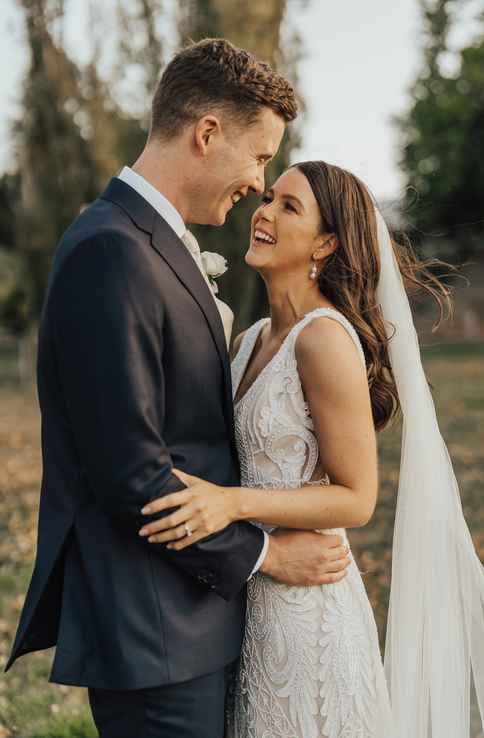 3. How did you choose your Venue and location? Why?
 
We wanted our wedding to be outside of Melbourne CBD, as we always feel so relaxed when we are away from the city and wanted that feeling on our wedding day. It was important to us that our venue had a beautiful location for an outdoor ceremony, as well as an amazing space for a reception. Flowerdale Estate was the perfect setting for our relaxed cocktail-style reception with rolling hills, beautiful lake and rooms for over 60 guests to stay the night. The grounds are beautiful and the team are extremely professional and helpful. We highly recommend this venue!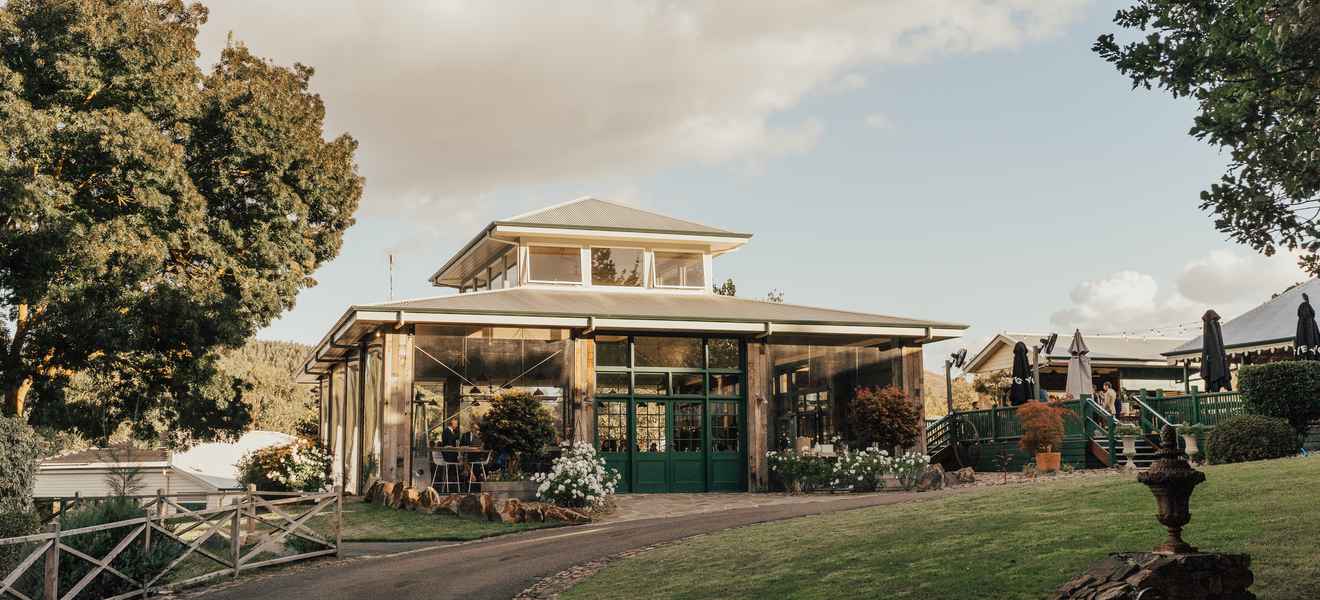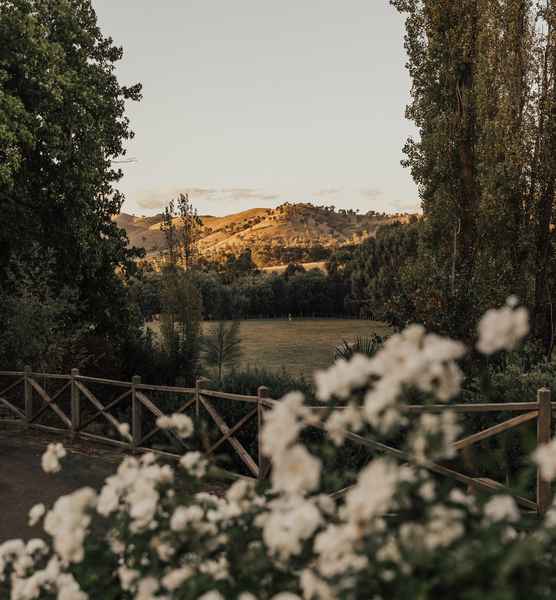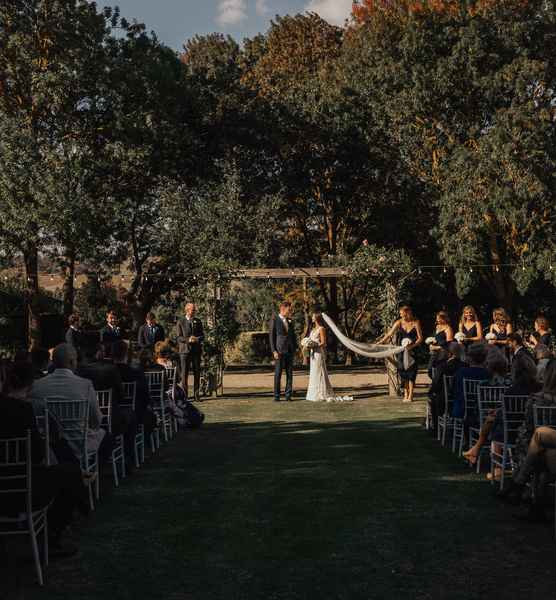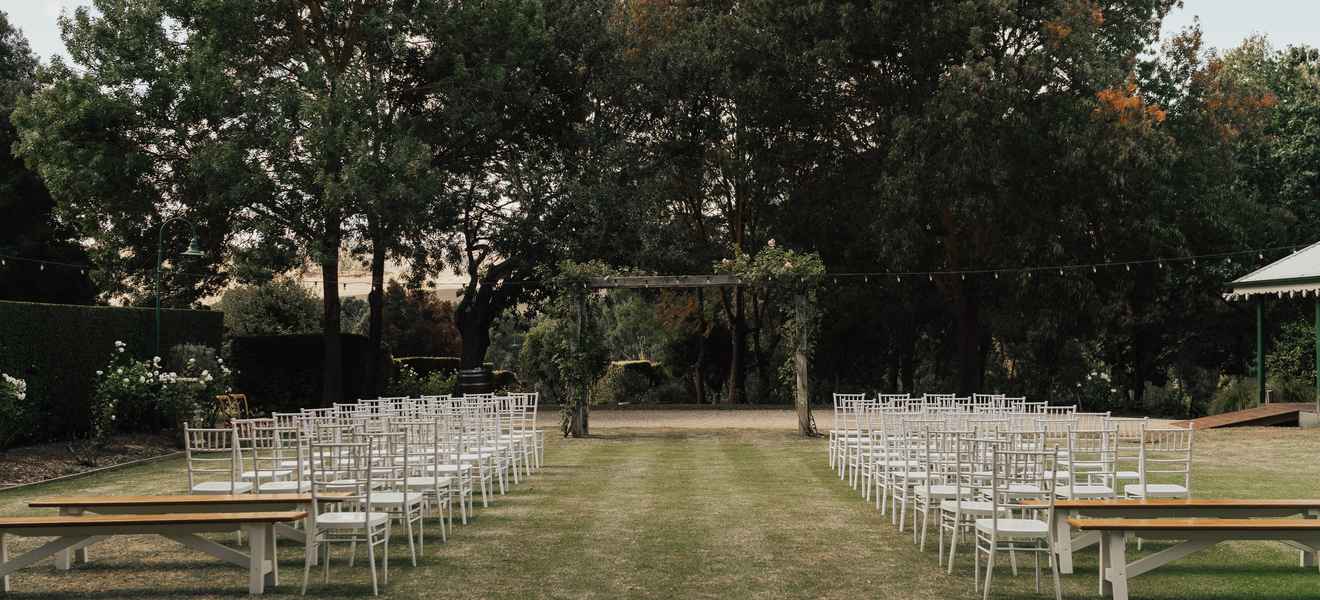 4. Tell us about your Gown (style, how you found it, what you loved about it). What about the groom and the bridal party fashion choices?
 
I wore a Jane Hill fully-beaded gown called the 'Halle' gown. I love this gown because it has intricate beading from top to bottom and it sparkles day and night. Which also means it weighs about 10kg!  
Jane Hill no longer makes the Halle gown, so I looked on Still White and found several women selling their Jane Hill Halle gowns. I have always had this specific gown in mind and did not need to try on any other gowns as I knew this was the one for me! I purchased one and had it altered by Eternal Weddings.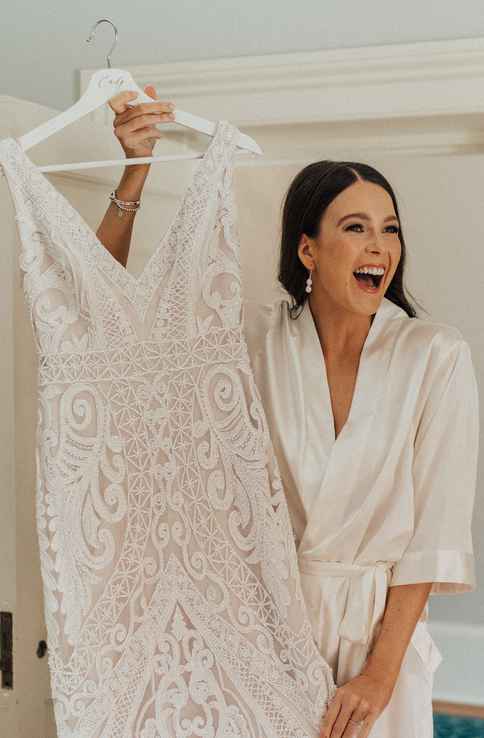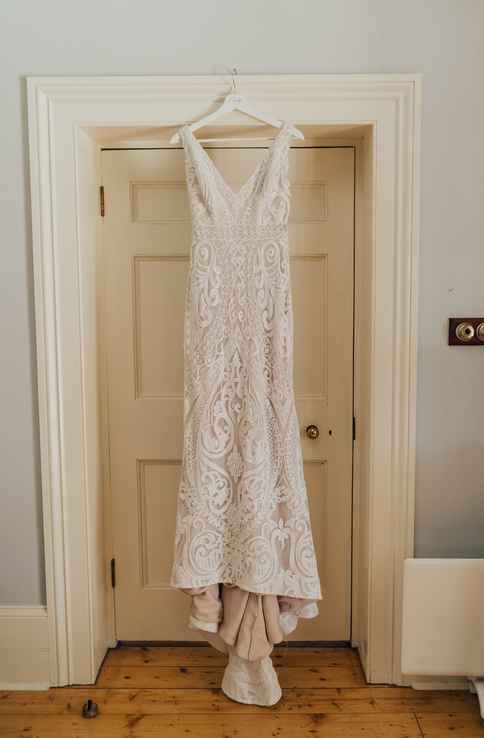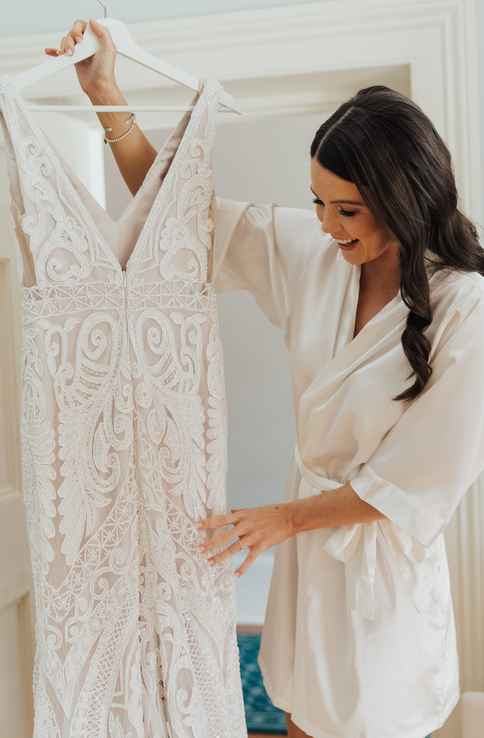 As my dress made such a statement, I chose a simple, full length and sheer veil to match. I chose pearl earrings from Grace Loves Lace. As well as simple Novo white block heels for our ceremony and statement Harlo pearl heels for our reception.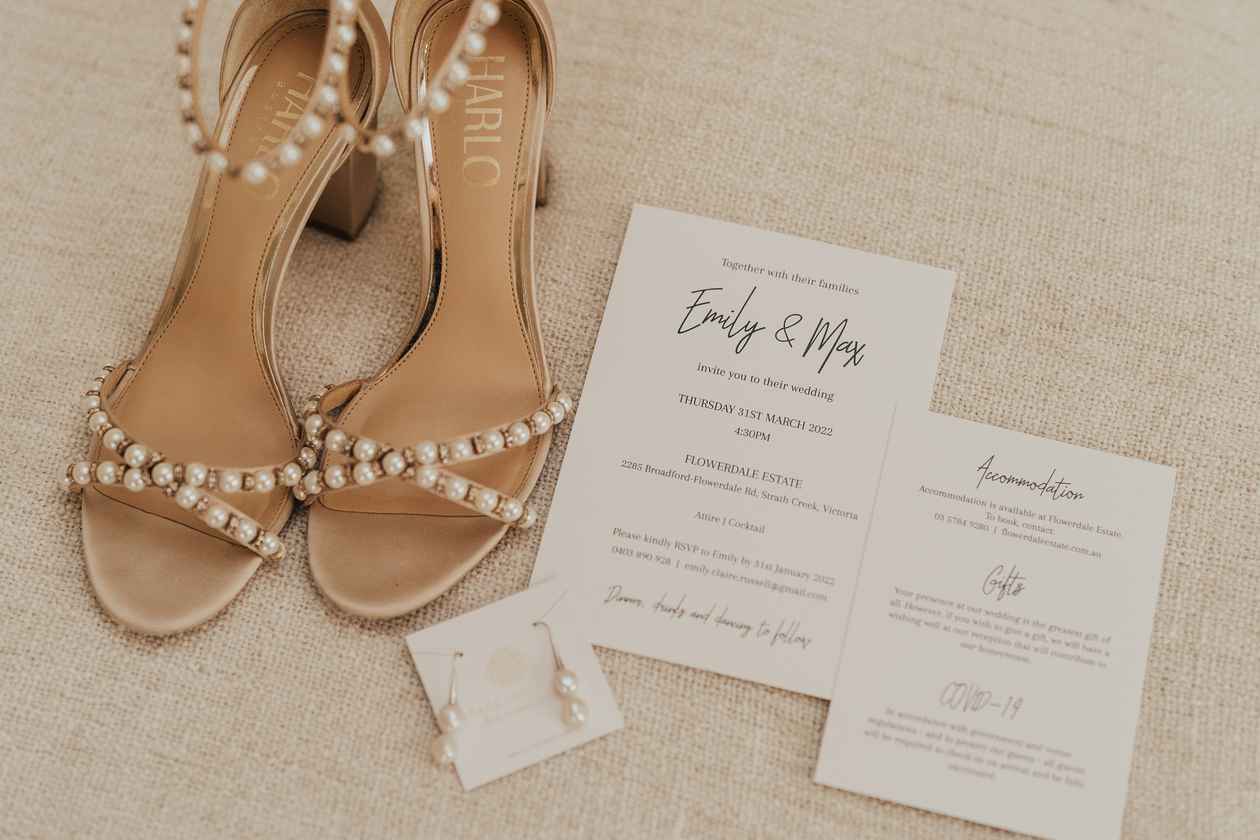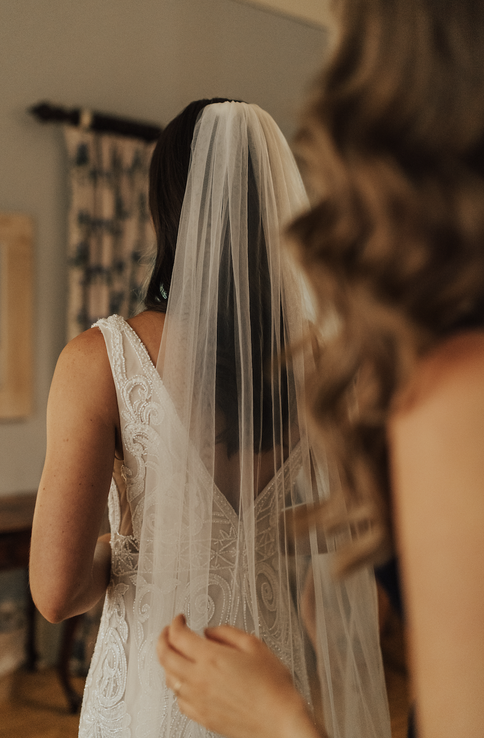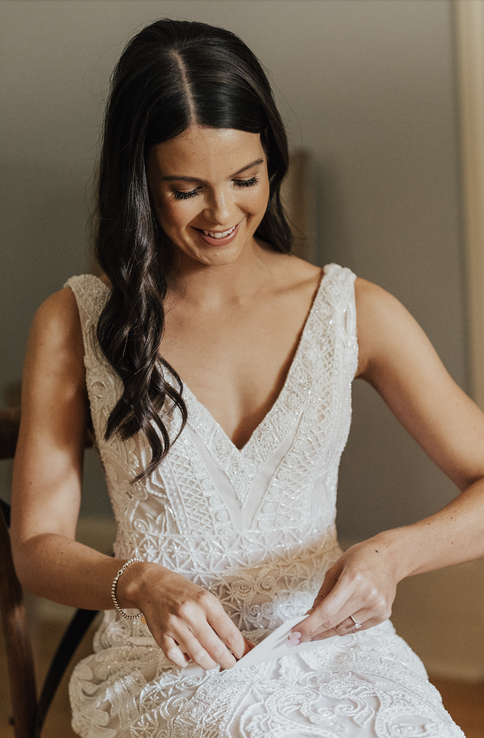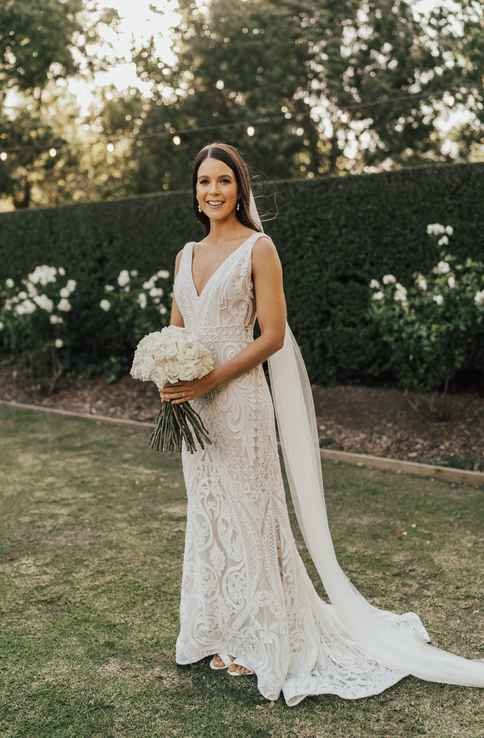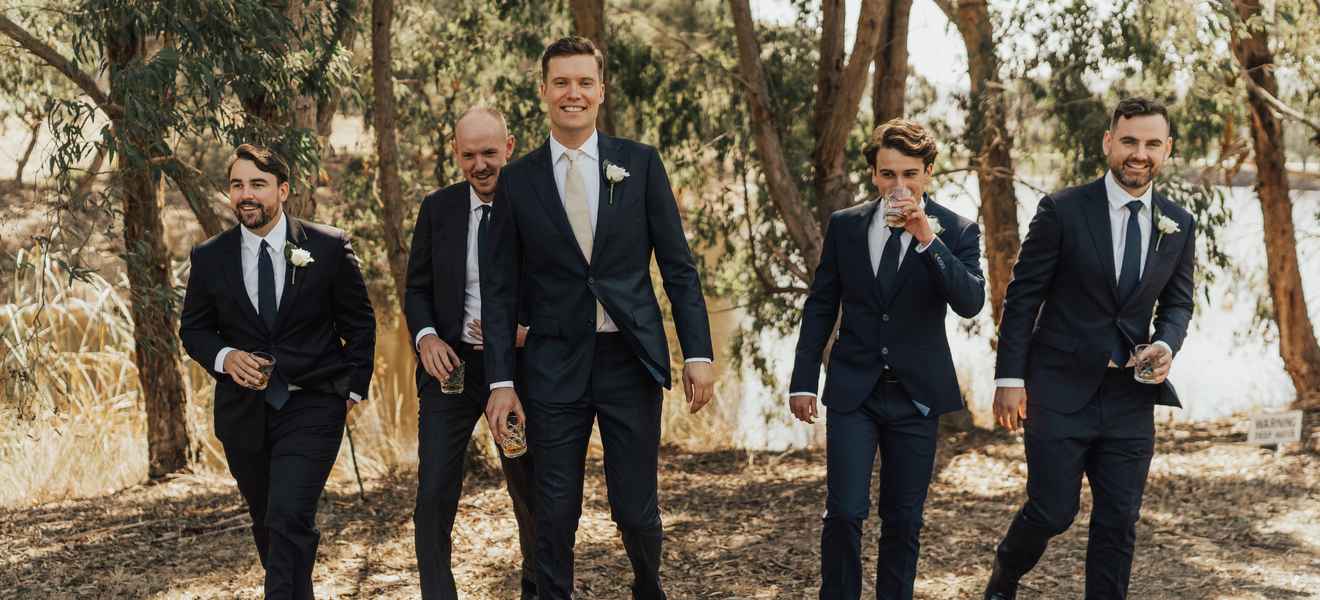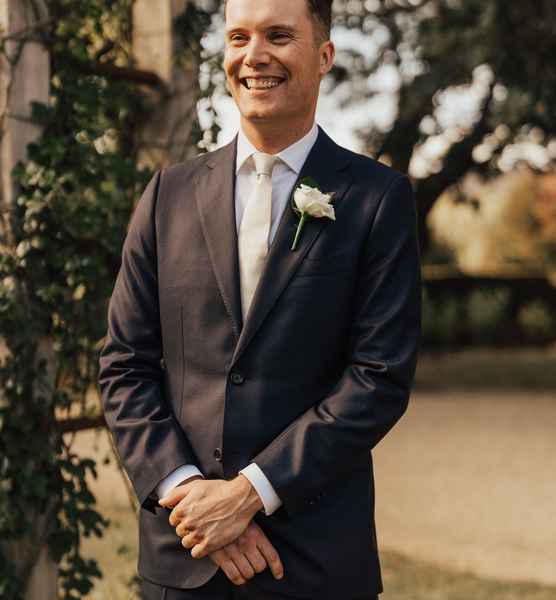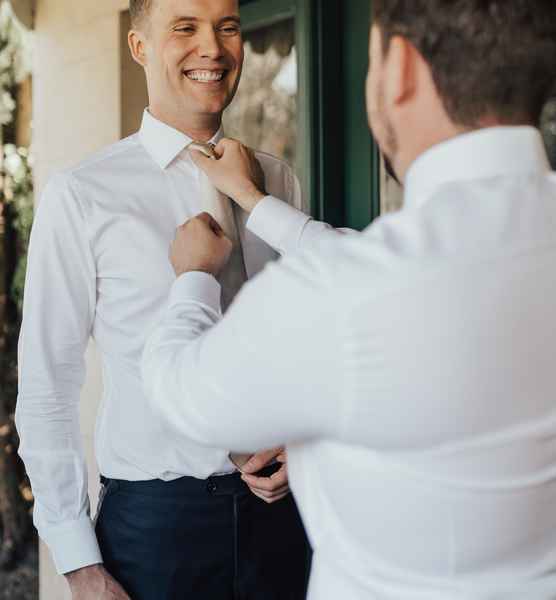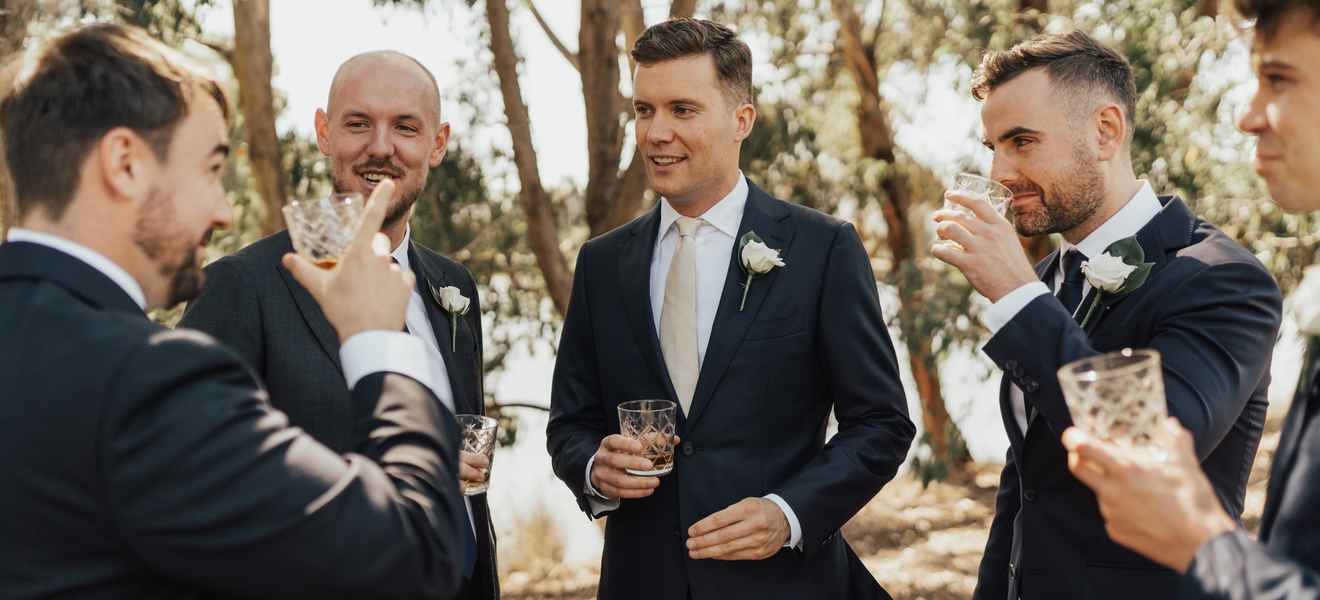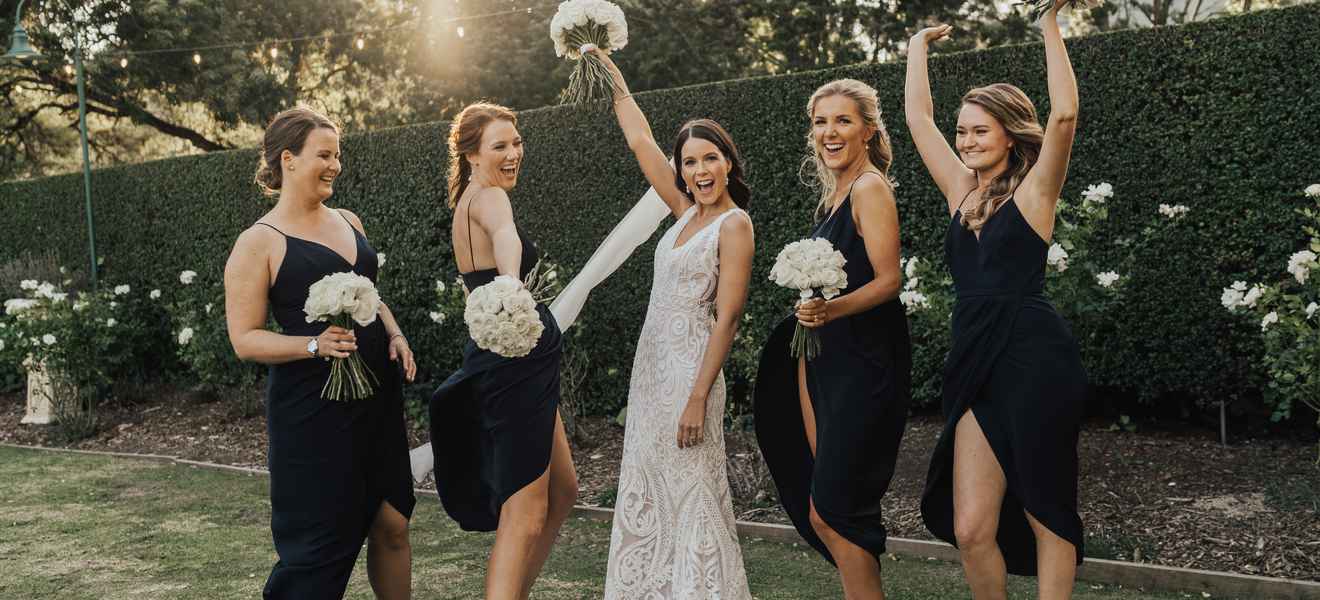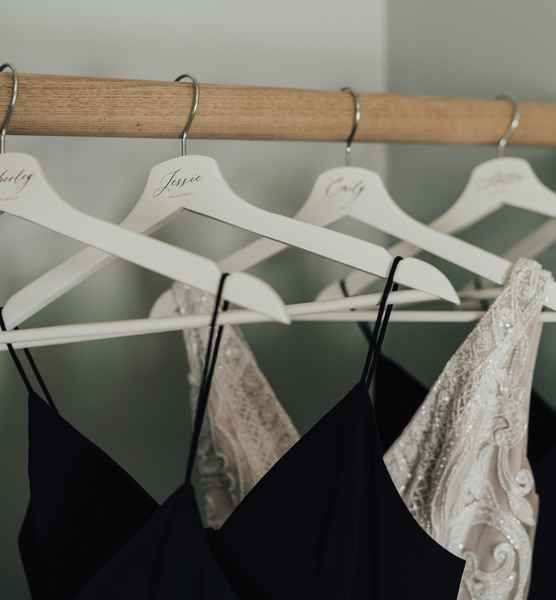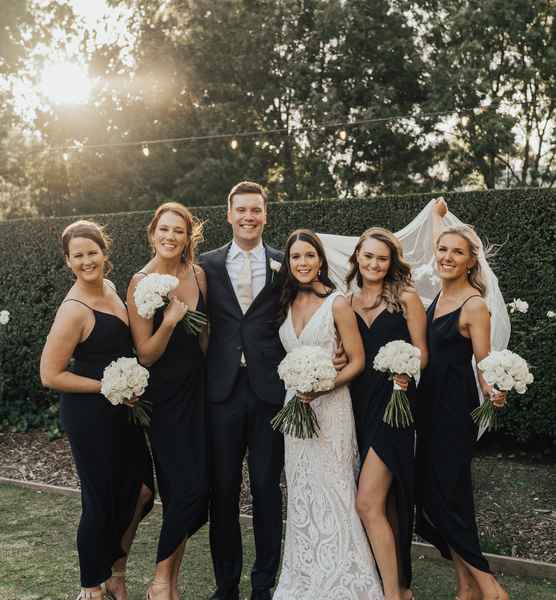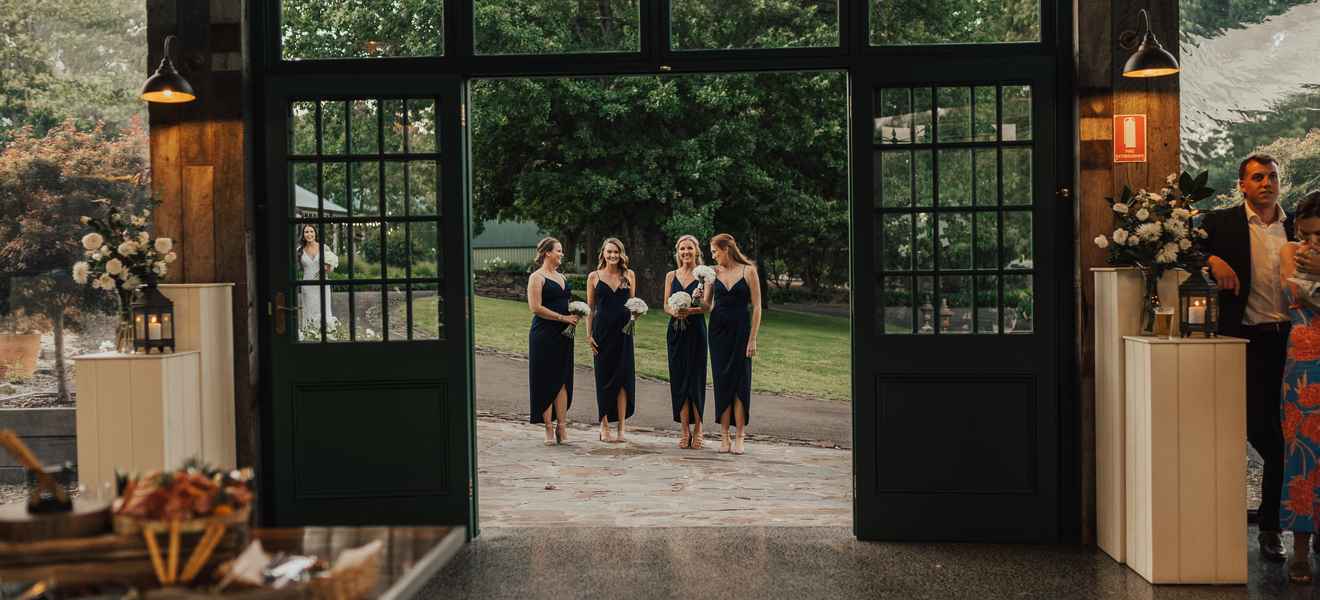 5. What Style / Styling did you choose for your wedding? (eg: colour scheme, flowers, stationery, cake, transport, details, themes, inspiration, the overall "look and feel")
 
We wanted our day to intermingle tradition and modern-day elegance, and most of all be fun. We chose a cocktail-style reception so we could socialize with as many guests as possible.  
The colour palette for the day was navy and white. We choose timeless white Ecuadorian roses for the bouquets and boutonnieres, and arrangements of white flowers for the reception by Flowers of Megan. The white flowers looked beautiful against the navy tones of the bridal party's dresses and suits.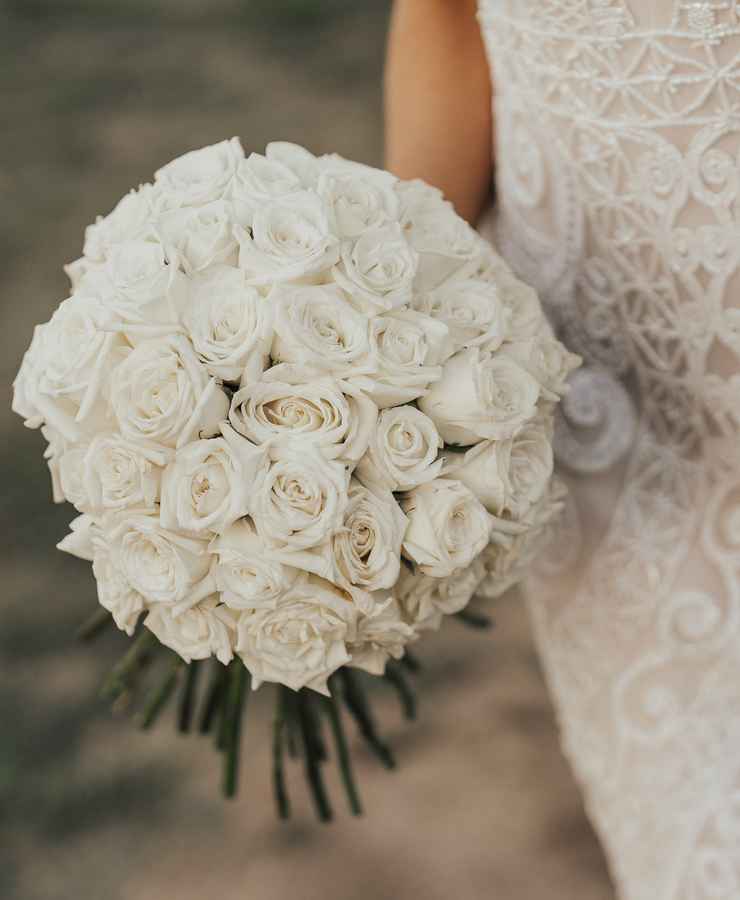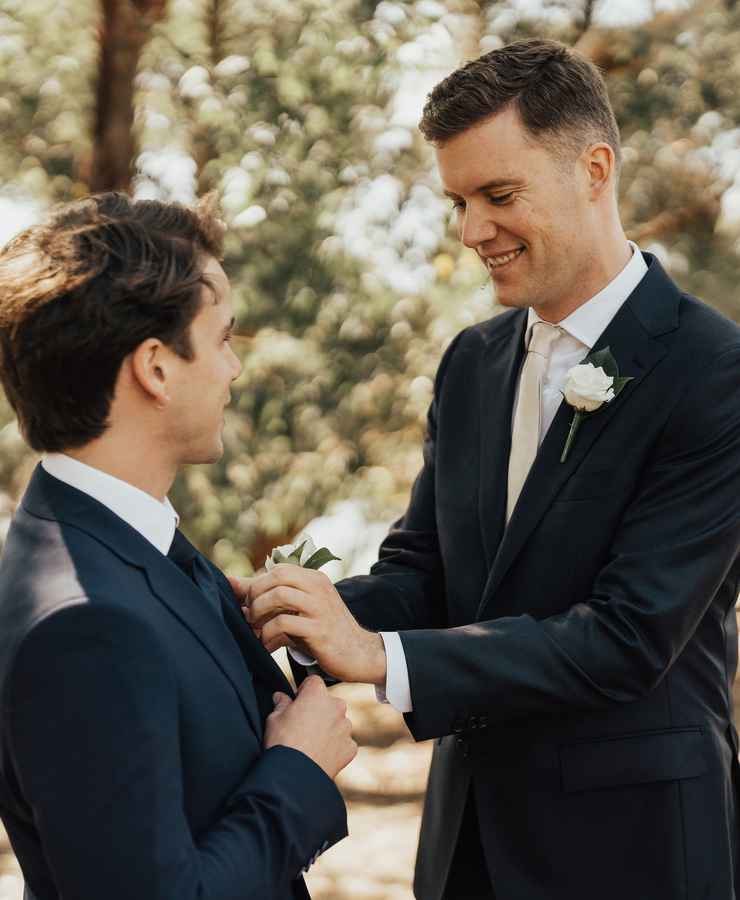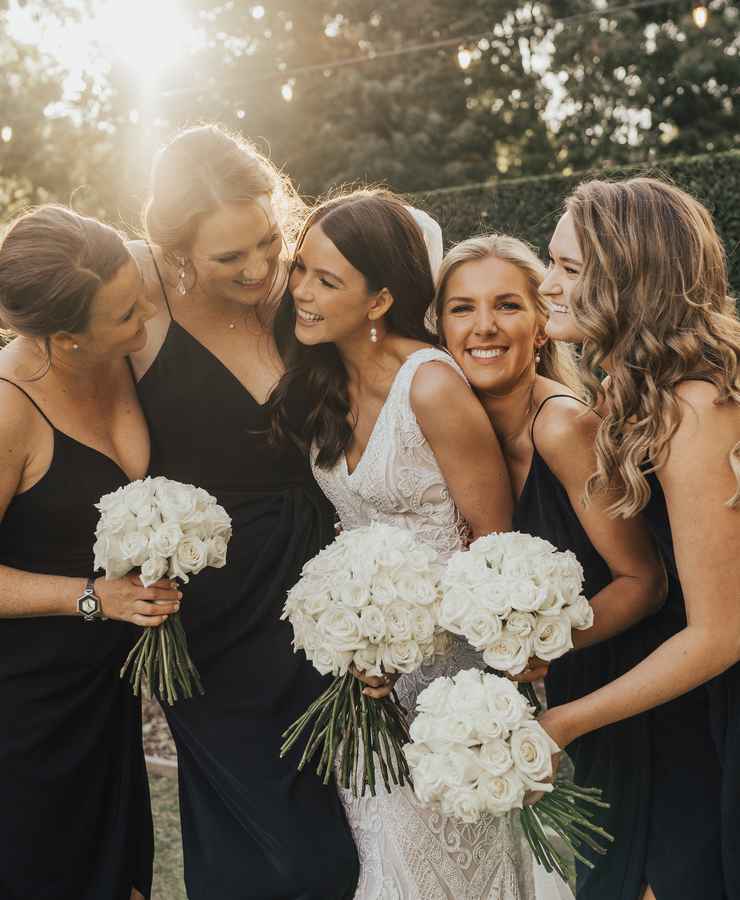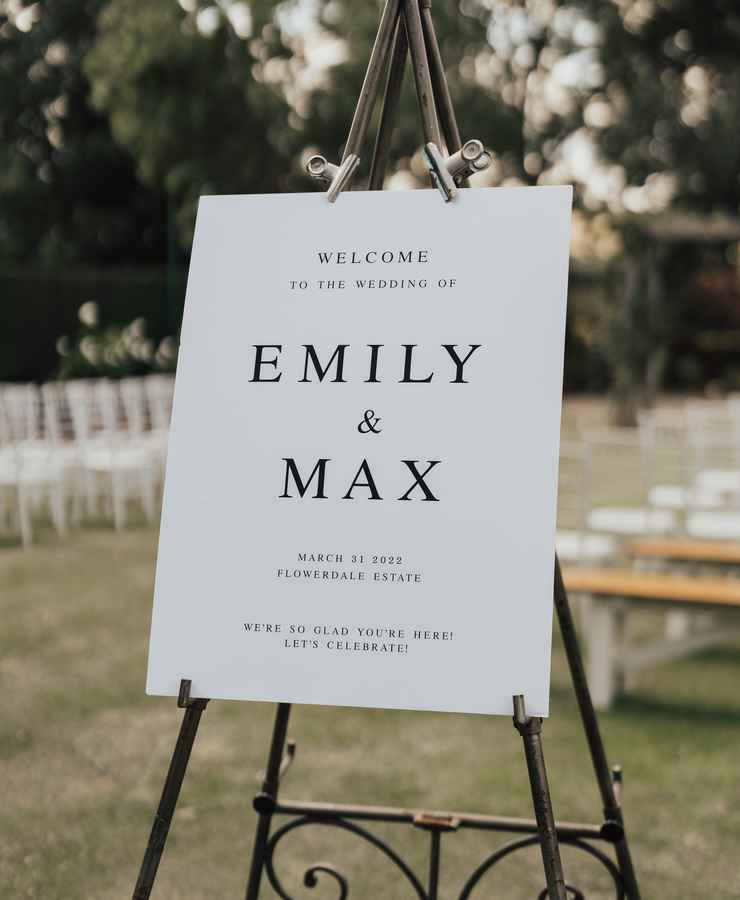 We had a four-tier cupcake stand, filled with beautiful ivory cupcakes and an ivory cake on top. With additional cake stands filled with more cupcakes. The cake design was simple and elegant, and topped with white roses. Our friend Ruby made the cupcakes and cake and they were delicious! We wanted cupcakes so they were easy for our guests to eat on their way to the dance floor or on their way out at the end of the evening. We have kept the top of the cake in our freezer to have on our 1-year wedding anniversary!  
We had a polaroid guest book and several polaroid cameras for guests to use, which we loved looking through the next day.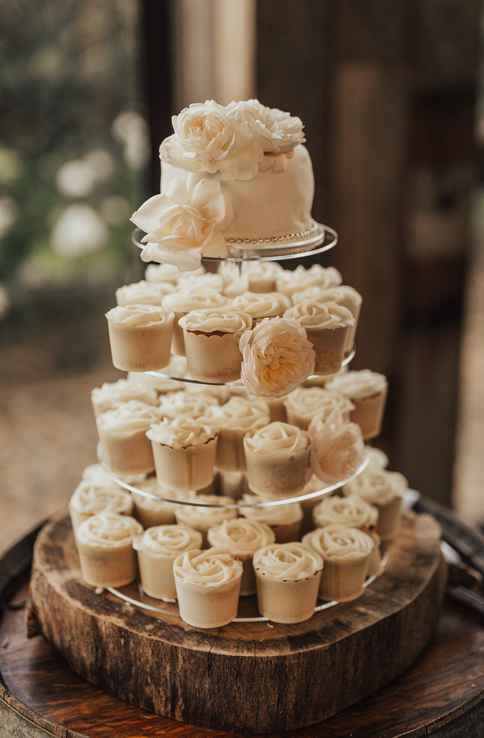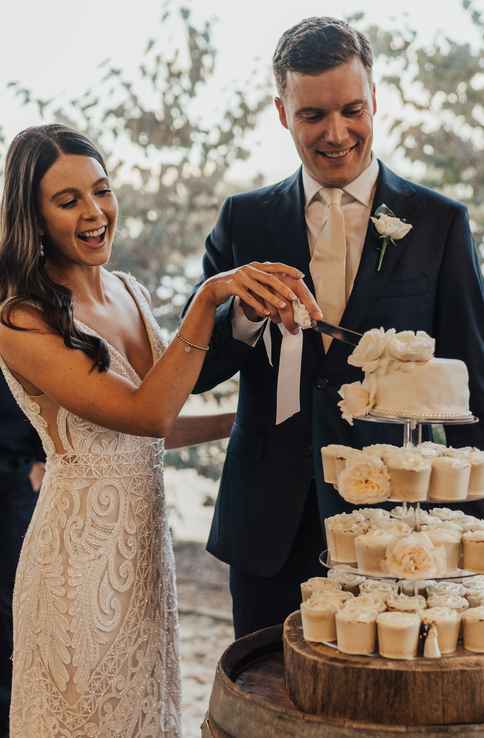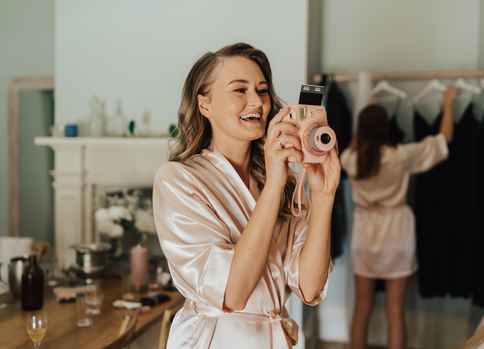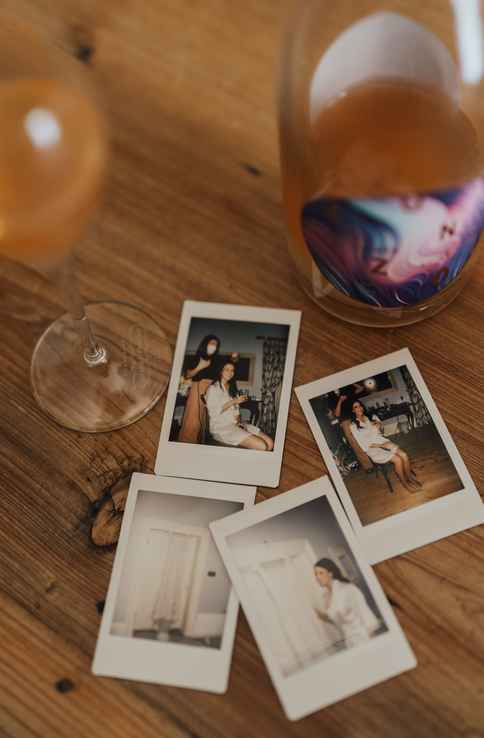 6. What were the highlights of your day?
 
We both agree that the highlight of our wedding day was our ceremony. It was a beautiful outdoor ceremony on a sunny Autumn afternoon. It was relaxed and fun with our celebrant Wendy Beech perfectly summarising our 11-year love story.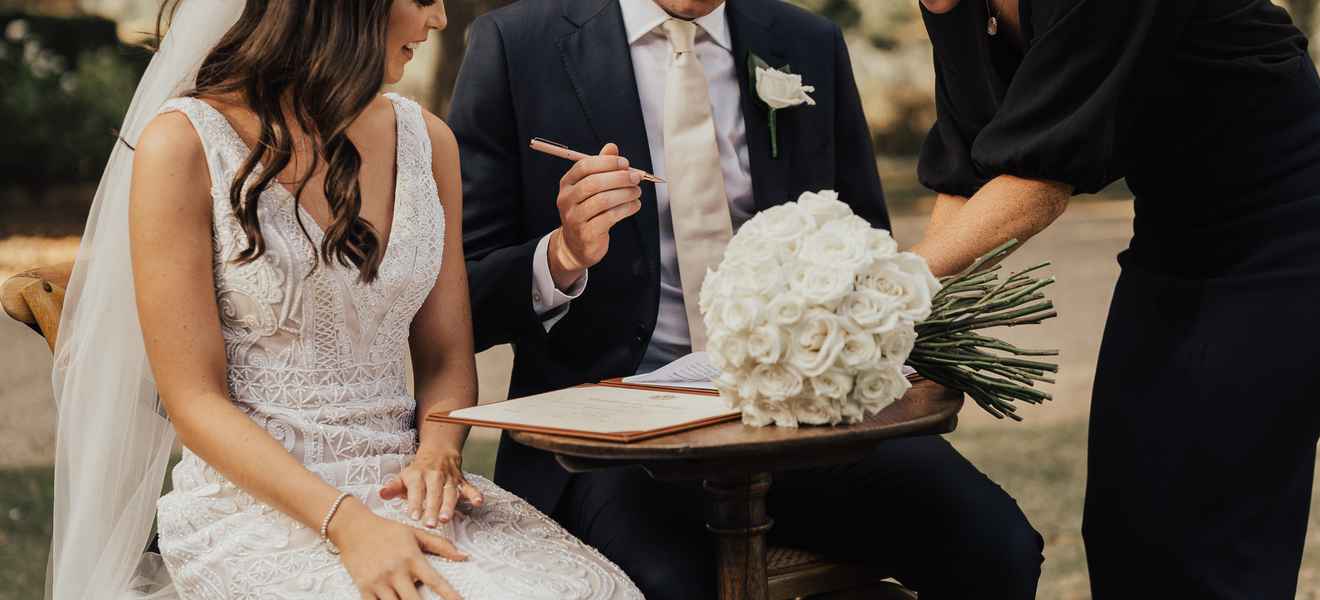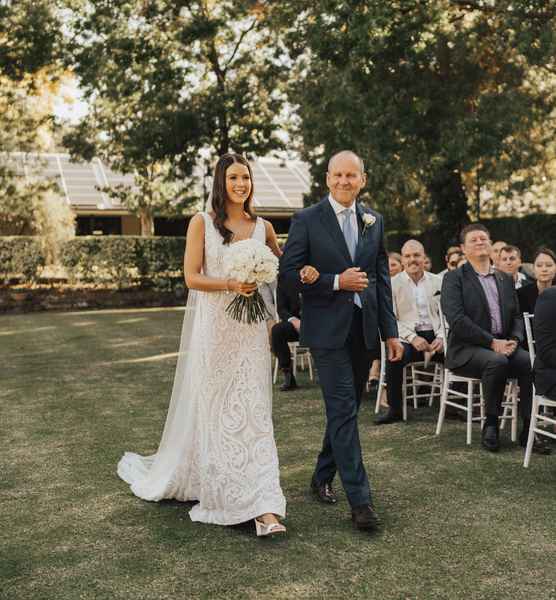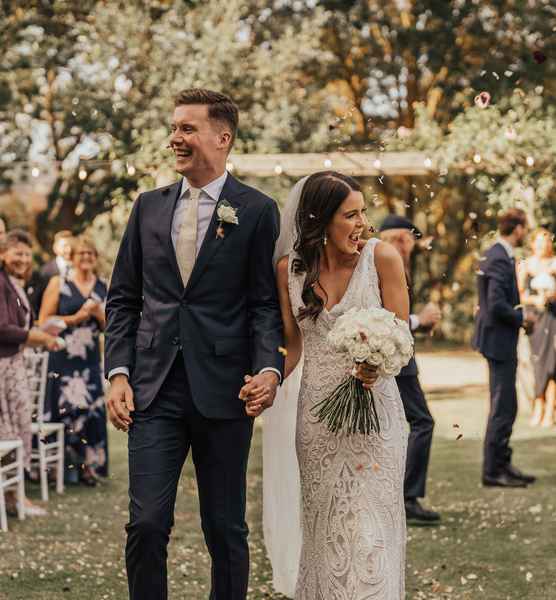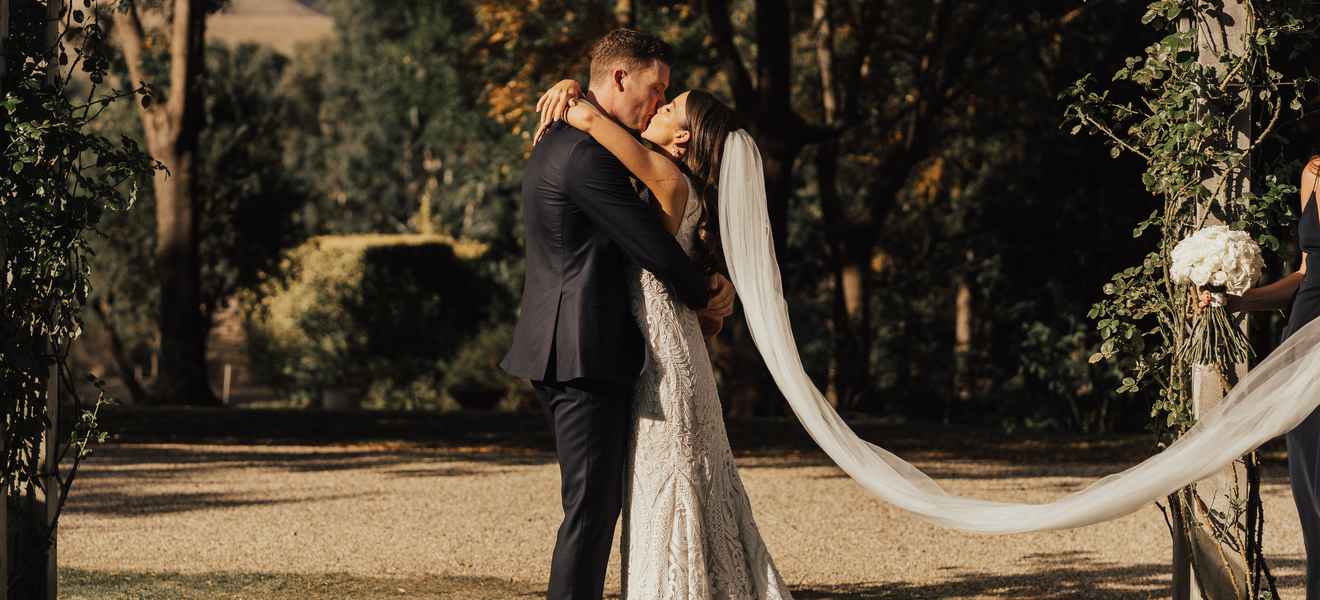 We wrote our own vows, including lots of personal touches which were very special to hear for the first time on the day. In Max's vows he said "From our first week at university, I knew that although we met in biology, what we really had was great chemistry". His joke was such a hit and our photographer Georgia captured our reactions perfectly.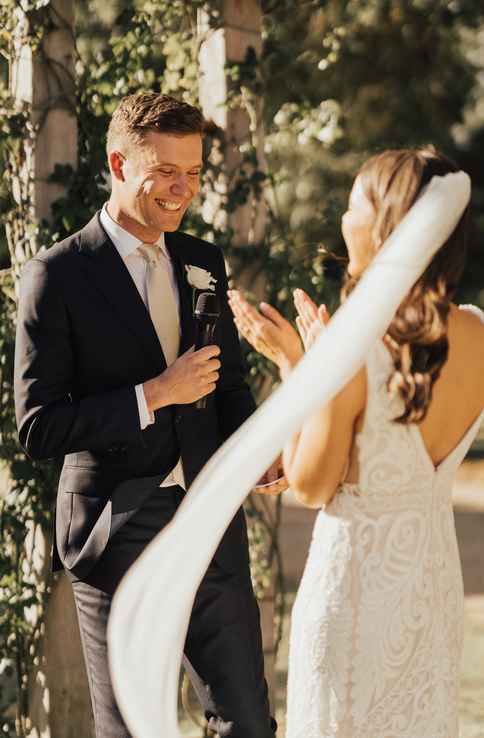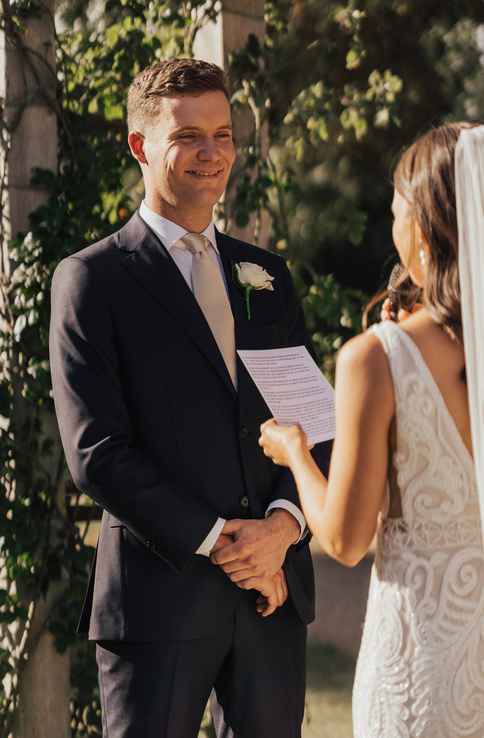 We both also really enjoyed our professional photos with our bridal party, as well as just the 2 of us. It was a really special time to soak in the fact we had just got married!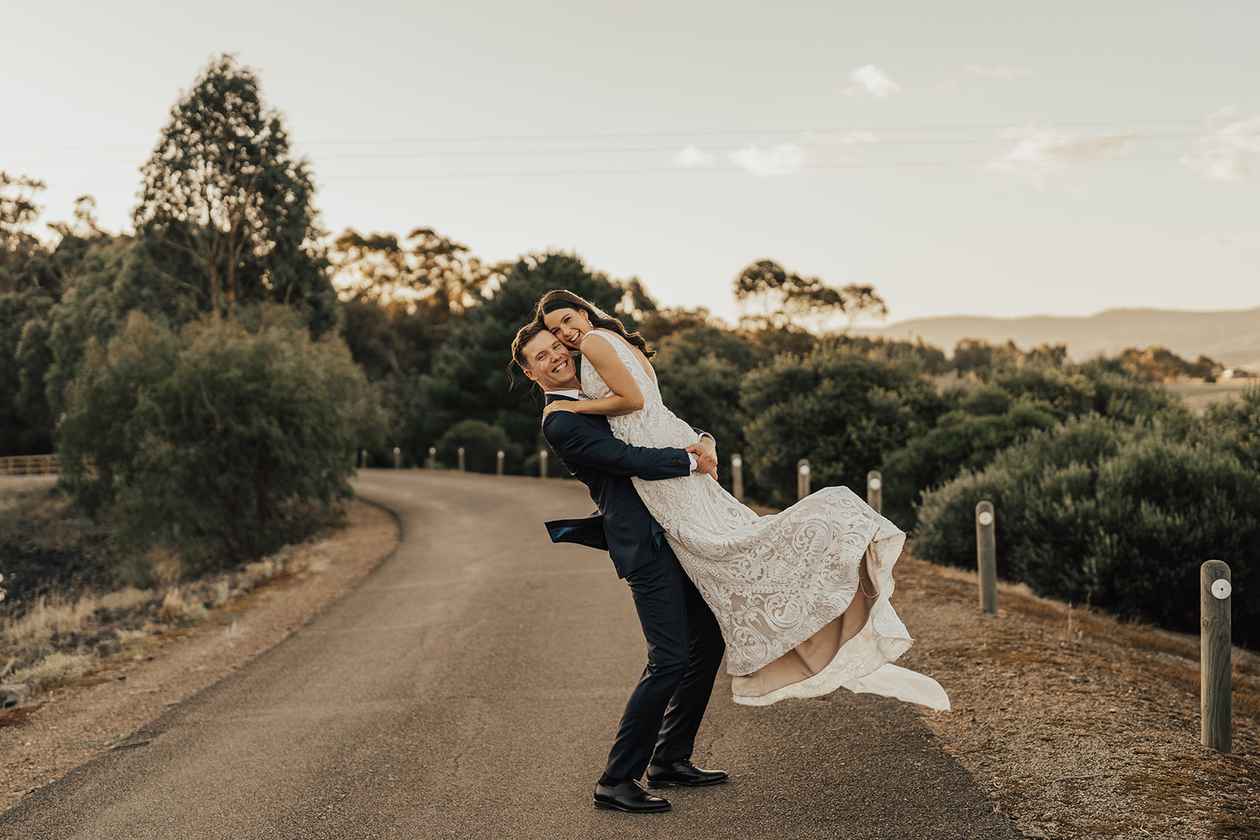 7. Tell us about any funny, poignant, challenging or emotional moments?
 
We were not sure until just weeks before the wedding whether COVID-19 border restrictions would be lifted to enable my maid of honour to travel over from Western Australia and for my sister (and bridesmaid) to travel over from New Zealand, as well as other interstate guests. We were very lucky they did!  
Family is important to us, so we were very grateful to have all of our siblings (my brother and sister, Max's sister) in our wedding party and by our sides on our special day. Our mums were our witnesses, my dad walked me down the aisle and Max's dad was our ring bearer. Both Max and my parents made speeches, as well as my sister that moved the entire room.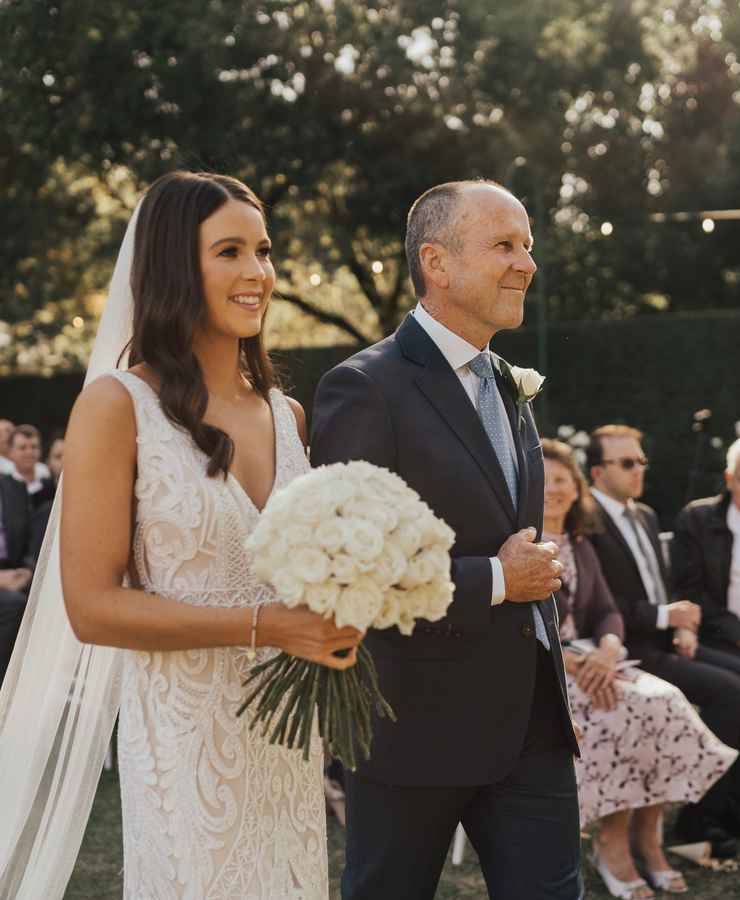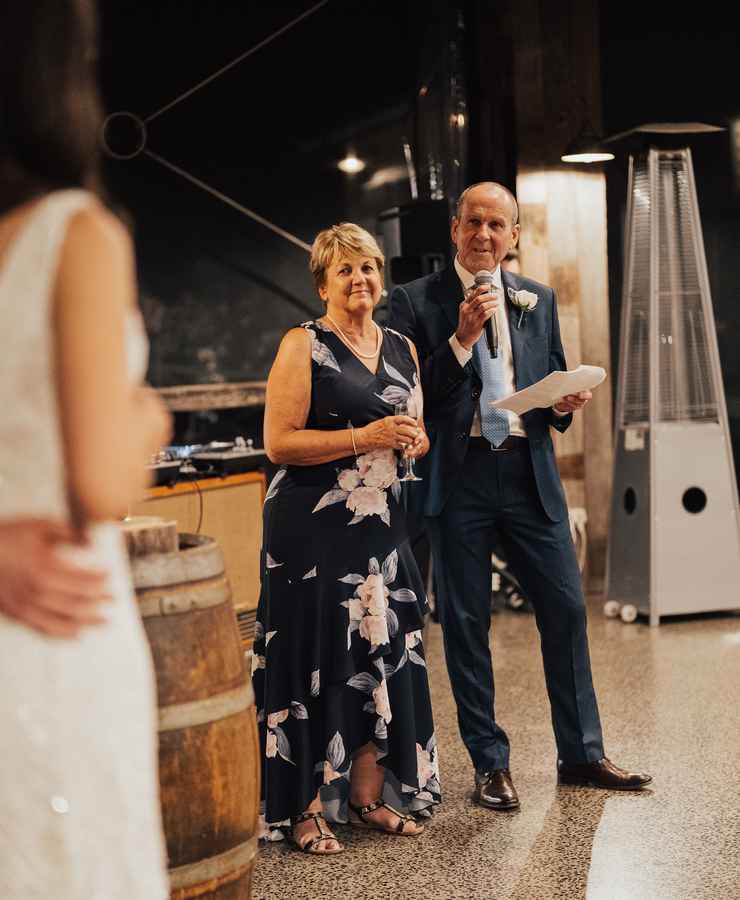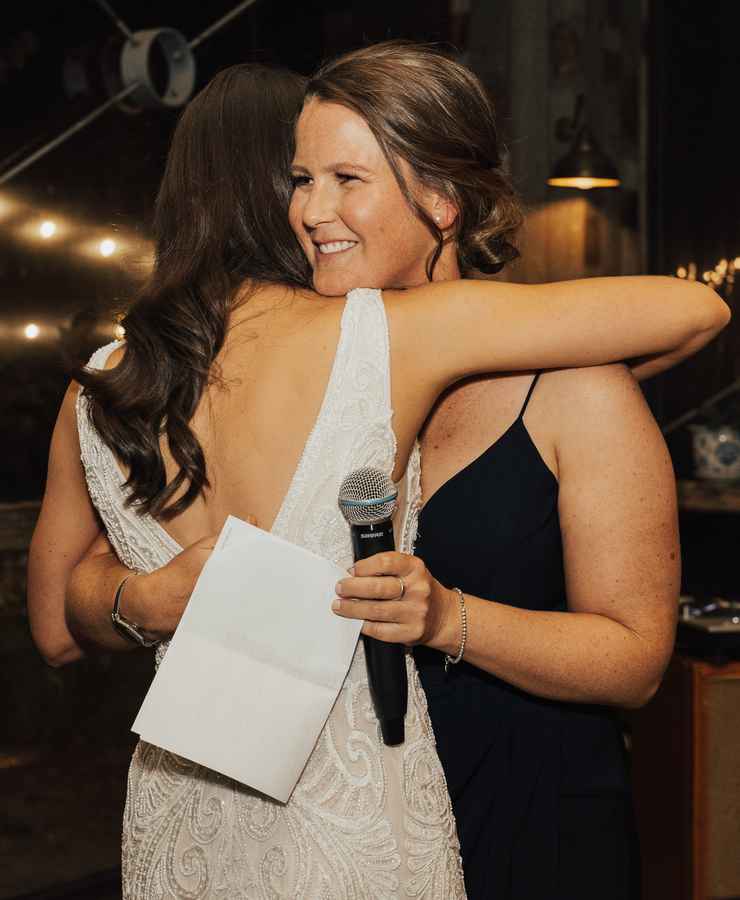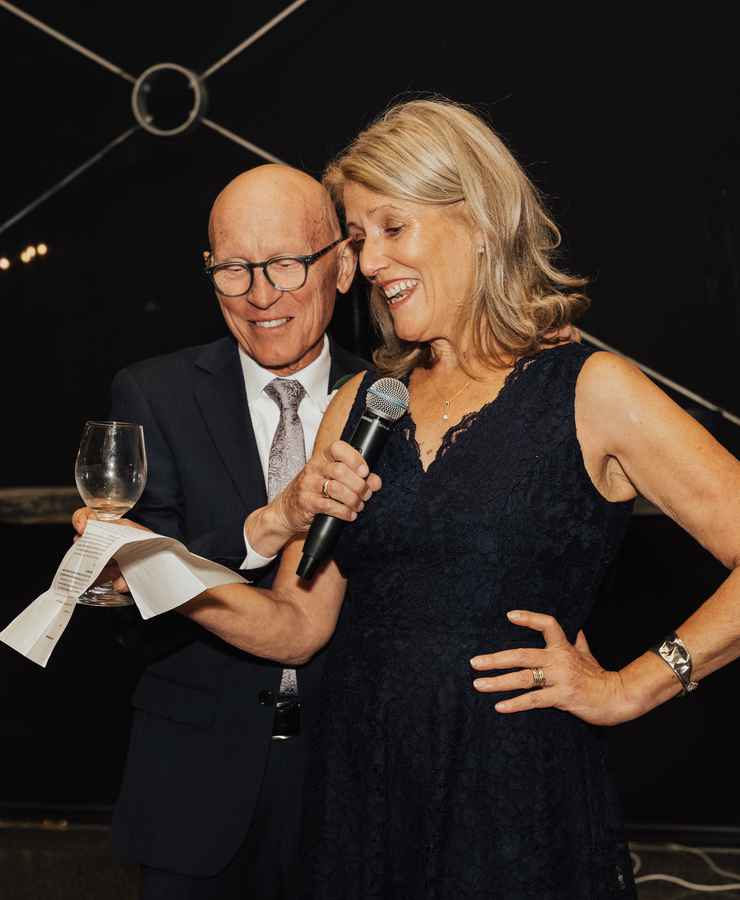 We surprised my parents by replicating several photos taken on their wedding day back in 1989. Think cheesy poses and groomsmen lifting me up in my almost 10kg fully beaded dress.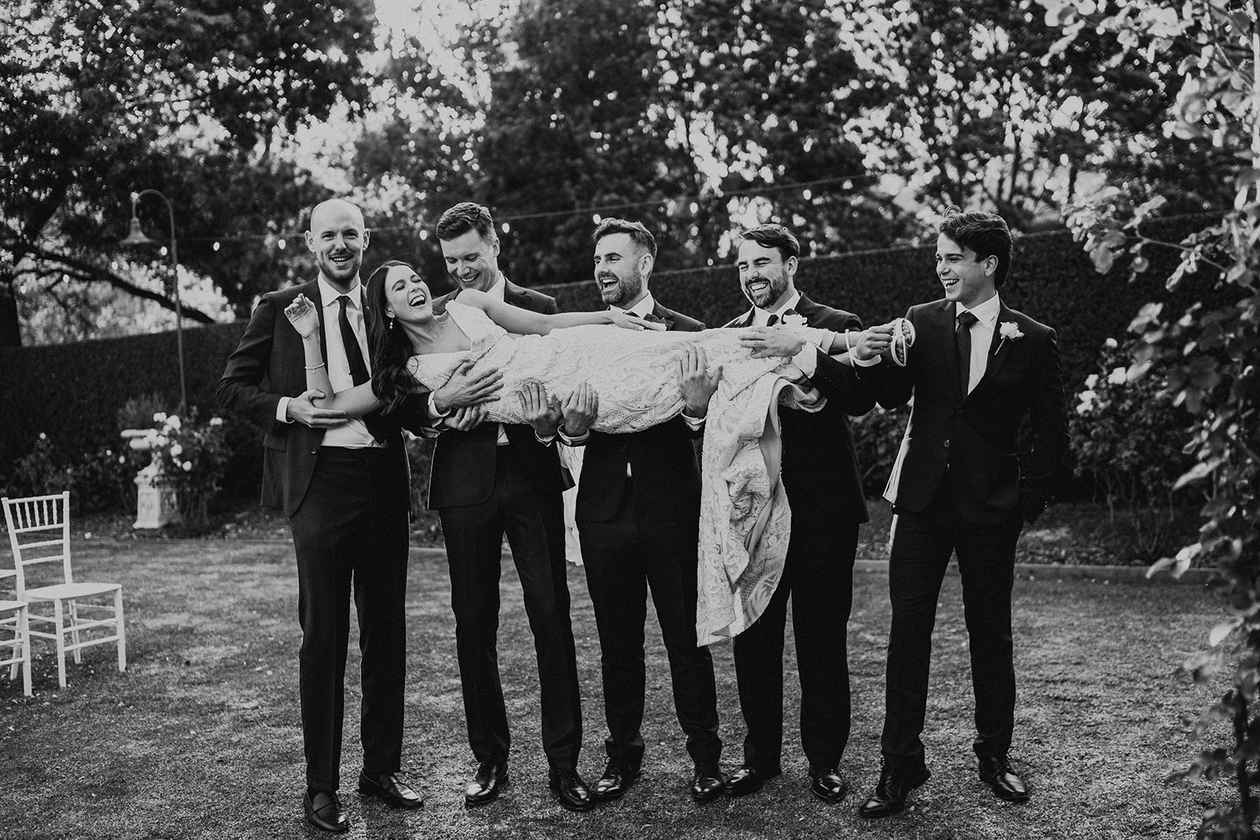 8. Where did you go for your Honeymoon? Why?
 
The first night after our wedding we stayed at the beautiful The Trawool Estate before setting off for a part-camping part-glamorous Air BnB honeymoon exploring the south coast of New South Wales and Blue Mountains. We love camping and exploring Australia, so this was perfect for us.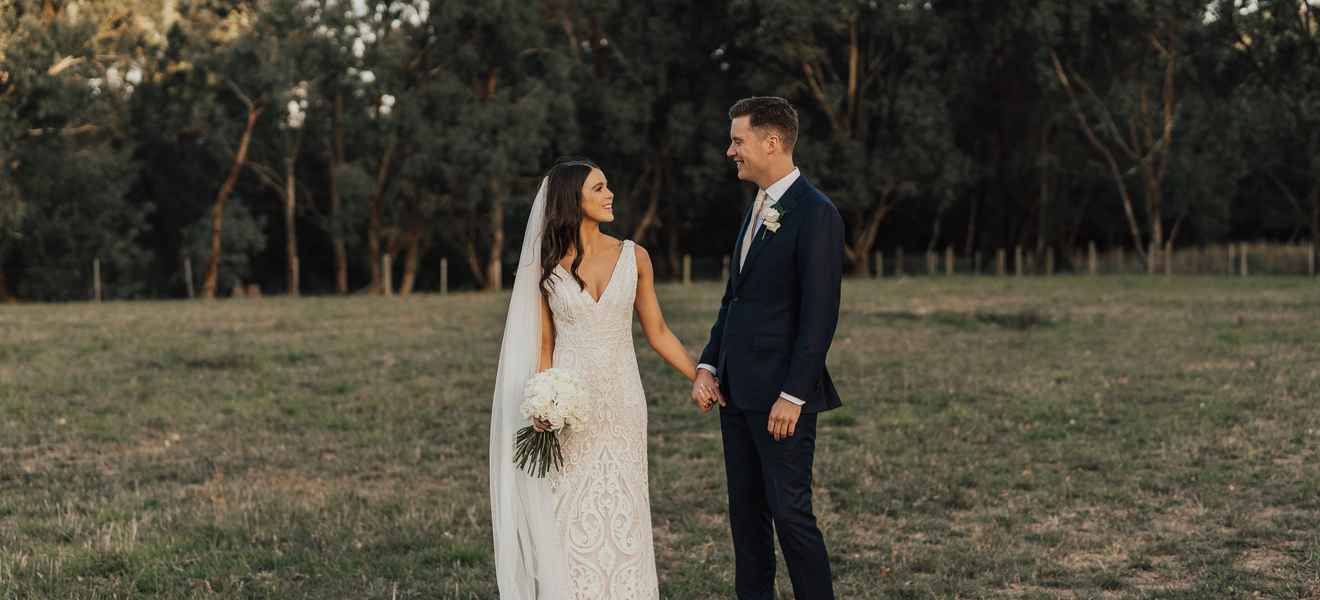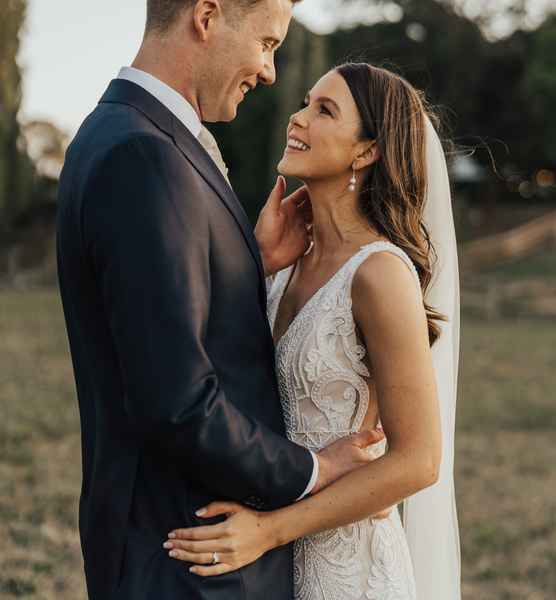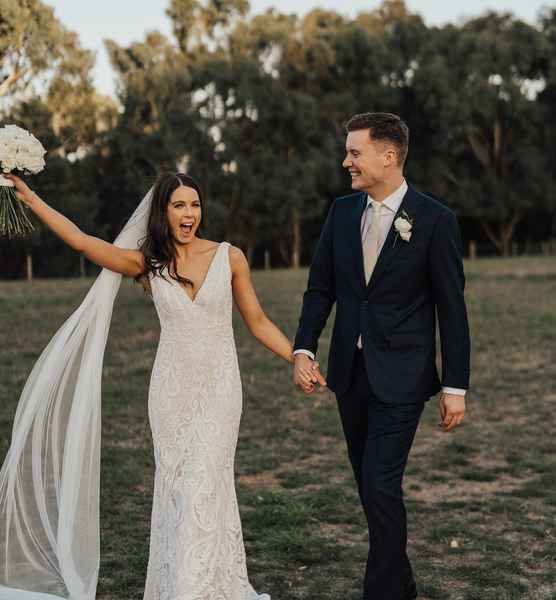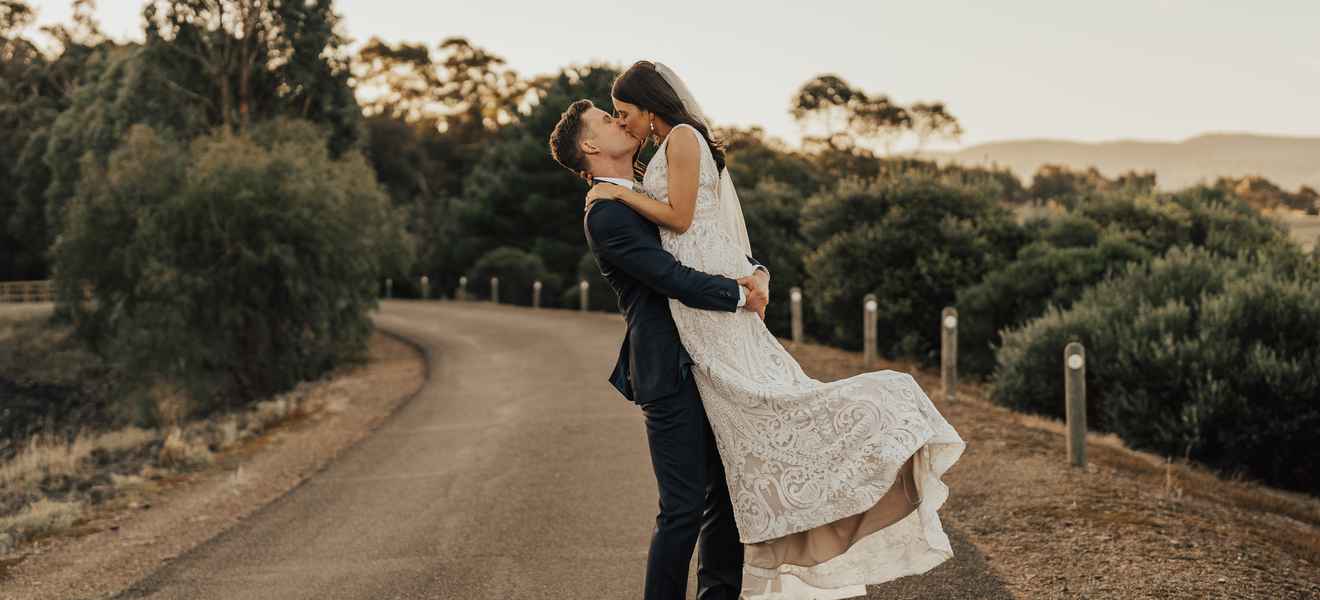 9. Do you have any advice for other brides?
 
During your ceremony, don't be afraid to have fun, make jokes in your vows and laugh. During your reception, hold hands with your new husband/wife and enjoy every moment together.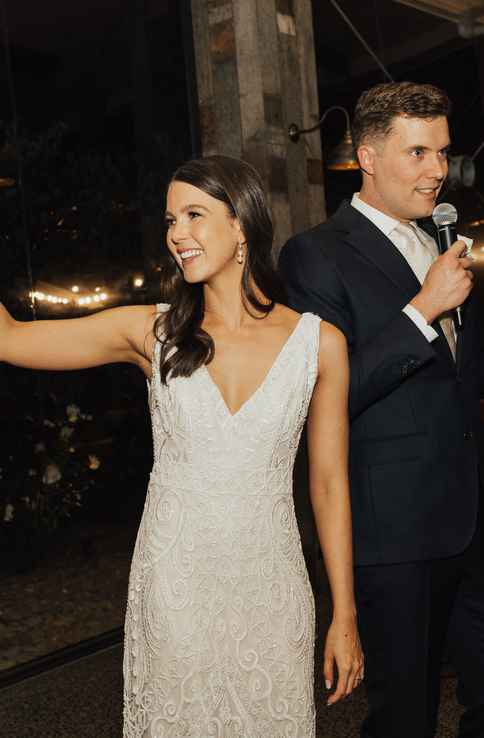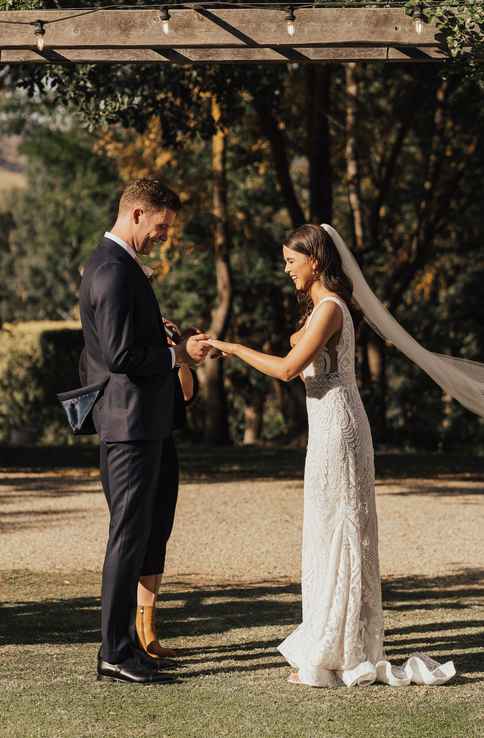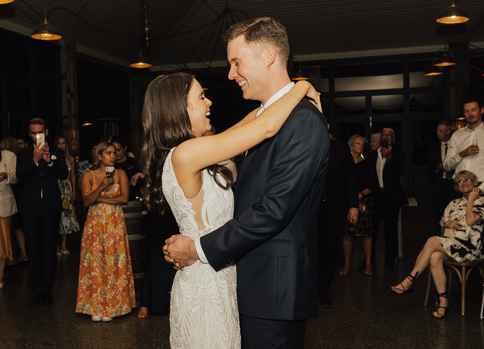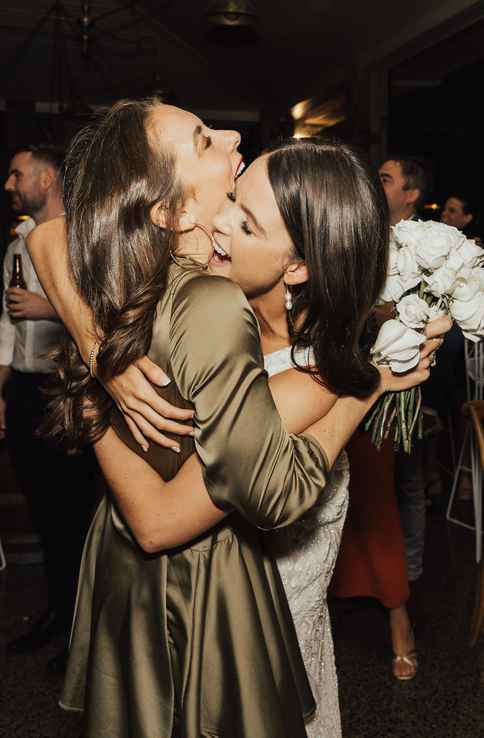 10. Is there anything else you'd like to add?

A very big thank you to all of our vendors for making our day so special. They all went above and beyond. Our photographer Georgia Verrells captured so many joy-filled moments within moments and stunning light-filled photos at golden hour that we will cherish forever.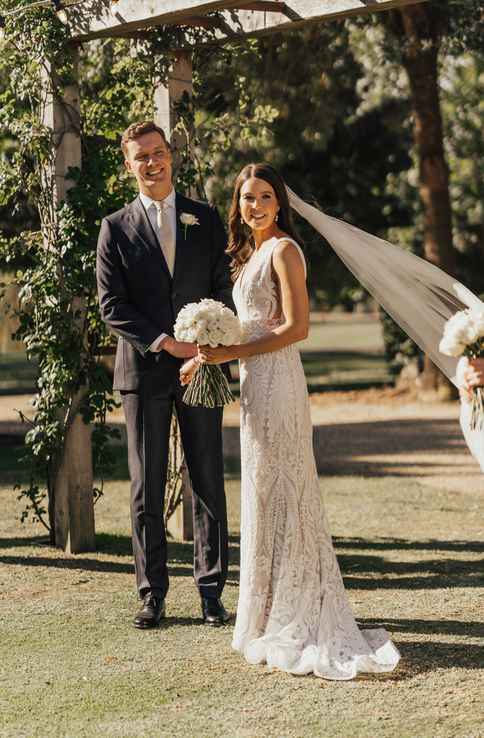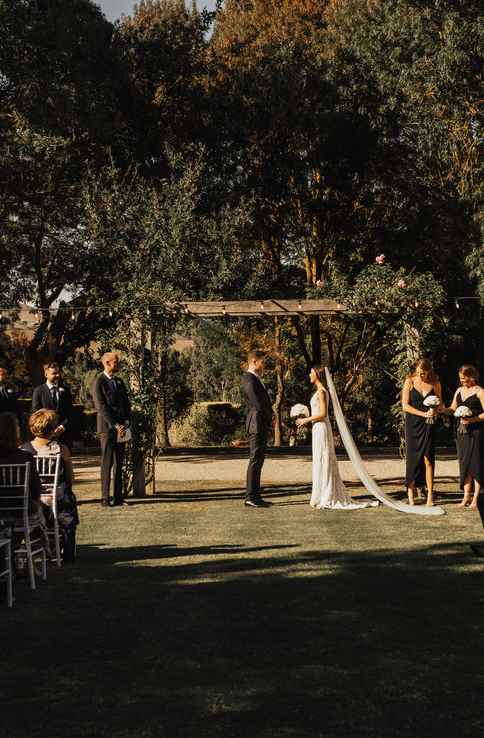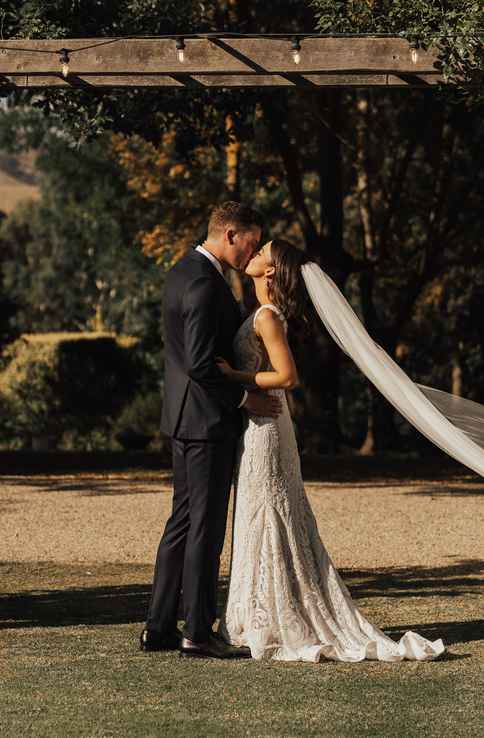 Our DJ from The Vintage Stylus had everyone on the dance floor for hours spinning the perfect music for every moment on vinyl.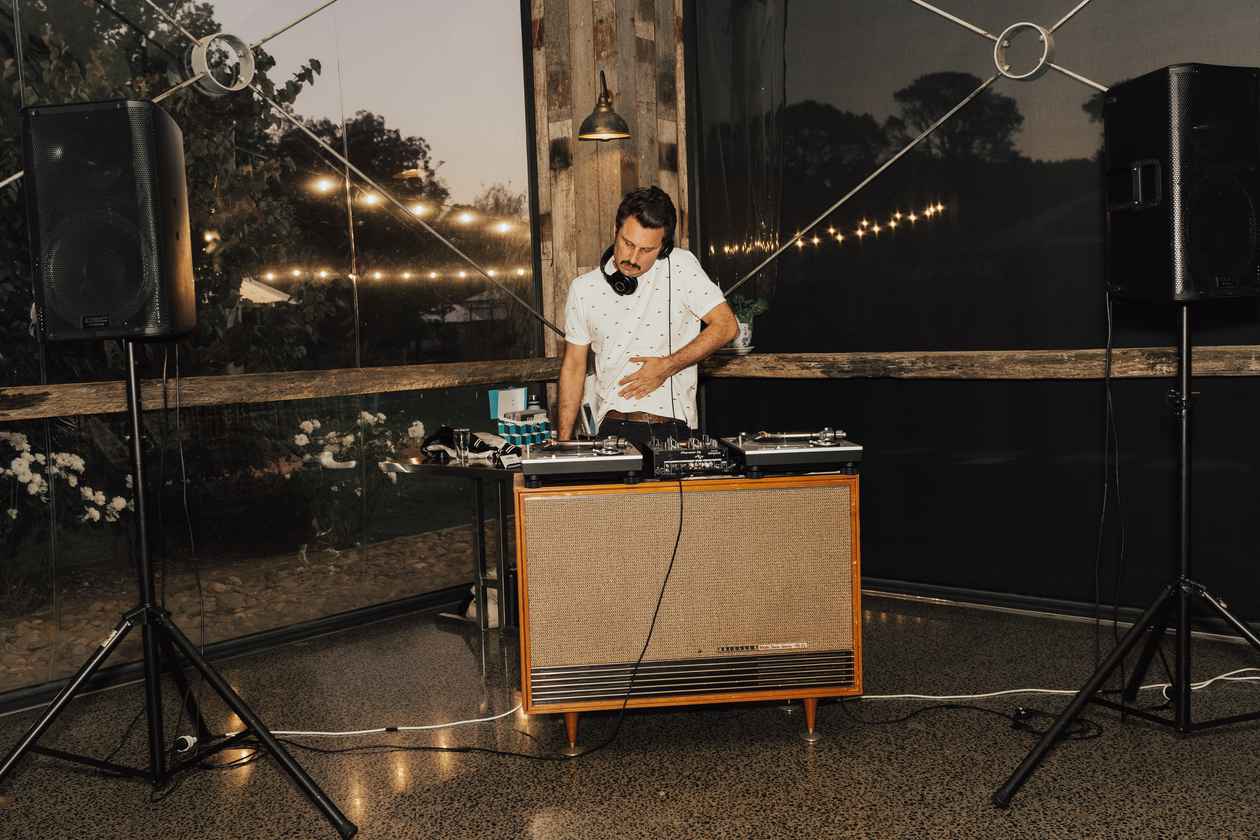 Thank you to all of our loved ones who came and celebrated with us, your presence meant the world to us.