At a Glance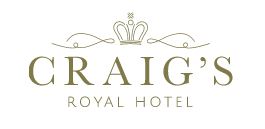 ---
Style
Located on historic Lydiard Street in the heart of Ballarat, Craig's Royal Hotel is the legendary Australian gold-rush era grand hotel.

Built in 1862 on the site of Bath's Hotel, Ballarat's first officially licensed pub, Craig's has been a goldfield icon since Prince Alfred, Duke of Edinburgh, slept in its ornately decorated rooms in 1867 and Dame Nellie Melba famously sang from its balcony in 1908.

Now, after 5 years extensive restoration, the magnificent accommodation, dining, meeting and banquet facilities are re-establishing Craig's as the finest boutique heritage hotel in the region.
A perfect combination of historic charm, tradition and innovation
Recognised as one of regional Australia's most prestigious; wedding venues, Craig's Royal Hotel is the perfect combination of historic charm, tradition and innovation. Over 6 years restoration and refitting works have created a wedding venue, unmatched in the region.
Stunning bridal suites, luxurious guest accommodation and beautiful settings throughout the hotel allow for one of a kind photo opportunities.
Food will impress with bespoke menus created – formal dinner or cocktail style – by head chef Shannon Easton capturing the best of regional flavours and produce and a wide selection of local and Craig's own cellar wine collection.
Grand Dining Room
This spectacular and opulent room is decorated in the late 19th century Empire style with its high ceiling and fine wallpapers. With room to seat 110 guests and space for a dance floor, the Grand Dining Room is the perfect location for an elegant wedding reception.
The Prince's Room
The legendary Prince's room was specially prepared for royalty in 1867 when Queen Victoria's second son, Prince Alfred, the Duke of Edinburgh visited Ballarat. The room is decorated with rich wallpapers and a most magnificent ceiling installed at the beginning of the last century.
The Reading Room
Located on historic Lydiard Street and overlooking Her Majesty's Theatre, the Reading Room boasts an elegant balcony with views of one of Ballarat's most historic landmarks.
The Bluestone Cellar
Deep under Craig's wonderful Victorian edifice is a contrasting bluestone and timber cellar which in years gone by set the scene for much joyous imbibing. Now a private setting for dinner parties, mystery nights, wine dinners and gatherings with a classic rustic feel.
Accommodation
Restoration of 41 elegant suites and rooms bedecked with antiques and with a touch of the 21st Century. The tower suite has sweeping views across Lydiard street and an elaborately carved 600-year-old Chinese wedding bed.
Request Wedding Pack & Pricing
10 Lydiard Street South Ballarat VIC