At a Glance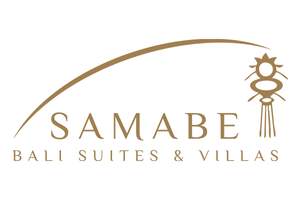 ---
Style
Situated in the secluded part of Bali, Nusa Dua, Samabe Bali Suites & Villas epitomizes the tranquility of a beach resort in a lavish style. The Bali luxury resort sits on 8-hectare land with 81suites & villas, 2 restaurants, and 2 bars.
Capacity
Holy Ceremony Pearl Chapel - 80 seated guests

The Intimate Beach Wedding - 10 seated guests

The Grand Samabe Reception - 200 seated guests

Royal Samabe Wedding - 100 seated guests (Lawn) 300 seated guests (Green Lagoon)

Ocean View Vow Ring of Fire - 20 seated guests
The contemporary majestic glass wedding chapel is blessed with a breathtaking 180-degree view of the Ocean. Walk on the illuminated bridal walkway to the altar and exchange your vows.
Samabe Bali Suites & Villas provides a choice of picturesque settings to suit all occasions, from an intimate ceremony of two to a truly lavish celebration of up to 500 guests.


Offers various stunning venues for your a lifetime solemn wedding ceremony, starting from the Pearl Chapel that sits on the cliff overlooking the unhindered Indian Ocean, or exchanges your vow at the most pristine white sandy beach on the island and for something different the Cave by the ocean is available for your magical ceremony. Amongst the various wedding venue, the exclusivity of Ocean Pool Villa is one you will love with a clear blue sky, turquoise water, and an intimate ambiance for the lovebirds. Not to mention, the inspiring setting Ring of Fire perched atop of the cliff with a sacred ceremony surrounded by the breathtaking view and the sound of cascading crystal blue wave.


Turn the solemn wedding ceremony into a lavish celebration in our picturesque and bespoke venues, the Beach and Cave area can accommodate up to 100 guests that are easy to be accessed down from the cliff with an elevator or stairs. While at Rempah-Rempah Restaurant, with its serene tropical ambiance the guest can throw a memorable celebration in the lush garden, indoor terrace or inside the air-conditioned restaurant. And constantly serving as the perfect spot for your celebration, Royal Samabe Residence' garden offers direct access from Pearl Chapel, not too far from it, Taman Barong-Barong portrays a thousand magical moments of celebration up to 500 guests in a bi-split level of 8000 meters lawn.


Last but not the least, for those who are looking for extraordinary privacy during your celebration, Samabe Bali Suites & Villas allows a RESORT' BUY OUT where the guests can enjoy complete privacy and access to anywhere within resort premises.


Talk with our Romance Coordinator so we can help to make a celebration to remember.
Jalan Pura Barong-Barong Sawangan Nusa Dua Selatan Bali